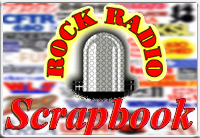 Airchecks: 1991-1995
Talent: BARTLETT IN THE MORNING
Station: CFCB Corner Brook, NL
Date: January 2, 1991
Time: 16:45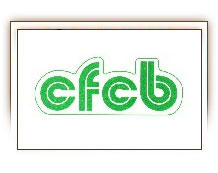 The Beatles ... Alabama ... Blue Rodeo ... Phil Collins ... Olivia Newton-John ... Scott McKenzie. Now there's a music mix for you. Such was the case with CFCB, which featured an interesting country-rock hybrid format in the early 1990s.
It was the second day of 1991, the Gulf War was looming, the GST had just kicked in, and Bartlett in the Morning was on the air at CFCB.

Listen here.

Listen here.

(The Russ Horton Collection)
---
---
Talent: PAUL RAINS
Station: VOCM St. John's, NL
Date: January 24, 1991
Time: 18:32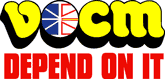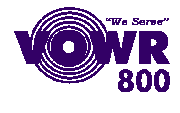 Before Newfoundland joined Confederation in 1949, all radio station call-signs on the "Rock" began with the letter "V". They had the option of retaining the "V" or changing to "C" when Newfoundland joined Canada (VONF in fact did so, changing to CBN.) Since 1949, the practise has been to have stations in Canada's easternmost province take call-letters starting with the letter "C", to conform with the rest of the country.
Only three Newfoundland AM stations still have the "V" prefix. VOWR 800 in St. John's is the oldest, having signed on July 20, 1924. The call letters stand for Voice of Wesley Radio (it was founded by the Wesley Methodist Church in St. John's.)
VOAR 1210 St. John's signed on in 1929. The call letters stand for Voice of Adventist Radio (it was founded by the Seventh Day Adventist Church.)
Finally, there is VOCM 590 St. John's - Voice of the Common Man. It signed on October 19, 1936 (VOCM-FM went on the air in 1982.)
This aircheck of Paul Rains at VOCM includes a newscast with the latest from the 1991 Gulf War.

Enjoy Paul Rains on VOCM here.

Enjoy Paul Rains on VOCM here.

(The Russ Horton Collection)
---
Talent: CHUCK CHANDLER
Station: CKDA Victoria
Date: August 31, 1992
Time: 8:51 (scoped)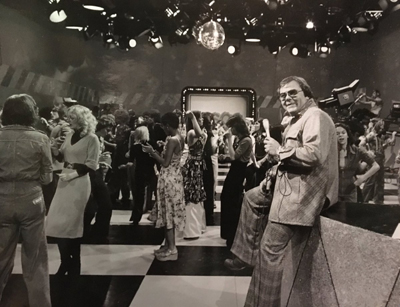 He was one of Canada's most colourful and well-travelled jocks.
Chuck Chandler jocked all over Canada - from Halifax in the east to Victoria in the west - and many points in between. Perhaps the biggest coup of his four-decade career came in 1969 when he and fellow CFOX deejay Roger Scott broadcast live from the John Lennon/Yoko Ono bed-in at Montreal's Queen Elizabeth Hotel (that's him slapping a table-top on "Give Peace a Chance").
The man born Charles Paul Rodney Nahumko got his media start in 1964 as a cameraman at CJDC-TV in Dawson Creek, B.C. Before long the native of Northhampton, England, switched over to the radio side at CJDC-AM. After that, he jocked at a dizzying array of stations, including CJCH Halifax, CJCA Edmonton and CFOX in the '60s, to CFRW Winnipeg (as PD-DJ), CKGM Montreal and CHED (with Homemakers Hitline) and CFRN Edmonton in the '70s. The '80s saw him back at CFRN with other Edmonton gigs at CKXM-FM, CKNG-FM and CITV (with Four O'Clock Rock). He ended the '80s and began the '90s at CKST Langley, B.C., then moved to CKDA Victoria where you can hear him below. Chandler transitioned into the new millennium at CFRN, before moving to CHQT Edmonton then finally closing out his radio career at one final Edmonton stop, CKRA-FM in 2008.
Chandler moved to Spain, returning to Victoria when an identity theft wiped out his life savings. He died November 28, 2017 of lung cancer at the age of 73.
Enjoy Chuck Chandler at CKDA here.

Enjoy Chuck Chandler at CKDA here.

(Courtesy Ted Wendland/radiowest.ca)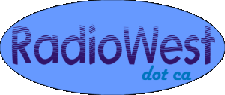 Be sure to visit radiowest.ca, a superb radio site hosted by Ted Wendland. Airchecks, jingles, photos, logos, history and forums - radiowest.ca has it all. Rock Radio Scrapbook thanks Ted for sharing this aircheck.
---
Talent: SCOTT WALKER
Station: CJCL Toronto
Date: September 5, 1991
Time: 9:39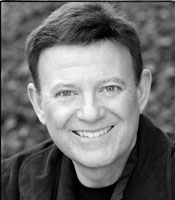 Scott Walker seemed destined for a life in entertainment. His great-grandfather, Harry Walker, played with John Philip Sousa and was the bandmaster for the North West Mounted Police.
Scott Walker was all of seven years old when he entered the world of entertainment. The first "gig" for the native of Regina was a series of live commercials for Ford of Canada on the Ed Sullivan Show. But his entertainment career began in earnest after his graduation with an economics major from the University of Toronto in 1971. He went into radio, starting at a small station in Ontario, then jocking at the legendary CKRC in Winnipeg.
In 1983, Walker began an eight-year run in afternoon drive at Toronto's CJCL. He was also music director at the Toronto classic pop station, which in 1992 switched to a sports format as the Fan.
After CJCL, Walker joined CBC Radio. He has held a variety of roles at the public network, including hosting the Radio One Business Network and anchoring the national radio news. For 12 years, he examined the history of popular music on Scott Walker's Musical Almanac. He also co-founded Reprise Concerts, which features top musicals in a concert setting. Much more on Scott can be found on his web site.

Enjoy Scott Walker's last show on CJCL here.

Enjoy Scott Walker's last show on CJCL here.

(The Scott Walker Collection)
---
Talent: DAN INGRAM, DON K. REED, BOB SHANNON
Station: WCBS-FM New York
Date: October, 1991
Time: 15:47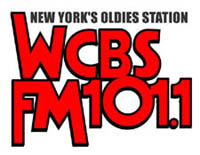 It was pure radio heaven, the likes of which we'll never see again.
In 1991, the WCBS-FM lineup consisted of Harry Harrison in mornings, Ron Lundy in late mornings, Bill Brown afternoons, Bob Shannon afternoon drive, Bobby Jay evenings, Don K. Reed late evenings and Max Kinkle all night. Rounding that off was a superb weekend crew that included Cousin Brucie (who also did Wednesday evenings), Dan Ingram, Marc Sommers and Gary Clark.
Three of those jocks - Dan Ingram, Don K. Reed and Bob Shannon - can be heard on this WCBS-FM mini-composite from that time.

Enjoy this terrific trio on WCBS-FM here.

Enjoy this terrific trio on WCBS-FM here.

(Scrapbook archives)
---
Talent: BRIAN MASTER
Station: CHFI Toronto
Date: September, 1992
Time: 16:41
Oldies shows have been a mainstay on Toronto radio literally from the time when they were "newies."
One of the earliest - if not the earliest - of these shows was Bob Laine's Golden Galaxy. Debuting in 1958, this one-hour program aired weekdays from 3-4 a.m. as part of Laine's all-night show on CHUM. Interestingly - in a departure from normal station practice - the show was taped. The Golden Galaxy disappeared when Laine moved from the all-night show to middays in 1968.
Brian Skinner was a Saturday night oldies mainstay on CHUM for years. His Grooveyard
show on CHUM began around early 1964, initially running from 10 p.m. to midnight on Saturday nights. By the end of '64, the Grooveyard was expanded to 9 p.m.-to-midnight. It stayed in that time slot until at least 1967. In 1967, a Wednesday night 9 p.m.-9:30 p.m. segment was added.
In the wake of the popularity of the 1973 movie

American Graffiti,

CHUM started

Canadian Graffiti.

This show - hosted by Scott Carpenter - ran every Sunday from 9 p.m. to midnight and not only featured '50s and '60s tunes, but old CHUM jingles as well. It continued until at least 1976, and guest hosts included the legendary Wolfman Jack.

One of the most revered nostalgia programs in Toronto radio was Roger Ashby's Sunday Morning Oldies Show. It debuted November 20, 1980 on CHUM-AM went through many changes. Some years it aired on CHUM-AM, some years on CHUM-FM. The hours varied too - most of the time it has been on from 9 a.m.-noon but for a while was 10 a.m.-noon. and some years was repeated from 9 p.m.-to midnight. The Sunday Morning Oldies Show disappeared completely in 1999, though Ashby did continue with
Sunday Seventie
s and then
Sunday Sou
l at CHUM-FM. In 2003, The Sunday Morning Oldies Show was revived and returned to its familiar 9 a.m.-to-noon slot on CHUM-AM. It left the airwaves for good in March, 2009 when CHUM switched from oldies to a simulcast of the all-news TV station CP 24.

Saturday night oldies came to CKFM after Don Daynard's arrival at the station in 1975. Daynard's 6-10 p.m. show was called Lookin' Back and when Daynard moved to CHFI in 1987, the show went with him but without the name. At CHFI, the program was retitled Saturday Night Oldies and featured two hosts, with Daynard from 6-10 p.m. and Brian Master from 10 p.m.-1 a.m. Master's involvement ended when he left the station in 1999. Daynard, who had left CHFI's morning show in 1999, did his final
Saturday Night Oldies
in 2003 and was replaced by Bob Magee. Mike Cooper took over the show after he moved to CHFI from CJEZ in 2005.
Hear Brian Master on CHFI's
Saturday Night Oldies
here.

Hear Brian Master on CHFI's
Saturday Night Oldies
here
.

(The Gary Heighington Collection)
---
Talent: TARZAN DAN GETS "CURED"
Station: CFTR Toronto (in studio only)
Date: 1992
Time: 14:33
This clip of Tarzan Dan has be fully heard from beginning to end to be fully appreciated. It's well worth it!

Hear it here.

Hear it here.

(The David W. Productions Collection)
---
Talent: STAN CAMPBELL
Station: KLAC Los Angeles
Date: November 23, 1992
Time: 12:33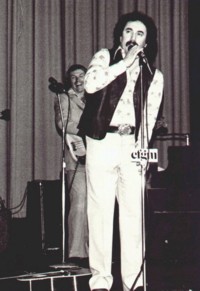 (Photo courtesy Stan Campbell)
There was a time you could walk off the street into a radio station, get hired despite no previous experience in radio, and be on the air virtually the same night. That's exactly what happened to Stan Campbell at CHER Sydney, Nova Scotia. Within six months he was the morning man! The rest is history as he went onto a long and successful career in radio and music.
The first big radio market Campbell appeared in was Toronto, via country music giant CFGM. He picks up the story from there...
"I came to CFGM in September of 1974. A spiritualist medium in July of that year predicted that I was going to leave my station manager's job in Grand Falls, Newfoundland, and go to work for 'GM. Well, I didn't believe in that hocus-pocus anyway ... but 'GM? Boy, if she was channeling, she was getting some bad interference. No way was I going to get out of radio. I had only been in it for three years and I was having a blast!
In early September, Program Director Bill Anderson of CFGM asked if I would like to come to Toronto to do a swing shift at CFGM. Toronto?! ... well that was like Hollywood to any Canadian DJ. The Newfoundland ferry couldn't go fast enough. Shortly after arriving at CFGM in Richmond Hill, I met Dave Johnson the second day and he smiled, stuck out his hand and said "welcome to GM buddy." That old medium lady was on the right channel after all. She's probably with Dave right now.
I stayed at CFGM from '74 to January, 1980 to make the worst decision of my life, getting into the record business. Of course, it was time for me to go anyway. I had turned into somewhat of a renegade at CFGM and general manager Greg Slaight and I were not seeing eye to eye. In fact, I heard much later, that the night I won the Big Country Top Country DJ award in 1979, there was a pink slip waiting for me. Thanks to the award at just the right moment, I think Greg held off and likely would have shown me the door eventually if I hadn't quit. Once I was gone, Greg and I mended fences. In fact, I asked him to be the best man at my wedding a year later. I came back to work part-time for about 18 months before packing up for good and moving down the road to Nashville, Tennessee.
My years at CFGM were memorable. There are stories and events that I would rather not share here but wonderful people that I wish I had the time and space to tell you about. My favourite was Dave Johnson who signed off far too early."
Campbell later went on to become Shania Twain's first producer in 1984. He wound up producing 10 albums and singles before becoming "very hungry" after good reviews but poor sales. So he returned to radio at stations like WSIX Nashville, WBVE Cincinnati (as operations manager) and KLAC Los Angeles (as morning man and PD). He left radio in 2001 and now owns an audio production and graphic design company, ZIPSPOTS, and Travel Media Network, a tourism media marketing company. He and his wife Marta live in northern Michigan.

Enjoy Stan Campbell at KLAC here.

Enjoy Stan Campbell at KLAC here.

(The Stan Campbell Collection)
---
Talent: JIM HARLAN
Station: WNEW-AM New York
Date: December 10, 1992
Time: 12:37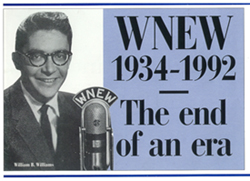 "There'll never be another station like WNEW", said the station promo near the end. And there hasn't.
WNEW-AM - The Station of the Stars - was born in 1934 from the merger of pioneering New Jersey-based stations WAAM and WODA. For the next 56 years, WNEW-AM provided high quality, full-service personality music radio first at 1280 then at 1130 on the New York AM dial. Gracing the WNEW-AM mike over the years were top program hosts like Martin Block, William B. Williams, Gene Klaven, Dee Finch, Jim Lowe, Mark Simone and Jonathan Schwartz. They were complemented by a superb news staff and what may have been the largest radio station music library in the world.
The rich history of WNEW-AM included a number of broadcasting milestones. WNEW-AM had one of radio's first disc jockey shows, Martin Block's Make Believe Ballroom which debuted in February, 1935. They were the first station to regularly remain the air for 24 hours a day, starting with Stan Shaw's Milkman's Matinee in August '35. In 1942, WNEW-AM became what is believed to be the first station with hourly newscasts. And with the pairing of Gene Rayburn and Jack Lescoulie in 1946, the era of zany morning teams began.
For years New York's most profitable and most-listened radio station, WNEW-AM eventually fell on hard times. In 1992, it was announced that WNEW-AM's famous eleven-three-oh spot on the AM dial would be taken by a new all-business station, WBBR. The announcers got to say goodbye and the final day of regular programming was set for December 11, 1992.
The honour of hosting the final Make Believe Ballroom went to midday host Jim Harlan. We have an aircheck of Harlan's second-last show on December 10, during which he played many of the famous WNEW jingles.

Enjoy Jim Harlan here.

Enjoy Jim Harlan here.

(The Bill Dulmage Collection)
---
Talent: KEN GEIGER
Station: CJVI Victoria
Date: February 5, 1993
Time: 14:21
Ken Geiger is as smooth as silk in this example of how personality (and some tight production) can really make a format.

Enjoy Ken Geiger on CJVI Victoria here.

Enjoy Ken Geiger on CJVI Victoria here.

(Courtesy Ted Wendland, radiowest.ca)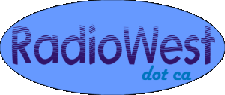 Be sure to visit radiowest.ca, a superb radio site hosted by Ted Wendland. Airchecks, jingles, photos, logos, history and forums - radiowest.ca has it all. Rock Radio Scrapbook says thanks Ted for sharing this aircheck.
---
Talent: JERRY BLAVAT
Station: WPGR Philadelphia
Date: February 15, 1993
Time: 9:30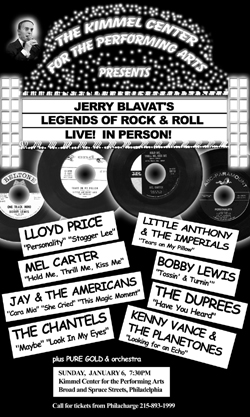 Serendipity. It's defined in Webster's as "the gift of finding valuable or agreeable things not sought."
Jerry Blavat wasn't seeking to be a rock 'n' roll deejay when he went on the air one night in the '50s at WCAM in Camden, New Jersey. But there was a snowstorm, and he instead of doing his usual talk show he played records. Well, the R&B he played that night struck a chord in Philadelphia radio and he has been playing music ever since.
More serendipity? Blavat thought the telephones in the studio reminded him of alligators. From alligators came Geator and from the fact that it was cold during those Philadelphia winters came "heater." And so Jerry Blavat, a kid from south Philadelphia, put the two together and came up with the Geator with the Heater, one of rock radio's most famous nicknames.


To hear Jerry Blavat, click here.

To hear Jerry Blavat, click here.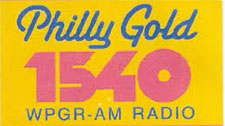 (The Eli Rosenburg Collection)
---
Talent: RICHARD D. (Dick Hayes)
Station: WHND Monroe, Mich.
Date: August 3, 1993
Time: 8:41
CHUM had an incredibly strong lineup in the mid-to-late 1960s. Regulars like Jay Nelson, John Spragge, Bob McAdorey, Brian Skinner, Bob Laine and Duff Roman have become certified radio legends. The problem was, some of the other great program hosts on the station on the time seemed to be somewhat overlooked.
One example was Dick Hayes, an outstanding personality who held down the 1-4 p.m. shift starting in 1965, when he succeeded Mike Darow. His stay was relatively brief. Hayes left CHUM near the end of 1967 and by the '80s and '90s could be found at Honey Radio, WHND, in Monroe, Michigan, where he did middays under the name Richard D.
Hayes's midday Top 10 countdowns at WHND, so well-researched and presented, were a popular radio feature in the Detroit area.

Enjoy a portion of a 1959 countdown here.

Enjoy a portion of a 1959 countdown here.

(The Russ Horton Collection)
---
Talent: BOB CALLAHAN
Station: Kiss 98.5 (WKSE) Buffalo, N.Y.
Date: November 25, 1993
Time: 4:27

(Description by Bob Callahan)
Bob Callahan (a.k.a. "The Callahan Man") began his 20-year career while still in high school in his hometown of Thunder Bay at 1230/CJLB in 1983, where he worked with the legendary "Big G" Glenn Walters. After graduation, Bob did a short stint in morning drive at 93.1 CFNO in Marathon before moving to Toronto where he landed as an on-air producer at 680/CFTR.
Shortly thereafter, Bob went to Sarnia to work for both Rogers stations - 99.1/CJFI and 1110/CKJD where he was heavily influenced by the Detroit radio market. From there, Don "Beau" Dean brought Bob to London, Ontario, where he did evenings at 1290/CJBK for a couple of years.
A move to major market came in the way of 980/CKGM in Montreal in the late '80's. Bob also did image work for sister 97.7 CHOM-FM at the time.
In 1988, Bob was recruiting back to 680/CFTR as an announcer working with names like Tom Rivers, Bill Hayes, Mike Cooper, Jesse & Gene and many more. Bob spent five years at "All Hits" CFTR, mostly doing evening before it became 680 News in 1993.
After CFTR, Callahan freelanced at a multitude of stations within the Greater Toronto Area, some days pulling shifts at 2-3 different stations the same day. Bob is proud to say he never once slipped up the call signs. The list of stations included Z97.3 (CJEZ), Energy 108, "The Hog" AM 640 (CHOG), Q107 (CILQ), MIX 99.9 (CKFM), Z103.5 (CIDC), CISS-FM 92.5 (Toronto), 97.7 HTZ-FM (St. Catharines) & KISS 98.5 (WKSE) (Buffalo).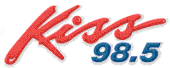 Bob then moved into a full-time evening position at Toronto's MIX 99.9 where he hosted "The Bob Show." He then worked his way into the mid-day time slot and was assistant program director before leaving in 1997.
Just prior to Corus Entertainment purchasing Energy 108, the Callahan Man was brought in to take care of afternoon drive on what soon became Energy Radio. Callahan was simulcast in several different Canadian markets including - Toronto, Kitchener/Waterloo and London, Ontario.
In October 1999, the Callahan Man retired from full-time radio to become a Toronto Police Officer where he has worked in elite units like "Sex Crimes" and "Guns & Gangs." He is currently serving as a Sergeant. Even after becoming a police officer, Bob worked swing at Toronto's 104.5 CHUM-FM from 1999 to 2001 alongside Bruce Marshall, who ironically serves as Firefighter. Bob & Bruce would joke saying, all we need now is a paramedic.
Bob also did image work as well as national and international voice-over work for radio and television throughout his career.

Enjoy Bob Callahan on Kiss 98.5 here.

Enjoy Bob Callahan on Kiss 98.5 here.

(The Bob Rodegheiro Collection)
---
Talent:
RED ROBINSON

Station:
CISL
Vancouver

Date:
August 26, 1994
Time:
46:19 (unscoped)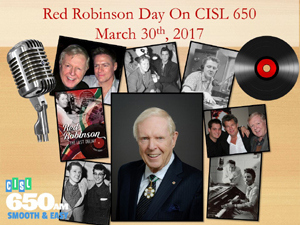 CISL was one of many stops for Red Robinson in a career that started in 1954. He retired from full-time radio in 2000 but continued with the weekly Red Rock Diner. CISL, along with the rest of Vancouver, celebrated Red Robinson Day on March 30, 2017 - his 80th birthday.
Enjoy Red Robinson on CISL here.



Enjoy Red Robinson on CISL here.




(The Don Shuttleworth Collection)




Rock Radio Scrapbook pays
online streaming fees to the
Society of Composers, Authors and Music Publishers of Canada (License 22-F)

---
Talent: WES ATKINSON
Station: CKYC (Country 59) Toronto
Date: August 28, 1994
Time: 21:34 (Upgraded (03-01-09)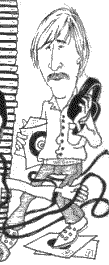 (Graphic courtesy Rob Muir)
Back when radio jobs were plentiful, Wes Atkinson did plenty of radio.
Atkinson was on the air on stations all over the Golden Horseshoe section of Ontario, including FM 108 (CING-FM) in Burlington, CHIC Brampton, CHRE St. Catharines, CKOX Woodstock, CIDC-FM Orangeville, CFGM Richmond Hill, CKLH and CKOC Hamilton and CKYC Toronto. He also was an operator at CHUM-AM in the 1960s.
Personally, we remember Atkinson from the late '80s, when his morning show would follow our all-night "Gold Mine" show on FM 108. He was one of radio's all-time "good guys", always friendly, helpful and positive.
Wes died March 2, 2008 in Hamilton. He was 59.

Hear Wes Atkinson on CKYC here.

Hear Wes Atkinson on CKYC here.

(The Wes Atkinson Collection)
---
Talent: ROGER "UNKLE ROG" McCALL
Station: WCMF Rochester, N.Y.
Date: September 27, 1995
Time: 4:20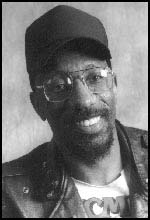 "This guy was about peace and love, and people loved this guy."
- WCMF deejay Brother Wease on Roger "Unkle Rog" McCall
Better known by his air name "Unkle Rog", Roger McCall was a mainstay at WCMF Rochester for three decades, mostly on the all-night show. But he was more than a deejay.
McCall was a tremendous supporter of local musicians, making six albums featuring local bands over a 25-year period. Often he would listen to music by fledging bands, and if he liked what he heard, would invite them to appear on his Sunday night Homegrown show on WCMF to talk about themselves and their music. Armand Schaubroeck, owner of the House of Guitars in the Rochester suburb of Irondequoit, told the Rochester Democrat and Chronicle "his heart was totally into it. It wasn't just a job. He lived it."
McCall also rented houses - often to those in need - and in many cases gave his tenants clothing or whatever they needed. His wife Denise told the Rochester Democrat and Chronicle that her husband "was the kindest, sweetest. most generous loving man I have ever known" and a wonderful father to his son Jason.
McCall started at WCMF in 1973 and spent most of his career on the all-night show, the time slot he felt most comfortable with. In an interview with the Rochester Democrat and Chronicle, fellow WCMF deejay Brother Wease said McCall "was a hippie soul. He was all about peace, love, understanding and music. And he got to live the life he loved."
This tremendous life was snuffed out on December 12, 2003, when McCall was shot to death in a robbery attempt. He was 52.
Hear Roger McCall here.

Hear Roger McCall here.

(The Bill Dulmage Collection)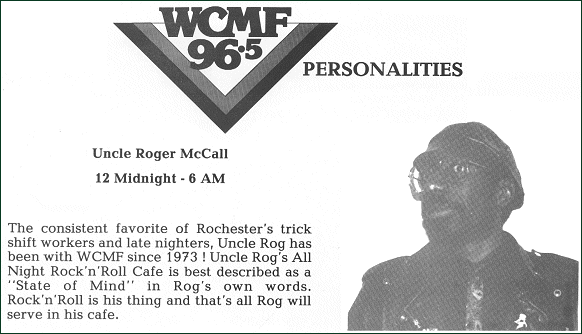 ---