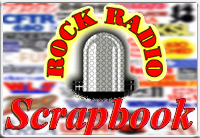 AIRCHECK OF THE WEEK

For week of April 23, 2017
Edition #934

Now in both Real Audio and MP3!


Talent: DEX CARD
Station: WLS Chicago
Date: April 16, 1967
Time: 43:21 (unscoped)
20:24 (scoped)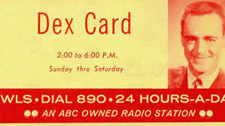 WLS had a "Card Party" every afternoon during the mid-'60s.
Dex Card - whose WLS show was naturally called the "Card Party" - replaced Bob Hale in WLS's 2-6 p.m. shift in May 1964. Card, who as a youngster used to practice being a DJ by using a hair brush as a microphone, started in radio in Portland, Maine, when a fellow announcer failed to show up for a shift. He was later drafted into the U.S. military during the Korean conflict. He served in Germany and wound up with the Armed Forces network. Card later worked at several major market stations, including WHIM in Providence, R.I., WADA New York, WCOP Boston and WERE Cleveland.
One of Card's duties at WLS was to play the "Silver Dollar Survey", a ranking of the station's top hits of the week. As an added bonus, he would play the Silver Dollar Survey's #1 song from a year ago, and he was always adding tidbits about the songs and the artists, Casey Kasem style.
Card left WLS in 1967 (his replacement was Larry Lujack). The veteran jock did some fill-in work at rival WCFL and later owned stations in Wisconsin before selling them in 1989. He retired four years later and at last word was living happily in Florida.
Enjoy Dex Card at WLS here.

Enjoy Dex Card at WLS here.

Enjoy Dex Card at WLS here.

Enjoy Dex Card at WLS here.

(The Don Shuttleworth Collection)

More 1967 airchecks here!




Rock Radio Scrapbook pays
music licensing fees to the
Society of Composers, Authors and Music Publishers of Canada (License 22-F)


The Aircheck of the Week PREVIEW!



We're previewing the Aircheck of the Week on Facebook. Every Friday, we post the audio link to the Aircheck of the Week on Facebook with the full feature to follow on Sunday as usual.

Download your free RealPlayer
to hear the Aircheck of the Week via your PC or mobile device

Click here for technical help

---