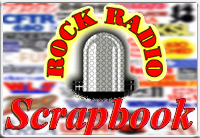 AIRCHECK OF THE WEEK
Edition #977 - Week of February 18, 2018

Talent: JACK GALE
Station: WAYS Charlotte, N.C.
Date: October 3, 1967
Time: 1:03:16 (unscoped)
42:32 (scoped)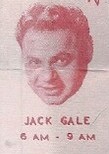 Lots to like on this wonderful aircheck of the late Jack Gale.
Aside from hearing one of the great personality jocks of the era, there's an interesting mix of country and rock (mostly Motown) music, a spot for direct dialling phone calls (remember when you had to go through an operator to make a long-distance call?), some great local ads, a full newscast with all the bells (literally) and whistles (and teletype sounds), plus those wonderful WAYS jingles. A 1967 time capsule indeed, and free for the clicking at Canada's Aircheck Archive!
Jack Gale died January 23, 2018 at the age of 92.

Enjoy Jack Gale at WAYS (UNSCOPED) here.

Enjoy Jack Gale at WAYS (SCOPED) here.

(The Don Shuttleworth Collection)




Rock Radio Scrapbook pays
music licensing fees to the
Society of Composers, Authors and Music Publishers of Canada (License 22-F)


The Aircheck of the Week PREVIEW!



We're previewing the Aircheck of the Week on Facebook. Every Friday, we post the audio link to the Aircheck of the Week on Facebook with the full feature to follow on Sunday as usual.
---
RETURN TO ROCK RADIO SCRAPBOOK