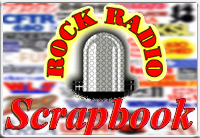 AIRCHECK OF THE WEEK
Edition #1078
Week of February 9, 2020

Talent: JACK ARMSTRONG
Station: CHUM Toronto
Date: February 11, 1969
Time: 40:17 (unscoped)
11:02 (scoped)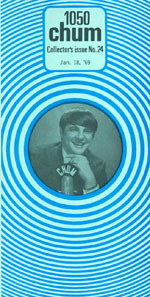 Nearly two dozen stations in 10 states and one province, from Toronto in the north, Miami in the south, Boston in the east and San Francisco in the west. Such was the much-travelled career of the legendary Jack Armstrong.

Big Jack got his radio start at the age of 14 in his home state of North Carolina, with a gig at WCHL Chapel Hill in 1960 as John Larsh. He was still rockin' 46 years later when he signed off his final show at WWKB Buffalo, New York, in 2006.

In between, Armstrong worked at two other North Carolina stations - WAYS Charlotte and WMQX Winston Salem. He made five radio stops in California, at KTNQ/KHTZ, KFI and KKHR Los Angeles, KFRC San Francisco, and KBOS Tulare, California. He had two Ohio stops, both in Cleveland at WIXY and WKYC. There were also two Pennsylvania gigs, at Pittsburgh stations WKTQ (13Q) and KDKA.

Also on Armstrong's resume: Florida (WHYI Miami), Indiana (WIFE Indianapolis), Connecticut (WPOP Hartford), Colorado (KTLK Denver) and last but not least Ontario (CHUM Toronto - he talks about his CHUM experience here). Armstrong also did a one-night stand at WNBC New York as the Unknown Deejay in 1978 (there was also a one-off gig at WNTC Potsdam, New York, in 1970). It was quite a career for one of the greatest Top 40 jocks of all time (his exclusion from the National Radio Hall of Fame is a crime).
Enjoy Jack Armstrong on CHUM (UNSCOPED) here.

Enjoy Jack Armstrong on CHUM (SCOPED) here.




(The CHUM Archives/Doug Thompson)
(Restoration by John Troll)




Rock Radio Scrapbook pays
music licensing fees to the
Society of Composers, Authors and Music Publishers of Canada (License 22-F)


The Aircheck of the Week PREVIEW!



We're previewing the Aircheck of the Week on Facebook. Every Friday, we post the audio link to the Aircheck of the Week on Facebook with the full feature to follow on Sunday as usual.
---