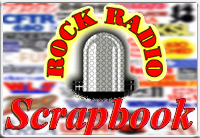 AIRCHECK OF THE WEEK
Edition #1030
Week of March 10, 2019

Talent: JEFFERSON KAYE
Station: WKBW Buffalo, N.Y.
Date: March 25, 1966
Time: 30:54 (unscoped)
10:18 (scoped)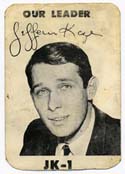 How good was Jeff Kaye?
When radio buffs talk about WKBW, they mention WKBW and "the Jeff Kaye era at WKBW" as two separate entities.
Kaye came to 'KB in March 1966 from WBZ Boston as night-time leader of The Teenage Underground. But his real success at 'KB came as program director of the 50,000-watt blowtorch in the late '60s and early '70s. Among his many successes was his 1968 and 1971 adaptations of Orson Welles' War of the Worlds, whose realism caused an uproar in western New York. A great judge of talent, Kaye brought to Buffalo outstanding jocks like Sandy Beach, Don Berns, Jack Armstrong and Bob McCrae, to go with existing 'KB talent like Dan Neaverth and Fred Klestine.
Pop-Tops, the WKBW Instant Replay (an edited version of the song just played), the Capsule Countdown (a montage of the top 10 songs of a week from the past followed by the number-one song) were all part the many little things that made Kaye's 'KB so special. There was "Music to the People", a series of free live concerts featuring local and national talent, the annual seven-hour Salvation Army Christmas broadcast, and Buffalo Bills football broadcasts that sounded more exiting than they probably were thanks to Kaye's superb production. But best of all, Kaye's KB sounded like Buffalo. It was as Buffalo as beef on weck, chicken wings and Lafayette Square.
In a 1972 interview with Programmers Digest, Kaye used the term "unpredictable predictability" to describe the 'KB he commanded. Razor-sharp tight programming, but with personality - that was the WKBW of Jeff Kaye. 'KB was never the same after Kaye left in 1973 as the station went with a more music, less personality approach. Kaye went to do mornings at Buffalo rival WBEN, and later became the voice of NFL Films. He was named to the Buffalo Broadcasters Hall of Fame in 2002.
Hear Jefferson Kaye on 'KB (UNSCOPED) here.



Hear Jefferson Kaye on 'KB

(SCOPED)

here.

(The Don Shuttleworth Collection)



Rock Radio Scrapbook pays
music licensing fees to the
Society of Composers, Authors and Music Publishers of Canada (License 22-F)


The Aircheck of the Week PREVIEW!



We're previewing the Aircheck of the Week on Facebook. Every Friday, we post the audio link to the Aircheck of the Week on Facebook with the full feature to follow on Sunday as usual.
---
RETURN TO ROCK RADIO SCRAPBOOK