Talent: IRV SMITH & JACK LACY
Station: WINS New York
Date: October 30, 1958
Time: 30:27 (unscoped)
17:58 (scoped)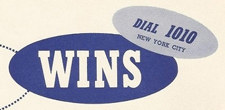 Long before Musicradio WABC and the WMCA Good Guys, there was WINS.
WINS was a pioneer in Top 40 radio, beginning with the arrival of Alan Freed at the New York station from Cleveland. Freed memorably handled the night-time shift at WINS from 1954 to 1958, before heading first to obscurity and then to the grave in the wake of the payola scandals.
According to a September 30, 1957 schedule in the The Airwaves of New York, WINS began its mornings with Wake Up To Irv with Irv Smith - A Smith Named Irv. That was followed in late mornings with Listen to Lacy with Jack Lacy. In mid-days, it was the High Noon to 3 Orbit Universe with Stan Z. Burns. Lacy returned from 3-7 p.m. (split shifts were common in radio then), followed by Alan Freed from 7-11 p.m. Stan Shaw handled the all-night duties.
On January 31, 1959 - about three months after this aircheck was recorded - Smith was killed in a car accident. He was 30.
Lacy worked at WBAL Baltimore and KIQQ Los Angeles after WINS went all news in 1965. He moved to Spain in retirement and died in 1996 at age 79.
Hear Irv Smith and Jack Lacy on WINS here. (UNSCOPED)

Hear Irv Smith and Jack Lacy on WINS here. (SCOPED)

(Scrapbook archives)