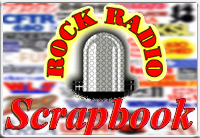 "AIRCHECK OF THE WEEK
Edition #1119
Week of November 22, 2020


Talent: YVONNE DANIELS and BOB SIRROTT
Station: WLS Chicago
Date: December 12, 1976
Time: 1:01:45 (unscoped)
30:40 (scoped)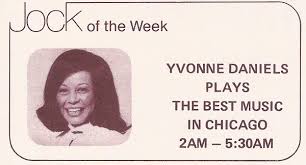 On a cold Chicago morning in December, 1976, we drop on on some hot Top 40 radio. And a pretty cool-sounding jock.

Yvonne Daniels - the First Lady of Chicago Radio - was a mainstay on WLS on the all-night show in the '70s and early '80s.

Daniels - whose father was jazz singer Billy Daniels - got her start at an R&B station in her home town of Jacksonville, Florida. After a stop at WBBR in East St. Louis, Illinois, she jocked at Chicago stations WYNR, WCFL and WSDM.

Daniels became the first female deejay at WLS when she arrived at the 50,000-watt Chicago powerhouse in 1973. She stayed there nine years - all of it on the all-night show. After leaving WLS in 1982, Daniels had stints at Chicago stations WVON, WGCI and WNUA.
Yvonne Daniels died of cancer June 21, 1991. She was inducted into the Radio Hall of Fame in 1995.

Also on this aircheck, we have a few minutes of Bob Sirrott, filling in for Larry Lujack on the morning show. You'll also hear a newscast by Chicago radio legend Lyle Dean.
Hear Yvonne Daniels and Bob Sirrott on WLS (UNSCOPED) here.

Hear Yvonne Daniels and Bob Sirrott on WLS (SCOPED) here.

(The Don Shuttleworth Collection)
More from The Best of Don Shuttleworth!



The Aircheck of the Week PREVIEW!



We're previewing the Aircheck of the Week on Facebook. Every Friday, we post the audio link to the Aircheck of the Week on Facebook with the full feature to follow on Sunday as usual.
---