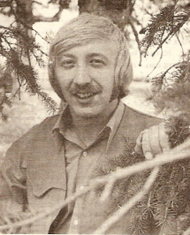 (Photo courtesy: Ted Wendland/radiowest.ca)
In a business where people come and go like the wind, John Novak was a constant.
Novak started at CKOC on June 6, 1972 and was on-air there an amazing 37 years and two months before he and the station parted ways in August, 2009. Novak, chief engineer Les Horton (51 years of service beginning in 1922) and program director Nevin Grant (38 years ending in 2003) are the top three longest-serving employees in the long history of CKOC. But no one was on the air longer at CKOC than this native of Winnipeg.
In his long service at CKOC, Novak did most of the air shifts, from middays to afternoon drive to mornings. He also served as music director and assistant program director and additionally did a stint at CKOC's sister station, K-LITE FM (CKLH).
Novak talked to Rock Radio Scrapbook about his early days in the business:
"I began my career Oct.30, 1966 at (the now defunct.....as so many AMs now are) CJLX in Thunder Bay, Ontario. I was the mid-day announcer and music director at 92 CJCH for a year ('71-'72). They were the CHUM station in Halifax and sounded GREAT! You could've plunked that station into any big market and they would have been competitive. We had a lot of extremely talented people on board when I was there. Gord Martineau (CITY TV) was our morning news anchor, Danny Roman (Duff's little bro) was the PD and CJCH is where CHUM actually recruited John Gilbert from to do the talk show they ran mid-days (remember?). He was doing a mid-day talk show, same kind, same time, on CJCH before he came to Toronto. We were also consulted (because of the CHUM connection obviously) by non other than the legendary Ted Randall. I can remember how intimidating it was sitting in a session with this guy whom I considered even then to be an absolute radio guru, telling me face to face what I was doing right and what was not so right. I learned an awful lot there in that one year.

After Halifax, I got a chance to be a PD for the first time in my career. An offer came from CHSJ in Saint John, New Brunswick, to be PD/morning host. I was there for only two months (my young wife and myself didn't even have the boxes all unpacked) when the offer from CKOC came in May of 1972. I'd wanted to get into the Southern Ontario market for some time. Actually that's a big part of the reason I went to Halifax. I was hoping big brother CHUM might call me up from the farm team, but that never did happen. Also, I quickly discovered being a PD and a morning guy in a market like Saint John, meant starting your day at 4 a.m. and more often than not, not getting home 'til after 7 or 7:30 most nights. I'm devoted but I figured, after a while, that pace would kill anybody. My wife wasn't too enthralled with the scenario either. CKOC offered me the same money at roughly half the work day 'and' it was Southern Ontario, so I didn't have to wrestle with that decision at all. Thirty-seven years later and the rest is, much as I try to avoid cliches, history.

I grew up in Winnipeg, which was a wonderful hot-spot to be in for any kid enamoured by/with radio in the '50s and '60s. I decided there, that being the guy on the radio playing all those cool songs what was what I wanted to do for a living. I used to listen to great announcers like Jim Paulsen, Doc Steen, Boyd Kozak, Peter Jackson (PJ the DJ) and all the rest of them on CKY and CKRC. Not only that, but geographically, Winnipeg was in a great place on the continent to pick up the big legendary stations from all over the states. For example, I'd listen to Dick Biondi on WLS at night religiously along with tons of others too numerous to mention. I even kept a log book (which I still have to this day) of all the stations I'd pick up and listen to, along with their frequency and what city they were in.

I found out after I'd arrived at CKOC, that one of the contributing factors to my getting the job there was because the GM at the time, R.K. (Bob) MacDonald, heard me doing the morning show on CKXL while driving through Calgary on a motor trip in 1969. He later told told me he'd made a mental note that I might be a possible prospect for his station, CKOC, in the future. Not only that, but my name 'Novak' rang a bell with him because he'd been the PD at CKRC in Winnipeg earlier in his career and had a lot of dealings with an uncle of mine (Bill Novak) who was a theatre manager in the city. The station and the theatre (The Metropolitan, I believe) would get involved with special promotions and premiere nights, etc. and he wondered if I was from the same 'Novak' family in Winnipeg because on my resume, I'd mentioned that, that's where I grew up. Turns out, that connection got me noticed and as I learned after I got to CKOC, probably resulted in a leg-up on the competition for the position they were hiring for. Bob MacDonald and my uncle apparently worked well together and liked each other, so Mr. Mac assumed I was from 'OK' roots. Guess there's some truth to the old saying, "It's not what you know, it's who you know".

The other interesting tidbit, is that my replacement at CJCH in Halifax when I came to Hamilton was a guy named Jim Keith. He replaced me on the mid-day show there and eventually went on to become the station's P.D. His real name is Jim McLeod, who later on became one of CKOC's co-owners and our GM. After selling his shares in the place to Telemedia, along with his other two partners in the company (Radio Corp.) who owned it, Jim of course went on to head the BBM for a few years. He was/is a very smart man whom I always got along well with and respect immensely. By the way, the station Mr. McLeod/Keith was working for just before he got my job in Halifax??? You guessed it, CKOC!

People say the radio business and culture in Canada is a 'small world' and it's so true."
Novak also worked at KGA Spokane, Washington, and KSTT Davenport, Iowa, prior to CKOC.
In January 2010, he began doing middays at Hamilton's Vinyl 95.3 (CING-FM). That gig ended when the station changed format in 2013.
Enjoy John Novak on CKOC (UNSCOPED, Pt. 2) here.

Enjoy John Novak on CKOC (SCOPED, Pt. 2) here.