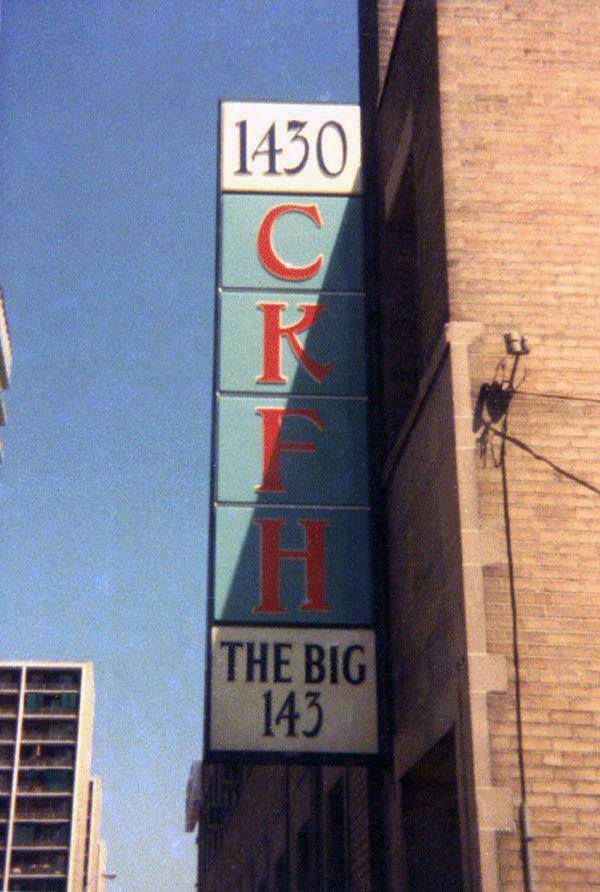 History
Legend has it that at the moment CKFH became CJCL in April 1981, a clock fell off the wall in Foster Hewitt's office.
If true, that supernatural event would fit in with CKFH's personality - quirky, unpredictable and totally off the wall (excuse the pun).
Foster Hewitt was already a broadcasting legend when he put CKFH on the air in 1951. It was he who helped pioneer hockey play-by-play in 1923 at the Toronto Star station CFCA. Two years later Hewitt and his father became the first in the world to broadcast a horse race. Foster would go on to broadcast Hockey Night In Canada, first on radio, then on TV for nearly 40 years with his trademark expression, "He shoots, he scores." He retired from hockey broadcasting in 1968, only to return to call the memorable Summit Series between Canada and the Soviets in 1972.
The biggest attraction for CKFH listeners was the hockey broadcasts. Either Foster or his son Bill, did the radio broadcasts until 1977, when Peter Maher took over for three years. They also carried Montreal baseball broadcasts from the Expos inception in 1969 until 1976. When the Blue Jays were hatched in 1977, CKFH because the official radio home of the new American League team.
But there was more to CKFH than hockey broadcasts. They had a wide range of personalities in the pre-rock days, from Phil MacKellar, Johnny Lombardi, Barry Nesbitt, Joe Morgan, George Wilson, Ron Hewat (no relation to Foster and Bill), lots of ethnic shows and paid religion ... but the ratings were poor. Then along came 1966, and Tom Fulton.
Fulton - a.k.a. The Big Kahuna - arrived in Toronto having started his career in British Columbia in the early '60s, followed by a stop at CJCA Edmonton. He did not have a radio gig lined up, nor did he have any airchecks of himself. So he just sent a picture of himself and a poem he had written to several radio stations in the area. The unusual approach struck a chord, and he got hired at - of all places - staid old CKFH, which had yet to switch to a rock format.

CKFH eventually became a full-time rock station, after first testing the waters. Fulton was asked to do a "teen show" from 4-6 p.m., in addition to his 10 a.m.-2 p.m. shift spinning Mantovani records. Later, a groundbreaking progressive rock show from 11 p.m.-1 a.m. called The Whole Bag was added and guess who was the host? Yes, Fulton worked a triple split shift on the same station with three different formats, taking public transit to and from the studio.
CKFH went full-steam ahead with rock on January 2, 1967. That first day lineup included Don Daynard (6:30-10 a.m.), Don Cameron (11 a.m.-3 p.m.), Tom Fulton (3-7 p.m.) and Big G Walters with "The Whole Bag" (11 p.m.-1 a.m.). The 7-9 p.m. slot was filled with "Echoes of Italy", a carry-over from the previous format, followed by a Greek program. They also had religion in morning drive from 6-6:30 a.m. and "Around Metro" from 10-11 a.m. Norman B. arrived in March to do the "Where It's At" all R&B all-night show (1-6 a.m.). He would be replaced in September by John Donabie.
From the beginning, CKFH was much different than its well-established competitor, CHUM. 'FH had a wide playlist that included Canadian tracks, British artists and R&B not heard on CHUM. They didn't shy away from controversial songs like "Je T' Aime" by Serge Gainsborough and Jane Birkin.
The station went through many phases as a rock station. There was the free-form era of 1967-68, followed by the Drake-style era from the latter half of '68 into 1970. 'FH attempted an "FM on AM" approach in 1970, then around 1971 went to a more informal approach. An oldies format (with two currents an hour) was introduced around 1973-74 until it was supplanted by country in March of 1975. That faded in the late '70s for a country-pop hybrid. By the time of the switch of CKFH to CJCL in April 1981, 'FH had an adult contemporary sound.
CKFH had much to offer, including air talent that went on to bigger and better things. Too many to mention, but we will mention one: Foster Hewitt, the man who started it all. To him, we say salute, and Go Leafs Go!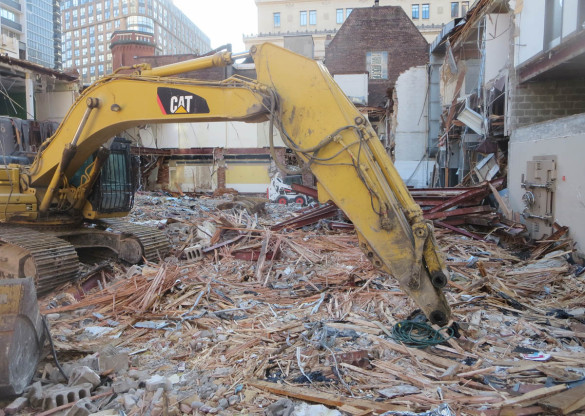 The building that housed CKFH at 1 Grenville was demolished in 2015
---