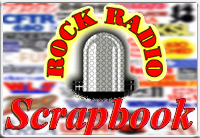 AIRCHECK OF THE WEEK
Edition #1147
Week of June 6, 2021


Talent: SUZANNE BRADLEY
Station: WHER Memphis
Date: June 10, 1963
Time: 1:01:39 (unscoped)
20:43 (scoped)

Sam Phillips didn't break radio's glass ceiling. He shattered it.
Phillips - yes the same guy who discovered Elvis - co-founded North America's first all-female radio station, WHER in Memphis. Using the money he received the sale of Elvis's contract to RCA, Phillips hired models, beauty queens, actresses, even young mothers, to broadcast from the third Holiday Inn in the U.S. (Holiday Inn founder Kemmons Wilson was one of the owners). The studio - pink and purple - was called "The Doll Bin" and decorated with bras hanging from a clothesline. Its slogan was "1000 beautiful watts.".
Everyone at the station was female - from the on-air talent to management. Phillip's wife Becky was a DJ, or as they called them "a jockett." The format was light music.
The all-female staffing continued until 1972, when the station changed its call letters to WWEE and went to talk that included male announcers. The station has since moved to FM and at last word were classic hits 97.7 Guess FM.
"WHER was the embryo of the egg," said Sam Phillips told thatericalper.com. "We broke a barrier. There was nothing like it in the world."
Enjoy Suzanne Bradley on WHER (UNSCOPED) here.

Enjoy Suzanne Bradley on WHER (SCOPED) here.

(The Don Shuttleworth Collection)


The Aircheck of the Week PREVIEW!



We're previewing the Aircheck of the Week on Facebook. Every Friday, we post the audio link to the Aircheck of the Week on Facebook with the full feature to follow on Sunday as usual.
---