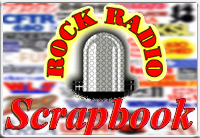 Airchecks: 1979
Subject: THE GARBAGE SONG with JIM BRADY
Station: CFTR Toronto
Date: 1970s
Time: 2:38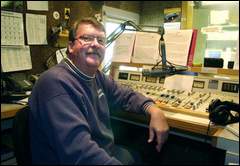 Jim Brady at Toledo's WRQN-FM, his final radio stop
"It's become a soulless corporate entity." So Jim Brady told the Toledo Blade when he announced his retirement from radio in June, 2008. That ended a fabulous career that included stops in Toronto, Windsor, Ontario, Calgary, Winnipeg, Los Angeles, Las Vegas, Fort Wayne, Indiana, Louisville, Kentucky., Fort Worth, Texas, and his hometown of Toledo. Sadly, his retirement didn't last long - he died June 5, 2014 at the age of 67.
During his time as CFTR morning man in the '70s and early '80s, Brady was known for his fabulous "bits," including The Garbage Song.
Enjoy The Garbage Song here.

(The Jim Brady Collection via Bill Dulmage)
---
Talent: MIKE MARSHALL and DAN WILLIAMSON
Station: CFTR Toronto
Date: January 5, 1979
Time: 6:24
Mike Marshall was a mainstay at CFTR during its golden decade of the '70s, first doing mornings and later middays. He talks about his time there...
"When CFTR went Top 40 in the summer of 1972, PD George Johns and his charges focused on a single goal: to beat CHUM. The first shot across their bow, CFTR's infamous "Last Contest", pricked up ears all over Metro and served notice that we were anything but pretenders. By the time I left in September of 1974, the foundation for success had been carefully laid.
When I returned to do middays in 1977, all the ingredients were in place. There was a great news staff featuring the likes of Robert Holiday and Larry Silver. Darryl Dahmer and Russ Holden - both flying - provided Toronto's best traffic and, when this aircheck was made, it was a privilege to work with Jim Brady ("Bray-deeee In The Morning".), Dan Williamson, Mike Cooper, Bill Hayes, Scott Miller and others of that ilk. "Crazy" Carl Ramprashad led a wonderful around-the-clock staff of ops and we all loved working for programmer Les Sole. I thank the radio gods that his recording didn't take place a few days earlier, on January 1."
In January 1979, Mike Marshall and Dan Williamson were on back-to-back in middays at CFTR.
Hear them here.

(The Bill Dulmage Collection)
---
Talent: TOM RIVERS (as MIKE RIVERS)
Station: KYA San Francisco
Date: January 22, 1979
Time: 3:01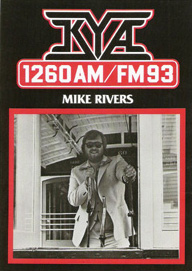 (Description and graphic courtesy Dale Johnson)
It signed on the air in 1926, and by the mid-1950s it was a rock 'n' roll station. Legendary programmer Bill Drake was program director at KYA for a time.
If the voice on this aircheck is familiar it's because while he's using the name Mike Rivers, he's better known in Canada as Tom Rivers. Big Tom worked in Toronto at CHUM (four times), CFTR, CHOG and CJAQ (Jack-FM).
Rivers died of cancer on November 20, 2004.
Hear Tom Rivers - as Mike Rivers - on KYA here.

(The Dale Johnson Collection)
---
Talent: JACK ARMSTRONG
Station: KTNQ Los Angeles
Date: January 26, 1979
Time: 1:04:33 (unscoped)
9:57 (scoped)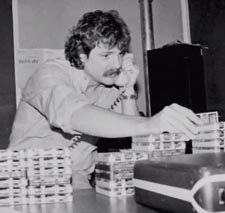 After nearly two decades of jocking mostly in the east, Jack Armstrong finally arrived on the west coast in 1978.
His first west coast stop was KTNQ, which became KHTZ in 1979. Then it was on to KFI, then KKHR Los Angeles with KFRC San Francisco sandwiched in between. KBOS Fresno, California, was Armstrong's last west coast stop in 1988, before he headed east to WMQX in his home state of Greensboro, North Carolina.
Armstrong died after a fall at his home in High Point, North Carolina on March 23, 2008. He was 62.
Enjoy Jack Armstrong on KTNQ (UNSCOPED) here.

Enjoy Jack Armstrong on KTNQ (SCOPED) here.

(The Joe Fazio Collection)
---
Talent: SCOTT MILLER
Station: CFTR Toronto
Date: February 7, 1979
Time: 55:00 (unscoped)
11:42 (scoped)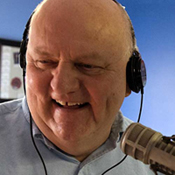 "You don't need hair to rock 'n roll"
From Vancouver in the west to Maine in the east - and many points in return - Scott Miller has been everywhere.
It all started at CKNR Eliot Lake, Ontario, where he jocked in 1974-75. This greatly-talented jock soon moved on to bigger fish -CJME Regina, CJAB Moose Jaw, CKOM Saskatoon - before arriving at CFTR in 1979. That same year Miller moved to CKLW for an 11-year stint, the first five on the AM side then over to FM.
After 'CK, Scott Miller went to WKSG Mount Clemens/Detroit for a brief stop in 1990, then over to WOMC Detroit for a brief stay. Then a nine-year stay at WJMK-FM Chicago starting in 1992. In 2001 Miller went to WGRV-FM Detroit which during its time there changed calls to WMGC-FM. The rest of the decade was spent at WSRZ-FM Sarasota, Florida, WRLL Chicago (voicetracked from Sarasolta), WRVR (The River) Memphis, and CKCL Vancouver. He was then at WOLX-FM Madison, Wisconsin, and voicetracked WKTK-FM Gainesville-Ocala, Florida.
Miller started at WQCB Bangor, Maine, in 2015.

Enjoy Scott Miller on CFTR (UNSCOPED) here.


Enjoy Scott Miller on CFTR (SCOPED) here.

(The Don Shuttleworth Collection)
---
Subject: CKFH COMPOSITE
Station: CKFH Toronto
Date: February, 1979
Time: 23:11

(Logo courtesy Bill Dulmage)
"1430 CKFH: Listen to the difference"
So many voices and - as it turned out - so little time.
It's CKFH in February, 1979. Without changing the dial, you can hear Howard Cooney, Bren Traf, Brian Barker, Chris Layton, Tom Fulton, Bob McCowan, John Gilbert, Al Kingdon, Rob Cowan, Al Michaels, Mal Faris, Jim Morris, Glen Stone and Ron Hewat. Listening to it, it's hard to believe there were so many LIVE voices on one station, and so much LOCAL content. Nice format too, a mix of country and pop tunes.
Alas, time was running out on CKFH. Within two years station founder Foster Hewitt sold his long-time property to Telemedia, which soon changed the call letters to CJCL and moved it to a new location after 30 years at 1 Grenville Street. Legend has it that a clock in Hewitt's office fell off the wall at the very moment CKFH became CJCL on April 10, 1981.
Enjoy this wonderful composite of CKFH programming from February, 1979 here.

(The Bill Dulmage Collection)
---
Talent: DAVE JOHNSON
Station: CFGM Richmond Hill, Ont.
Date: February 22, 1979
Time: 3:18
It was like losing a friend for fans of both Top 40 and country music radio in Toronto.
Dave Johnson, who starred as a Top 40 deejay on CHUM in the '50s and '60s then became a country radio legend at CFGM in the '70s, died of a heart attack on October 20, 1980.
Johnson started at CHUM in the 7 p.m. to midnight shift in January, 1958, replacing Pete Nordheimer in the evening slot (Nordheimer moved to afternoons). Johnson held down the important evening shift at CHUM for the next eight-and-half years. A measure of his popularity may be shown by the number of times his name appeared on the CHUM chart (at least 20 times in 1964 and 1965 alone).
After leaving CHUM in the fall of 1965, Johnson moved to CFGM where he started a second career as one of Canada's top country deejays. Johnson was holding down the afternoon drive shift at CFGM when he died suddenly, ending a 22-year career in Toronto radio. Noted for his happy-go-lucky style and love of people and radio, Johnson would be touched that so many of his listeners remember and revere him today.
Hear Dave Johnson on CFGM here.

(The Bill Dulmage Collection)
---
Talent: FRANK BENNY
Station: WGR Buffalo, New York
Date: March 3, 1979
Time: 6:14

Frank Benny was born in Chicago and spent his last years in Florida. But he'll always be remembered for his time on the Buffalo airwaves.
Benny got his start in 1957 at a small station in Ridgecrest, California. The man born Frank Biniak jocked at KISN Portland, Oregon, and WUBE Cincinnati before heading to WGR in 1966. During Benny's 19-year stint at WGR he also served as weatherman and host of the 4 o'clock movie and Bowling For Dollars at WGR-TV.
Benny left WGR in 1985 for a 15-month stint at country music station WYRK. He worked part-time at WBEN before leaving for Florida in 1989. In between golf games - his daughter Kimberly Chance says "he just loved golf" - Benny appeared on WDDV and WCTQ Sarasota, Florida, and WENG Englewood, Florida. He died of complications from pneumonia in 2005 at the age of 67. Benny was posthumously inducted into the Buffalo Broadcasters Hall of Fame in 2010.
Enjoy Frank Benny on WGR here.

(The Bill Dulmage Collection)
---
Talent: DAVE SMITH
Station: CKOC Hamilton, Ontario
Date: March 8, 1979
Time: 3:20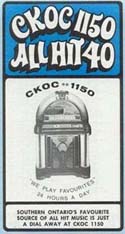 (Chart scan courtesy Mark Sorensen from the Nevin Grant Collection)

Dave Smith originally planned to become a veterinarian, but he wound up becoming a vet of a different kind - a radio veteran.
Smith told Heather MacKay Roberts at StandardbredCanada.ca that he used to hang out with a friend who worked at a radio station, and would fill in now and then doing headlines or sports while his friend took a break. Eventually he took the job as morning show host and put his plans to become a veterinarian on permanent hold. A radio career was born.
The personable, entertaining Smith did stints at southern Ontario stations in Burlington, Barrie and Kitchener. But he is perhaps best remembered for his days in afternoon drive at Hamilton's CKOC during the '70s and '80s.
Hear Dave Smith on CKOC here.

(The Bill Dulmage Collection)
---
Talent: TOM DONAHUE & JOHN OTTO
Station: WGR Buffalo, New York
Date: March 12, 1979
Time: 10:59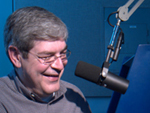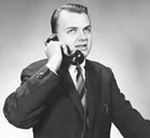 One played music, the other took phone calls.
Both provided great entertainment.
For several years from the mid-'70s to the early '80s, Tom Donahue and John Otto were back-to-back on WGR. Donahue, one of Buffalo's most knowledgeable music show hosts, spun the station's terrific AC-oldies mix from 10:00-11:30 p.m. Then Otto - the dean of Buffalo talk - worked the phones from 11:30 p.m.-2 a.m.
Donahue got his radio start as a teen deejay at WYSL in 1966. He went on to a long career in Buffalo radio that has included stops at WKBW-WWKB, WHTT (Oldies 104), WNUC and WLKK. Donahue is remembered for the long-running Original Saturday Night All-Request Oldies Show on 'KB and Oldies 104. He had the honour of being the last live music host before WWKB switched to satellite oldies in June, 1988. Under his real name of Tom McCray, he joined the faculty of Buffalo State College in 1980 where he served as an associate professor of communication.
Otto started in radio in the 1940s at WBNY while still a teenager. The bulk of his five-decade career in radio was spent at WGR, where he hosted the popular Extension 55 talk show. Otto started at WGR in 1955, left in 1983 to do Night Call at WKBW, then returned to 'GR in 1988 where he was on the air until three days before his death of emphysema on December 6, 1999. Otto, Buffalo's "beacon in the night time", was 70. Upon hearing of Otto's passing, WBEN talk show host Sandy Beach reflected, "We have lost our teacher."
Enjoy Tom Donahue and John Otto on 'GR 55 here.

(The Bill Dulmage Collection)
---
Talent: PETE GRIFFIN
Station: CHUM-FM Toronto
Date: March 14, 1979
Time: 4:34
Not many deejays can say they've played Beethoven's Fifth and Roll Over Beethoven ... on the same station. Pete Griffin can.
Griffin along with Walter Michaels made the transition when CHUM-FM made the dramatic switch from classical to progressive rock in July, 1968. Suddenly, Griffin - a classical music announcer at CHUM-FM since it signed on in September, 1963 - went from playing long-hair music to music for long-haired freaks.
Griffin initially did afternoons at CHUM-FM then replaced Walter Michaels in the morning show on CHUM-FM in 1970. Griffin teamed with David Haydu (Geets Romo) as Pete 'n Geets from 1972 to 1977. He continued solo in mornings at CHUM-FM before moving to CFNY Toronto and reuniting with Geets on the morning show from 1980 to 1987.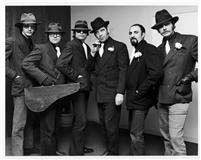 CHUM-FM jocks, early '70s
Tim Thomas, David Pritchard, Kim Calloway, Walter Soles (Michaels), Larry Green, Peter Griffin
(Picture courtesy Doug Thompson)
Griffin went to country music outlet CFGM Richmond Hill, Ontario, in 1987 before leaving the Toronto market and later moving to CFMO (now CKBY) Smiths Falls, Ontario. He started in radio as CFOR Orillia, Ontario, in 1948, and moved to CKFH in 1951. From there he went to WDEF-TV in Chattanooga, Tennessee, where he did an American Bandstand-like show for four years. He also spent a year at CJAD Montreal in 1966 before returning to CHUM-FM.
Griffin died of prostate cancer May 23, 2011 at the age of 81.
Rock Radio Scrapbook presents Pete Griffin here.


Gene Valaitis, a broadcast legend in his own right, posted this wonderful tribute on the SOWNY Radio-TV Forum in the wake of Griffin's death...
"I was a 19-year-old Ryerson student doing morning back-up in the CHUM newsroom when Pete and Geets were breaking ground on CHUM-FM. And it was ground-breaking. Pete and Geets were doing what people like David Letterman and others would not do until years later. It was magical and NEVER required insulting people, listeners or callers to the show, nor did it need porn stars, silly stunts, prank phone calls, double shot this and that cookie-cutter contests or to be called the Morning Zoo and I could go on and on.
Modern day so-called expert consultants would likely say a show like this would not work. That's why it did. It was the first morning radio show in North America that made people late for work because they sat in their cars in the parking lot with the engine running waiting for the end of whatever was happening which was always punctuated with Pete's incredible laugh.
I recall one great print ad for the show whose copy read, "CHUM-FM would like to apologize for Pete and Geets". It was an intelligent ad with thoughtful copy. It spoke to the audience not down to it. In fact, that was the magic of Pete. He was your friend on the radio who just talked directly to you at your level. Calm, funny and relaxed. As a student at CHUM I found Pete to be a wonderful person. He invited me into the studio to watch the show from time to time. Its what made me decide that I had to do this too. Thanks Pete."

(The Bill Dulmage Collection)
---
Talent: ROY VAN HURD
Station: CHIC Brampton, Ontario
Date: 1979
Time: 4:21
CHIC listeners could be excused for thinking they belonged to the format-of-the-month club.
The Brampton, Ontario-station had plenty of different formats including probably its best known - the all-female "Where the Girls Are" format introduced in 1966. The entire deejay staff was female - the first and only time that's ever happened in Canada - while the news department was all male. The music was contemporary with a few upbeat MOR tunes, and was selected in advance instead of leaving it up to the deejays, a precursor of today's radio.
The all-girl format lasted until around 1970, when the station went Top 40 with Don Biefer and Mal Faris among those jocking there for a time. CHIC switched to talk in 1974 - Ted Woloshyn and Larry Solway were among the hosts. Sometime around 1978 or 1979 the station went all-disco as 7-9-0 Disco (we also believe CHIC was country at some time in the '70s but can't confirm it).
The CHIC era ended in 1980 when it became CKMW under new ownership. The station evolved into an ethnic format and became CIAO in 1987. It moved to 530kc in 1991. It's been a long journey for the station that started as 250-watt daytimer CFJB in 1953.
Enjoy Roy Van Hurd from CHIC's all-disco era here.

(The Bill Dulmage Collection)
---
Talent: RICK KELLY
Station: CHIC Brampton, Ont.
Date: 1979
Time: 6:12
It's more of Disco 7-9-0, this time with Rick Kelly on the all-night show.
Hear Rick Kelly here.

(The Bill Dulmage Collection)
---
Talent: JAY FREDERICKS
Station: WKBW Buffalo, New York
Date: March 16, 1979
Time: 8:14
WKBW always had solid on-air lineups, and 1979 was no exception for this personality-oriented station. Dan Neaverth did 6-10 a.m. then it was Jon Summers 10 a.m.-2 p.m., Al Bandiero 7 p.m.-midnight and Tom Atkin midnight-6 a.m.
Holding down 2-7 p.m. at 'KB in 1979 was Jay Fredericks.
Hear Jay Fredericks here.

(The Bill Dulmage Collection)
---
Talent: SHANE
Station: WGR Buffalo, New York
Date: March 29, 1979
Time: 29:22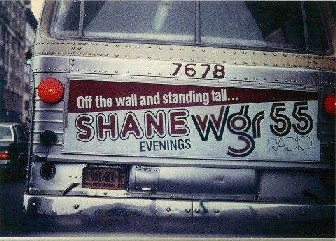 If anyone had the gift of gab, it was Shane.
For much of the '70s and '80s, Shane ruled the night-time airwaves in Buffalo, first at WKBW then at WYSL and WGR. He arrived at 'KB in 1973 in the 7 p.m.-midnight slot, replacing "The Janitor", who had won the Great American Talent Hunt to succeed Jack Armstrong in March of that year (Shane finished second). The man born Ron Gibson moved to WYSL in 1974 before landing at WGR the following year. For the next decade, Shane entertained western New York and southern Ontario listeners with his mix of talk and music in the 6-10 spot. He left in 1983, only to return later in the decade as show host and program director. Opinionated and bombastic, yes. Creative and unpredictable, yes. One-of-a-kind, most definitely yes. There was simply no one else like him.
On this aircheck, Shane talks about the Buffalo Sabres (WGR was the team's flagship station), revives his "Professor Fool" character and shows us why he was one of Buffalo's most popular jocks of the time. The Cosmic Cowboy got his start in 1962 at the legendary KFWB Los Angeles. From there, it was on to Montana, North Carolina, Spokane and Salt Lake City. After a stint at WWKB in 1993, Shane moved to WLEE in Richmond, Virginia before retiring from radio in 2002 to work as a golf instructor. He was inducted into the Buffalo Broadcasters of Hall of Fame in 2011.
Enjoy Shane on WGR from March 29, 1979 here.

(The Bill Dulmage Collection)
---
Talent: STAN BARRON
Station: WBEN Buffalo, New York
Date: March 31, 1979
Time: 3:13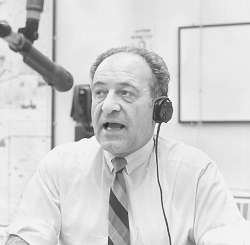 There a lot of different approaches one can take with a radio show on a music station. One can talk about the music and even add in music trivia (Roger Ashby is a good example.) Then there is the fast-paced, hectic approach (Jackson Armstrong.) Or you can just do time and temperature.
The approach favoured by WBEN's Stan Barron was to talk about sports. Barron, one of Western New York's top sportscasters, for years had a MOR-style program during the evening hours. In between the songs, he talked sports with lots of score updates, news and commentary. He called it Free Form Sports.
Stan Barron died of cancer in 1984, working on-air right up to the end. He is dearly missed by his many fans, who will always remember his sign-off "so long, be a good sport."
To hear Stan Barron, click here.

(The Bill Dulmage Collection)
---
Talent: GEORGE MICHAEL
Station: WABC New York
Date: April 2, 1979
Time: 48:08 (unscoped)
8:36 (scoped)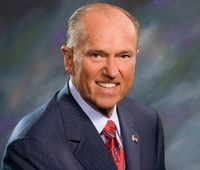 George Michael's biggest radio gig nearly didn't happen.
It was 1974 and the veteran jock had accepted a job doing TV play-by-play for the Baltimore Orioles. Michael was not enthusiastic at first when WABC program director Glenn Morgan approached him about doing the station's 6-10 p.m. shift. Assured that there would be plenty of opportunities to do TV sports in New York, "King George" finally took the job that most jocks could only dream about. For the next five years was one of the most widely heard jocks in North America with his nightly show on the 50,000-watt WABC blowtorch.
Michael had come a long way since his days as a self-described poor student with the worst grades while growing up in St. Louis. While attending Saint Louis University, he got a job as a record promoter. That led to radio with gigs at WIL St. Louis, KBTR Denver and WRIT Milwaukee. Beginning in 1966, he had an eight-year run at WFIL Philadelphia.
At WABC, the intense, energetic and always well-prepared Michael was a strong successor to Cousin Brucie, who had left after 11 years on the station's evening shift for rival WNBC. As WABC jock Peter Bush put it: "Every song was delivered as if his life at that very moment depended on it. He emanated cool on the air."
While in New York, Michael did some sports work, anchoring weekend sportscasts on WABC-TV, doing colour for New York Islanders on television, and filling in for Howard Cosell on ABC Radio's Speaking of Sports. So he was ready for the switch to TV when WABC released him in November, 1979 as part of a shakeup that also saw the departures of veterans Harry Harrison and Chuck Leonard. Finally free of his radio responsibilities, he now leaped into TV sportscasting full-time, and from 1980 to 2007 was the main sportscaster at WRC-TV in Washington, D.C. NBC syndicated his Sports Final highlight show in 1984 and renamed it The George Michael Sports Machine. He won an Emmy in 1985 for the show, a Sunday night staple of many sports fans before it left the air on March 25, 2007, with Michael saying "last one out, turn off the lights" as he walked off the set for the final time.
A nationally-known collector of baseball cards and early baseball photos, George Michael died of cancer Christmas Eve 2009. He was 70.
Enjoy George Michael on WABC (UNSCOPED) here.

Enjoy George Michael on WABC (SCOPED) here.




(The Don Shuttleworth Collection)
---
Talent: CAROL MILLER
Station: WPLJ New York
Date: April 5, 1979
Time: 31:21 (unscoped)
6:45 (scoped)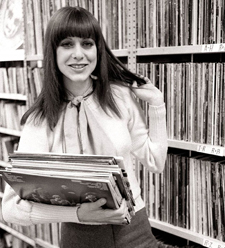 They say if you can make it in New York, you can make it anywhere. Carol Miller has done that and more.
The native of Queens, New York, got her start at Philadelphia classic rock outlet WMMR, in 1971 and later took on second job at New York's WNEW-FM. After about a year at WNEW-FM, she jocked at the short-lived WQIV in 1974 then jumped to WPLJ the following year. A strong supporter of Bruce Springsteen, she helped in the drive to make The Boss's "Born To Run" the "Unofficial Youth Anthem" of New Jersey.
Miller returned to WNEW-FM in 1983, and reported on new music for the TV show Entertainment Tonight. She began her long-running Led Zeppelin program, Get The Led Out, in 1984. Miller later moved to WAXQ-FM (Q-104.3) and Sirius XM. Her memoir, Up All Night: My Life and Times in Rock Radio, was published in 2012.
Hear Carol Miller on WPLJ (UNSCOPED) here.

Hear Carol Miller on WPLJ (SCOPED) here.




(The Don Shuttleworth Collection)
---
Talent
: RUSS THOMPSON
Station: CKFM Toronto
Date: April 5, 1979
Time:
5:23

He was an oasis of calm during one of the busiest times of the day.
Russ Thompson, who held down afternoon drive at CKFM Toronto for the better part of two decades, exuded calm and warmth as he helped busy commuters get through their homebound drive. Thompson, a son of immigrants who had fled the Russian revolution, arrived in Toronto radio in the '50s at CKEY but by 1965 had arrived at CKFM, CFRB's sister station on FM (he later left for a stint at CBC Radio, returning to CKFM in 1968). For much of his time at CKFM, Thompson was back-to-back with another great voice in Carl Banas, who followed him in the evening shift.
Thompson left CKFM in 1987 for a stint at CJEZ, which had just signed on as a beautiful music station. He would stay there until his retirement from full-time radio in 1992. Thompson kept busy by continuing his voiceover work, which included representing brands such as General Motors, Timex, CN/CP, Belvedere and Proctor and Gamble.
Thompson, whose birth name was
Boris Wegeruk, died January 16, 2017. He was 82.
Enjoy Russ Thompson on CKFM here.

(The Bill Dulmage Collection)
---
Talent: MICHAEL SARZYNSKI
Station: WNBC New York
Date: April 13, 1979
Time: 45:17 (unscoped)
7:37 (scoped)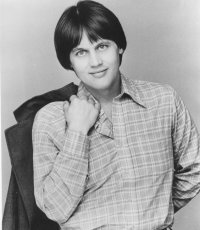 Disco was dominant in the late '70s and it seemed like everyone was dancing.
All-disco stations sprung up and playlists of many a Top 40 station were top-heavy with dance music.
But musical fads only last so long. The public's love affair faded in the early '80s as other styles of music took hold.
WNBC jumped on the disco bandwagon for a while as you'll hear on this aircheck of Michael Sarzynski. He spend four years atWNBC beginning in 1978. Sarzynski also jocked at WFIL Philadelphia, WKPQ Pittsburgh, WKXW Trenton, N.J., and WILK Wilkes-Barre, Pa. He died in 1998.
Enjoy Michael Sarzynski on WNBC (UNSCOPED) here.

Enjoy Michael Sarzynski on WNBC (SCOPED) here.

(The Bill Dulmage Collection)
---
Talent: LARRY ANDERSON
Station: WGR Buffalo, New York
Date: April 13, 1979
Time: 4:27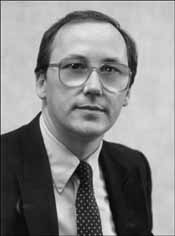 Larry Anderson was in many ways the brains behind WGR's success, even though many played a part. So it's ironic that the long-time program director and midday host was actually the first member of the station's great late-'70s lineup to leave the station, doing so in 1980 for WDAE Tampa, Florida. Listening to his last show in June, 1980 was like hearing a member of the family leave; you had a sense WGR was never going to be the same again. It wasn't - even though the station's sound remained mostly intact until 1985 when a switch was made to a less-personality and more music-oriented format (Anderson returned as general manager from 1985 to 1987).
The switch to a news-talk format was gradual in the late '80s but by 1990 'GR 55 had become a full-time news and talk station.
Larry Anderson died of cancer on November 4, 2002. He was 58.
Hear Larry Anderson here.

(The Bill Dulmage Collection)
---
Talent: RONN GRIMSTER
Station: CHFI-FM Toronto
Date: April 13, 1979
Time: 4:12

Ronn Grimster had one of those great voices that projected both warmth and authority. He could read the phone book and you'd listen.
Grimster got his start at CHOW Welland, Ontario, before moving to CFUN Vancouver as a "Good Guy" in the early '60s. After a stop at CHQM Vancouver, he moved to CHFI-FM in Toronto in the late '70s for a stay of more than a decade. He did both news and an air shift at 'FI (at separate times), and sounded great doing either.
Ronn Grimster died September 9, 2003, in Hamilton, Ontario, three days before his 79th birthday.
Hear Ronn Grimster on CHFI-FM here.

(The Bill Dulmage Collection)
---
Talent: J.D. ROBERTS and BOB MAGEE
Station: CHUM Toronto
Date: April 26-27, 1979
Time: 4:38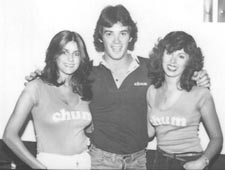 "I believe the best television broadcasters are people who came up through radio." - John Roberts
John Roberts is best-known for his work in television, but his original career goal was radio. And that's just what he did as J.D. Roberts early on, working in markets like Owen Sound, Kitchener and London before moving to what he in a 2004 interview with playbackonline.ca called the "epitome of Canadian broadcasting", CHUM. The Toronto-born Roberts did the all-night show at CHUM, but tired of it and moved into television with Toronto's CITY-TV, where he co-hosted the ground-breaking pop music magazine The New Music. He later became one of the primary "video jockeys" for MuchMusic, which launched in 1984.
Roberts began a highly successful TV news career in 1989 with a morning stint at a Miami CBS station. He co-hosted CTV's Canada AM in the early '90s, was CBS White House television correspondent from 1996 to 2003 and in 2007 was made co-anchor of CNN's American Morning (somewhere along the way he changed his air name to John Roberts). He later went to FOX News.
Enjoy J.D. Roberts, preceded by Bob Magee, at CHUM from 1979 here.

(The Bill Dulmage Collection)
---
Talent: LARRY WILSON
Station: CHUM-FM Toronto
Date: May 21, 1979
Time: 5:07

(Logo courtesy Bill Dulmage)
Radio wasn't a job to Larry Wilson. It was a passion.
As a newscaster at CHUM-AM and FM in the 1960s and '70s, Wilson didn't just read the news - he told the news. You felt he was talking directly to you as opposed to the listening audience as a group.
It was the same during his time in the late '70s and '80s as a late-night program host at AOR-formatted CHUM-FM.
He also touched those he worked with. Warren Cosford delivered this moving eulogy at his funeral in January, 1997.
Wilson had left radio a few years earlier to operate a bike-rental business in the Dominican Republic. He was 55 when he passed away.
Rock Radio Scrapbook is proud to present Larry Wilson on CHUM-FM here.

(The Bill Dulmage Collection)
---
Talent: JIM BRADY
Station: CFTR Toronto
Date: June 8, 1979
Time: 1:05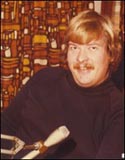 "Hoo, haw, it's Friday!
Captain Inspiration ... The Weather Faerie ... Uncle Jimmy's Story Time ... Crazy Carleton ... The Garbage Song.
If you remember any or of all of these, then you listened to Jim Brady.
"Brady in the Morning" became appointment radio for southern Ontario listeners during its run on Toronto's CFTR from 1973 to 1981. Brady's fast-paced wake-up show was a steady stream of one-liners, funny characters, hit music and information that was perfect for its time slot. In just six years he overtook CHUM rival Jay Nelson in the morning show ratings, a year after CFTR surpassed CHUM in the Toronto BBM ratings. After leaving 'TR, Brady took his act to CJCL and CFGM in the Toronto market. During his 45-year career, he would also work in Windsor, Calgary, Winnipeg, Los Angeles, Las Vegas, Louisville, Fort Wayne, Fort Worth and his hometown of Toledo. But he's probably best remembered for his unforgettable run as "Brady in the Morning" at CFTR.
Brady died June 5, 2014 at the age of 67.
Enjoy Jim Brady on CFTR here.

(The Bill Dulmage Collection)
---
Talent: DON DAYNARD
Station: CKFM Toronto
Date: June, 1979
Time: 6:56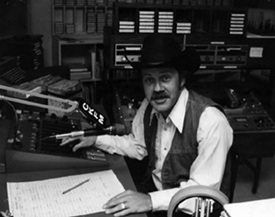 (Photo courtesy Iain Grant)
From humble beginnings as an office boy in Owen Sound, to host of one of the most popular morning shows in Canada, "Dazzlin'" Don Daynard saw a lot in his half-century in radio.
In this exclusive interview with Rock Radio Scrapbook, Don looks back on his fascinating radio career which dates back to the dawn of rock 'n' roll...
"Started in radio in Owen Sound in 1953 as an office boy. Then, operator and eventually weekend announcer then all kinds of different shifts ... block programming, country, soap operas, religion, you name it. Left in '57 to go back to
CHEX-TV
in Peterborough but not on air ... in telecine/film department. Only there nine months and back to O.S. as program director at radio station.

Fired in '59 and went to small-250 watt station in Kitchener ...
CKCR
I think it was there ... as news director if you can believe it! Only there a short time and left to go to California after getting green card, etc.

Got a job at Western Costume Company in Hollywood which at the time was located beside Paramount Studios. Worked there until '62 when our third child was announced and came back to Canada and landed a job at
CJET
in Smith Falls thru a friend of mine who was in sales .. Don Fox ... now passed away. Was program director and also morning show host.

Left there when hired away by
CFGM
in Richmond Hill, which had just gone country. Worked there on evenings and eventually mid mornings. Al Fisher was morning man and Bill Gallant was afternoons. Forget name of guy doing drive. (sorry, but exact dates are hazy.)

Was hired by
CKFH
as morning man late in '66 and started there on January 2nd, 1967, replacing
Phil MacKellar
who went to
CKEY
as all-night jock. Worked there until '69 when they brought in a new program director from Tucson, Arizona. Some of the jocks were
John Donabie
,
Kenny Wells
and
Tom Fulton
. Went to
CFRB
late in '69 - was off all that summer and actually did two auditions for 'RB as they screwed up the first one and misplaced it!! Was weekend and swing man plus two overnights in the middle of the week, which were the days off for
Wayne Van Exan
, now deceased. Worked with
Bill McVean
, nicest guy you'd ever want to meet,
Betty Kennedy
,
Bill Deegan
and
George Wilson
who did "Starlight Serenade". Even did that once or twice plus "Calling All Britons" the odd time, filling in for
Ray Sonin
!!! The big guns at 'RB then were
Gordon Sinclair
and
Bob Hesketh
and eventually
Charlie Doering
.

Left there to go over to
CKFM
in 1975 after I'd heard that morning man
Stu Daley
was leaving to freelance when
Russ Thompson
and
Dave Hodge
mentioned it one Friday night when we used to sit and bullshit. Went into
Bill Ballentine's
office on Monday morning and said I was interested in the job and he hired me right away. My favourite story about that interview was when I asked Ballentine what he wanted me to do and he said, "just do what you do." I've never forgotten that and have probably mentioned that more times than any other story. Except for a Deegan story which will remain unsaid!!
Bill Black
was programming the Morning Show - he's a film nut like me and now lives in Kitchener - and he asked me what song I'd like to start with on the first show. I said I had always liked "I Feel Fine" by
The Beatle
s - and that song wasn't on the station playlist but I said let's use it anyway, so we did. That first morning, after I'd been on for an hour or so, I talked over a vocal. We were, of course, playing vinyl in those days and remember how you'd have to find where the song started, back cue about a quarter turn and then let her go. Well, I stopped the disc on air, leaving the "pot" up, explained what had happened and re-cued it on air! Then, talking all the time during this, I started it up again and hit the vocal dead on. Well, about 8:45 Ballentine came in and I figured I was in deep ka-ka but he said he'd never heard anyone do that before and thought it was great! Shows you what kind of a boss he was!!

After 12 years of a really successful morning show at
CKFM
was approached by
Tony Viner
,
Sandy Sanderson
and
Paul Fisher
to come over to
CHFI
. We met at my place in Leaside as they didn't want to meet publicly as it might leak out. They laid out the salary and the bonus plan and I left
CKFM
in the fall of 1987. The Slaights had taken over
CKFM
in May of that year and the station began to change musically and some of the vets were fired. People like
Don Cameron
and a few others,
Jerry Bascombe
, etc.
Jerry Good
, a marvellous program director, was passed by for manager when Ballentine was let go and replaced by one
John Mackey
.

Started at
CHFI
on Tuesday, December 2nd, I think it was, after a three-month delay forced by my
CKFM
contract.
CHFI
wanted me to appear in the Santa Claus parade that year but
Gary Slaight
brought an injunction I guess you could call it against the station so I didn't do that appearance. We started with an oldies dance on a Tuesday night at the Inn on the Park. That was strange, let me tell you!!"
We asked Don about his nickname, "Dazzlin' Don," and how Danard became Daynard:
"I'd been on vacation in LA which I did fairly often back then and I used to listen to
Gary Owens
on
KFWB
; he did drive and used to refer to his program as "The Garish Program". I thought that was kind of a neat idea ... calling the show a variation of your name so when I came back, I started referring to the show as "The Don Dazzling Show". After about a week or two,
Jerry Good
, the Program Director, popped into the studio and suggested I turn it around and call it "The Dazzling Don Show" and I did and it stuck until I also started referring to the Morning Show as the "Daynard Drive-In" as so many of the audience in the Toronto area listened in their cars on the way to work. So I was both "Dazzling Don" and host of the "Daynard Drive-In" until
Paul Fisher
changed it to "Don and Erin" which was later on at my
CHFI
sojourn.

The name Danard, as I think I mentioned, was always pronounced Daynard but my folks and me and my sister always got Dan-urn and De-nard so I stuck the "y" in and went from there. Funny thing is, 'way back in the Danard history, it used to have the "y" but for some unknown reason, and nobody I ever asked about it knew why, the "y" was dropped but the pronunciation stayed the same. Of course, there are Dainards, Deynards, Daynards all over the place, particularly up in and near Owen Sound, where I grew up, and somewhere in Germany, Deinhards."
Enjoy
Don Daynard
on
CKFM
here.

(The Bill Dulmage Collection)
---
Talent: MAL FARIS
Station: CKFH Toronto
Date: June 30, 1979
Time: 1:53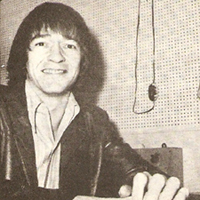 (Picture courtesy John Martin)
He loved to jock, and did so in every province from Quebec to Saskatchewan.
Mal Faris may be best known for his time at Toronto's CKFH, where he was for most of the '70s and into the early '80s. Part of that time was spent in mornings, and where we had the pleasure of meeting him, in the winter of 1974-75 during our time as a young op.
Prior to CKFH, Faris was at CKGM Montreal, CKRC Winnipeg, CKXL Calgary and CHIC Brampton, Ontario. The native of Balcarres, Saskatchewan, also jocked in his home province at CKRM Regina, CHOM Saskatoon, CHAB Moose Jaw and Regina Internet station K-HIT. In addition, Faris was the voice person on STV Regina (now Global Regina) and had a music career writing songs and singing in bars.
Faris died October 5, 2010 in Regina after a long illness. He was 67.
Enjoy Mal Faris on CKFH here.

(The Bill Dulmage Collection)
---
Talent: KEVIN NELSON
Station: CKAR Oshawa, Ontario
Date: July 5, 1979
Time: 3:08
Kevin Nelson was to Majic 100 what his father was to CHUM.
Kevin started in the morning show at the Ottawa station in 1991 and spent nearly 20 years there before being sidelined by a liver ailment in 2010. His long tenure there is reminiscent of the 17 years his father Jay Nelson spent at CHUM in mornings from 1963 to 1980.
Before Majic 100, Kevin Nelson's stops included CKAR Oshawa, Ontario, CKSL London, Ontario, and CHFM Calgary. He's also done television in Ottawa as a weather announcer at CBOT-TV and a video countdown host at CHRO-TV.
Kevin Nelson died December 13, 2011. He was 52.
Enjoy Kevin Nelson - who sounds so much like his father - on CKAR from July 5, 1979 here.

(The Bill Dulmage Collection)
---
Talent: ROBERT W. MORGAN
Station: KMPC Los Angeles
Date: August, 1979
Time: 1:01:25 (unscoped)
49:52 (scoped)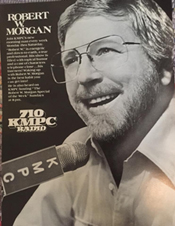 From Boss Jock to Boss Talker.
Lots of folks were surprised when Robert W. Morgan moved to a weekend split-shift at KMPC in 1975. After all, the native of Marion, Ohio, had spent the latter half of the '60s and early '70s as the highly-rated morning man at Los Angeles rival KHJ. But there was a method to his madness - four years later he succeeded 30-year KMPC legend Dick Whittinghill in the morning show. Morgan would stay six years at KMPC, surviving and actually flourishing in that station's transition to talk in the early '80s.
Enjoy Robert W. Morgan on KMPC (UNSCOPED) here.

Enjoy Robert W. Morgan on KMPC (SCOPED) here.

(The Joe Fazio Collection)
---
Talent: CARL BANAS
Station: CKFM Toronto
Date: August 7, 1979
Time: 2:59

Back when FM was really starting to emerge in the '70s, many of us were excited about the prospect of finally hearing our favourite tunes in stereo. But there was also another great prospect - that of hearing great radio voices and show presentations in stereo. One of the best was Carl Banas.
Banas was a CKFM mainstay in the 8 p.m.-midnight time slot in the '70s and '80s, when FM was surpassing AM as the radio medium of choice. His dulcet tones were a pleasure to hear, as was the middle-of-the-road music that made CKFM an early FM favourite in Toronto. Perhaps his most memorable moments were his well-written and beautifully-voiced vignettes of Toronto, usually carried at the top of the hour or right after the news.
One of those vignettes can he heard here.

(The Bill Dulmage Collection)
---
Talent: ROB COWAN
Station: CKFH Toronto
Date: August, 1979
Time: 3:07
In 1975, CKFH switched from an oldies format to country music. But by the late '70s, they changed again, this time to a MOR styling that is a pleasure to hear all these years later. The end was near for CKFH however. In 1981, it switched to a talk format as CJCL. Later in the decade, the tunes returned with the Music of Your Life format. In 1991, there was another format change, this time to all-sports as The Fan.
Rob Cowan was a holdover both from the oldies and country format. In fact, he was still there in '91 as the last music deejay ever on CJCL prior to the switch to The Fan.
Hear Rob Cowan here.

(The Bill Dulmage Collection)
For more fabulous CKFH airchecks, visit The Tom Fulton Collection
---
Talent: JACK ARMSTRONG
Station: KHTZ Los Angeles
Date: August 16, 1979
Time: 40:36 (unscoped)
8:25 (scoped)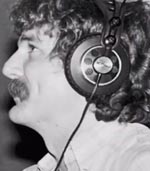 After nearly two decades spent mostly in the east, Jack Armstrong moved to the Golden State.
Armstrong spent more than a decade in California radio, beginning in 1978 at KTNQ Los Angeles. Three more L.A. stops would follow: KHTZ, KFI and KKHR. He would also jock at KFRC San Francisco and KBOS Fresno, California, before returning to his home state of North Carolina in the '90s. He died in 2008, aged 62.
Hear Jack Armstrong at KHTZ (UNSCOPED) here.

Hear Jack Armstrong at KHTZ (SCOPED) here.



(The Joe Fazio Collection)
* Originally recorded by Rob Frankel
---
Talent: RICK HUNTER
Station: CFTR Toronto
Date: August 28, 1979
Time: 28:06 (unscoped)
7:12 (scoped)

Before he was at CFTR, Rick Hunter was at CHUM.
Check out Rick Hunter's memories of working at 1050 CHUM in Doug Thompson's "Inside 1331" column on the CHUM Tribute Site.
Enjoy Rick Hunter on CFTR (unscoped) here.

Enjoy Rick Hunter on CFTR (scoped) here.

(The Bill Dulmage Collection)
---
Talent: DAN WILLMOTT
Station: CKGM Montreal
Date: September 22, 1979
Time: 1:08

(Photo courtesy Marc Denis)
If there's a cure for the "radio bug", Dan Willmott doesn't want to hear about it.
Dan Willmott tells Rock Radio Scrapbook he started working part-time at CJME Regina in 1975 as a way to pay for university. It was there got the radio bug and took some time off school to try this "radio thing". Well, that "radio thing" led to a more than two-decade career as a jock and a successful career as an actor and voice talent. After doing middays at CJME, his radio journey took him to CKGM Montreal, late night then middays (1979-82), CKAR-CKQT Oshawa, Ontario, mornings/afternoons, program director (1982-83), CKXL-CISS Calgary, middays (1983-88), CKGM-CHTX Montreal, afternoons (1988-90), CJFM Montreal, mornings (1990-91), The Rock Radio Network at Q-107 Toronto and CHED Edmonton (1991-92), CHQR Calgary, mornings (1992) and Lite 96 Calgary, afternoons (1992-96).
Willmott left radio in 1996 to become a full-time actor/voice talent (though he did guest-host in mornings at CHYM-FM Kitchener, Ontario, from 2000 to 2005.) His extensive list of acting highlights include Mean Girls, The Sheldon Kennedy Story, General Hospital, The Circuit for ABC Family and Waydowntown (winner of the Toronto Film Festival). He starred in the short film Deported for the Film Festival Circuit, the Toby Keith pre-concert video and the film Dinner Out. He also has a voice-over training program taught by himself and other award-winning voice-over talents. Please visit Dan's web site.
Enjoy Dan Willmott on CKGM here.

(The Marc Denis Collection)
---
Talent: BEAU BODEAN
Station: CKGM Montreal
Date: September 22, 1979
Time: 22:11 (unscoped)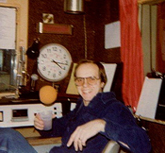 (Photo courtesy Marc Denis)
Who better to tell the story of Beau BoDean than the man himself?
Born Wolfgang Fritzsche in Lingen, Germany, the radio personality we now know as Beau BoDean came to Canada at the age of three. He grew up in Winnipeg and also started in radio in Manitoba. Rock Radio Scrapbook asked BoDean about his career and he sent us this wrap...
"CHTM - Thompson, MB. - 1972 - 1973 my first radio job under the name " Mel Corey " (all shifts)
CJME - Regina, SASK. - 1973-1976 as Mel Corey (middays, afternoons, and "The Moneymobile Guy" on the Hart Kirch morning show)
CKRC - Winnipeg, MB - 1976-1978…this is where Mel Corey became Buster BoDean … thanks to Reg Johns !….(afternoons)
CKGM - Montreal, PQ - 1978-1982…sometime during my stint here Buster BoDean evolved into just " Beau" to capitalize on the French Connotation!! (afternoons…evenings…promotions…program director)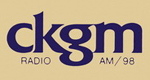 (Logo courtesy Marc Denis)
CJBK - London, ONT. - 1982-1989…John Mackey (our former CKGM PD) moved both Michael Dee & me down to London in May of 1982 (mornings, afternoons, music director, program director )
Q94 FM – Winnipeg, MB - 1989-2006...Hooked up with Tom Milroy for the Beau & Tom Morning Show with various female co-hosts including Caroline Hunter….Frazier….Dez Daniels ( PDs were Mark Maheu & Howard Kreuger)
99.9 BOB FM – Winnipeg, 2006-present...Tom & I moved down the hall to our sister station in August of 06…just this past March (2009) we celebrated 20 years on the air together here in The Peg!! In September Frazier rejoined us on the morning show after leaving 10 years ago for Calgary! We're still having lots of laughs & fun…can't imagine doing anything else!!! Kudos to our great PD Chris Brooke for letting us live the radio dream….."
Thanks, Beau!
Enjoy Beau BoDean on CKGM here.

(The Bill Dulmage Collection)
Audio editing by Marc Denis
---
Talent
:
DOUG PRICE
Station:

CKGM Montreal
Date:
September 22
, 1979

Time: 22:19 (unscoped)
1:48 (scoped)

(Photo courtesy Marc Denis)
More of CKGM from September 22, 1979, this time featuring Doug Price.
Hear Doug Price (UNSCOPED) here.

Hear Doug Price (SCOPED) here.

(The Bill Dulmage Collection)
---
Talent: CHARLIE WEST
Station: CKDA Victoria
Date: September, 1979
Time: 7:14

"Go West Young Man" was the suggestion of Indiana newspaperman John Soule in 1851. So we'll do that with not only an aircheck from Canada's westernmost city, but also from a deejay named West.
CKDA, founded by David M. Armstrong in 1949, has a rich and varied history. In the early years, the format was Golden Sound Music - featuring the great sounds of the likes of Sinatra, Nat King Cole and Doris Day. CKDA switched to rock in the late '60s, and was Victoria's leading Top 40 station throughout much of the '70s.
With the increased popularity of FM in the 1980s, CKDA's market share was strongly challenged. By the latter half of the '90s, CKDA had become country-formatted CKXM. It's now on the FM dial with a modern rock format as "the Zone."
We remember a kinder, gentler time on Rock Radio Scrapbook.
Enjoy Charlie West on CKDA here.

(The Laurence Etling Collection)
---
Talent: PETER GARLAND
Station: CKSL London, Ont.
Date: October 8, 1979
Time: 43:55 (unscoped)
21:30 (scoped)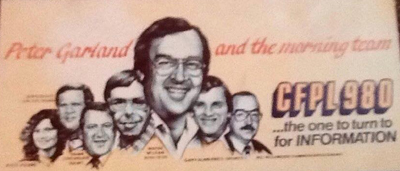 L-R: Kate Young, Dean Chevalier, Wayne McLean, me, Gary Allen Price, Rick Wellwood. (Courtesy Peter Garland)
Peter Garland spent more than three decades on the air in south-western Ontario, most of it in mornings at London stations CKSL and CFPL. Rock Radio Scrapbook asked Peter about his long and fascinating radio career, and here's what he told us:
"In 1969, while still a Fighter Control Operator in the RCAF, I got a weekend gig at CFCH North Bay based on some experience I had at volunteer radio stations on various bases on the Pine Tree Line during the previous 12 years of service. In April 1970, I walked into CJCS radio in Stratford while on leave and left as the new PD. GM Stan Tapley handed me some copy to read, asked if I supervised anyone in the RCAF and hired me. Did PD, middays, production, swept up, etc for two years. From PD I worked my way down.
One summer day in '72, John Funston, GM of CKSL London, came to town for a dose of Shakespeare, heard me and had PD David Craig call and offer me Robert Q. Smith's midday job. After one year on middays, I got the morning show, replacing Warren Pierceafter consultant Ted Randall led a massive and ruthless purge in staff, the new format being "Gold 'n' Great" - perhaps one of the first oldies stations. After nine years, a comedy album, and pretty good numbers against the king of mornings - CFPL's Bill Brady - I got a very secretive phone call, who had left mornings for management. Big shoes to fill! The man is legendary.
CFPL is the heritage station in London - also legendary - owned by the Blackburn family, at one time a London media giant: TV, radio newspaper. So between 1981 and 2003 it was Garland in the Morning, interviewing some of the world's most famous, combined with oldies, comedy and a huge newsroom community presence. We had a magazine-type format sadly missing in today's radio, mostly. It still lives on to some degree in rural radio.
Blackburn sold their radio properties to Corus in 2000. I hung up the headphones in 2003, after 33 years in commercial radio. From the kid who grew up with radio's golden age, to fulfil his radio dreams, to be given the chance to make people smile in the morning, to help charities grow, it was a beautiful fulfilling time of my life. As I say to my neighbours here in beautiful Twillingate (Newfoundland), I used to be somebody. Now I'm somebody else."
Hear Peter Garland (with Larry Silver and Chris Mayberry) on CKSL (UNSCOPED) here.

Hear Peter Garland (with Larry Silver and Chris Mayberry) on CKSL (SCOPED) here.

(The Bill Dulmage Collection)
---
Talent: PETER GARLAND
Station: CKSL London, Ont.
Date: October, 1979
Time: 15:34
More of Peter Garland and the morning crew on CKSL here.

(The Bill Dulmage Collection)
---
Talent: BEAU BODEAN
Station: CKGM Montreal
Date: October 26, 1979
Time: 2:57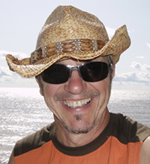 (Photo courtesy Beau BoDean)
You can never get enough of Beau BoDean on CKGM. Here's more!
Enjoy Beau BoDean on CKGM here.

(The Marc Denis Collection)
---
Subject: CALGARY RADIO COMPOSITE
Stations: CFCN, CKO, CHQR, CKXL, CBR
Date: November, 1979
Time: 14:35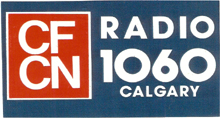 (Description and graphic courtesy Dale Johnson)
CFCN 1060 (00:00): It went on the air in 1922. For most of the '70s, Russ Tyson was a DJ in Calgary at CKXL and CFCN. Tyson also worked in Regina, Hamilton, Vancouver, Winnipeg, Thunder Bay and Saskatoon.
Among other notable ex-employees of CFCN: Ralph Klein, who later became Mayor of Calgary and then Premier of Alberta was a civic affairs reporter with CFCN-TV and radio. Also, Keith Hampshire who worked for a time as a cameraman at CFCN-TV and as an operator at CFCN radio, before launching his own career behind the mike at Radio Caroline South, a pirate radio station in the North Sea in 1966 and 1967. Then he returned to Canada and worked at Toronto's CKFH from 1967 to 1969. During the 1970s he had a few top ten hits of his own, including Daytime-Nighttime, First Cut is The Deepest and Big Time Operator. Hampshire was also guest star and writer on several of the Wayne and Shuster TV specials of the 1970s. He later had his own TV show on CBC called Music Machine. He earned a gold record for the song OK, Blue Jays.

CKO 103.1 FM (3:48): This was part of the national all-news network, which operated from 1977 to 1989. CKO folded due to lack of money and lack of listeners, but since it shut down many stations across Canada have switched from music to news and talk. Featured on this aircheck is Beverly Lynn Robbins, who had previously worked at CKOM 1250 Saskatoon. The 103.1 frequency that CKO used in Calgary was used by CIQX as of 2008.

CHQR 810 (5:12): This was an adult-oriented music station for a time in the '70s. Now it's all talk and information and is at 770. Jeff Newland is featured on this aircheck with a newscast. Newland had previously worked at CJWW 1370 in Saskatoon, and now is in radio in Wainwright, Alberta.
CKXL 1140 (10:15): It was a Top 40 station in the 1970s. Listen to Michelle Jones with the news on this aircheck. CKQL was rebranded in 1987, and left the airwaves in 1996.
CBR 1010 (11:35): Norris Bick was a popular voice at CBC Calgary from the 1960s to the 1980s. Earlier he had worked at CKBI Prince Albert, Saskatchewan.
Enjoy this composite of November, 1979 Calgary radio here.

(The Dale Johnson Collection)
---
Talent: PHIL MacKELLAR
Station: CKFM Toronto
Date: November 11, 1979
Time: 2:33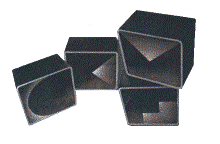 The unwritten rule in any radio control room is to always consider the microphone to be on. For a few moments, Phil MacKellar forgot that rule, and he paid dearly for it
On the morning of July 31, 1982, MacKellar was hosting his regular music show on CKFM. MacKellar, a 34-year broadcast veteran, had for years been host of the Sunday late-night All That Jazz program for CKFM. This was a popular show for which MacKellar had won much praise from black musicians and the black community. He had no known history as a racist. On this morning, however, MacKellar repeated a racial remark a studio guest made about the celebrants at the Caribana festival in Toronto.
Unfortunately, the microphone was on and his remarks - certainly not intended for public consumption - went out on the air. Despite MacKellar's long history of support of the black music community in Toronto, CKFM quickly removed MacKellar as host of his regular music show though he did retain his Sunday program for a while. In fact, his last Sunday show was scheduled to air only four days after his death.
There is no place for racist remarks broadcast or otherwise, but MacKellar's actions were clearly a terrible mistake - not a diatribe directed against the black community. Public support for MacKellar was minimal (CHUM's Dick Smyth did do an emotional commentary in his defence and Gordon Sinclair also supported him on-air) but for the most part MacKellar was hung out to dry. It was easier for most to be "politically correct," even though the term didn't exist back then.
Years later, Avery Haines would be fired after making a similar gaffe on CTV Newsnet. However, in her case she not only earned significant media support, but quickly wound up with a new anchor position on CITY-TV.
MacKellar died of a heart attack on January 26, 1983, less than five months after the incident.
Hear Phil MacKellar here.

(The Bill Dulmage Collection)
---
Subject: PAT ST. JOHN'S "THE BIG MONTAGE"
(from aircheck of CAROL MILLER)
Station: WPLJ New York
Date: November, 1979
Time: 17:37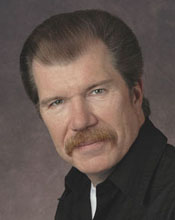 Click on the pic to go to Pat's web site
WPLJ called itself New York's Best Rock. It was also the home of some rock radio's best production, highlighted by The Big Montage.
WPLJ program host Pat St. John began creating top-of-the-hour music montages for the album-rock station in 1978. The montages were theme-oriented, and proved to be a very popular part of WPLJ's programming. Later airings had some of the montages spliced together, as you'll hear here.
Following this montage, you'll hear a snippet of the theme WPLJ used, My Sweetheart by Focus. Few songs have been as much identified with a single station as this one. Versions by the Mothers of Invention, The Four Deuces and the Hoodoo Rhythm Devils were also used in the montages.
Enjoy Pat St. John's "The Big Montage" - introduced by Carol Miller - here.

(Scrapbook archives)
---
Talent: ROBERT HOLIDAY (newscast)
Station: CFTR Toronto
Date: November 12, 1979
Time: 3:23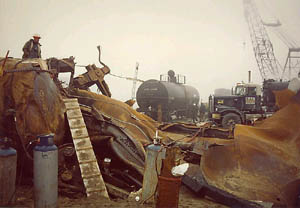 At 11:53 p.m. on Saturday, November 10, 1979, a Canadian Pacific freight train derailed in Mississauga, Ontario, spilling large quantities of caustic soda, chlorine, styrene, propane and toluene - an environmental nightmare. What followed was the largest peacetime evacuation in North American history. In the hours and days ahead 250,000 residents of Mississauga would be told to leave their homes for safety reasons. Some would not return until the following Friday, November 16, when the city was declared open again.
Local radio coverage of the accident was excellent. Most stations had fully staffed newsrooms at the time and competition was fierce to get the story fast and right.
Hear a brief sample of that coverage with Robert Holiday on CFTR here.

(The Bill Dulmage Collection)
---
Talent: BOB CRUZ, MARC SOMMERS
Station: WABC New York
Date: November 28, 1979
Time: 1:01:19 (unscoped)
17:13 (scoped)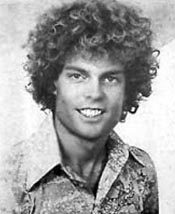 WABC listeners in late November 1979 could be excused if they didn't know there was a new voice in afternoon drive.
That's because Bob Cruz - who replaced Dan Ingram in PM drive while the latter moved to mornings - sounded exactly like him.
WABC executives who listened to tapes of Bob Morgan - the name he was using at the time - couldn't believe their ears. He sounded just like Ingram right down to the mannerisms, lacking only the trademark Ingram humour. Turns out Morgan/Cruz had grown up in the New York area and spent countless hours practising his Ingram rap. Now plying his trade in Florida as Bob Morgan, WABC convinced him to move to the Big Apple in 1976 to do overnights. Within three years he took over Ingram's shift under his real name, Bob Cruz.
Cruz lasted just over a year in afternoon drive, leaving in early 1981 for an announcer job at ABC-TV in New York. He died of AIDS in 1995.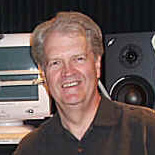 Appearing near the end of this aircheck is Marc Sommers. He started at WABC in February 1979 after beginning his career atKNOE -FM in Monroe, Louisiana in 1971. After leaving WABC with the switch to talk in 1982 he moved to WCBS-FM.
Enjoy Bob Cruz and Marc Sommers on WABC (UNSCOPED) here.

Enjoy Bob Cruz and Marc Sommers on WABC (SCOPED) here.

(The Joe Fazio Collection)
---
Talent: RON LUNDY
Station: WABC New York
Date: December, 1979
Time: 4:16
Ron Lundy was the only jock not seriously affected by WABC's "Thanksgiving Massacre" of November, 1979.
Lundy stayed in mid-days (his shift was shortened by an hour) while veteran jocks Harry Harrison, Chuck Leonard and George Michael got the boot. Long-time afternoon driver Dan Ingram went to mornings, Bob Cruz moved to afternoon drive from the all-night show, weekender Marc Sommers took over evenings and Mike McKay got the all-night show.
Ron Lundy died March 15, 2010 at the age of 75.
Enjoy Ron Lundy on WABC here.

(The Bill Dulmage Collection)
---
Talent: WAYNE BARRY
Station: CHEC Lethbridge, Alberta
Date: 1979
Time: 6:04

Wayne Barry is the type of morning funnyman we wish were more common on the radio these days. Yes, he's corny but that's the way we like it as K.C. and the Sunshine Band might say.
Barry, heard here on CHEC, also jocked at Lethbridge rival CJOC. He was also heard at CFCN Calgary, CKRD Red Deer, Alberta, and CKOV Kelowna, B.C.
Wayne Barry Heinrich died May 24, 2013.
Enjoy Wayne Barry on CHEC here.

(The Bill Dulmage Collection)
---
Talent: STAN ROBERTS
Station: WGR Buffalo, New York
Date: December 27, 1979
Time: 5:23

Stan Roberts made us smile.
A man born to be behind a microphone, Roberts got the yuks in Buffalo morning drive for more than three decades. He replaced Jay Nelson at WKBW in 1963 and stayed there for seven years before leaving for WHDH Boston. Roberts returned to the Queen City in 1972 for a nine-year run in mornings at WGR where he was part of a legendary on-air lineup that included Frank Benny, Shane, Tom Donahue, John Otto and program director Larry Anderson.
Roberts left WGR for mornings at WBUF-FM in 1981. He went to WBEN in 1988 and followed that with stints at WSJZ (Smooth Jazz) and WECK in the '90s. Roberts hung up the mic in 2000 to concentrate on sales (he is one of Buffalo's top-billing radio salesmen). Roberts, who got his start in the late '40s as a teen DJ in Ashbury Park, New Jersey, was inducted into the Buffalo Broadcasters Hall of Fame in 2004.
Enjoy Stan Roberts on WGR here.

(The Bill Dulmage Collection)
---
Talent: FRANK BENNY
Station: WGR Buffalo, New York
Date: 1979
Time: 6:41
The master of the double entendre, Frank Benny spent 19 years at WGR beginning in 1966. He did morning drive at 'GR until 1972, then moved to afternoon drive until he left the station in 1985. After that he did mornings at WYRK and weekends at WBEN before leaving for Florida and several more radio gigs in 1989.
Benny died May 9, 2005 of complications of pneumonia. He was 67.
Hear two separate Frank Benny airchecks back-to-back here.

(The Bill Dulmage Collection)
---
Subject: CHUM composite
Station: CHUM Toronto
Date: circa 1979
Time: 6:40



Top 40 radio on AM was still a viable force in the late '70s and early '80s, but the stream of listeners to the FM dial for music programming was fast becoming a torrent.
CHUM was still strong in the ratings, with a cast that included deejays Jay Nelson, J.D. Roberts, Mike Holland and Roger Ashby, newsmen Dick Smyth and Mark Dailey and sportscaster Brian Henderson.
Terry Steele, Bob Magee, Jim Van Horne and John Majhor are among the voices you'll recognize from this aircheck when CHUM was The Rock of Toronto.
Enjoy the CHUM composite here.

(The Bill Dulmage Collection)

For more classic CHUM airchecks, visit The CHUM Archives
---