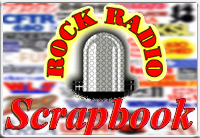 Airchecks: 1981
Talent: ANDY NEILL
Station: CKFH Toronto
Date: January 2, 1981
Time: 50:46 (unscoped)

Like the subject in the Hank Snow song, Andy Neill has been everywhere.
The veteran broadcaster has entertained at nearly two dozen stations in a career that began in 1963 at CKMR Newcastle, N.B. Neill's radio resume includes CFNB Fredericton, CFOX and CKGM Montreal, CJCH Halifax, CKSL London, Ont., and CKFH, CJCL, CFTR, CJEZ and CKEY Toronto. At last word (2012), he was doing voice work in Brazil. For a compete list of the stations Neill has worked at, visit 440:Satisfaction.
This aircheck captures the end of an era. In January 1981, the CKFH call letters were about to be retired after three decades. CKFH became CJCL April 21, 1981 following the sale of the station to Telemedia by Foster Hewitt, whose health was failing. The legendary hockey broadcaster had owned CKFH since its inception in 1951. Hewitt died in 1985.
Enjoy Andy Neill on CKFH from January 2, 1981 here.

Enjoy Andy Neill on CKFH from January 2, 1981 here.

(The Tom Tass Collection)



Rock Radio Scrapbook pays
online streaming fees to the
Society of Composers, Authors and Music Publishers of Canada (License 22-F)

---

Download your free RealPlayer to hear our airchecks

Click here for technical help

---
Talent: HARRY HARRISON
Station: WCBS-FM New York
Date: February, 1981
Time: 5:25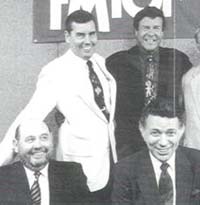 (Clockwise, top left: Harry Harrison, Cousin Brucie, Dan Ingram, Ron Lundy)
It was New York radio's version of the "Million Dollar Quartet."
For a time, the New York station boasted not one but four bonafide legends from WCBS-FM's Musicradio days. Harry Harrison took over the WCBS-FM morning show March 24, 1981, just four months after his 12-year run in WABC's AM drive spot ended. Ron Lundy, the long-time WABC mid-morning jock, started in the same time slot at WCBS-FM on May 14, 1984.
The next WABC legend to join was Cousin Brucie, who started doing a Wednesday night show on August 11, 1985. The Cuz had been the evening jock on WABC from 1961 to 1974. Then former WABC afternoon driver Dan Ingram made it a quartet October 19, 1991 when he joined for weekend duty.
Lundy was the first of the four to leave, retiring with a great send-off September 18, 1997 (he died in 2010). Ingram and Harrison left in 2003 (Harrison returned for weekends in 2004 and '05). Brucie departed with WCBS-FM's switch to the Jack format in 2005.

Enjoy Harry Harrison on WCBS-FM from February, 1981 here.

Enjoy Harry Harrison on WCBS-FM from February, 1981 here.

(The Bill Dulmage Collection)
---
Talent: LARRY NORTON
Station: WGRQ Buffalo, N.Y.
Date: April 8, 1981
Time: 19:15 (unscoped)
8:09 (scoped)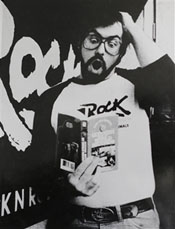 Stunts and contests were a mainstay of Top 40 broadcasting, with stay-awake marathons among the most popular. Peter Tripp did a 206-hour marathon for WMGM in 1958 (supposedly it affected his health in the long term). But on March 14, 1981, Larry "Snortin'" Norton - then the midday jock at Buffalo's 97 Rock WGRQ) - set out to stay on the air for 484 consecutive hours. Under the rules set by the Guinness Book of World Records, Norton could take a five-minute break every hour, or save up those breaks and take a two-hour rest every day. That's what he did, sleeping from 2-4 a.m. and broadcasting for 22 consecutive hours for 20 straight days before finishing up on April 8. When it was over, Norton got a well-deserved trip to the Virgin Islands and yes, some sleep.

(Logo courtesy Bill Dulmage)

To hear how Larry Norton's marathon ended, click here. (UNSCOPED)

To hear how Larry Norton's marathon ended, click here. (UNSCOPED)

To hear how Larry Norton's marathon ended, click here. (SCOPED)

To hear how Larry Norton's marathon ended, click here. (SCOPED)

(Scrapbook archives)
---
Talent: JOHN MAJHOR
Station: CHUM Toronto
Date: April, 1981
Time: 8:37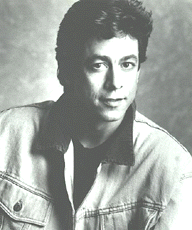 Whether behind the mike, in the lens of a TV camera or in cyberspace, John Majhor was always on the cutting edge of the electronic media.
The San Bernadino, Calif., native first came to the attention of Toronto radio fans in 1975, as a deejay at 1050 CHUM. For the better part of 11 years, Majhor enjoyed killer ratings with his energetic show at Canada's legendary Top 40 station.
In 1983, Majhor broke new ground in television with Video Singles, a daily 4 p.m. music video show that pre-dated Much Music and earned an astounding 23 rating. That led to another popular video show, Toronto Rocks, on CITY-TV.
After a stop in the much-desired CHUM morning show in 1985-86, Majhor headed west for a groundbreaking talk and country music show at KLAC Los Angeles. That was followed by gigs on the widely-syndicated After Hours TV show and a role as anchor and producer on the newly-launched E! Television. Then it was back to radio as a deejay at KCBS-FM alongside legends such as Charlie Tuna and the Real Don Steele.
In 1990, Majhor returned to Toronto for the morning show at CJEZ-FM followed by a talk show at CFRB and two-year run as host of the popular Lunch Television at CITY-TV. He was also the promo voice for 680 News from 1993 to 1999.
After a year at Q101 in Santa Fe, N.M. (1999-2000), Majhor co-created and programmed Quickradio.com, a streaming Internet radio station.
Majhor died of cancer January 23, 2007. He was 53.

Rock Radio Scrapbook presents John Majhor on CHUM here.

Rock Radio Scrapbook presents John Majhor on CHUM here.

(Scrapbook archives)
---
Talent: JIM BRADY
Station: CFTR Toronto
Date: August 12, 1981 (last show)
Time: 15:37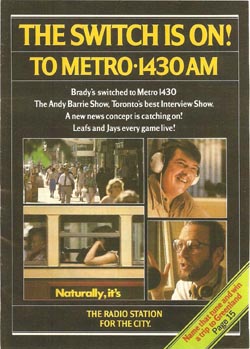 Jim Brady's 1981 move from CFTR to CJCL was big news at the time
(Description and graphic courtesy Dale Johnson)
Jim Brady was CFTR's morning man from 1973 to 1981. Brady in the Morning eventually overtook the legendary Jay Nelson at CHUM.
Brady left CFTR briefly in 1978 for a stint at KOPA Phoenix, returning two months later. His final show at CFTR the second time around was on Wednesday, August 12, 1981.
Brady left for CJCL Metro 1430, the former CKFH, where he was morning man and program director. After a couple of years there, Brady had stints in Calgary and Winnipeg. In 1990, he returned to the Toronto market at country station CFGM in 1990, just before that station CHOG with a Top 40 format. Brady later worked in Los Angeles and Ford Worth, Texas. His career began in his hometown of Toledo, Ohio in 1964, and included a stop at CKLW Windsor/Detroit in 1968. He retired from radio in June 2008 after returning to Toledo at WRQN-FM.
We have Jim Brady's final CFTR show (the second time around). You'll also hear the voices of newscaster Mike Robbins and deejay George Hamberger, who came on each day at 10:00 a.m., right after Brady signed off with "come get me mother, I'm through!"

Hear Jim Brady's final CFTR show (the second time around) here.

Hear Jim Brady's final CFTR show (the second time around) here.

(The Dale Johnson Collection)
---
Talent: JIM BRADY
Station: CJCL Toronto
Date: August 21, 1981 (first show)
Time: 20:04
(Description by Dale Johnson)
After eight years as morning DJ at rock station CJCL, Jim Brady left in 1981 to become morning DJ and program director at Metro 1430 CJCL.
The former CKFH had sunk low in the ratings, and the new owners, Telemedia, bought the station and rebranded it. The programming was a mix of information and music aimed at 25- to 49-year-olds - those too young for CFRB and CKEY, but too old for CHUM or CFTR. "We're 17th in a 16-station market," Brady said in the Toronto Star. Brady kept many of the popular features from his CFTR days, including the "who-haw it's Friday" jingles and the weather fairy.
Brady wasn't at CJCL very long, leaving in 1983. He moved to stations in Calgary and Winnipeg before returning to the Toronto market for a few months in 1990 with CFGM.
CJCL tried a variety of formats, including talk, oldies and sports. In 1995, CJCL swapped frequencies with the former CKEY, moving down to 590, and it's now all-sports, and known as The Fan 590. Meanwhile, 1430 began broadcasting multi-cultural programming under the new call letters CHKT.
This aircheck also features the voices of Mike Marshall, newscasters Glen Stone and J. Michael Philips, Pam Kioti on traffic and sportscaster Scott Ferguson.

Hear Brady during his first day on the air at Metro 1430 CJCL here.

Hear Brady during his first day on the air at Metro 1430 CJCL here.

(The Dale Johnson Collection)
---
Talent: BOB DEARBORN
Station: Night Time America
Date: December 15, 1981
Time: 1:05:33 (unscoped)
26:11 (scoped)
Bob Dearborn tells us the story of Night Time America, the first live, daily, nationally-syndicated satellite-delivered music and call-in show in the U.S.
"The first "Night Time America" show was on the early morning of January 2, 1981. I was hired to be the host/producer. The network had a title for the show and satellite time arranged but left it to me to flesh it out: decide the format, the music, the music rotation, the features, etc. I began with a two-year contract, at the end of which we renewed for another two years. In September 1984 I had a meeting with upper management about another contract renewal at the end of the year. Because RKO had had some serious financial and legal problems in 1984 they were unable to deliver on some promises they earlier had said would be part of our new deal. They asked me to think over the situation and let them know by the first of December. When that time came, I told them I would not renew, that I was done with it, tired and ready to move on (to radio station ownership). My last "Night Time America" was on New Year's Eve (actually the early morning of January 1, 1985). But the show continued with another host for a few more months. From what I was told, our affiliates were not too happy with the change of hosts and the quality of the program after my departure. Due to mass affiliate cancellations, the network ended NTA in the spring of 1985. I'm not sure of the exact date.

The show was live from our studios in mid-town Manhattan five nights a week, Monday through Friday (or, more correctly, Tuesday morning through Saturday morning). Sometime in the first year we started offering a sixth night of the program. Four nights before the live program I would record an hour for use on Saturday night. We would combine those four hours with an hour of "Countdown America" which I did live on Wednesdays to make the five-hour show for Saturday nights. This procedure continued until our fourth year when we hired a local guy, Mike McKay, to host the Saturday night show live. It was McKay who took over hosting all the NTA shows after I left.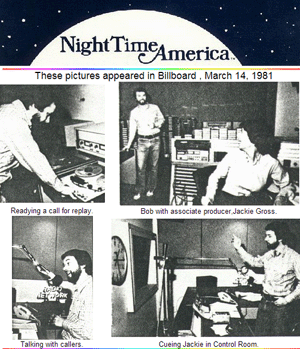 We had 154 affiliates carrying the show five hours a night, five or six nights a week for four years. And our stations were not all in small towns either. NTA aired in Chicago, Houston, Seattle, Boston, San Diego, Denver, Cincinnati, Pittsburgh, St. Louis, Salt Lake City, New Orleans, Buffalo, Portland, Raleigh ... and could be heard from West Palm Beach to Fairbanks, from Hilo to Bangor. Speaking of Fairbanks, we took NTA there in 1982 for a week of shows. It was the first time a series of radio shows heard nationally had originated in Alaska. It was also the first time TWO communications satellites were employed for broadcasts. Those were not the only firsts. The show itself was the first, live, daily, satellite-delivered music and call-in show in radio history. We were proud of that, proud to have been pioneers in satellite-delivered radio.
I always thought NTA could've been more, and if RKO hadn't run into problems and could've kept earlier promises, the show might have been greater. One of the things they had said they would was hire me another assistant. I was doing almost everything with that show: hosting, programming, music lists, affiliate schmoozing, even typing up the cart labels. I had an associate producer/engineer during the show and an engineer who during the day would cart up whatever music I needed, but other than that, I was a one-man band. It was all worth it, though, and an experience for which I'll be eternally grateful."
Hear Bob Dearborn with Night Time America (UNSCOPED) here.

Hear Bob Dearborn with Night Time America (UNSCOPED) here.

Hear Bob Dearborn with Night Time America (SCOPED) here.

Hear Bob Dearborn with Night Time America (SCOPED) here.

(The Tom Konard Collection/Aircheck Factory)
---
Talent: BRUCE MARSHALL
Station: CJJD Hamilton
Date: 1981
Time: 4:33

It took Bruce Marshall just seven years to reach the pinnacle of Canadian Top 40 radio.
Marshall got started in radio in 1977 at CJWA Wawa, Ont., soon moved to CKDK Woodstock, Ont., and by 1979 was jocking in his first major market at CJCH Halifax. After about six months in Halifax, he moved to CJJD Hamilton (now CHAM). CHUM was paying attention, as Marshall was hired in 1984 as a jock at the legendary Top 40 station. He moved across the hall to CHUM-FM in 1984 where he stayed for the next 19 years. From there Marshall went to a part-time gig at CJEZ (EZ Rock) until the Toronto station became boom 97.3, Toronto's Greatest Hits in 2009.
In addition to his 30-plus years as a broadcaster, Marshall has also been a voice performer, including serving as the image voice of TSN, and a professor in the media school of Humber College. He also worked for 18 years as a firefighter and taught in the fire service program at Seneca College and in the basic training recruit school at the Ontario Fire College. Marshall's long resume of voicing radio and TV commercials includes Tim Horton's, VW, Hyundai, the Ontario Lottery Corp., the Western Lottery Corp., Mazda, Symantec and Hotels.ca. He also consults on media issues and has developed several radio advertising campaigns through his company MarshallCom Group Inc.

Enjoy Bruce Marshall on CJJD here.

Enjoy Bruce Marshall on CJJD here.


(The Charlie Ritenburg Collection)
---
Talent: DADDY COOL
Station: CFNY Brampton, Ont.
Date: Winter 1981-82
Time: 5:59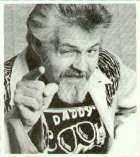 To borrow from the title of the Poni-Tail's 1958 hit, Dave Booth was born too late.
In the early '80s, Booth brought a style to Toronto radio that literally had not been heard in a generation. He played 1950s and '60s blues and did it in a style that seemed straight out the '50s. He called himself Daddy Cool, the Daddio of the Radio, and he was ever so cool, ya dig!
Booth got his start in radio when he agreed to do janitorial work at a Kitchener radio station in exchange for a late-night on-air shift. During his long career in music, he has assembled a collection of over 10,000 vinyl records and another 135,000 on his computer. He has been promotional manager for groups like Battered Wives and Bob Segarini and has managed Bop Cats and the Stray Cats. Booth has also done a series of R&B compilations called Blowing the Fuse, which won a best vintage release of the year award in Germany.
Had Booth been born 30 years earlier, he would have been a 1950's legend. As it is, he became a 1980's (and beyond) legend. As of 2009, he was doing a weekly blues show on WhiStle radio (CIWS) in Stouffville, Ont.

Enjoy Daddy Cool here.

Enjoy Daddy Cool here.

(The Tim Sykes Collection)
---