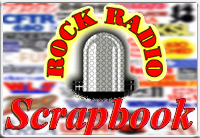 Airchecks: 1984
Talent: PETE N' GEETS
Station: CFNY Toronto
Date: January, 1984
Time: 12:08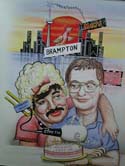 Warren Downs, Geets McTavish, the Amazing Romo, F. Lee "Lie Detector" Romo.
A comedy team? Hardly. It was all the work of one man, Geets Romo - a.k.a. David Haydu - who does all of the above characters on this amazing aircheck of Pete n' Geets on CFNY.
Pete Griffin had been hosting the morning show at CHUM-FM for a couple of years when Haydu - the station's engineer - started joining him doing on-air bits in 1972. From that grew Pete n' Geets, a ground-breaking concept before the proliferation of morning teams. It was wildly popular, ending only when Romo left in 1977 to go to Q-107 where he worked with John Donabie and Ted Wolosyhn (separate times). He also did sales at Q.
Griffin continued solo at CHUM-FM until moving to Toronto rival CFNY, where he was reunited with Geets on-air beginning September 2, 1980 (Romo also started in engineering there the same day.) Griffin left for CFGM Richmond Hill, Ontario, in October, 1987 after Geets resigned as morning sidekick, breaking the contract for the entire morning team which also included producer Kevin O'Leary.
A technical genius, Haydu was chief engineer at CFNY from 1987 to 2001 before returning to the CHUM Radio Group as lead technician for The Team. Haydu left the CHUM Radio Group - where he had been director of engineering - in 2009 as part of a massive personnel cutback at CTV Globemedia. He went from there to the Evanov Radio Group, which he consults on engineering matters.
Haydu came to CHUM-FM as a producer in 1968 after previously working at CKFH Toronto and CHIQ (now CHAM) Hamilton, Ontario.
Hear Pete n' Geets on CFNY here.

(The Bill Dulmage Collection)
---
Talent: TOM SHANNON, SANDY BEACH
Station: WKBW Buffalo, New York
Date: February 14, 1964
Time: 46:06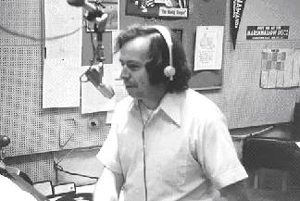 Sandy Beach at the WKBW mic
A familiar voice returned to the WKBW airwaves in 1984.
Sandy Beach, a popular 'KB personality from 1968 to 1974, left the Queen City for stops in Erie, Pennsylvania, San Francisco and Milwaukee, only to return a decade later to his familiar spot in afternoon drive.
We have Beach's entire return show, preceded by a little bit of Tom Shannon's "Pure Gold" program.
Enjoy Tom Shannon and Sandy Beach from February 14, 1984 here.

(The Bill Dulmage Collection)
---
Talent: SANDY BEACH
Station: WKBW Buffalo, New York
Date: February 15, 1984
Time: 8:04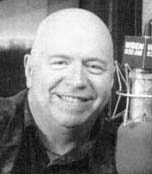 "Good night Lunenburg, Mass., wherever you are."
For years, Sandy Beach signed off his show with those words, a nod to his hometown in north-central Massachusetts. Many of his early radio jobs weren't too far from there, including WFBF Great Barrington, Massachusetts, WSPR Springfield, Massachusetts, and WFEA Manchester, New Hampshire. (he also worked at WRAD Norfolk, Virginia, in the early days.)
It was at WSPR - as Jack Diamond - that Beach got his first big break. WDRC program director Charlie Parker took notice of his work, and hired him for the 10 a.m.-1 p.m. shift at the Hartford station. From middays Beach went to the 1-4 p.m. slot and then, in October, 1967, he succeeded Don Wade in mornings.
Beach went from one legendary Top 40 station to another when Jeff Kaye hired him for the evening shift at Buffalo's WKBW in 1968. Beach spent six memorable years at 'KB, the last four in afternoon drive where he was part of a superb air staff that included Dan Neaverth, Fred Klestine, Don Berns, Jack Armstrong and Bob McCrae.
After leaving 'KB in 1974, Beach moved just down the freeway to WJET Erie, Pennsylvania, and then cross-country to KYUU San Francisco, where he was also program director. In 1984, Beach returned his old stomping grounds in afternoon drive at 'KB. He moved to mornings at Buffalo's WNYS in 1986, then to WMJQ by 1989 and to WGR as a talk show host from 1992 to 1993.
After a four-year stint (1993-97) at WZTR Milwaukee, Beach came back to Buffalo in '97 for an afternoon drive talk show at WBEN. In addition to his WBEN duties, he also did a third tour at 'KB in late mornings during the station's short-lived return to oldies that ended in 2006. Beach retired in 2020.
A three-time nominee for Billboard Magazine Personality of the Year, and a 2003 inductee into the Buffalo Broadcasters Hall of Fame, Beach is one of radio's true personalities easily identified by his infectious laugh.
Hear Sandy Beach here.

(NOTE: Check out the Joey Reynolds theme at the 5:44 mark.)
(The Bill Dulmage Collection)
---
Talent: TOM JEFFRIES & RUSS McCLOUD
Station: CFUN Vancouver
Date: February 16, 1984
Time: 16:41

Many great Top 40 stations went the way of the dodo bird in the '80s. For CFUN, the end came December 19, 1984 when the long-time hit-maker switched to an adult contemporary format. CFUN became a Top station in 1960 and played the hits for nearly a-quarter century, save for a period from September 1967 to March 1970 when the station dropped Top 40 for easy listening and then an all-news format as CKVN. Those wonderful CFUN calls were restored in 1973 (it's amazing no one else snapped them up!).
This aircheck was recorded 10 months before CFUN switched to easy listening. The former CFUN now an all-sports outlet as TSN 1410 (CFTE) after a foray into talk from 1996 to 2014.
Enjoy Tom Jeffries and Russ McCloud on CFUN here.

(Ted Wendland/radiowest.ca)
---
Talent: JOHN MAJHOR with BROTHER CHRISTOPHER
Station: CHUM Toronto
Date: June 22, 1984
Time: 40:44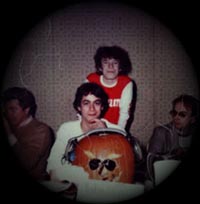 (Picture courtesy John Christopher Sutton)

(Sutton, top, Majhor, below. Jay Nelson is at left)
It's every radiophile's dream - to get on the air at a big station with your favourite jock.
John Christopher Sutton did it.
In June 1984,
John Majhor held down the 6-9 p.m. shift at
CHUM. He was one of
CHUM's most popular jocks during its latter days as a Top 40 station, capping his 11-year stay there with a stint in mornings from 1985 to 1986. But as Sutton tells
Rock Radio Scrapbook, he was much more than a voice on the radio...
"I first met John Majhor in 1977. I was 15 years old and John was 24. I was blown away by John's style and personality on the air. I called him on the request line and asked him many questions, thus my love for radio was born. A couple of months went by when I called him again and he remembered me and asked me why it took me so long to call him, then he invited me down to the radio station to see what it was all about. We became instant friends and he showed me the ropes.
I began doing my stint as Brother Christopher in 1982. That came about when an opportunity was at hand for a job at CFMX-FM. I asked John if at some point we could get together and do a demo and John said let's just go on the air together and use that as the demo. The name Brother Christopher was given to me by John and he would use the name and ask people to call the request line and talk with me. I took the top 7 at 7 votes and we did the feature for the History of Rock film.
I did get the other job but turned it down after realizing it just wasn't for me, went back to John and he told me the response was so good that we'll keep it up here and see what happens. I did that feature with John until 1984. I never did get my own shift at CHUM but I was offered by management an hour's pay everyday to answer the request line on John's show but of course I couldn't do that - I was working full time in telemarketing making pretty good money.
I would have to say that meeting John, knowing him and the time I spent at CHUM will be one of the most memorable times in my entire life. It was his influence and God's guidance that brought me to my career in radio. Up until September 2009 I was doing afternoon drive and Saturday nights at 2 UCB Canada radio stations, CKJJ Belleville and CKGW in Chatham Kent as Jay Christy."

Enjoy John Majhor - with special guest Brother Christopher - here.




(The John Christopher Sutton (a.k.a. Brother Christopher) Collection)
---
Talent: TERRY STEVENS
Station: CHAB Moose Jaw, Saskatchwan
Date: June 25, 1984
Time: 47:02 (unscoped)
10:31 (scoped)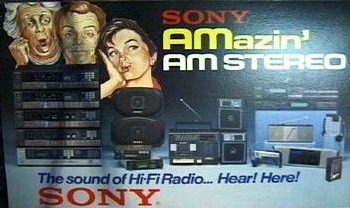 Too little, too late.
Such was the fate of AM Stereo, a technology some believed would be the savior of AM radio in the '80s. However by the time it arrived, much of the radio audience had migrated to FM and they weren't coming back. Not helping matters was lack of a standardized system, which confused listeners (this aircheck of Terry Stevens uses the Khan system). Interest in AM Stereo waned in the '90s and few stations were using it by the 2000s.

Enjoy Terry Stevens on CHAB in AM Stereo (UNSCOPED) here.

Enjoy Terry Stevens on CHAB in AM Stereo (SCOPED) here.

(The Charlie Ritenburg Collection)
---
Talent: FRED WINSTON
Station: WLS Chicago
Date: July 18, 1984
Time: 25:25 (unscoped)
6:14 (scoped)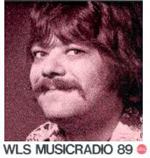 His big voice has been heard all over the country, but Fred Winston is best remembered for his time in the Windy City.
Winston arrived in Chicago in 1971 from KQV Pittsburgh and never left. His first Windy City gig was at WLS where he he replaced Scotty Brink in the noon-3 p.m. slot. After a brief stint in early afternoons, Winston moved to the big chair of morning drive in 1973. He left for WFYR in 1976 when Larry Lujack returned from WCFL. Winston, who has also worked in major markets like Denver, Omaha (KOIL), Cleveland (WKYC), Dayton (WING), returned to WLS in 1983 where he returned to morning drive from 1986 to the station's switch to talk in 1990. After that, Winston jocked at a number of Chicago stations, including WMAQ, WFYR-FM, WJMK, WLUP-FM (The Loop), WPNT (The Point), WXXY, WMVP-AM and WJMK (again) and WLS-FM. a stint that ended in 2013 and was his last full-time Windy City gig to date as of 2018.
Winston has also been a formidable voice talent, doing commercials for Alberto Culver, Kraft Foods, Kroger Supermarkets and Old Style Beer. His is the first voice heard in the classic movie "Ferris Bueller's Day Off."
Hear Fred Winston on WLS (UNSCOPED) here.

Hear Fred Winston on WLS (SCOPED) here.


(The Don Shuttleworth Collection)
---
Talent: BOB McCRAE
Station: WKBW Buffalo, New York
Date: July, 1984
Time: 7:54
By the mid-1980s, many of North America's legendary Top 40 stations were either gone or going.
WKBW was in the latter category.
An early crack in 'KB's armour came in 1983, when 'KB hired talk show legend John Otto away from WGR and later added syndicated talk show programming in evenings. Local music programming on 'KB (now known as WWKB) ended in 1988 with the introduction of a satellite oldies service. By 1989, 'KB had a 24-hour business news format. 'KB's music era was gone, but not forgotten. On Jan. 27, 2003, 'KB literally came back from the dead as a new oldies format debuted there featuring 'KB mainstays Dan Neaverth, Tom Donahue, Hank Nevins and Jackson Armstrong. But that revival ended suddenly in February, 2006, when WWKB switched to talk programming.
Even in its last years, 'KB was still a great music station with personalities like Dan Neaverth, Tom Shannon, Tom Donahue and Craig Matthews. They did not go quietly into the night. Long-time 'KB mainstay Bob McCrae was still playing the day's top tunes when this aircheck was made, in 1984.
Hear it here.

(The William Nichols Collection)
---
Talent: DICK BARTLEY with SOLID GOLD SATURDAY NIGHT
Station: WVOR Rochester, New York
Date: September 15, 1984
Time: 7:54
Remember when every Saturday night was a Solid Gold Saturday Night with Dick Bartley?
Bartley took this much-acclaimed show to a national audience in 1982 at RKO/United Stations after it met with what he called "phenomenal success" locally at WFYR Chicago. An all-too-short era ended when Bob Worthington took over Solid Gold Saturday Night in 1988 and Bartley took his act to Westwood One and later ABC Radio Networks. But Solid Gold Saturday Night with Dick Bartley? There was nothing like it.
To hear Solid Gold Saturday Night with Dick Bartley, click here.

(Scrapbook archives)
---
Talent: CARL RUSSO
Station: WGRQ (97 Rock) Buffalo, New York
Date: October 8, 1984
Time: 9:09

Carl Russo is a rare breed - a jock who spent most of a very long career at the same station.
Russo started at Buffalo's 97 Rock in August 1980 after graduating from Medaille College earlier that year. It was the beginning of a four-decade career at WGRQ/WGRF. Prior to graduating, Russo jocked a few months at Buffalo Top 40 outlet WYSL. In fact, for a while he did a 6 p.m.-midnight shift at WYSL then literally ran across the street to do his midnight-6 a.m. shift at 97 Rock.
After 97 Rock fired its entire staff in 1985 to move to a light rock format, Russo headed to the 7 p.m.-midnight shift at WFBQ-FM Indianapolis. He earned the highest ratings of any night time jock in the U.S. at WFBQ-FM. He moved to another successful stint at KZEW Dallas/Fort Worth before returning to 97 Rock as the Buffalo station returned to its rock roots, hiring back many staffers in the process.
Russo, who was on the evening shift before 97 Rock cancelled rock, returned to the station in the same time slot and later moved to afternoon drive. He was still there in 2017 when he was chosen for the Buffalo Broadcasters Hall of Fame. Russo, whose radio duties also include two five-hour classic rock shows seven days a week at Westwood One, joined long-time 97 Rock morning man Larry Norton who was inducted into the Hall a year earlier.
Enjoy Carl Russo on 97 Rock here.

(The Carl Russo Collection)
---
Talent: FRED LATREMOUILLE
Station: CFUN Vancouver
Date: October 24, 1984
Time: 26:05
The laid-back yet energetic tones of Fred Latremouille were heard on Vancouver radio for half a century. The Nanaimo, B.C., native got his start in radio in 1961 doing news and hosting the morning show at CKYL Peace River, Alberta. He moved to the Vancouver market the next year at CJOR after he "basically badgered Vic Waters (the station manager) until he gave me a job."
Latremouille went on to become a mainstay in Vancouver radio with stops at CFUN-CKVN, CKGL-AM, KISS-FM (CKKS-FM) and Clear-FM (CKCL-FM). At the latter two stations, he was joined on air by his co-host Cathy Balduzzi, whom he met and co-hosted with at CFUN. They married in 1986. Latremouille also made his mark in television - he hosted the teen CBC-TV music show Let's Go in the '60s, along with several other CBC-TV productions, and also was the weatherman on BCTV. He also had a stint at CFAX Vancouver. Latremouille was inducted into the Canadian Association of Broadcasters Broadcast Hall of Fame in 2007.
"Fred was, without a doubt, the best communicator this city has ever seen," weatherman and best friend Wayne Cox told the Vancouver Sun after Latremouille's death March 5, 2015 at the age of 69 in Scottsdale, Arizona. "He was fun, creative, smart, bright. He wasn't always a saint, but he always did it Fred's way. Working with Fred and Cathy were the best times I had in radio."
Enjoy Fred Latremouille on CFUN here.

(The Bill Dulmage Collection)
---
Talent: RED ROBINSON with TEEN CANTEEN 54-84
Station: CKWX Vancouver
Date: November 8, 1984
Time: 25:35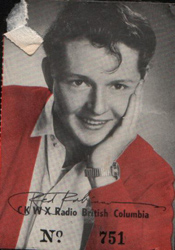 "We were all kids having fun." - Red Robinson
Bill Haley recorded Rock Around the Clock. Elvis Presley got radio airplay for the first time. It was 1954, rock 'n' roll had arrived and so had Red Robinson.
Born Robert Gordon Robinson in Comox, B.C., March 30, 1937, the person we know as Red Robinson got the radio bug early. In 1952, he phoned CJOR deejay Al Jordan on the air with a Jimmy Stewart impression, then followed that a week later with a Humphrey Bogart imitation. Impressed by his enthusiasm, Jordan invited the young Robinson to write scripts and do some production for his show. One day, CJOR program director Vic Waters asked Robinson if he wanted to go on the air. Waters says the young deejay-to-be "leaped across the control room, sat down and ... never looked back." On November 12, 1954, Robinson opened his first CJOR air shift with Marie by the Four Tunes.
Before long Robinson was commanding killer ratings at CJOR - a 52 share at one point - as the first deejay to play rock 'n' roll on a regular basis in Canada. He did three shows a day for the princely sum of $35 a week. In 1957 - lured by a $22,000 a year offer - he moved to Vancouver Top 40 giant CKWX. Robinson then went stateside in 1959 to KGW Portland, Oregon, where he also did TV for the first time at KGW-TV. Robinson did a six-month stint in the U.S. Army before returning to Vancouver in 1961 at CKWX. From 1962 to 1967, he was program director at CFUN, which he turned it into one of Canada's leading Top 40 stations.
While at CFUN, Robinson got to introduce The Beatles in 1964 on the very Empire Stadium stage where he had MC'ed Elvis Presley's Vancouver appearance seven years earlier. From 1963 to 1966, he also hosted CBC-TV's Let's Go, which featured some of Canada's best popular music acts.
Robinson returned to CJOR in 1968 as operations manager and in 1969 founded Trend Advertising (later Palmer Jarvis Advertising.) He made another return, to CKWX, where he did mornings until 1983 and also did an oldies show called Teen Diner 54-84 in 1984. Returning to the small screen, he hosted the CBC program Trivia in 1979-80.
From 1985 to 1993, Robinson was heard across Canada via the syndicated oldies show Reunion. He returned to television again in 1989, hosting Red's Classic Theatre on KVOS-TV Bellingham, Washington, until 2001.
Robinson's final weekday radio gig was morning drive at Vancouver's CISL from 1993 until his "retirement" in 2000. From 2001 to 2007, he hosted the weekly oldies show Red Rock Diner on CISL. In 2007, he moved Red Rock Diner to CKCL Vancouver where for the first time in his 50-year-plus career he was on the FM dial.
Robinson's many honours include being named to the CAB Hall of Fame in 1997 and also being included in the deejay section of the Rock and' Roll Hall of Fame. He was the second inductee to the Record Magazine's Broadcaster Hall of Fame in 1991. In 2000, Robinson was named to the Rockabilly Hall of Fame.
Robinson wrapped his third, and last, stint at CKWX in November, 1984 with his oldies show Teen Canteen 54-84. In fact, he did his last Teen Canteen show on November 12, 1984 - the 30th anniversary of his first-ever show at CJOR. This aircheck is from four days before.
Hear the legendary Red Robinson here.

(Courtesy Ted Wendland/radiowest.ca)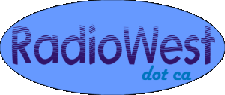 Be sure to visit radiowest.ca, a superb radio site hosted by Ted Wendland. Airchecks, jingles, photos, logos, history and forums - radiowest.ca has it all. Rock Radio Scrapbook thanks Ted for sharing this aircheck.
---