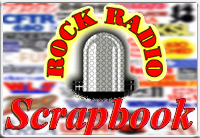 Airchecks: 1997
Talent: PETE FORNATALE
Station: WNEW-FM New York
Date: January 2, 1997
Time: 9:56

Pete Fornatale was a pioneer and a survivor.
In 1964, while a sophomore at Fordham University, Fornatale convinced the school to let him do a free-form rock show on the university's educational station WFUV-FM. He got the nod, and became the first jock to play rock music on FM in New York with his program Campus Caravan. It was the beginning of a 48-year radio career for the native of The Bronx.
In 1966 - two years after Fornatale got the ball rolling - WOR-FM became the first commercial New York station to adopt the progressive rock format. WOR-FM abandoned the free-form approach in late 1967 but WNEW-FM quickly picked up the torch. Fornatale began his professional career at WNEW-FM in the summer of 1969 while continuing at WFUV for a while.
Fornatale began his long-running Sunday morning show Mixed Bag in 1982 at WNEW-FM. He moved that show to WXRK after leaving WNEW-FM in 1989. Fornatale returned to WNEW-FM in 1997 and then completed a full career circle in 2001 when he returned to WFUV and started doing his theme-driven Mixed Bag show on Saturdays.
Fornatale interviewed hundreds of artists, including Paul Simon, Joni Mitchell, Leonard Cohen, Carly Simon, Elton John and James Taylor. He co-hosted the 1991 HBO telecast of Paul Simon Live in Central Park and was an expert guest commentator on numerous PBS rock music specials. He wrote or co-wrote six books, the last of which was the 2009 release Back to the Garden: The Story of Woodstock.
Fornatale died April 26, 2012 after suffering a stroke. He did his final WFUV show - a 100th anniversary tribute to the Titanic - just days before. Fornatale was 66.
Enjoy Pete Fornatale's first show on his return to WNEW-FM in 1997 here.

(The Don Shuttleworth Collection)
---
Talent: JOE DONOVAN
Station: WHAS Louisville
Date: August 21, 1997
Time: 32:08 (unscoped)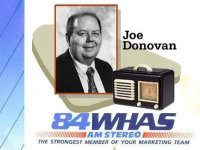 "The Friend You Can Depend On"
He played requests - answering his own phones - even mailing cassette copies of songs to listeners. He did contests, played mostly vinyl, chose his own music, and broadcast live every weeknight from midnight-5 a.m. His playlist consisted of over 18,000 songs and a whole hour of his show was devoted every night to the rarest of the rare. He played virtually EVERYTHING that charted from the '50s through the '80s.
We're talking about Joe Donovan, who from 1977 to 1997 broadcast his iconic Rock & Roll Revival on the all-night show on WHAS Louisville. Thanks to the powerful 50,000-watt, clear channel WHAS signal, Donovan's show was heard in 38 states and four provinces. It was a sad day for many Donovan's fellow Nighthawks when did his final WHAS show on August 27, 1997 and his show was replaced by talk.
Nighthawks will remember the Odd and Obscure Hour at 3 a.m., 60 minutes of songs from the deepest parts of his musical archive. There was also Name It And Claim It, with a prize to the listener who could match the artist's name to a snippet of a song. But perhaps best of all was Donovan's friendly, gentle on-air personality - perfect for the all-night time slot (he also did Saturday Night Revival and Friday Night Revival Shows with much the same approach).
This aircheck of Joe Donovan's all-night show is DXed - which is the way we remember hearing it - so the signal fades in and out a bit. But shouldn't be a problem if you enjoy great personality radio that isn't afraid to be different. It's recorded the week before Donovan's show left WHAS after 20 years of the "Rock 'N' Roll Revival."
Enjoy Joe Donovan here.

BONUS:
To hear a portion of the "Odd and Obscure Hour" from October 24, 1996 click
here. (12:08)

(
The Adam Hamby Collection)
(The Don Shuttleworth Collection)



Rock Radio Scrapbook pays
online streaming fees to the
Society of Composers, Authors and Music Publishers of Canada (License 22-F)

---
Talent: TED YATES
Station: CHSC St. Catharines, Ontario
Date: November 11, 1997
Time: 47:05 (unscoped)

It's one thing to play the music - it's another thing to know it.
Ted Yates has done both for his entire radio career, which began at CHOO Ajax in 1973. After stops at CFOR Orillia (1974), CKPT Peterborough (1975) and CKTB St. Catharines (1977), the Toronto native began a 20-year run at CHSC St. Catharines in 1977. It was at CHSC where Yates established his long-running program Music, Memories and Milestones, which featured oldies and trivia about the music. Yates, whose mentor is CHUM legend Roger Ashby, went to CKPC Brantford from 1997 as program director and music director. He has reprised both of those roles in addition to the role of morning man at CKOC since joining the Hamilton station in 2004. After CKOC and he parted ways in 2014, Yates has landed at The Grand 92.9 in Haldimand, Ontario.
Yates doesn't restrict his musical knowledge to the airwaves - he also shares it in print. The oldies aficionado has three published books, The '60s: The Hits and The Trivia, and The '70s: The Hits and The Trivia and The '80s: The Hits and Trivia. All are fine additions to your library.
Enjoy Ted Yates with Music, Memories and Milestones on CHSC here.

(Scrapbook archives)



Rock Radio Scrapbook pays
online streaming fees to the
Society of Composers, Authors and Music Publishers of Canada (License 22-F)

---
Talent: PUNCH ANDREWS with MARK CHAMPAINE
Station: Mix 99.9 (CKFM) Toronto
Date: 1997 or 1998
Time: 6:19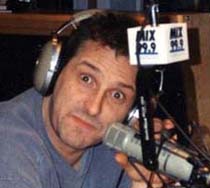 If a man could be measured by his friends, Chris "Punch" Andrews stood very tall indeed.
South Regional Health Centre in Newmarket, Ontario, - where Andrews spent his last days - said they've never seen a patient with so many friends and family. In addition, his Chris Andrews Support Posse Facebook page was filled with hundreds of messages of support from the many people whose lives he touched. Karen Steele, program director at MIX FM, writes "Punch had a tremendous heart and passion for radio. He absolutely LOVED everything about it..."
Andrews started in broadcasting in 1982 when, at just 17, he began an eight-year run as an on-air host at Cable 10 in Aurora, Ontario. He also jocked at CKAN Newmarket, Ontario, from 1986 to 1992 - mostly in evenings - while studying radio and television at Ryerson University. After that, he moved to AM 640 Toronto for a short time as a producer. Andrews' next stop was from 1992 to 1994 as an evening announcer at CFCY Charlottetown. In 1994, it was on to Toronto's MIX 99.9, where his 7 p.m.-midnight show grew to be number-one in its demographic and timeslot.
Andrews went on to host the popular Saturday Night Party Mix on MIX FM, and also did traffic reports for CFRB, EZ-ROCK and MIX FM. In 2000, he began teaching Communications Technology at Vaughn Secondary School in Thornhill, Ontario, and was PD and technical director at the school's radio station, 90.7 RAV-FM.
Andrews' multi-faceted career also included stops at three other Ontario stations: HTZ-FM in St. Catharines, Rock 95 in Barrie and Z 103 in Brampton. He was also narrator for the show Office Temps on Global TV.
Andrews died March 30, 2008. He was 43 and suffered from lung cancer.
Enjoy Punch Andrews - with Mark ChamPaine* - on Mix 99.9 here.

(The Larry Maxwell Collection)
*Better known as Mark Paine, he was Mark ChamPaine at Mix 99.9 and yes, that's how he spelled it!
---