Rock Radio Scrapbook

FROM THE ARCHIVES
Talent: DICK CLARK with DAVE JOHNSON
Station: CHUM Toronto
Date: May 27, 1963
Times: 29:58/23:10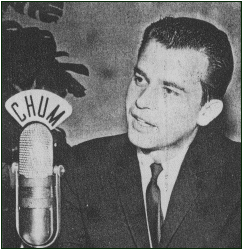 In the summer of 1963, CHUM Toronto pulled off a real coup, getting Dick Clark to host a series of on-air shows.
The shows ran on CHUM from 7-9 p.m. weeknights. While fronted by Clark, the shows were co-hosted by Dave Johnson whose own program followed from 9-10:30 p.m. Clark introduces and interviews the artists, while Johnson does the time and temperature and keeps things rolling. But here's something most people don't know - the shows were taped. For the story behind the story, read this from CHUM's Doug Thompson:
"Here's the deal with Dick Clark. I started at 1331 Yonge Street in 1965 replacing a board op named Claude Deschamps. Claude was being promoted into production, partly because of his incredible work op-ing the Dave Johnson/Dick Clark show. Claude has told me many times how most people had no idea that Dick wasn't actually there in the studio with Dave. Dick came into Toronto a few times (I'm not sure how many) and recorded time checks for every minute of his shift - It's 8:01, CHUM time 8:02, etc; temperature checks for every conceivable temp and all kinds of other so-called live liners.
All of these individual Dick Clark elements were put on carts. It was Claude's job to marry Dick Clark's voicetracks and Dave Johnson live in-studio seamlessly. I also recall him telling me that they ran a party sound effects cart under all the Dick and Dave banter so that probably helped any differences."
This first Clark show supposedly came from the Terrace, a long-since demolished facility in downtown Toronto. It's interesting to hear commercials from long defunct local firms like Mann and Martel, a major Toronto realtor at the time.
Enjoy Hour One of the first Dick Clark show on CHUM here. (29:58)
Enjoy Hour Two of the first Dick Clark show on CHUM here. (23:10)
(The Aaron Mintz Collection)
More 1963 airchecks here!

Download your free RealPlayer SP
to hear this aircheck via your PC, iPod/iPhone or Blackberry

Click here for technical help
---
RETURN TO ROCK RADIO SCRAPBOOK