Rock Radio Scrapbook
The CKLW Years, Part 1 (The 1960s)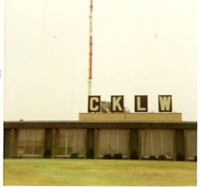 (Photo courtesy Tom Howard)
It was Canadian, but sounded American - and folks on both sides of the border loved it. CKLW, the Big 8, was one of the most influential and popular Top 40 stations for both Canada and the U.S. at the same time.
While it had already been playing hit music, CKLW really rose to the fore when it adopted the Drake format as the Big 8 in April 1967. Paul Drew came up from WQXI Atlanta to assume the reins of program director. He was a perfect choice being both a Michigan native and former neighbour of Bill Drake in Georgia.
For next decade-and-a-half - under Drew and other PDs like Ted Atkins and Alden Diehl - CKLW ruled as one of Canada's most listened to radio stations. The format was clean, mean and streamlined. Everything about it was tight and a bit raunchy, including the news. Among the leading personalities to grace the airwaves there were Tom Shannon, Dave Shafer, Charlie Van Dyke, Frank Brodie, Terry Knight, Walt "Baby" Love, Bill Gable, Tom Rivers, Ted Richards, Scott Regen, Gary Burbank, Charlie O'Brien, Dick Purtan, Gary Burbank, Byron McGregor and Dick Smyth. It was an absolutely unforgettable era.
Thanks to several dedicated collectors - including CKLW superfan Tom Howard - we are able to showcase the great sound of CKLW through the years, from the pre-Big 8 years to just before the end of 'CK's Top 40 era in 1984.
Listen, and enjoy!

And after you're finished here, please visit...

The CKLW Years, Part 2: The 1970s and '80s...

Subject: CKLW JINGLE MONTAGE
Station: CKLW Windsor, Ont.
Date: Various
Time: 8:00

(Description by Doug Thompson)
"The Big 8. CKLW. The Motor City."
That's probably the most famous jingle in Canadian radio. And CKLW was certainly one of Canada's most famous exports. One summer in 1970, I drove my blue '67 Mustang from Toronto to Los Angeles with my pal David "Geets Romo" Haydu. At night, we were able to listen to The Big 8 all the way to Oklahoma…and it sounded AMAZING.
But there's a lot more to CKLW than just 'The Big 8'. For quite a few years now, it's been 'AM 800', a news-talk station. Prior to becoming the legendary 'Big 8', CK did play pop music, MOR and several other formats.
This CKLW jingle montage is taken from many different sources. There's PAMS, Mark Century, Pepper Studios, Futuresonic and of course, the famous Johnny Mann singers.
The montage is eight minutes long (in honour of the frequency).
Enjoy the CKLW jingle montage here.
(The Doug Thompson Collection)
Produced by Doug Thompson
---

Download your free RealPlayer to hear our airchecks

Click here for technical help

---
Talent: DAVE SHAFER
Station: CKLW Windsor, Ont.
Date: September, 1964
Time: 10:32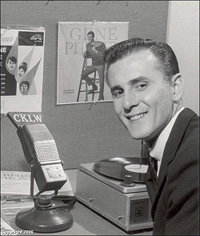 Dave Shafer was a mainstay at CKLW, working at the station on-and-off for some 30 years. He also had the rare privilege of deejaying on 'CK in both the pre-Big 8 and Big 8 days.
Shafer arrived in Detroit radio in 1961 after previous stops in Dover, Del., and Tucson, Ariz. His first Motown gig was record librarian at WJBK. But by the fall of '61, Shafer was the nighttime jock at WJBK as Jack the Bellboy. His mixture of comedy, drop-ins, voices and on-air friendliness helped make his show a smash hit. He also became known for his fabulous record hops, which featured future superstars Stevie Wonder, theSupremes and Martha and The Vandellas.
By 1964, Shafer was doing afternoon drive at CKLW, part of a lineup that included Bud Davies, Joe Van, Ron Knowles, Tom Shannon and Don Zee. Shafer was gone from CKLW by late 1967-early '68. He returned to the Big 8 as a jock in 1971, eventually taking over mornings before leaving again by 1974.
Shafer later served as program director at WCAR, WOMC, WCZY, as well as CKLW. He moved to Florida in his later years, and died May 7, 2006 of complications from out-patient surgery. He was 73.
Hear Dave Shafer on CKLW from September, 1964 here.
(The Don Shuttleworth Collection)
Much of the information gathered for this description came from the excellent book, "Rockin' Down the Dial: The Detroit Sound of Radio" by David Carson. We highly recommend it. You can order it here.
---
Talent: DAVE SHAFER
Station: CKLW Windsor, Ont.
Date: July 7, 1965
Time: 10:52
Here's more of Dave Shafer, from about 10 months later.
Hear it here.
(The Tom Howard Collection)
---
Talent: TOM SHANNON
Station: CKLW Windsor, Ont.
Date: July 28, 1965
Time: 21:15 (unscoped)
7:43 (scoped)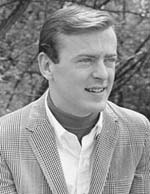 They say "the sun never sets on the Shannon empire." And for half a century in radio and TV, that was certainly true.
Tom Shannon got his start in broadcasting at the dawn of the rock era, in 1955. His first station was Buffalo's WXRA (later WUFO), but his big break came in 1957 when he was hired by 50,000-watt WKBW. One can just imagine the thrill working alongside rock 'n' roll radio greats like Hound Dog Lorenz, Perry Allen, Russ Syracuse, Art Roberts, Dick Biondi and Jay Nelson. But 'KB was just the beginning for Shannon.
After a short stint at Buffalo's WGR in 1963, Shannon moved to Detroit - a city he would be identified with as much as Buffalo. His first stop was CKLW, where he established himself as one of the Detroit area's top night-time jocks during his five-year stay (1964-1969). He also did a morning show at WXYZ-TV in Detroit.
In 1969, Shannon moved to WXYZ radio in Detroit, then in 1972 it was on to Denver for TV work at KWGN-TV and radio at KHOW and KLZ. Shannon returned to 'CK in 1975, moving across the river to WTWR Detroit in 1980. He was back in Buffalo in 1982, with his outstanding "Pure Gold" midday show on WKBW.
Returning to Detroit in 1986 at WMJC, Shannon came back to Buffalo for a brief stay as WGR's morning man in 1988. But in 1989, he was back in Windsor-Detroit at CKLW-FM.
In 1993, Tom returned to his TV roots at the "Shop at Home" network in Tennessee before coming back to Buffalo in 1997. Tom spent eight years in afternoon drive at WHTT-FM (Oldies 104) before retiring from a full-time shift in March, 2005. He continued with the station doing special features.
Whew! Now that's a career!
Hear Tom Shannon on CKLW in 1965 (unscoped) here. (21:15)
Hear Tom Shannon on CKLW in 1965 (scoped) here. (7:43)
(The Tom Howard Collection)



Rock Radio Scrapbook pays
online streaming fees to the
Society of Composers, Authors and Music Publishers of Canada (License 22-F)

---
Talent: ROBIN SEYMOUR
Station: CKLW Windsor, Ont.
Date: December, 1965
Time: 3:29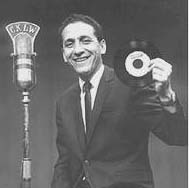 "Bobbin' with the Robin".
"No more time for sobbin'"
"Go and let the mob in."
"Everybody flies ... sky high!"
Anyone familiar with Detroit radio in the '50s (or the Cruisin' 1956 album) would certainly remember those lyrics. It was the Bobbin' with the Robin theme song of Robin Seymour, one of the most revered Detroit-area radio-TV personalities of the '50s and '60s.
Seymour's career began in the Big Band era and continued into the psychedelic years. He got into radio in 1943 with some announcing and board work at Detroit's WJBK. After serving with Armed Forces Radio during the Second World War, he returned to Detroit in 1947 and landed an afternoon pop music show on WKMH Dearborn, Mich. The self-described "kid who wanted to get into radio" had an outstanding 18-year run at 'KMH, highlighted by his popular Bobbin' with the Robin afternoon show (he went to mornings in 1960). In the 1950s, Seymour became the first Detroit deejay to play sock hops and one of the first white deejays in the city to play black R&B doo-wop-style artists. He was also one of the first deejays in the U.S. to ask his listeners what they thought of new records.
Response was tremendous to both Seymour's radio show and his live stage appearances at Robin Seymour's Original Rock 'n' Roll Revue. His only big mistake appears to be his early assessment of Elvis Presley, who Seymour said "wouldn't last more than a year." Aside from that he was considered a good judge of talent, helping introduce many of the big acts of the day via radio or stage.
Seymour left WKMH in 1965 for a three-year stint as host of Swingin' Time on CKLW-TV, a show patterned after Dick Clark's American Bandstand. For a short period at the end of 1965, he also appeared on CKLW radio. Seymour's TV show, which featured just about every local act of significance and many national stars, lasted until 1968.
In 1970, Seymour recreated his WKMH Bobbin' with the Robin show for Cruisin' 1956, part of the incredible LP record series of Top 40 radio re-creations conceived and produced by Ron Jacobs.
Seymour later moved to the Los Angeles area where had had his own info-commercial production company.
Hear Robin Seymour on CKLW here.
(The Don Shuttleworth Collection)
AUDIO ENHANCEMENT by Andy Rebscher
---
Talent: DUKE WINDSOR
Station: CKLW Windsor, Ont.
Date: May 4, 1966
Time: 16:34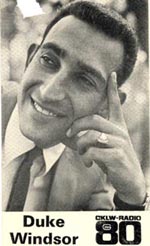 To a generation of Clevelanders, Larry Morrow was that city's morning mayor, so popular that the REAL mayor named him "Mr. Cleveland." But to CKLW listeners, he'll forever be remembered as Duke Windsor, the aptly-named nighttime deejay from the pre-Big 8 days.
Morrow arrived at CKLW in 1965, having already established himself as John Paul Jones at WTRX Flint, Mich. (he also had a musical history, having sung bass on Jack Scott's 1960 hit What in the World's Come Over You.) On being hired at CKLW, Morrow certainly wasn't happy when then-general manager Bob Buss told him he'd be using the air name "Duke Windsor." But, as Morrow relates to David Carson in his excellent book
Rockin' Down the Dial: The Detroit Sound of Radio,

he had little choice but go along if he wanted to be on the air at CKLW.
Morrow regained his real name when he moved to WIXY Cleveland in September, 1966. It was the beginning of a hugely successful career in Cleveland radio that also saw him work at WWWE, WERE and WQAL. Named national deejay of the year in 1970, and tabbed Mr. Cleveland by Mayor George Voinovich in 1979, Morrow left WQAL in June, 1999 for a short-lived "retirement." He "unretired" about a month later to focus on his advertising/promotion company,
The Larry Morrow Group
.
Hear Larry Morrow - as Duke Windsor - on CKLW here.
(The Tom Howard Collection)
---
Talent: JOHNNY MORGAN
Station: CKLW Windsor, Ont.
Date: June 17, 1967
Time: 6:33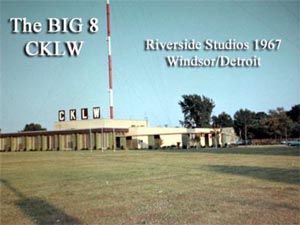 The Drake format arrived at CKLW in 1967 and it hit the station - and Detroit radio - like a hurricane. With consultant Bill Drake and program director Paul Drew calling the shots, a new, streamlined sound flowed. It was tight and bright and it shot CKLW to the top of the ratings before the other stations knew what hit them.
Under the Drake system, everything was tightly formatted, from music scheduling, to placement of ads and jingles, to what the jock said and how he said it. To some, it was the beginning of the end of the fun, personality era of rock radio. To others, it was the launch of a new, exciting time, and some memorable radio followed.
The Drake-formatted CKLW launched the week of April 1, 1967. As was his custom, Bill Drake himself did the imaging, with hourly station breaks like "And the hits just keep on comin'" or "Ladies and gentlemen, the beat goes on." As for the jocks, Tom Shannon and Dave Shafer remained from the pre-Drake era, and new voices like Johnny Morgan, Gary Mitchell, Bob Todd, Mike Rivers, Billy Mack (Kris Erik Stevens) and Jim Edwards joined. In addition, there was the high-powered CKLW 20-20 news - at 20 minutes past and 20 minutes before the hour - with authoritative voices like Dick Smyth, Byron MacGregor, Grant Hudson, Don Patrick, Don West and Joe Donovan.
Known in the early months of the format in 1967 as Radio 8 and Fun Radio, CKLW was called The Big 8 by year's end. It became one of the most famous monikers in rock radio history.
Enjoy afternoon drive jock Johnny Morgan on CKLW here.
(The Tom Howard Collection)
---
Talent: GARY MITCHELL
Station: CKLW Windsor, Ont.
Date: July 13, 1967
Time: 6:46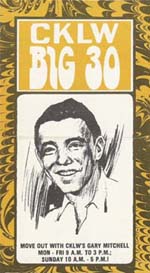 Gary Mitchell was one of the early voices in CKLW's Drake era, appearing in middays in 1967 and 1968.
Mitchell, whose real name is Barry Silverman, also worked at WUBE Cincinnati, WIBG Philadelphia and in Texas at KLVI Beaumont and KUT and KNOW Austin. After 12 years as program director at WABB Mobile, Ala., he went into private business as owner of Soundworks Studios in Mobile.
Listen to him here.
(The Tom Howard Collection)
---
Talent: BILLY MACK
Station: CKLW Windsor, Ont.
Date: August 16, 1967
Time: 8:45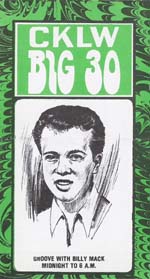 The man known to CKLW listeners as Billy Mack in 1967 went on to become one of the world's most listened-to voices.
Known as Kris Erik Stevens at later stops at KQV Pittsburgh, WQXI Atlanta, WLS and WCFL Chicago and KIIS Los Angeles, Stevens foundedKris Erik Stevens Enterprises, Inc., in 1975.
Stevens started in radio in 1962 at WJPD Marquette, Mich., before moving to KOIL Omaha in 1966 as Johnny Mitchell and then to the Big 8 in 1967.
Stevens has parlayed his versatile talent to become one of the world's most sought-after voice talents. But his roots are in rock radio.
In 1967, Kris Erik Stevens was doing the all-night show at CKLW under the name Billy Mack. Hear him here.
(The Don Shuttleworth Collection)
---
Talent: JIM EDWARDS
Station: CKLW Windsor, Ont.
Date: November 14, 1967
Time: 22:07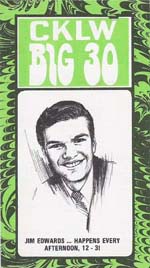 From deejay to programmer to manager to owner, Jim Davis has had a rich and varied career in radio.
Davis was born with radio genes - his mother was a singer at WKBW Buffalo! He started his radio career as "Mac McGuire - the live wire" on June 19, 1960, making the minimum wage of 90 cents an hour, at WNIA Cheektowaga, N.Y. Davis went on to become a major market radio star, with stints at four of Top 40 radio's most legendary stations: CKLW Windsor-Detroit, KHJ Los Angeles, WLS Chicago and WOR-FM New York. Twice he was nominated for Billboard Magazine's Major Market Air Personality of the Year.
In the 1970s, Davis went from playing the hits to programming duties at WXYZ Detroit, WPEZ Pittsburgh, KLIF Dallas and KMPC Los Angeles. He moved into senior management in 1981 at WVAF Charleston, W.Va., and later in the decade moved into an ownership role at WNFI Daytona Beach, Fla. Numerous top management positions followed. By the 2000s, he was vice-president and general manager of a cluster of four FMs in Vero Beach, Fla.
But in 1969, all of these great things were in Davis's future. At that time, he was known to CKLW listeners as Big Jim Edwards. He arrived at the Big 8 in the noon-3 p.m. shift in late 1967 and by the time left in mid-1970, he was the morning man.
Enjoy Jim Edwards on CKLW here.
(The Tom Howard Collection)
---
Talent: GARY MITCHELL
Station: CKLW Windsor, Ont.
Date: February 17, 1968
Time: 26:29 (unscoped)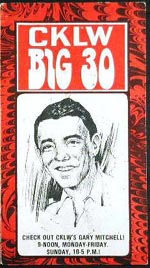 Long-time radio consultant Guy Zapoleon has called Top 40 "the ultimate variety format."
A listen to this 1968 aircheck of Gary Mitchell on CKLW shows us why.
So many genres of music are represented here. R&B fans can enjoy Otis Redding, the Delfonics and Sly and the Family Stone. For adult contemporary, there is Petula Clark, the Pozo-Seco Singers, Dionne Warwick and Paul Mauriat. Bubble-gum is represented by the Cowsills and the 1910 Fruit Gum Company. The Beatles and the Foundations are here for the British invasion. Country is heard with Henson Cargill and Roger Miller.
In addition, there's the California sound of the Beach Boys, and the East Coast doo-wop inspired melodies of the Four Seasons. The Ronettes and the Marvelettes represent the girl groups and there's teen idol Bobby Rydell. For Canadian content look no further than the Diamonds. And of course, there's Motown, with the Temptations and Smokey Robinson and the Miracles.
THAT was Top 40 in the '60s!
Enjoy Gary Mitchell on CKLW (unscoped) here.
(The Tom Howard Collection)



Rock Radio Scrapbook pays
online streaming fees to the
Society of Composers, Authors and Music Publishers of Canada (License 22-F)

---
Talent: MARK RICHARDS
Station: CKLW Windsor, Ont.
Date: March 19, 1968
Time: 5:48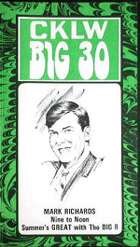 If the voice on this aircheck is familiar, there's a good reason for it. Mark Richards later became Jim Brady, who starred on CFTR's morning show from 1973 to 1981. Brady also jocked in Toronto at CJCL and CKGM, and had on-air gigs in Calgary, Winnipeg, Montreal (as "Big Funky" Scott Brady on CKGM) Phoenix, Los Angeles, Fort Worth, Tex., and his hometown of Toledo, Ohio. Brady retired from radio in June 2008 to do real estate full-time.
Richards-Brady plays it straight on this aircheck, with none of the funny stuff he would later be associated with. But it's a great sample of the Big Eight about a year into the Drake format.
Enjoy Mark Richards - a.k.a. Jim Brady - on CKLW here.
(The Tom Howard Collection)
---
Talent: JOHNNY WILLIAMS
Station: CKLW Windsor, Ont.
Date: October 27, 1968
Time: 49:43 (unscoped)
8:35 (scoped)

(Photo courtesy Jay Golden)
Johnny Williams (not to be confused with the KHJ jock of the same name) was a Michigan radio mainstay. He spent many years at CKLW and also appeared onl WNIC-FM (his nightly Pillow Talk show was the number-one rated nighttime show six years in a row.)
Williams also jocked at WTRX-FM Flint, Mich., WOHO-FM Toledo, Ohio, WYSL-FM Buffalo, N.Y., and WQXL-FM Cleveland.
He has also served as Program Director of "The Heart,", the love channel station on XM Satellite Radio, and has been an imaging voice for XM's 50's Channel, Kids Channel, Radio Classics and Vox Channels.
Enjoy Johnny Williams on CKLW (unscoped) here. (49.43)
Enjoy Johnny Williams on CKLW (scoped) here. (8:35)
(The Tom Howard Collection)
MUSICAL RESTORATION BY CHARLIE RITENBURG



Rock Radio Scrapbook pays
online streaming fees to the
Society of Composers, Authors and Music Publishers of Canada (License 22-F)

---
Talent: CHARLIE VAN DYKE
Station: CKLW Windsor, Ont.
Date: January 3, 1969
Time: 33:31 (unscoped)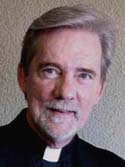 He has been called "The Voice of God", and he comes by that nickname honestly. In addition to his impressive resume as a broadcaster, Charlie Van Dyke is also an ordained Catholic deacon.
Van Dyke was still a teenager in 1966 when he got his big break, hosting middays at the legendary KLIF in his hometown of Dallas. He had actually broken into radio at the age of 14 at KXOL in Fort Worth, Tex., then moved to KVIL in Dallas before arriving at KLIF.
A storied career would follow. Van Dyke jocked at many of the leading Top 40 stations in the U.S., including CKLW, WLS Chicago, KGB San Diego, KHJ Los Angeles, KFRC San Francisco and WRKO Boston. Born Charles Steinle in 1947, Van Dyke has become one of North America's leading voice-over artists. His deep, commanding voice has been heard as the image voice of numerous radio and TV stations over the years.
Enjoy Charlie Van Dyke (and a COMPLETE newscast with Dick Smyth) on CKLW here.
(The CHUM Archives/Doug Thompson)
---
Talent: DICK SMYTH
Station: CKLW Windsor, Ont.
Date: February 6, 1969
Time: 7:44
One of the great newcasters from CKLW's early years as a rock station (and before) was Dick Smyth. The Montreal-born Smyth spent 13 years at CKLW beginning in 1956.
This aircheck was recorded five months and one day before he started his nearly 18-year stay at CHUM.
Hear Smyth on 'CK here.
(The Tom Howard Collection)
---
Talent: ED MITCHELL
Station: CKLW Windsor, Ont.
Date: May 9, 1969
Time: 19:47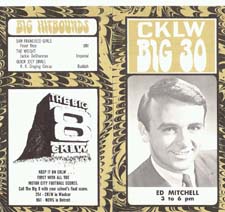 One of the world's best-known voice talents, Mark Elliot (Ed Mitchell on this aircheck) was a successful Top 40 deejay in the '60s and '70s. Tom Howard tells us a little more about this native of Des Moines, Iowa...
"His real name used to be John Frick. John said he had to change it to Mark Elliot. John used the name Ed Mitchell at CKLW. When he got to KFRC, he couldn't use the name Ed Mitchell so he picked and made up Mark from a hotel in S.F. and the last name from Mama Cass Elliot. It's a true story and he real name now is Mark Elliot. Mark Elliot left KFRC when Robert W. Morgan was leaving KHJ for Chicago. That made a opening at KHJ and Charlie Tuna (Art Ferguson) got the morning slot 6:00 a.m. to 9:00 a.m., and Mark Elliot got 12-3 just before the Real Don Steele show."
Enjoy Ed Mitchell on CKLW here.
(The Tom Howard Collection)
---
Talent: CHARLIE VAN DYKE
Station: CKLW Windsor, Ont.
Date: April 26, 1969
Time: 18:48
More from
Charlie Van Dyke and another COMPLETE newscast with Dick Smyth here.
(The Tom Howard Collection)
---
Talent: FRANK BRODIE
Station: CKLW Windsor, Ont.
Date: May 26, 1969
Time: 4:17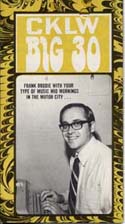 Mike Marshall was a mainstay of Toronto radio for years after arriving there at CFTR in the early '70s. But he cut his Top 40 teeth at another legendary station - CKLW. As Frank Brodie, the man we now know as Mike Marshall rocked at 'CK during its glory days of the late '60s and early '70s.
Marshall came to Toronto at 'TR in 1972 and had switched dials to sister station CHFI-FM by the mid-'80s. In 2000, he moved down the QEW to Hamilton, and the afternoon drive spot on CIWV (The Wave). He's now retired.
Rock Radio Scrapbook presents Frank Brodie here.
(The Don Shuttleworth Collection)
---
Talent: HAL MARTIN
Station: CKLW Windsor, Ont.
Date: August 27, 1969
Time: 16:02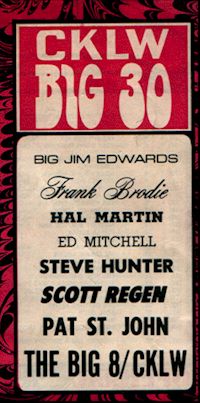 The 'CK jocks in 1969
What made the Big 8 so special? Rock Radio Scrapbook asked former 'CK jock Frank Brodie...
"People often ask what made the Big 8 great. The definitive answer probably came from Canadian filmmaker Michael McNamara and his Gemini Award winner, 'Radio Revolution: The Rise and Fall of the Big 8", featuring the words and voices of many who were part of an unforgettable ride.
The format was tight but within these confines, personality abounded. The music was drenched with soul; much of it born and bred in the Motor City. CKLW 20/20 News, with its huge voices and superb writing, demanded your attention. The Big 8 Ops were showmen, laying the beginnings of songs over the ends of jingles to hit a post. Contests were exciting and they generated invaluable word of mouth beginning in the summer of 1967.
Anyone who worked at CKLW will never forget the Big 8. The people who listened won't allow it."
Rock Radio Scrapbook won't let you forget the Big 8, either. Enjoy Hal Martin on CKLW here.
(The Don Shuttleworth Collection)
---
Talent: FRANK BRODIE
Station: CKLW Windsor, Ont.
Date: September 17, 1969
Time: 14:09
If you liked the Frank Brodie 'check from May 26, 1969, here's another good one from a few months later.
Hear it here.
(The Tom Howard Collection)
---
Talent: BIG JIM EDWARDS
Station: CKLW Windsor, Ont.
Date: December 1, 1969
Time: 1:01:01 (unscoped)
13:44 (scoped)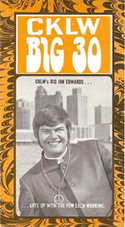 In the November 14, 1967 aircheck on this page, he's Jim Edwards.
Now it's December 1, 1969, and he's Big Jim Edwards.
Hear Edwards (UNSCOPED) here.
Hear Edwards (SCOPED) here.
(The Tom Howard Collection)



Rock Radio Scrapbook pays
online streaming fees to the
Society of Composers, Authors and Music Publishers of Canada (License 22-F)

---
VISIT THE CKLW YEARS, PART 2 (The 1970s and '80s)