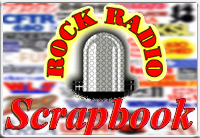 Buffalo radio in 1955
MY FAVORITE YEAR
By GARY DEEB
(Used with permission, Buffalo Broadcast Pioneers)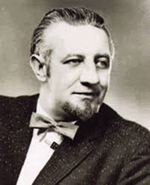 It was the summer of 1955 and Buffalo still was the 14th largest broadcast market in the United States. I was only dimly aware of that fact, being only nine. But I knew that those sounds coming from the radio and my own portable RCA model were wondrously thrilling. Indeed, it's entirely possible that Buffalo radio never was performed at such a stratospheric level as it was at that particular moment.
Call it "My Favorite Year." And call me a hopeless. nostalgia-plagued goofball. All I can tell you is that if you walked down my residential street in north Buffalo after suppertime in that summer of 1955, there were two voices that blasted off from the front stoops and the upstairs porches: George "Hound Dog" Lorenz, playing Fats and Chuck and Richard and Blind Ray and Solomon Burke on WKBW, and Bill Mazer, calling Bison baseball with a sass and a sparkle that made Offerman Stadium a field of dreams on WGR.
The Hound and Mazer. Two joyful cats who could take you into another world simply by virtue of their demonstrative personalities and their infectious love of being on the radio.
Every night starting at 7:15, the Hound took command at WKBW, tearing us up with that gutbucket theme song, "The Big Heavy" by Cozy Eggleston, and punctuating his pronouncements with a breathtaking, pre-recorded dog howl. He did audaciously crass commercials for Mother Goldstein's wine (Hound Doggers, it's in the sniff") for Big Bob and Pale Al (the "Budget Boys") for the Zanzibar ("525 on the Street") and Mr. Peeples (some guy who was dying to loan you money). "Movers and Groovers, coolers 'n' spoolers, he'd say "the Hound digs this record very, very bad." Then he'd play "Poor Me" by Fats Domino.
On Saturday mornings, I'd grab my six Squirt bottlecaps and 50 cents and my father would drive me either to Cavage's or to R&B's on Main near Michigan, where I'd grab the Hound's "Pick Hit of the Week." (At R&B's ofays like Pat Boone and George Gibbs were usually relegated to the foreign language bin.)
Blessed with a gravely voice that sounded like the Dust Bowl had settled in his throat, the Hound added a beat generation goatee and conjured up the worldly persona of a vastly-experienced music impresario who had seemingly been around forever. He was all of 35 years old. No matter. "The sound of the Hound" gave goose-bumps to one teenage boy who dialed up WKBW from his home in Brooklyn. Young Bobby Smith went on to become Wolfman Jack, complete with gravely voice, hipster goatee and wild howls of his own.
While the Hound was rocking the pop-culture boat at 'KB, Mazer was busting new ground as the voice of baseball at the opposite end of the dial. Big Bill made the Bisons sound like the 1927 Yankees, even when they finished seventh in the International League. He deliberately ignored the fact that Jack Phillips definitely was not the second coming of DiMaggio. And that Lou Ortiz had all the range of a water buffalo at second base. Mazer's beautiful, mellifluous voice, his upbeat delivery and canny use of language transformed the team into instant classics. He was nearly as responsible as Luke Easter for making Buffalo the minor-league attendance champ.
"It's a beautiful night for a ball game, folks" Mazer often intoned "and if you're anywhere near the ballpark, keep-a-comin', there's a lotta great baseball to be played."
Big and athletic in his own right, Mazer had left his native Brooklyn in 1947 to become a shining star in our smaller galaxy. By the summer of '55, he was well on the road to becoming the greatest announcer ever to ply his trade in this town.
But 1955 also was prime time for many other legendary Buffalo radio talents. In fact, the July 4th weekend that year produced the most spectacular stunt ever brought off by a western New York radio personality. Tom Clay, barely 25 and going by the ridiculous air name of Guy King, climbed atop the WWOL billboard above the Palace Burlesque building at Shelton Square and broadcast his afternoon show to a screaming throng of teens and very young adults down below. The kids tuned in on their car radios, as Clay repeatedly played "Rock Around The Clock" and implored the crowd to "honk your horns, fellas and gals, if you wanna hear that one again. This went on for more than two hours, as several thousand youngsters suddenly were feeling their oats and bringing downtown Buffalo to a flying stop. The cops and a Fire Department hook-and-ladder finally persuaded Clay to come down.
Suffering from hardening the arteries even then, the Buffalo Evening News buried the story the next day, railing against a "caterwauling mob of children" and triumphantly reporting that Clay had blown off some recent parking tickets. Nobody cared. Youth had been heard. And once again, the News blew the story, the editors failing to smell revolution when it broke wind right in their face.
By the way, Tom Clay was earning $50 a week on WWOL. He lived in a crummy two-room basement pad behind a Polish gin mill in the 1200 block of Broadway. By the end of the year, he was long gone, on the super-highway to sensational radio fame in Cincinnati, then Detroit and later Los Angeles.
Who else was riding the Buffalo airwaves in 1955. Well, there was Stan Jasinski on WKBW, his "Polka Beehive" ranking as the finest ethnic progam ever crafted in any market. And Ramblin' Lou Schriver, playing country music way before it was cool on WJJD. And Rick Azar and jazzman Joe Rico on WHLD. And Jack Eno, playing "Tel-o-Test" on the phone with WEBR listeners.
Let's not forget Bob Wells and his WEBR "Hi Teen Show" on Saturday afternoons, broadcast live from the Dellwood Ballroom. And Fred Klestine on WWOL each morning, developing the sound and mystique that later served him so nicely at WBNY, WKBW, WADV and WBUF.
At 6:15 each weeknight, sports freaks could choose between two splendid 15-minute sportscasts - Ralph Hubbell's on WBEN and Charlie Bailey's on WEBR. Bailey doubled as the superlative voice of Buffalo Bison hockey in those Pepsi-Cola uniform days. Unfortunately, WEBR suffered under a severe FCC directional pattern that forced the station to dump the best part of its signal into Lake Erie. Right next door to WBEN on the AM dial, poor WEBR always sounded like a tiny coffeepot alongside a roaring full-blast air conditioner.
Astonishingly, today's WBEN programming features only 12 hours a day of live programming. The other 12 hours are eaten up by syndicated shows airlifted into Buffalo and by incessant reruns of those out-of-town programs. But in 1955, WBEN was a local-live dream. Each weekday morning and noon hour, the station broadcast breakfast and luncheon programs direct from the Sheraton on Delaware, Laube's Old Spain on Main Street and other bustling downtown spots.
Of course, the longest-running, most popular program in Buffalo radio history was still in its heyday back then. Clint Buehlman, your "AM emcee", presided over a morning show that spotlighted a new theme song every quarter-hour, 15 minutes of news from Jack Oglivie at the top of each hour, and soft-sell endorsements by "yours truly, Buehly" for Kenmore Motors, Milk for Heath, Buffalo Optical and the NFT, among other heavyweight advertisers.
Also notable in the summer of 1955, a 25-year-old from Dunkirk-Fredonia landed the coveted vacation-relief announcer's post at WBEN. He arrived in June and was ticketed to be gone right after Labor Day. But the station's bosses sensed something was special in the lad and kept him on. Van Miller hasn't missed a paycheque since.
---
RETURN TO ROCK RADIO SCRAPBOOK