Rock Radio Scrapbook

AIRCHECK OF THE WEEK
For week of August 20, 2006
Weekly issue #390
Talent: CHRISTIAN THIBAULT
Station: CJRP Québec City
Date: April 21/May 1, 1974
Time: 5:09/4:51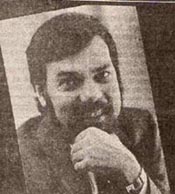 Cliquez ici pour les descriptions en français.
(Description by Pierre Tremblay)
In the summer of 1969, Raymond Crépault, owner of CJMS-1280 and the fledgling Radiomutuel network, bought CJLR-1060 from Jacques LaRoche and changed its call letters to CJRP, RP standing for Radio Provincial. In addition, Crépault bought CJTR-1150 (later 1040) in Trois-Rivières and opened new stations in Ottawa CJRC-1150 and CJRS-1510 in Sherbrooke.

As was the case for all Radiomutuel stations, CJRP put the emphasis on news and personalities. All Radiomutuel outlets were top 40 stations. Featured in this aircheck is Christian Thibault, who we can hear
elsewhere on Rock Radio Scrapbook as a CHRC disc-jockey. CJRP was a tough contender for CHRC in the Quebec City market and even went on top in the ratings for a few years when the station lured morning man André Arthur away from CHRC.
Eventually Arthur came back to CHRC as a co-owner in addition to returning as a morning man. But in 1974 CJRP was battling out against CFLS for the No. 2 spot in the ratings.
Enjoy Christian Thibault on April 21, 1974 here.
Hear Christian Thibault on May 1, 1974 here.
(The Christian Thibault Collection)
*Special thanks to Marc Denis for his superb audio editing
---
Talent: WMCA "GOOD GUY" REUNION (Part One)
Station: WMCA New York
Date: July 21, 1980
Time: 25:41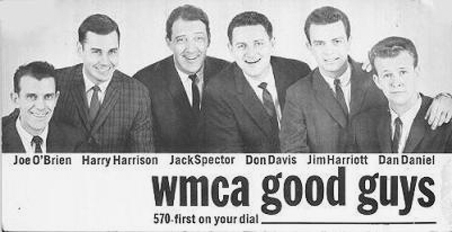 Nearly 10 years after WMCA ended its days as a music station, the "Good Guys" returned to reminisce.
Harry Harrison, Dan Daniel, Joe O'Brien and Jack Spector appeared as guests on Barry Gray's talk show to chat about WMCA's golden years as a music station and radio in general.
At the time, Harrison was in his first year as WCBS-FM morning man, and Spector was doing a Saturday night show at the same station. Daniel and O'Brien were morning men at WYNY and WHUD respectively. Gray was a fitting host - he had a late-night talk show during WMCA's music years and stayed on when they switched to talk.
WMCA dropped music programming for talk in September, 1970. But memories of the "Good Guy" music era were still very fresh in 1980, as you'll hear on this aircheck.
Enjoy the WMCA Reunion - Part One - here.
(Scrapbook archives)
---