Rock Radio Scrapbook

AIRCHECK OF THE WEEK
For week of August 26, 2007
Weekly issue #442

Talent: KEITH "KEEFERS" HAMPSHIRE
Station: Pirate BBC Essex
Date: August 13, 2007
Time: 28:47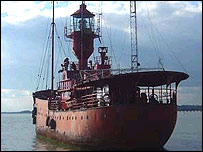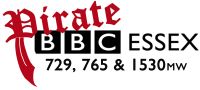 Pictured is the LV18, where Pirate BBC Essex broadcast from in 2007
Forty years after they were banned, the pirates came back.
For a few glorious days in August 2007, many of the legendary jocks from 1960s British offshore - or "pirate" - radio returned to the airwaves in a ship anchored in the North Sea off Essex, England. It was called Pirate BBC Essex, and from August 9-14 listeners once again enjoyed such talents as Johnnie Walker, Dave Cash, Keith Skues, Emperor Rosko, Norman St. John, John Kerr, Gordon Cruse, Tom Edwards, Mike Ahern and Roger Day, Pete Brady.
They were joined by Ray Clark, Steve Scruton, Ian Wyatt and Tim Gillett from a similar 2004 show. Many of them were working together for the first time since the Marine Offences Act effectively ended offshore British broadcasting on August 14, 1967.
Canada was well-represented on Pirate BBC Essex by Keith Hampshire. The man nicknamed "Keefers" came to CKFH Toronto in the late '60s after a stint at Radio Caroline South in 1966 and '67. He went on to become a top recording artist - with hits like "Big Time Operator", "Daytime Nighttime" and "The First Cut is the Deepest" - and established himself as one of Canada's leading commercial voice-over specialists.
Enjoy the first hour of Hampshire's Pirate BBC Essex show here.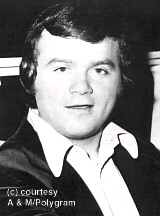 (Scrapbook archives)
This aircheck is archived here.
---
RETURN TO ROCK RADIO SCRAPBOOK