Rock Radio Scrapbook

AIRCHECK OF THE WEEK
For week of December 10, 2006
Weekly issue #406

Talent: YVONNE DANIELS and BOB SIRROTT
Station: WLS Chicago
Date: December 12, 1976
Time: 30:42

On a cold Chicago morning in December, 1976, we drop on on some hot Top 40 radio. And a pretty cool-sounding jock.

Yvonne Daniels - the "Queen of the Night" - was a mainstay on WLS on the all-night show for much of the '70s and early 80s.

Daniels - whose father was jazz singer Billy Daniels - got her start at an R&B station in Jacksonville, Ill. Later, she worked at Chicago stations WYNR, WCFL and WSDM.

Daniels became the first female deejay at WLS when she arrived at the 50,000-watt Chicago powerhouse in 1973. She stayed there nine years - all of it on the all-night show. After leaving WLS in 1982, Daniels had stints at Chicago stations WVON, WGCI and WNUA.

Yvonne Daniels died of cancer June 21, 1991. She was inducted into the Radio Hall of Fame in 1995.

Also on this aircheck, we have a few minutes of Bob Sirrott, filling in for Larry Lujack on the morning show. You'll also hear a newscast by Chicago radio legend Lyle Dean.
Hear Yvonne Daniels and Bob Sirrott on WLS here.
(The Don Shuttleworth Collection)
---
Talent: JACK FINNIGAN
Station: CJAD Montreal
Date: January 30, 2005
Time: 13:03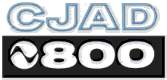 (Logo courtesy Marc Denis)
Toronto radio listeners remember him as one of the CKEY "Good Guys" in the early '60s, back when that station played Top 40. Montreal listeners recall the charming and laid-back announcer who hosted CJAD's afternoon show for some 20 years beginning in 1972. In between, there was a stop at Montreal Top 40 giant CKGM. All in all, it was quite a career for Jack "J.P." Finnigan, who died December 2, 2006 at 65 of complications related to diabetes and a heart condition.
The tributes were plentiful and heartfelt when Finnigan passed away. CJAD personality Dave Fisher told the Montreal Gazette "He taught me that even through you're talking to thousands, you have to talk like it's one person. He was very gentle, very intimate and very funny." His wife, Diane Finnigan, from whom he had separated but never divorced and to whom he remained very close, said "He loved to make people laugh. He was a good listener and my personal encyclopedia."
That encyclopedic knowledge came in handy during Finnigan's time as host of a Sunday afternoon trivia show at CJAD, a show he hosted until 2005.
Enjoy an aircheck of that CJAD show here.
(The Dan Kowal Collection)
Thanks to Marc Denis for editing and sending this to us!
---
RETURN TO ROCK RADIO SCRAPBOOK