Rock Radio Scrapbook

AIRCHECK OF THE WEEK
For week of November 5, 2006
Weekly issue #401
Subject: CKGM COMPOSITE
Station: CKGM MontrÚal
Date: 1973
Time: 9:32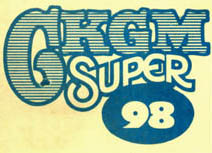 A Montreal-Toronto connection is very much evident in this wonderful CKGM composite from 1973.

Midday man Mike Williams was one of the first-year jocks when Toronto's CKFH switched to rock in 1967. He stayed there more than five years, before moving up the 401 to CKGM in '73.

Donny Burns was at CHUM Toronto for a few months in 1968. In 1973, he held down afternoon drive at CKGM. By the late 1970s, Burns had returned to Toronto, at CHFI.

Chuck Morgan was the all-night man at CHUM in 1975. But in 1973 he was the early evening jock at CKGM.

Mark Edwards did late evenings at CKGM in 1973. Earlier in the decade, he had been the all-night man at CHUM, and he returned to 1050 later in the decade as Bob Magee. He would spend about two decades at CHUM, ending in 1997. Magee moved to CHFI in 1999.

If CKGM's 1973 morning man Ralph Lockwood worked in Toronto radio, we're unaware of it. But Lockwood did spend nine memorable years (1972-1981) as CKGM's morning mayor.
Enjoy the 1973 CKGM Composite here.
(The Robert Parsons Collection)
---
Talent: CHRISTIAN THIBAULT
Station: CJRP QuÚbec City
Date: August 24, 1974
Time: 5:27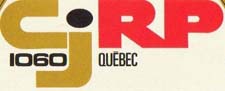 Cliquez ici pour les descriptions en franšais.
(English and French descriptions by Michel Gignac)
When he was a teenager Christian Thibault always dreamt of becoming a radio disc-jockey and in 1974 his dream became real as he began his career on commercial radio on CJRP-1060. Prior to being heard on CJRP he familiarized himself with radio in high school and acted as a disc jockey in disco night clubs.

When CJRP offered Thibault to sit in for regular deejays first on all-night shows and then on weekend he was well equipped to extricate himself as his past experience as a deejay in night clubs served him well at a time when disco music invaded the airwaves.

Thibault's radio career has always been a part-time job since he has been a civil servant for some 30 years or so. Nevertheless he remained as passionate for radio as he was in 1974 when he was heard for the first
time on a commercial station.
Hear Christian Thibault from August 24, 1974 here.
(The Christian Thibault Collection)
Thanks to Pierre Tremblay for sending this to us!
*Audio editing by Marc Denis
---
RETURN TO ROCK RADIO SCRAPBOOK