Rock Radio Scrapbook

AIRCHECK OF THE WEEK
For week of November 24, 2013
Edition #759
Subject: JAY NELSON MONTAGE
Station: CHUM Toronto
Dates: 1963-80
Time: 16:41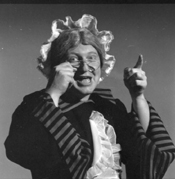 (Jay Nelson as Maude/Courtesy Doug Thompson, The CHUM Archives)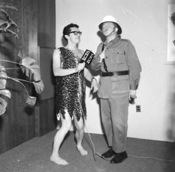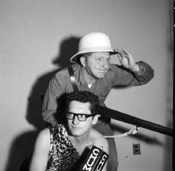 (Jay Nelson with Bob McAdorey/Courtesy Doug Thompson, The CHUM Archives)
(Description by Doug Thompson)
It was Monday December 2nd 1963, when Jay Nelson (real name: Frank Coxe), CHUM's new 'morning mayor', turned on the microphone in the studios at 1331 Yonge Street for the first time and said...actually, what he said on his initial CHUM broadcast is lost to time, but for the next 17 years and 22 days, 'Jungle' Jay woke up Southern Ontario with plenty of humour, lovable characters such as Maude and Shredney Vashtar, plus chartfuls of hit music.
CHUM's original morning man Al Boliska had quit in the fall of '63 and left for rival Toronto radio station CKEY. CHUM's then Program Director Allan Slaight and Promotions Director Allen Farrell concocted yet another zany stunt to find CHUM's new morning man.
All of the CHUM DJ's of that time (John Spragge, Bob McAdorey, Mike Darow, Dave Johnson, Dick Clark and Bob Laine) 'auditioned' for the vacant morning slot, but the eventual winner was just across the border in Buffalo, N.Y., at WKBW radio and WKBW TV where he did a kids afternoon TV show wearing a pith helmet and calling himself 'Jungle' Jay.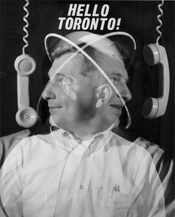 (Courtesy Doug Thompson, The CHUM Archives)
Toronto radio audiences quickly took to 'Jungle' Jay Nelson. Early on, he gave away an elephant tusk on-the-air and donated (although CHUM paid) two wallabies to the Toronto Zoo. Every weekday, he'd make 'candid-camera' type' phone calls on 'Hello Toronto". Jay MC'd The Beatles Maple Leaf Gardens concerts in 1964, '65 and '66. Jay was also there at Nathan Phillips Square on December 10th, 1980, along with tens of thousands of other Beatles fans, to mourn the death of John Lennon.
Jay Nelson and 1050 CHUM were made for each other...but all good things must eventually come to an end. That end came on the morning of December 24th, 1980 after 17 years and 22 days.
This montage has several 'neat' moments. There are plenty of samples of Jay's daily humour (sometimes quite corny). Right off the top, you'll hear a pre announcement (read by Bob McAdorey) about Jay coming to CHUM, followed by a CHUM 'radio cartoon' about the new morning man. Then, from an aircheck in September of '64, there's 'The World's Worst Jokes', which was actually a regular Al Boliska feature that CHUM continued with Jay and 'Just Plain George' for nearly a year after Boliska left. You'll also hear an episode from the late 1960's of "Mysterious Minerva" featuring Jay and CHUM writer Garry Ferrier. I recorded and produced all of the 80+ episodes of this CHUM feature - Garry and Jay always tried to break each other up. They both succeeded numerous times.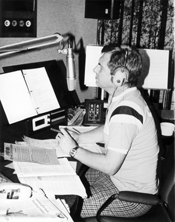 (Jay Nelson on-air, 1977/Courtesy Doug Thompson, The CHUM Archives)
You'll also hear Jay's CHUM jingles along with selected pieces from his 13th anniversary show in 1976. Finally, it wraps up with Dick Smyth's December 24th 1980 commentary and Jay's touching, final goodbye.
Jay Nelson passed away on February 18th, 1994. The following year, Jay was honoured, along with two other Canadian legendary DJ's (Red Robinson and David Marsden a.k.a. Dave Mickie) plus about a dozen or so U.S. DJ's, by the Rock and Roll Hall of Fame's Salute to DJ's.
Jay was always fun to work with. Sure he could sometimes be cranky (wouldn't you be if you had to get up at 4:30 every morning for 17 years and 22 days?), but he always gave 110% to everything he did. That's the sign of a true pro...and that is the definition of Jay Nelson.
Enjoy Doug Thompson's Jay Nelson montage here.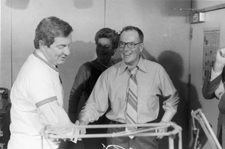 (Jay Nelson with Mr. and Mrs. Waters/Courtesy Doug Thompson, The CHUM Archives)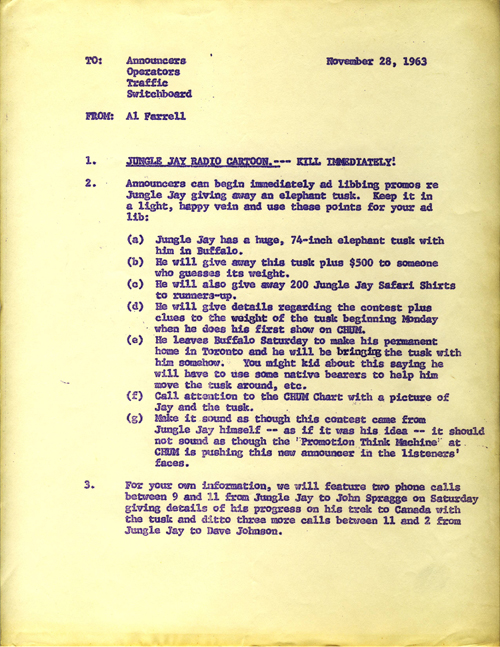 (Courtesy Doug Thompson)
(The Doug Thompson Collection)
Produced by Doug Thompson
More from Doug Thompson's Production Corner here!



Rock Radio Scrapbook pays
online streaming fees to the
Society of Composers, Authors and Music Publishers of Canada (License 22-F)

The Aircheck of the Week PREVIEW!



We're previewing the Aircheck of the Week on Facebook. Every Friday, we post the audio link to the Aircheck of the Week on Facebook with the full feature to follow on Sunday as usual.

Download your free RealPlayer
to hear the Aircheck of the Week via your PC or mobile device

Click here for technical help

---