Talent: CHUCK LEONARD
Station: WQEW New York
Date: December 11, 1998
Time: 46:50 (unscoped)
7:22 (scoped)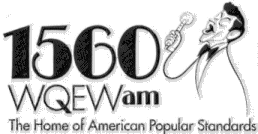 For half-a-decade, it reigned as the Home of American Popular Standards.
Following in the footsteps of long-time New York standards outlet WNEW-AM, WQEW signed on December 9, 1992 under the direction of station manager Stan Martin. WQEW replaced WQXR, which had been playing classical music since the 1930's (and continued to do so on the FM dial). Quite a number of well-known New York radio personalities were heard on WQEW over the next six years, including Jonathan Schwartz, Bill Quinn, Lee Arnold, Bob Jones, Batt Johnson, Rich Konaty, Del Demontreux, Gene Edwards, John Van Soosten, Les Davis and Chuck Leonard to name a few. And there was the music - Ella, Sinatra, Bing, Basie.
WQEW was actually two radio stations. There was the regular programming, put together by Martin. And then there was Schwartz's show, which he programmed himself from 3-7 p.m. on weekends plus his two weekend shows (he was off Monday's.)
But all good things must come to an end, and so did WQEW. Shortly before midnight on December 28, 1998, Martin said a few words of farewell, played Nat King Cole's Stardust and the Great American Songbook came to an end at WQEW. After that, Radio Disney. The standards no longer play at 1560kc in New York, but the memories linger on.
Enjoy Chuck Leonard on WQEW (UNSCOPED) here.
Enjoy Chuck Leonard on WQEW (SCOPED) here.
(Scrapbook archives)