RECENT AIRCHECKS
OF THE WEEK...
(Contributors in brackets)

March 10
Jeff Kaye
WKBW, March 25, 1966
(Don Shuttleworth)

March 3
Don Daynard w/Lookin'
Back
October 6, 1984
(Fred Bradley)

February 24
Dan Ingram
WABC, February 26, 1975
(Don Shuttleworth)

February 17
Hound Dog Lorenz
WBLK, 1968
(Don Shuttleworth)

February 10
The Byrdman
WGCL, February 1968
(Charlie Ritenburg)

January 27/February 3
Gary Gears
WLS January 21, 1970
(Don Shuttleworth)

January 20
Alan Freed
CBS Network via AFRTS
(Donald Rehrer)

January 13
Ed Baer
WMCA, October 19, 1966
(Don Shuttleworth)

January 6
Steve Shannon
CFTR, September 1973 (Bob Seed via Don Shuttleworth)

December 30
Ed Mitchell
CKLW, December 30, 1973
(Charlie O'Brien)

December 23
Paul Reid Christmas Show
CJAD, December 7, 2007
(Sam Ward)

December 16
Chuck Leonard
WQEW, December 11, 1998
(Scrapbook archives)



CANADA'S AIRCHECK ARCHIVE
- Since October 29, 1996 -

Now with 1,310 audio exhibits


Scrapbook



Enjoy 

the Aircheck of the Week
AIRCHECK OF THE WEEK
Edition #1031 - Week of March 17, 2019
JACK ARMSTRONG
CHUM Toronto
February 20, 1969 (Last show)

Jakck Armstrong's departure from CHUM was one of the most unusual Top 40 radio history.
Unhappy with the station's Drake-style format, Armstrong "worked to rule" - so to speak - during what turned out to be his final shift on CHUM. Playing to the letter but not the spirit of the format, he did his show with absolutely no energy, letting the records fade out completely and leaving dead air between the jingles and the songs. This went on for three hours before Armstrong was fired and Hal Weaver took over for the last hour of the show.
Enjoy Jack Armstromg's last show on CHUM from February 20, 1969... in the Aircheck of the Week.
Thanks to Charlie Ritenburg for this great aircheck!
---
ROCK RADIO HISTORY
... IN SOUND




Rock Radio Airchecks: The '50s & before



Rock Radio Airchecks: The '60s



Rock Radio Airchecks: The '70s



Rock Radio Airchecks: The '80s



Rock Radio Airchecks: The '90s & beyond



Rock Radio Airchecks: Jingles



Rock Radio Airchecks: Christmas



Rock Radio Airchecks: Halloween



Rock Radio Airchecks: FM 108 Remembered
---
ROCK RADIO HISTORY
... IN WORDS




Rock Radio Lineups



Rock Radio Articles



Rock Radio Almanac



Rock Radio Jive



Rock Radio Quotes



Rock Radio Stories



Rock Radio Changes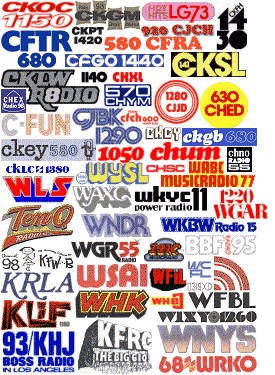 ---
---

---
Written, researched and produced by
DALE PATTERSON

Now in our 23rd year online

CHOSEN AS A SPOTLIGHT SITE BY




AS FEATURED IN




One moment they were here, the next they were gone. Great stations, legendary deejays faded into the ether, seemingly forever.
But wait! That great radio lives again right here at Rock Radio Scrapbook. The unforgettable stations like CHUM, CKLW, CKEY, CKFH, CFTR, 1470 CFOX, CKGM, CJMS, CFUN, CKRC, FM 108, WKBW, WGR, WLS, WABC, KHJ and so many others can be heard and read about here.
Enjoy legendary deejays like Alan Freed, Hound Dog Lorenz, Jackson Armstrong, Robert W. Morgan, Hunter Hancock, Cousin Brucie, Dan Ingram, Dick Biondi, Wolfman Jack, Al Boliska, Jay Nelson, The Real Don Steele, Tom Rivers, Brian Skinner, Marc Denis, Red Robinson and many others. Also here: the history, the lineups and the stories of a great radio era now gone but fondly remembered.
First, read a little about this site and then explore this tribute to a great radio era.
Thanks for placing Rock Radio Scrapbook on your cyber-bookshelf! And enjoy our Top 40 treasure trove!
---

Get a PREVIEW of the Aircheck of the Week every Friday on Rock Radio Scrapbook: Inside Edition, our official Facebook page.
---
"The radio craze ... will soon fade."

Thomas Edison, 1922
---
ROCK RADIO SCRAPBOOK
Canada's Aircheck Archive
© 1996-2019
Your e-mails are welcomed here.