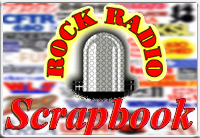 Hellos and Goodbyes
Oh, how they've come and gone in radio, in the rock 'n' roll Top 40 era. Here's how some of the great rock and roll stations came and went! (Note: Several non-rock stations are included for interest.)

- KDKA Pittsburgh began operations with its broadcast of the Harding-Cox presidential returns at 8 p.m. Tues., Nov. 2, 1920. They also played some music that night. (Source: EMPIRE OF THE AIR, Tom Lewis, Harper Collins (c) 1991; also thanks to Stefan Daystrom.)
---
- On June 4, 1934, at 10:23 a.m. the first test broadcast of an FM signal was sent out from the Empire State Building and heard 70 miles away in Westhampton Beach, Long Island. The broadcast included the sound of an organ being played. (Source: EMPIRE OF THE AIR)
---
- On Jan. 2, 1958, KFWB Los Angeles became "color radio" as the station introduced its now-legendary personality format. (Source: LOS ANGELES RADIO PEOPLE, Don Barrett, db Marketing (c) 1994)
---
- WLS Chicago went to a rock 'n roll format Mon., May 2, 1960. Mort Crowley was the first disc jockey and the first song was Alley-Oop by the Hollywood Argyles. Time of changeover: 6 a.m. (Source: Barry Mishkind, The Broadcast Archive)
---
- WABC New York switched to a rock 'n roll format Wed., Dec. 7, 1960.
---
- WINE Cheektowaga, N.Y., played the William Tell Overture over and over again for a whole day when it left the air in the 1960s. The version played was by Spike Jones and the City Slickers. (Source: Dave Whatmough and Buffalo Off The Air)
---
- WMGM New York switched back to its original call letters WHN on Wed., Feb. 28, 1962, changing format from rock 'n roll to easy listening in the process. The rock 'n roll format ended at 5:30 p.m. followed by a half-hour preview of the new format, which began at 6:02 p.m. The last dee-jay on the old format was Bob Callen; he played the Peppermint Twist Part 1 by Joey Dee and The Starliters as the last song. NOTE: WHN became WFAN on July 1, 1987, with a country music format giving way to all-sports. Dan Taylor introduced the last song, For The Good Times by Ray Price. (Source: Stefan Daystrom)
---
- WINS New York went from rock 'n roll to a news format Mon., Apr. 19, 1965. The last scheduled rock and roll song was played the day before, Sun., Apr. 18, at 7:57 p.m. The song was Out In The Streets by the Shangri-Las and it was introduced by the last dee-jay, Johnny Holliday. Public-service programming filled the gap between the last music programming and the beginning of the all-news format. NOTE: Later that year, a Jack Lacey aircheck containing music inadvertently aired during the Great Blackout. It had been placed there as an emergency backup tape and not been replaced.
---
- KHJ Los Angeles became "Boss Radio" at 3 p.m. Wed., Apr. 28, 1965. The first d.j. was "The Real" Don Steele. It became Smokin' Oldies 930 KRTH at midnight Jan. 31, 1986 (the station is now KKHJ, with a Spanish format). The last song played was Rock Around the Clock by Bill Haley and the Comets. Dave Sebastian was the last d.j. of record, but Robert W. Morgan actually said the last words as he introduced The Beat Goes On by Sonny and Cher, followed by Rock Around the Clock. KHJ originally ended its rock format in 1980 to go country, but switched back to rock before going oldies all day and evening and talk all night. The first talk show on the new station was Larry King's program on the Mutual Broadcasting System.
---
- WOR-FM New York switched to a rock format Sat., July 30, 1966, the first major FM station in the U.S. to do so without simulcasting from AM. The first song played was Wild Thing by the Troggs followed by Sweet Pea by Tommy Roe. Because of a strike at the time, there were no d.j.'s until Sat., Oct. 8, 1966.
---
- KMPX San Francisco went to a part-time progressive rock format the evening of Fri, Apr. 7. It went full-time progressive rock shortly thereafter as the format caught on. Hall of Famer Tom Donahue spearheaded the move but there is dispute over who just was the first AOR announcer.
---
- KBLA (Top 40) Los Angeles became KBBQ (country) at 12:01 a.m. Sat., June 17, 1967.
---
- When CHUM-FM changed over on Mon., July 1, 1968, it went directly from a classical piece to a progressive rock number without so much as a second's pause. Time of changeover: Midnight
---
- WBZ Boston went to 10 1-2 hours of talk daily (from two) on Mon., July 14, 1969. It had started playing Top 40 hits in September, 1956. Eventually, the part-time talk format evolved into the full-time format heard today.
---
- WMCA New York ended its music format on Sun., Sept. 20, 1970. Frankie Crocker was the last music dee-jay before the change to talk. Time of changeover: 11 p.m.
---
- WCBS-FM New York left AOR-CHR for its legendary oldies format July 4, 1972. It was one of the first radio stations to go all oldies, all the time. The first dee-jay was Johnny Michaels and the first song played was Donna the Prima Donna by Dion. Time: 6 a.m.
---
- CKFH Toronto left its oldies format in March, 1975 with Edgar Winter's Frankenstein and Don Rickerby at the controls. Minutes later, following a newscast, the station went country with It Do Feel Good by Donna Fargo. Time of changeover: Midnight
---
- KQV Pittsburgh ended its top-40 format at 10:30 p.m. Oct. 10, 1975. Sharing d.j. duties on the last night were the late George Hart and Billy Soule. The last song played prior to the all-news format was Brother Love's Travelling Salvation Army Show by Neil Diamond. (Source: Jeff Roteman, The KQV Page)
---
- WCFL Chicago, a rocker for 14 years, became a beautiful music station Mon., Mar. 15, 1976. Larry Lujack was the last d.j. on the old format and he continued with the new sound. Lujack signed off at 5 p.m. Two hours of surf sounds followed. Time of changeover: 7 p.m.
---
- CKO-FM Toronto signed on at 6 a.m. Fri., July 1, 1977. It signed off without warning at noon Fri., Nov. 10, 1989 with a brief announcement by the station manager. Phil Godin was scheduled to read the noon news, which was prepared by staff even though management knew it would never be delivered. Regular programming on 99.1 was replaced by a tone for several months and then a silence that has lasted almost a decade. The 99.1 spot in Toronto is scheduled to be occupied by the former CBL 740 this year.
---
- WACQ Boston signed on with "Rock 'N' Roll Heaven" by the Righteous Bros. (ed-that might work better as a sign-OFF song) in June, 1977 Time: 6 p.m. They replaced country-formatted WCOP at 1150. At the stroke of midnight on Jan. 1, 1979, WHUE replaced WACQ on both AM and FM after the latter signed off with "We Are The Champions." WHUE signed on both AM and FM with "Auld Lang Syne", then both stations continued with separate programming, both with beautiful music.
---
- WIBG Philadelphia "died" at 5:54 p.m. Sept., 10, 1977. Hy Lit hosted the last hours of music, with Joe Niagara phoning in near the end to say goodbye. Oddly, after the all the goodbyes were said, the station played the "Evolution of Rock" before switching to a talk format. The usual method is to switch to the new format right away.
---
- CFMU McMaster University, Hamilton, Ont., went on the air Fri., Jan. 13, 1978. Time 7 p.m.
---
- Rock legend WMEX Boston became WITS Thurs., Apr. 6, 1978. However, it stopped playing Top 40 rock 'n' roll about three years earlier, in March 1975.
---
- A power failure forced CKAN Newmarket, Ont., off the air just four hours after it signed on Thurs., Feb. 28, 1980. It was 40 minutes before the signal was restored. Time of sign-on: 6 a.m.
---
- Just before 6 p.m. on Sun., Sept. 27, 1981, Justin Clark played "The Way We Were" by Barbra Streisand. He then gave an emotional goodbye, played a jingle, then played "American Pie" by Don McLean. The rocker of 14 years switched to a talk format after the song ended. Ironically, when the station switched to Top 40 on Mar. 15, 1967 the format it replaced was talk under the call letters WNAC.
---
- WABC New York said goodbye to more than two decades of music with Imagine by John Lennon on Mon., May 10, 1982. The song was preceded by a medley of all of WABC's number-one hits, hosted by Ron Lundy and Dan Ingram. At the stroke of noon, the last WABC Music Radio jingle was played, followed by a three-second pause in tribute, then the first WABC talk radio jingle.
---
- The first song played on CKLH-FM Hamilton when it signed on Tues., Oct. 7, 1986 was "The Rose" by Bette Midler. The first d.j. on that station was Paul Hanover. Time: 6 a.m.
---
- On Oct. 7, 1988, WNBC New York - previously WEAF and WRCA - signed off forever to make way for WFAN, all sports radio. Alan Colmes said the last words on WNBC, ending 66 years of history. The first WFAN id was by Charles McCord. NOTE: Earlier that day, at 6 a.m. Jay Sorenson concluded regular music programming the same way WABC had done six years earlier, playing "Imagine" by the Beatles, followed by the WNBC Chime jingle and a five-second pause. Time of changeover: 6:15 p.m.
---
- WWKB Buffalo switched to satellite oldies at midnight Sat., June 18, 1988. Tom Donahue ended nearly 30 years of rock 'n roll on the old 'KB with a short collage of 'KB voices and jingles. The station, which first played rock 'n roll on July 4, 1958, continued with satellite oldies for a while before switching to an all-business format in 1989.
---
- Rhythm radio debuted on CING-FM 108 Burlington, Ont., in September, 1989 with Rick Astley's "She Wants to Dance With Me".Time: 7 p.m.
---
- CFGM Richmond Hill, Ont., said goodbye to 30 years of country music with Roy Rogers "Happy Trails" on a Friday afternoon in June, 1990. A Van Halen version of "Happy Trails" followed to usher in "The Hog", CHOG. In the CFGM signoff, they said that their market research did not indicate support for a country music station in Toronto. Time of changeover: 5 p.m.
---
- The last remnant of CING-FM 108's oldies format ended with Stompede by the Marketts in September, 1990. Time: 3 p.m. The lights went out on its successor, Daytime Lite, a year later with a song by Tommy James. Time: 7 p.m.
---
- KEY 590 left rock 'n roll behind with the Beatles' Good Night shortly after 7 p.m. on a Thursday night in March, 1991. Fourteen hours of heartbeats and promos for the new station followed with Country 59 CKYC signing on at 9 a.m. the next morning. When CKYC signed on, they said that market research indicated support for a country music station, the exact opposite of what CFGM said nine months earlier in ending a 30-year country music tradition.
---
- CJCL Toronto ended its nostalgia era with Thanks for the Memories by Bob Hope on a Friday morning in September, 1992. That was followed by replays of the first Toronto Blue Jay game in 1977 and the first-ever division-clinching game for the franchise in 1985. Time of changeover: 3 p.m.
---
- WQEW was born at 10 a.m. Wed., Dec. 2, 1992. The first song played was New York, New York by Frank Sinatra. Stan Martyn with guest Tony Bennett was the first host. WQEW's predecessor at 1560, WQXR-AM, signed off at 10 a.m. with host Greg Whiteside playing a selection by Schubert.
---
- WNEW-AM ended nearly 58 years on the air at 8 p.m. on Fri., Dec. 11, 1992. Mark Simone was the last host. He talked on the phone with WNEW legend Ted Brown before playing the final song - We'll Meet Again by Frank Sinatra. WNEW simulcast WYNY and WQEW before becoming all-news WBBR on Jan. 4, 1993.
---
- CISS-FM Toronto signed on in January 26, 1993 as Toronto's first country FM station. The official sign-on was preceeded by a long series of beeps. Time of sign-on: 1 p.m.
---
- CFTR Toronto played We Built This City by Starship just prior to becoming 680 News in June, 1993. The last weekend CFTR played the Top 500 songs of all time with Against All Odds by Phil Collins taking the number one spot. The name of this rather long goodbye was "The CFTR Story". Dick Smythe was the first newsreader on the new station. Time of changeover: 6 a.m.
---
- WHB Kansas City ended 39 years of Top 40, AC or Oldies at 12 midnight on Sept. 27, 1993. Jim Rice signed off with American Pie by Don McLean. That was followed by 12 hours of oldies without a deejay ending with Wake Up Little Suzie by the Everly Brothers. That record was cut off by a cow moo and the announcement WHB was now "Missouri's Farm Voice." In 1954, WHB had become the first Top 40 station under the directorship of the late Todd Storz.
---
- When CKKW Kitchener, Ont,. became Oldies 1090 on a Friday afternoon in February, 1994 - the last song it played under the old format was I Love Rock 'N Roll by Joan Jett. Then it was Mony Mony by Tommy James and the Shondells. Time: 3 p.m.
---
- CJKX 95.9 Ajax, Ont., signed on in October, 1994 with Kick a Little by Little Texas. It simulcasted on 1390 AM until February, 1995.Time: 7 a.m.
---
- CIQB Barrie, Ont., opened operations at 1:01 p.m., Sat., Nov. 12, 1994. The first song was We're Havin' A Party (Dance to the Music). Kevin Kelly and Kim Jurgenson were the first disc jockeys. This also marked the end of CKBB-AM, which disappeared a few hours later.
---
- The Fan (CJCL) moved from 1430 to 590 AM at noon Mon., Feb. 6, 1995. At the same time, Country 59 (CKYC) switched from 590 to 1430. The Fan retained its all-sports format; Country 59 - now Country 1430 - became full-time satellite country - and later ethnic CHKN.
---
- CHOG Richmond Hill, Ont., switched from music to talk (Talk 640) on a Tuesday night in October, 1995. The last song played was American Pie by Don McLean. Time of changeover: 10 p.m.
---
- WYNY ended its life as a country station Mon., Feb. 5, 1996. The last song played was The Dance by Garth Brooks. WYNY was then replaced by WKTU which opened the new format with Wonderwall by Oasis. But there's lot's more to tell. To read about it, click here.
---
- CKDX Newmarket, Ont., became The Power (dance music) at 8 a.m. Wed., Feb. 21, 1997. The station switched again to a country format as the "Kat" May 30, 1999. Time of changeover (1997): 8 a.m.
---
- WQEW New York ended live programming with announcers at 7 p.m. Mon., Dec. 21, 1998. Stan Martin was the last live deejay. A week of programming without deejays followed before the station became Radio Disney Sun., Dec. 27. The last song played before the switchover was Stardust by Nat King Cole, followed by a short taped goodbye by Martin. Time of changeover: Midnight.
---
- WNEW-FM ended 32 years of rock programming at 3 p.m. Mon., Sept. 13, 1999. The last song played was "The End" by the Beatles. The station, a pioneer in progressive rock programming, switched to a talk format. WNEW-FM began playing progressive rock Oct. 30, 1967. Time of changeover: 3 p.m.
---
- On January 12, 2000, CKDK-FM Woodstock, Ont. becomes the Hawk and and CFMK-FM London becomes Energy Radio in a format swap. Time of changeover: 4 p.m.
---
RETURN TO ROCK RADIO SCRAPBOOK