For decades, Marc "Mais Oui" Denis has been the voice of Top 40 radio in Montreal. His bilingual shows at CKGM in the '70s have earned legendary status in the annals of Top 40 radio, and he's kept his many fans entertained with subsequent Montreal stints in the '80s, '90s and '00s at CKAC, CJFM, CKOI-FM, Rythme-FM (CFGL), Q 92 (CFQR) and AM 940 among others, to go with a stay at Toronto's EZ Rock 97.3 (CJEZ). His amazing career is here on Rock Radio Scrapbook for all to enjoy ... in the "Mais Oui" Files.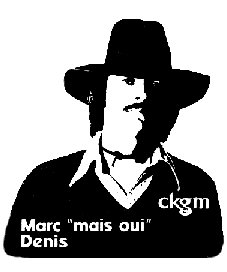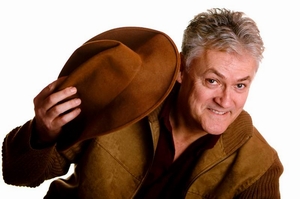 Talent: MARC DENIS
Station: CJRC Ottawa-Hull
Date: March 26, 1971
Time: 00:55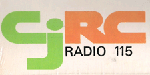 Cliquez ici pour les descriptions en français.
Prior to hosting weekends and weekday evenings on French-language station CKCH Hull-Ottawa from 1971 to 1973, Marc Denis begins his professional radio career in 1970 ... in the newsroom, all the while completing his studies at the University of Ottawa.
Denis is one of CJRC Ottawa-Hull's Parliament Hill news and sports correspondents for the Montreal-based Radio Mutuel network, serving Quebec. Marc is introduced on this clip by network sports announcer Jacques Moreau from flagship station 1280 CJMS Montréal and reports on the evening news from the nation's capital about an upcoming amateur sports and leisure conference.
Hear Marc Denis reporting on the Radio Mutuel network, March 26, 1971, here.

(The Marc Denis Collection)
---
Talent: MARC DENIS
Station: CKCH 97 Hull-Ottawa
Date: May 1, 1973
Time: 9:59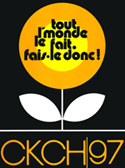 Le Marco-Musical




It is the autumn of 1971. Marc Denis leaves a newsroom in Ottawa to take over a jock studio across the river in Hull, his birthplace.
It doesn't take long before weekend hosting duties turn into an offer to host full time weekday evenings at the helm of the popular Le Marco Musical radio show, which quickly becomes a big hit with the francophone teen population of the Outaouais region of the time.
On the evening of May 1st, 1973, Marc Denis will deliver his first ever (French-language) interview with a pop superstar, and not just any: Bilingual Montreal hit-maker Michel Pagliaro, no less, who had dropped in on Marc earlier that afternoon. Pagliaro is the first Canadian artist to secure gold records for outstanding sales in both English and French across Canada and is riding high in the spring of 1973. Le Marco Musical at CKCH is one of only a few chosen radio outlets in Québec and Ontario to receive a personal visit from Pag.
Enjoy "Marco" (Marc Denis) with Pagliaro, in words and music, on CKCH 970, here.

(The Marc Denis Collection)
---
Talent: MARC "MAIS OUI" DENIS
Station: CKGM Montréal
Date: December 31, 1974
Time: 9:36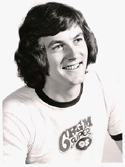 Following three years on the air in the Ottawa-Hull area (1970-1973, CJRC-CKCH), Marc Denis moves on to a new home in Montréal in early 1974, one on which he'll settle in for close to seven years: the Super 98 CKGM.
This is the first of many year-end countdowns that Denis would come to host on the legendary Montréal Top 40 station during the '70s.
Hear Marc Denis, New Year's Eve 1974, on CKGM here.

(The Marc Denis Collection)
---
Talent: MARC "MAIS OUI" DENIS
Station: CKGM Montreal
Date: October 21, 1977
Time: 8:16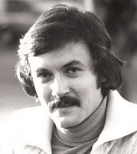 Some people insist Mickey Mantle was baseball's greatest switch-hitter; others argue for Pete Rose. But there's no dispute over the identity of radio's greatest switch-hitter: it's Marc Denis.
"Mais Oui" mixed English and French with ease during his years at CKGM. He went back and forth from one official Canadian language to the other so seamlessly, with unmatched timing, energy and personality, that one wonders how anyone stood a chance at competing against him. As it turned out, it was a controversial yet winning formula with the audience. Marc commanded killer ratings during his six years (1974-1980) at Montreal Top 40 powerhouse 980 CKGM.

This Friday evening aircheck from October 1977 shows why Denis was so popular. With his usual flair, he creates excitement around the forthcoming CKGM All-Time Top 300 Countdown, waxes enthusiastic about Montreal in general and the city's weather (finally clement following a string of rainy weekends), talks up some recent major entertainment business casualties and losses (including the Lynyrd Skynyrd tragedy just the night before), promotes his appearance the next day at Canada Billiard, relates a nice mention to a fund-raiser by the Montreal CB Club, gives away the top vinyls of the day, makes a listener happy by playing his Fleetwood Mac request with tongue-in-cheek subtlety and…beaucoup plus encore !
It's classic Top 40 radio at its very best.
Enjoy Marc "Mais Oui" Denis on CKGM here.

(The Marc Denis Collection)
---
Talent: MARC "MAIS OUI" DENIS
Station: CKGM Montréal
Date: February 7, 1978
Time: 7:06 (Upgraded 6-20-12)


It was 1978. CKGM ruled the airwaves in Montreal (3rd out of 22 stations - not bad for an English-language station in a predominately French market.) And one of the engines that made it go was Marc Denis, whose unique bilingual presentation made him a standout on the early evening shift.
When you listen to this aircheck, please note that Montreal was in the midst of a rather heavy snowfall. As Marc points out it was ''Denis high in snow ... get it? De-knee-high in...hum...ah...never mind.
Rock Radio Scrapbook presents Marc Denis on CKGM here.

Enjoy this great article about Marc here.
http://rockradioscrapbook.ca/broadcast-dialogue-magazine-marc-denis-article-page-18-october-2001-issue.pdf
(The Marc Denis Collection)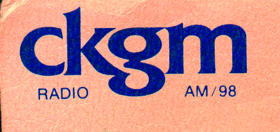 ---
Talent: MARC "MAIS OUI" DENIS
Station: CKGM Montréal
Date: March 10, 1978
Time: 3:08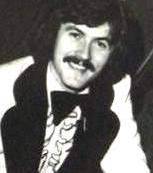 Live, local and lively. Such were the "Three L's" of classic Top 40 radio, and few did it better than Marc "Mais Oui" Denis, as you'll hear on this marvelous clip from 1978.
Denis is in great form - definitely live in the studio, with lots of local references and as lively as ever on CKGM, where he entertained bilingually from 1974 to 1980.

And speaking of local, anything could happen on the 'Mais Oui' show ... and usually did! Check out his interview with hot singing star du jour Patsy Gallant, at 1:25 in. Nothing could be more "Montréal". And Gallant's impromptu live Radio Shack commercial en français at the end? C'est magnifique!
Hear Marc Denis - with Patsy Gallant - here.

(The Marc Denis Collection)
---
Talent: MARC "MAIS OUI" DENIS
Station: CKGM Montréal
Date: August 16, 1978 (Upgraded 6-20-12)
Time: 13:19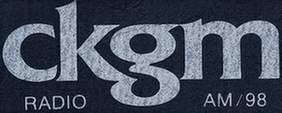 During all of the '70s, 980 CKGM was the dominant and most popular English-language radio outlet in Montreal.
One of the cities most memorable on-air personalities ever was Marc Denis, who made CKGM his home from 1974 to 1980. With his unique brand of wacky high-energy English/French Top 40 style radio, "Mais Oui" ruled the evening airwaves for many years. But by 1978 the competition was heating up. 'Bilingual imitators' on many French and English stations were now commonplace in Montreal, taking dead aim at the 'Great 98' and its popular evening show host. Between 1977 and 1979, PD Reg Johns had the mandate to keep CKGM on top and did so with innovative contests and promotions and by 'turning up the heat'.
Hear 'the heat' with Marc "Mais Oui" Denis on CKGM, August 16, 1978 here.

(The Marc Denis Collection)
---
Talent: MARC "MAIS OUI" DENIS
Station: CKGM Montréal
Date: May 29, 1980
Time: 15:20 (Upgraded 6-20-12)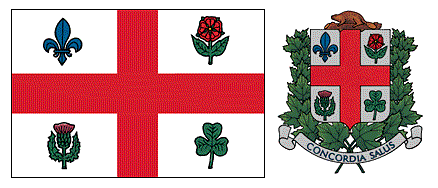 It took the big "stick" of the Canadian Radio-Television Commission (CRTC) to bring down a radio "schtick" that has become legend.
Marc "Mais Oui" Denis established a special niche on CKGM Montreal in the late '70s and early '80s by doing his show in both official Canadian languages.
The show was done primarily in English with sprinklings of French and it was incredible, some of the best Top 40 radio this country has ever heard. It brought in killer ratings, as well. Unfortunately for Denis and CKGM, it was TOO successful. In 1980, the CRTC - the ruling government body of Canadian broadcasting - ruled against mixing the languages in the Denis manner. It seems some French-language stations were losing listeners to Denis and had complained to the regulator.
The bureaucrat's "gain" was the listeners loss. And on the surface it didn't make sense - isn't Canada officially bilingual? But we'll refrain from political discussion here.
Hear Marc Denis on CKGM here.

(The Marc Denis Collection)
---
Talent: MARC "MAIS OUI" DENIS
Station: CKGM Montreal
Date: June 23, 1980
Time: 24:42 (Upgraded 6-20-12)

Remember when Top 40 stations had million-dollar weekends, those oldies extravaganzas that started every Friday afternoon? Well in 1980, CKGM improved on that, running a "World's Longest Weekend"!
What CKGM did was to feature a different major artist within the daily music mix while including the Quebec holidays of ''St-Jean Baptiste Day (a.k.a. La Fête Nationale)'' on June 24 and ''Canada Day'' on July 1. The fun began June 23, lasted nine days and was appropriately called ''The World's Longest Weekend''.




This aircheck showcases some of the elements that made classic Top 40 radio so special. The programming was fresh and creative ... it blended personality and music ... and it was both live and local. The result: magic!
Along with the delightful Omega Medina "Sister O" reporting on Montreal traffic, enjoy Marc Denis, doing his usual signature bilingual thing (with Spanish in there too), on "The World's Longest Weekend" MP3 version here.

(The Marc Denis Collection)
---
Talent: MARC "MAIS OUI" DENIS
Station: CKAC Montréal
Date: February 6, 1983
Time: 6:36


By 1983, Marc Denis had been recruited to host a "oui-kend" oldies show at the legendary French-language 'heritage' station, CKAC. The show, La Fièvre du Samedi soir, featured classic '50s and '60s tunes covered in French and in some cases the French originals. On this aircheck, Montreal Canadiens great Yvan Cournoyer and quiz/teen show celebrity Pierre Lalonde tell 'one for the road.'
Rock Radio Scrapbook presents Marc Denis on CKAC here.

(The Marc Denis Collection)

---
Talent: MARC "MAIS OUI" DENIS
Station: CKOI-FM Montréal
Date: August 11, 1985
Time: 11:28


After his stint at CKGM ended in 1980, Denis moved to English language station CJFM and later to French station CKAC in 1982. He arrived at French language rocker CKOI-FM in 1983. In his three years at CKOI-FM, he did the opposite of what he used to do at CKGM, presenting the show primarily in French with sprinkings of English. Apparently the CRTC was looking the other way then.
Hear Marc "Mais Oui" Denis on CKOI here.

(The Marc Denis Collection)

---
Talent: MARC "MAIS OUI" DENIS
Station: CJFM 95.9 Montréal
Date: February 4, 1989
Time: 8:47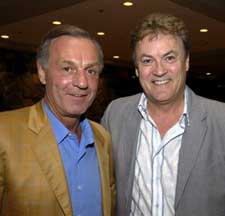 Guy Lafleur - Marc "Mais Oui" Denis


Marc "Mais Oui" Denis tells Rock Radio Scrapbook about what he says will always be a special day for him - February 4, 1989...
"I was freelancing television, films and commercials full time at that point of the late 80s in Montreal. I was invited in to host this one-shot 'Montreal's Top 96 Of All Time Countdown' which ran from 1pm to 8pm or so on a very frigid Saturday Feb 4, 1989.

It was a return of sorts as I had hosted weekday PM drive there at CJFM from 1980 to 1982 and would eventually return again in 1992 to 1994 to host 'Marc Denis Reeling In The Years' on Sunday mornings (now Mix 96 at this point).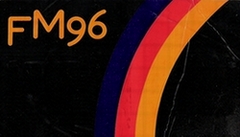 In February 1989, FM 96-CJFM was only few short weeks away from becoming Mix 96. It remained the Mix until January of 2009, now known as Virgin 96. So, this on-air ditty from February 4, 1989 is two incarnations ago of CJFM at 95.9 FM.

Feb 4, 1989 was the night that the newly-unretired Guy Lafleur returned for the first time to the old Montreal Forum...in a New York Rangers uniform. Electricity in the air. Final score: Habs 7, Rangers 5. Les Canadiens won and Lafleur scored two for the Rangers and assisted on another...so everyone went home happy and content. As soon as I completed the Countdown on FM 96, my son Philippe and I literally ran down the two-three blocks from the radio station to the Forum, just in time for the second period. Beauty."
Enjoy Marc Denis on CJFM here.

(The Marc Denis Collection)
---
Talent: MARC ''MAIS OUI'' DENIS
Station: CJFM Montréal
Date: March 28, 1993
Time 8:10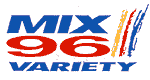 From the mid-seventies to the mid-nineties, CJFM aired a popular Sunday morning Classics show hosted by various legends of Montréal's English radio landscape (Dave Boxer, Dean Hagopian, George Morris). During his tenure as host of this show in the early Nineties (CJFM now Mix 96), Marc Denis and the Mix staff often took the two-hour broadcast ''on the road'' to meet and greet listeners for Sunday brunch at various Nickels Restaurants, a Fifties/Sixties-style deli chain owned by singer Céline Dion and hubby René Angelil. This broadcast from the spring of 1993 features ''Monsieur Mais Oui'' playing some tasty cuts from the Sixties and Seventies while mingling with listeners from various backgrounds and places at the Pointe-Claire outlet, in BOTH of Canada's official languages.

One wonders if the CRTC was listening to this ''outlawed'' radio practice that day to witness what a great time was had by all? ''Nickels'' for their thoughts. Bon appétit.
Hear Marc Denis on CJFM here.

(The Marc Denis Collection)
---
Talent: MARC "MAIS OUI" DENIS
Program: "COFFEE, TEA OR POP ®"/"Aéropop MD"
Station: AIR CANADA IN-FLIGHT AUDIO
Date: July-August 1993
Time: 24:01 (original program with full music: 60 minutes)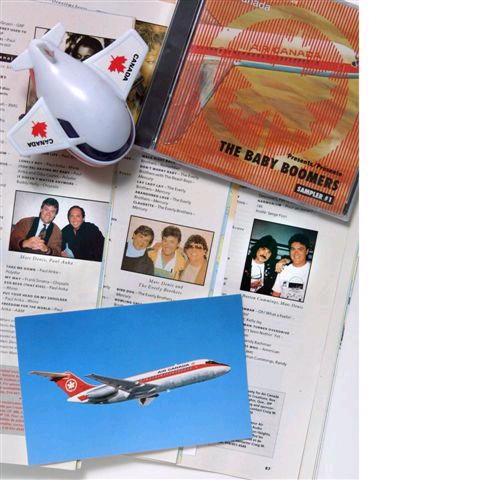 During the late eighties and for most of the nineties, well-known Canadian broadcaster Marc Denis became a popular fixture on Air Canada's in-flight audio system. Millions of passengers the world over were entertained for years by his music and interview specials up in the friendly sky filled with stars. Included here, a real and rare Scrapbook treat from July-August of 1993.
A ''Best Of'' edition of his show featuring the music and stories of stars such as Paul McCartney, John Sebastian, Brian Wilson, Lesley Gore, Paul Hoffert from Lighthouse, Pierre Bertrand of Beau Dommage and many others. Much like his schtick on Montreal Top 40 rocker CKGM during the Seventies, ''Mais Oui'' weaves through the clouds in both of Canada's official languages. So fasten your seatbelts, adjust your headsets and enjoy your radio Oldies...with a différence !
Hear Marc Denis here.

(The Marc Denis Collection)
---
Talent: MARC "MAIS OUI" DENIS
Station: AIR CANADA IN-FLIGHT RADIO, Montréal
Title: The April Wine Collection / La Cuvée April Wine
Date: November-December, 1995
Time: 21:19 (edited from 60-minute original)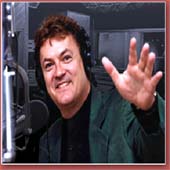 April Wine then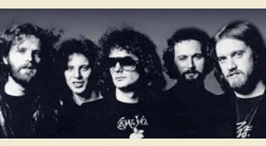 April Wine now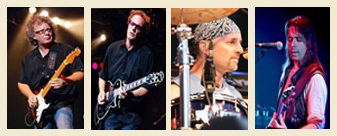 Back in 1992, Montreal-based rock veterans April Wine reunited to record some new music and to tour to enthusiastic crowds across Canada, the U.S., and Europe for the first time since their 1985 break-up. Who knew that Myles Goodwyn, Brian Greenway, Jimmy Clench and Jerry Mercer would still be touring and recording as of this Rock Radio Scrapbook presentation of 2004?
Let's fly back to 1995 to enjoy this exclusive all-Canadian broadcast which ran originally on Air Canada's In-Flight audio during November and December of '95 to rave reviews from thousands of passengers far and wide. This 25th anniversary special of '95 (Retropop) was researched, produced and hosted by Canadian broadcaster and bilingual voice-talent Marc Denis, a long-time friend of the band. It contains entertaining insight and humorous anecdotes by all the members of April Wine (lifetime up to 1995) and many hilarious anecdotes by Brian, Myles, Jerry and Jim. (NOTE: Jim Clench passed away November 3, 2010 at the age of 61.)
So friends, fasten your seatbelt, kick the seat back and turn it up as Rock Radio Scrapbook presents this exclusive presentation: Marc Denis at 35,000 feet with the bar wide open, serving "The April Wine Collection, La Cuvée April Wine! Bon voyage and enjoy April Wine with Marc Denis here.


NOTES: The 21:19 total time showcases spoken word content. Edited from original 60-minute audio document which featured musical selections in their entirety. Aircraft headset final mono mix. Marc Denis Productions, Inc. All rights reserved/Tous droits réservés.
Guitarist Steve Segal has moved on to other musical projects since the original broadcast. April Wine has continued touring extensively and releasing records since the original 1995 presentation, adding the albums "April Wine-The King Biscuit Flower Hour" in 1999, "Back to the Mansion" in 2001,"April Wine's Greatest Hits Live 2003" and ''Roughly Speaking'' in 2006 to the Wine collection. Bassist Jim Clench also moved on to other interests in late 2006, replaced by Breen Leboeuf in 2007, himself replaced by bassist Richard Lanthier in late 2011. Drummer Jerry Mercer retired in late 2008, replaced by Blair MacKay. Enter drummer/vocalist Roy Nichol in mid-2012 in replacement of Blair MacKay, the latter leaving April Wine and moving on to several new musical projects.

As of 2004, with the passage of time, some information contained within the original 1995 special may no longer be valid. We thank all the members of April Wine, past and present, for their collaboration and enthusiasm throughout this audio project and wish them continued success.

Visit Marc Denis' CKGM Montréal Super '70s Tribute Page for great Top 40 radio fun and memories at http://www.marcdenis.com/ckgm.asp. Also, check out the official April Wine site.
(The Marc Denis Collection)
---
Talent: MARC "MAIS OUI" DENIS
Station: EZ Rock 97.3 (CJEZ) Toronto
Date: 1997-2000 (composite)
Time: 3:43



For Toronto radio fans, it was the hockey equivalent of Canadiens great Guy Lafleur playing for the Maple Leafs. Marc Denis was on-the-air in Toronto!
In 1997, Denis arrived for what ultimately became a three-year stint at CJEZ. He hosted weekday afternoons (1-5 p.m.) and the weekend countdown show.
Denis also did voice-over and corporate video work until 2002, most notably as the voice of Bell ExpressVu in English and French.
Remember Marc Denis on EZRock here.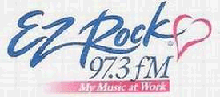 (The Marc Denis Collection)
---
Talent: MARC "MAIS OUI" DENIS
Station: 105.7 Rythme FM (CFGL) Montréal
Date: 2002-2003 (composite)
Time: 3:35



In early 2002, Marc Denis returned to Montréal to host weekends at Montréal's top-rated Rythme FM.
He set up his own in-home recording studio, and began freelance voice-over work and corporate video production in both languages for clients in the greater Montréal area. In 2003, Denis launched his personal website www.marcdenis.com. He and his web team also introduced 'Marc Denis' CKGM Super '70s Tribute Page' in homage to his alma mater, Montréal's fondly-remembered Top 40 station 980 CKGM.
Enjoy Marc Denis on 105.7 Rythme FM here.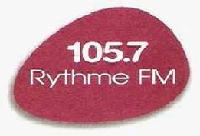 (The Marc Denis Collection)
---
Talent: MARC "MAIS OUI" DENIS
Station: Q 92 (92.5 CFQR) Montréal
Date: April 22, 2006
Time: 9:52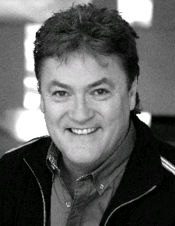 Marc Denis, 2006
The good ol' days of Montréal hit music radio returned in September, 2005.
Marc Denis joined Q 92 as a weekend host and occasional weekday pinch-hit, all the while continuing to freelance bilingual voice-over work and corporate video production for various clients in Montréal and beyond.
This "Earth Day 2006" aircheck finds Denis in bilingual switch-hitting radio mode on Montréal's airwaves again, just like the "bald old" '70s.
Catch the return of Marc "Mais Oui" Denis on Q 92 Montréal here.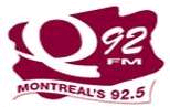 (The Marc Denis Collection)
---
Talent: MARC "MAIS OUI" DENIS
Station: Q 92 (CFQR) Montréal
Date: July 21, 2007
Time: 34:59 (Upgraded 06-25-17)



Description by Marc Denis

This audio piece is truly and literally quite "the ride": It is my first New SNO show on CFQR 92.5 Montreal, an early Saturday evening live broadcast no less, at Montreal's iconic amusement park, La Ronde, which was celebrating its 40th anniversary that summer of 2007.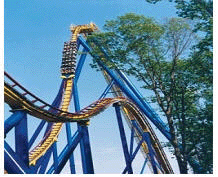 Le Goliath hyper coaster at La Ronde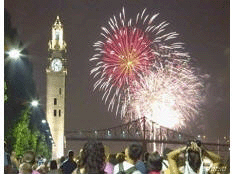 The International Festival des Feux in July, Montréal

I had initially experienced the rides and attractions of La Ronde first hand during the park's inaugural summer of 1967 with family and friends in my mid-teens, all the while joining over 50 million visitors (!!) from North America and around the world who took in Montreal's wildly successful World's Fair, Expo '67, next door to the amusement park, that spring and summer on the surrounding man-made islands.
Your Expo '67 youth passport allowed for daily access to the site, all the islands and all pavilions for the whole summer… for $30.00 ! To get there, a ride by underground Metro cost 25 cents and, once on site, 10 cents got you around on all the sky mini-rail trains and access to the rides at La Ronde. For the World in your backyard and daily adventure, what a bargain!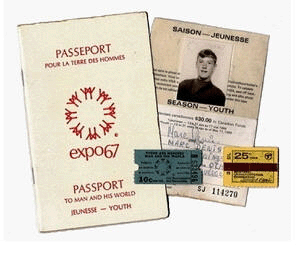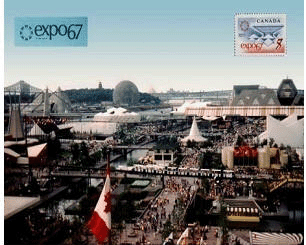 The ¾ geodesic dome in the background (to the right of the Jacques-Cartier Bridge) was the home of the USA Pavilion in 1967. It is one of the structures to have endured since 1967. Today, it is known as The Biosphere, an interactive museum dedicated to raising awareness on environmental issues. The dome was used prominently in the original Battlestar Galactica series (Greetings From Earth) and also seen in the Robert Altman film, Quintet.

What a thrill it was to be asked to broadcast live on site 40 years later. For the event, I programmed nothing but hits from the year 1967, with frequent cues to the local Montreal music scene of the day, French and English: les Sultans, the Rabble, the Sceptres, les Hou-Lops, the Haunted, the Carnival Connection, the Staccatos (the latter from the Ottawa Valley), and even a 16-year old from Ville d'Anjou, Gino Vannelli and his first single blending right in with Sgt. Pepper and the other radio staples of that magic summer in Mayor Jean Drapeau's Montréal la Magnifique. Combine that with the gleeful squeals of thrill seekers and persistent call-outs from the game barkers, the ubiquitous scent of popcorn, hotdogs and French fries in the air, the July sun slowly sinking and winking behind the Jacques-Cartier Bridge, retro radio jingles, nostalgia sound bites and a local homegrown bilingual host genuinely happy to be there…

Enjoy Marc Denis on SNO here.

(The Marc Denis Collection)
---
Talent: MARC "MAIS OUI" DENIS
Station: Q-92 (CFQR) Montr
éal
Date:

June 7, 2008
Time:

17:38
(Photo courtesy Donald Major)


It's Grand Prix du Canada Weekend 2008 and Monsieur Mais Oui is on the move again, revvin' up the 'Car and Driver' tunes and the fun and a live 'Saturday Night Oldies', 'The New SNO' parked in the heat of it all, centre-ville Montréal.
'Heat' is the operative word for it as temperatures exceed 35 degrees (Celsius) under the Q 92 broadcast tent.
Enjoy a Grand Prix musical 'pit stop' Live from Drummond Plaza on the F1 Piazza with Marc Denis here.

(The Donald Major Collection)
---
Talent: MARC "MAIS OUI" DENIS
Station: AM 940 (CINW) Montreal
Date: 2009 (composite)
Time: 7:16

(Logo courtesy Stéphane Dubasouf)
Canada's first radio station is
Marc Denis' last, for now.
First known as XWA in 1919, then CFCF in 1920, followed by CIQC in 1993 and lastly, as CINW moving from 600 AM to 940 AM in 1999, the venerable Montreal radio entity introduces many varied format incarnations through the decades. It finally settles for a 60s-70s-80s "Montreal's Greatest Hits" format in 2008, officially launched on July 1st, Canada Day.
Marc 'Mais Oui' Denis is the first jock and is recruited as morning man until his departure on April 7, 2009, as part of sudden and major downsizing at the six radio stations cluster of which AM 940 is part of in the market. Economic problems prevalent in the industry at large during the recessionary year of 2009 have since drastically altered the radio landscape in Montreal, as everywhere else.
With 'Mais Oui' though, it is a guaranteed fun ride while it lasts! Enjoy Marc Denis on AM 940, Montreal's Greatest Hits, here.

(Note: CINW 940 Montreal eventually shuts down at 7 p.m. January 29, 2010 after 90 years, 1 month and 28 days on the air with no mention made of the station's long history).


(The Donald Major Collection)

Following three years on-air hosting weekday afternoons and the weekend countdown at CJEZ (97.3 EZ Rock, Toronto) from 1997 to 2000 and a stint at CJBC (860 Radio-Canada/CBC Toronto) in 2001, Marc Denis returned to Montréal to host weekends on French-language AC 105.7 Rythme FM in 2002 and 2003.
From 2005 to 2008, Marc is part of the team at Montreal's Q 92 (CFQR 92.5) hosting, programming and producing, among other programs, the weekend favourite "Saturday Night Oldies, the New SNO" on Q 92. In 2008 and 2009, Marc is also the weekday morning show host of Q 92's sister station, AM 940, Montréal's Greatest Hits of the '60s-70s and '80s. He has since moved on to pursue other radio, TV and film projects in the city, offering his bilingual voice services at www.marcdenis.com.
Marc also runs the popular ''980 CKGM Montréal Super 70s Tribute Page'', a must visit for Top 40 radio fans at http://www.marcdenis.com/ckgm.asp and the equally engaging "1470 CFOX Montréal Radio Archive" athttp://www.marcdenis.com/cfox/

You can communicate with Marc here: maisoui@marcdenis.com
---
RETURN TO ROCK RADIO SCRAPBOOK