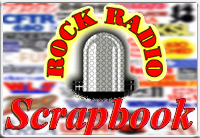 Openings and closings
Let's begin with the end. Here's how some deejays in the Top 40 era ended their shows!
ART ANDREWS (CJON, VOCM, CBC)
"The foregoing has been a work of art. I'm Art Andrews."
ROGER ASHBY (CKOC, CHUM, CHUM-FM)
"And another Sunday morning oldies show is history."
JACKSON ARMSTRONG (Numerous stations)
Jack recited his famous signoff - first at normal speed for him and then slowly - at WHTT-FM's Reunion weekend in November, 1996. Here it is:
"Don't get that on ya ... do it twice ... be nice ... very nice to be important ... but more important to be very nice ... let it all hang out ... drag in the sand and make a deep rut ... people in glass houses shouldn't ... a bird in the hand makes it hard to blow your nose ... one good turn takes most of the blanket ... you can lead a horse to water but don't push him in because if you do nothing smells any worse than a wet horse ... you can lead a horse to water, push him in, teach him the backstroke, then you really got something ... Wash face in the morning ... neck at night ... love is life ... life is love ... and your LEEEEEEADER loves you, bye!"
It took Armstrong just 19 seconds to say all 124 words on the Reunion Weekend, but he used to say it faster. Armstrong says he has been timed at 690 words a minute.
NORMAN B. (CKFH, CHOW, CKBB, FM 108)
"Do what you want, dig what you do, 'cause that's what life is all about." His regular sign-off (and sign-on) song as "Walking With Mr. Lee" by Lee Allen. When he did his last show at CHOW in Welland, he played "So Long" by Fats Domino.
ED BAER (WMCA, WCBS-FM)
"Thanks so much for listening. My best to the family and we'll have to have lunch sometime."
BUD BALLOU (WKBW)
"Thanks for dialing in, keep yourself a great big smile and good night eastern America." He signed off with End of the Night by the Doors.
SANDY BEACH (WDRC, WKBW, WNYS, WGR, WZRD, WBEN)
"Goodnight, Lunenberg, Mass., wherever you are."
DON BERNS (WKBW, WTAE, KLIF, KFMB, CFNY, CIDC)
"Remember, whereever you are and whatever you're doing, it's only the beginning."
DICK BIONDI (WLS, WCFL, WKBW)
"God bless, bye, bye, Duke. Thanks a million for dialing our way."
JERRY BLAVAT (WCAM, WFIL, WIBG, WCAU-FM, WOGR, WSSJ)
"Keep on rockin', because in this world you really rock ONCE!
JIM BRADY (CFTR, CFGM, CJCL, KOPA)
"Come get me mother, I'm through."
JULIUS BROWN (CING, CJRN)
His sign-off song on CING was "Theme From A Summer Place" by Percy Faith.
TED BROWN (WMGM, WNEW, WNBC)
"Warm up that coffee, momma, 'cuz I'm coming home."
MARK CHAMBERS (CHUM)
"Rock on, Toronto."
ROGER CHRISTIAN (KHJ, KRLA et al)
"That's all she wrote - sleep warm - later, lover."
JOEL COOPER (KGW)
"That's it, that's all, end of the mall for the Joel Cooper heavyweight hall and thank you driver for getting me there. Remember, wherever you go ... there you are ... so don't forget your papers. Mmmbyebye."
REGE CORDIC (KDKA)
"Have a ginger peach day, compliments of Cordic and company."
Cordic began his show with "Up A Lazy River" and the words "Hello, Lovers of Fine Music." (Ed - Obviously not a rock show.)
FRANKIE CROCKER (WMCA, WINS and others)
"May you live to be a hundred, and me a hundred minus a day, so I'll never know good people like you have passed away. Peace, love, truth and soul." (Note: Background song was Moody's Mood for Love by King Pleasure.)
DAN DANIEL (WMCA, WHN, WYNY, WCBS-FM)
"Dan Daniel loves you all, especially you size nine." (apparently a reference to his wife, Rose Mary.)
GLEN DARLING (CING, CKRW)
"For those in love, or for those contemplating love, as I love you I leave you with the Paris Sisters, "I Love How You Love Me", for my gal Nancy."
BOB DAYTON (WABC, WPIX, WCBS-FM, KBLA, KRLA)
"I gotta go now! Goodbye world."
TOM DONAHUE (KYA, KSAN, KPPC)
"And that's the way it was ... and that's the way it is ... and it's always changing ... and it is always the same."
TOMMY EDWARDS (WLS)
"Be talkin' at ya."
BOB EUBANKS (KRLA)
"Love thy neighbour, but don't get caught."
GARY FRANCIS
"Hi, I'm Gary Francis, over and out."
ALAN FREED (WKST, WJW, WINS, WABC, WINZ, KDAY, KNOB)
"This is not goodbye, this is just goodnight."
PAUL GODFREY (CHAM, CFTR)
"Shine on."
NEVIN GRANT (CKOC)
"I'm Nevin Grant, in touch with yesterday and today."
HARRY HARRISON (WMCA, WABC, WCBS-FM)
"Thank you. I wish you the best, because that's exactly what you deserve."
BRUCE HAYES (KFWB, KDAY, KHJ, KFI)
"Excelsior."
DOUG HOBBS (CKTB)
Theme song was "Twistin' At The Woodchoppers Ball" by the Ron Metcalfe Orchestra.
COMMANDER HOT ROD (WDAS)
"What you think of me doesn't matter. But what I think of you does matter. And I think you're great!"
EMPEROR BOB HUDSON (KRLA)
"Clear the freeways, peasants. His highness is coming."
DAN INGRAM (WABC, WKTU, WCBS-FM)
"Bye now, keemosabe."
For 25 years, Ingram has closed his show with "Tri Fi Drums" by Billy May.
PETE JAYCOCK (CING, CKLH)
Signed off at CING with edited version of "FM Reprise" by Steely Dan.
CASEY KASEM (KRLA)
"Keep your feet on the ground and keep reaching for the stars. And until you get the one you want, I hope you'll stay with the station of the stars, KRLA."
RODGER KAY (WMOH)
Last show on May 28, 1970 sign-off "...closes things down. As we're gonna leave you, I've got one more thing to say to you out there. 'May the roads rise to meet you, May the wind beat your back, May God hold you in the palm of His hand'--Goodnight, everybody...""Bye, Bye, Baby (Baby Goodbye)" by The Four Seasons fades in as he speaks the last line.
WALT "BABY" LOVE (WNBC)
"Peace, love and get all you can, Big Apple."
RON LUNDY (WIL, WABC, WCBS-FM)
"Goodbye, love"
He said this to end his final show because he was best known for the phrase "Hello, love"
STEVE LUNDY (WLS, KILT, KROQ, KRTH, KFRC)
"Don't forget to smell the roses - cause we're only here for a short visit."
LARRY LUJACK (WLS, WCFL)
(Whispered) ... "I love you."
THE MAGIC CHRISTIAN (WVBF)
"Thank you, Boston."
CRAIG MATTHEWS (WKBW, WGR, WHTT)
"Love a little. That's what it's all about."
OR
"God bless. Never say never."
DAVE MORELAND (KRLA)
"This has been a Desert Rose production. Bye bye. Buy bottled and bond. Bye, bye."
JOHN NOVAK (CKOC)
"Thank you, Southern Ontario."
JOE O'BRIEN (WMCA, WNBC, WHUD)
"If you were listening in the car, thanks for the ride."
ROWDY RUSS O'HARA (KKDJ)
"When in doubt whip it out and bang it on the cartridge machine. Bye!"
JOHN OTTO (WGR, WWKB)
"I'll be with you."
MARK PANOPOULOS & DOC PHILLIPS (CFMU)
"Remember, baseball is just a game, but music is life."
TED QUILLIN (KFWB and others)
"Momma, come and get your baby boy"
CLARK RACE (KDKA)
"It's so nice to know so many people."
Race began his show with "String of Trumpets'"
TED REILLY (CJRT-FM)
"Think nice thoughts."
JOEY REYNOLDS (WNBC, WKBW and others)
"Let a smile be your umbrella and you'll get a mouthful of rain."
BOBBY RICH (KFMB)
"Come get me mother, I'm through." (this is word for word the same as Jim Brady's signoff at CFTR)
DUSTY RHODES (WSAI)
"Thanks a million for dialin' our way; God Bless You, wishin' you lots of love, much money, and a laugh a minute. So long, Swinger."
TOM RIVERS (CHUM, CFTR, CKFM, CJEZ-FM)
"Lead, follow, or get out of the way."
ART ROBERTS (WLS)
"This has been a work of Art. Excelsior"
A slight variation on Art Andrews' signoff
JOHN RODE (WRKO, CKFH, CHUM, CKEY)
Kissing sound followed by "Rode loves ya most!" (He wasn't allowed to do this when he did the morning show at CKEY.)
SHANE (WKBW, WGR, WWKB)
"Make the peace, share the peace, keep the peace..."
TOM SHANNON (WKBW, WGR, WHTT-FM, CKLW, KOA)
"Take care. Drive carefully ... make sure it's your car. Remember ... and above and beyond all else. Later."
He also used:
"The sun never sets on the Shannon empire."
BOB SHERWIN (CKOC, CJBK)
"I'm Bob Sherwin and you are something else!"
BOB SIRROTT (WLS)
(Porky pig imitation) "Thhat's all folks!"
FRANK KINGSTON SMITH (WABC)
"Thanks for listening, music lovers."
JACK SPECTOR (WMCA, WNBC, Radio Caroline, WCBS-FM, WLIR)
"Look out street, here I come!"
GARY STEVENS (WMCA)
"Goodbye on you."
HANS STOEVE (2-RES-FM)
"The time has come, the walrus said, to bugger off and go to bed."
JAY STONE (KUPD)
"Hey, leave no turn un-stoned"
BERT THOMBS (FM 108)
Closed with "Balboa Blue" or "Stompede" by the Marketts.
BEAU WEAVER (KHJ, KFRC, KCBQ, KILT, KNUS, KAKC)
"That's it ... I refuse to do more. The Beau Weaver Show hits the fan 'til tomorrow. Goodnight Fluffy."
TONY VENTEROLI (WGR, WNYS)
"Be yourself and you'll succeed."
TERRY YOUNG (WLEE)
"See you later, Debbie Slater."
DIC YOUNGS (KIOA)
"Thank you for turning me on."
And one very special and dramatic goodbye by Archer, who was a deejay at KXYQ in Portland, Ore. when this happened (he also worked at WPLJ, KQLZ, KMTT, KSOF, XHEPR and others)
Archer left the Portland for L.A.after 10 years. All through the final show people called in saying they were spotting flying saucers. Even his traffic reporterr reported being buzzed by one in her plane. Then at 9:20, a caller said one had crashed in Clackamas County, so Archer turned over the show to his newsguy, David Endress, so Archer could drive the remote van to the supposed crash site. After 40 minutes of Endress doing a sloppy job of playing records, Archer checked in "by remote," saying he was at the crash site and was approaching the UFO, which appeared not to be damaged. As he got close, you heard a door open and Archer said, "Oh my God! It's opening - I can't resist taking a peek inside. I see blinking lights and a control panel and -- (door sfx) argggh!!! I'm being abducted by ----" and loud static. Those were Archer's last words on Portland radio.
---

We'll end with the beginning. Here's how some deejays began their shows.

NORMAN B. (CJRT, CKBB, CHOW, CING)
He played a medley of tunes that included "The Dedication Song" by Freddie Cannon and "Norman" by Sue Thompson.
JERRY BLAVAT (WCAM, WFIL, WIBG, WCAU-FM, WPGR, WSSJ)
"By the tick tock on the wall, it's time to rock. Greetings and salutations yon teenagers. I am the man with the plan - for those who have rock 'n' roll in their soul - baby let m tell you, I got the RIGHT -to do what I gotta DO - with ALL my might.
GEORGE "THE HOUND" LORENZ (WHLD, WKBW, WBLK)
Started his show with "The Big Heavy" by Cozy Eggleston (instrumental version of the Louis Jordan song "Blue Light Boogie").
BOB LAINE (CHUM)
"Hello world, this is Bob-O. Hello Bob-O, this is world."
GEORGE OXFORD (KSAN)
Oxford's opening theme on KSAN was "Rock and Roll" by Buddy Morrow.
B. MITCHELL REED (KFWB, WMCA, KPPC, KMET, KRLA, KLOS)
While at WMCA, he signed on with "Hand Clappin'" by Red Prysock.
NORM STEVENS
"Hiya, dear people with ears."
---