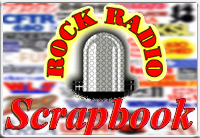 About...
I miss radio.
I miss the days when radio was live and local. I miss the thrill of hearing my favourite deejays talk up a vocal. I miss the anticipation I used to get when a new deejay came to town, or the feeling of nostalgia when an old one left. I miss the contests, the promotions, the jingles. I miss the days when stations served their communities, and proudly so.
Most of all I miss the excitement, the magic that was radio.
Thankfully, we can hear that great radio again, though those little miracles known as airchecks. At Rock Radio Scrapbook, Canada's Aircheck Archive, we have hundreds of them, all free for the clicking. I'm your curator, Dale Patterson, and I want to let you hear radio the way it used to be.
Who am I? Well, I'm a journalist based in the Toronto area. I've had the pleasure in participating in radio at many levels - as a broadcaster (at CING-FM Burlington, Ont. (aircheck here), CFMU Hamilton, Ont. (aircheck here) and oldies108.ca, as an operator (at CKFH Toronto), as a editor-reporter (35 years at The Canadian Press/Broadcast News), as a historian (Rock Radio Scrapbook), as a DXer (former member of the National Radio Club with nearly 500 AM catches and over 200 FM catches) and as a collector of airchecks, books and radio memorabilia. I've also written three books, in the history-trivia-reference genre.
There's something special about radio - it's immediate, it involves real people and there is a certain air of mystery to it - you have to use your imagination. With the trend to today's cookie-cutter, predictable radio, I believe it's important to keep the legacy of the great radio of the past alive. That's what this page is about.

This web site is dedicated to radio history, with emphasis on the top 40 era. We have plenty of airchecks, written history and lists. Every Sunday, a new aircheck is added in the "Aircheck of the Week" feature. Now and then, we get recognized, as the CBC's "Definitely Not The Opera" did in May, 2005, and Doug Thompson did in "Broadcast Dialogue" in February, 2008.
I welcome your contributions to the history sections of this site. If you wish to donate an aircheck, please e-mail and we will make arrangements. All contributors are given credit on the page if they wish. I generally avoid posting airchecks that are on other radio sites; there's no sense in duplication and there is plenty to choose from anyway.
The strength of Rock Radio Scrapbook is in its contributors.The following people have contributed information and advice that has greatly helped the development of this web site since we first went on-line October 29, 1996.
Wes Atkinson
Rob Basile
Fred Bradley
Julian Breen
Ron Brokenshire
Stan Campbell
Ross Carlin
Warren Cosford
Jim Dalziel
Stefan Daystrom
Marc Denis
Tom Donahue
Bill Dulmage
Gary Duke
Paul Eldridge
Laurence Etling
Joe Evelius
Tom Fulton
Jack Gale
Joseph Gallant
Roy Geldart
Dan Haber
Tom Howard
Keith Hampshire
Russ Horton
Leonard Hyde
Richard Irwin
Ron Jacobs
Dale Johnson
Dan Kowal
Tom Kent
John Kordis
Bob Laine
Greg Lance
John Little
Stephen MacLeod
Mike Marshall
David Marsden
Lorne Massena
Chris Mayberry
King Daevid MacKenzie
Aaron Mintz
John McGrath
John McKay, Jr.
Fred Miller
Jeff Miller
Bob Mitchell
Aaron Mintz
Barry Mishkind
Jeff Moulton
Rob Muir
William Nichols
Dan O'Neil
Mark Panopoulos
Gary Pfeiffer
Doc Phillips
James Pritchard
Kal Radoja
Charlie Ritenburg
Tom Rivers
Rockin' Robin
Gord Robson
Art Rockwood
Eli Rosenburg
Jeff Roteman
Tom Sanders
Vince Santarelli
Geo. Schaefer
Don Shuttleworth
Bob Smith
Craig M. Smith
Al Sniffen
Jim Southern
Al Stark
Dan Steeves
Tim Sykes
Burt Thombs
Pierre Tremblay
Doug Thompson
Peter Thompson
Clint Trueman
Al Wallick
Sam Ward
Dave Whatmough
Johnny Williams *Johnny gave us our first link!
Mark Young
If I have left you out, I'm sorry for the oversight. Please let me know and I'll add you to the list!
Your FEEDBACK is encouraged!
---
RETURN TO ROCK RADIO SCRAPBOOK