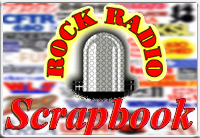 AIRCHECK OF THE WEEK
Edition #969 - Week of December 24, 2017

Talent: RALF & DAVE
Station: FM 108 (CING-FM) Burlington, Ont.
Date: December 23, 1983
Time: 45:18 (unscoped)
24:25 (scoped)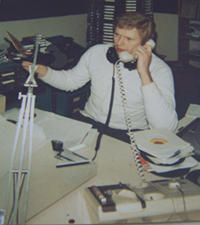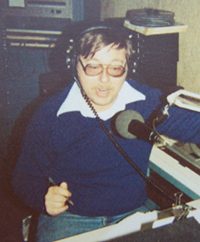 Ralf Hakenberg and Dave Jordaine. (Courtesy Ralf Hakenberg)
On a pioneering radio station, Ralf and Dave were pioneers.
Ralf Hakenberg and Dave Jourdain were two record collectors who realized the dream of many a record collector - hosting a radio show. And pre-dating the now-popular trend to radio "teams" by a few years, they appeared as a duo, known as Ralf and Dave. We asked Ralf about this time at his time at Canada's original all-oldies FM station, FM 108 (CING-FM) in Burlington, Ont., and this is what he told us...
"Dave and I worked at FM 108 for 5 years beginning in 1980. We started out doing the midnight to six shift and continued on with that for a couple of years. In the latter stages of 1983, we scaled back to midnight to three. Shortly thereafter we changed our name to "The School Of Rock n Roll". Our big thing for most of the years was doing what we called the "Record Roll-Out". These were 3 hour marathon sessions where we essentially played Name That Tune complete with Platter Pack prizes, concert and food giveaways etc. etc. I remember we had quite a following and had to bring in outside help to man the phones.
Sometime in 1984 (I believe) we got a Thursday evening time slot (either 8:00 or 9:00 pm) where we ran weekly features that were theme based; e.g. "Rock N Roll Upstarts", "Group Soundalikes", "The Worst Songs To Ever Chart" (we actually broke the records on air after playing them for that show---caused quite a stir!! :<))...also did specials on particular artists like The Teenagers, Freddy Cannon, The Platters etc. Our affiliation with FM 108 gave us unlimited access to Lulu's in Kitchener where we spent 3-4 nights per week interviewing artists and subsequently using bits of these interviews in our shows.
What else? Dave and I did two specials every year--one was the "Back To School" special---always on Labour Day (Dave and I were both teachers). And we always did a Christmas special (sometimes in the form of a Record Roll Out). It was interesting in that regular programming was preempted to make room for these specials. And of course we created the Doo Wop Shop which was very successful and had a strong following. Dave and I also regularly filled in on Saturdays etc. when people like Burt and Robin were unavailable. I'm sure I've left many things out, but you get the general idea...we were VERY involved with the station for those 5 years."
Enjoy Ralf and Dave with their 1983 Christmas show (UNSCOPED) here.

Enjoy Ralf and Dave with their 1983 Christmas show (UNSCOPED) here.

Enjoy Ralf and Dave with their 1983 Christmas show (SCOPED) here.

Enjoy Ralf and Dave with their 1983 Christmas show (SCOPED) here.

(The Sam Ward Collection)

More Christmas airchecks here!




Rock Radio Scrapbook pays
music licensing fees to the
Society of Composers, Authors and Music Publishers of Canada (License 22-F)


The Aircheck of the Week PREVIEW!



We're previewing the Aircheck of the Week on Facebook. Every Friday, we post the audio link to the Aircheck of the Week on Facebook with the full feature to follow on Sunday as usual.
---
RETURN TO ROCK RADIO SCRAPBOOK