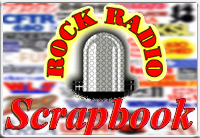 AIRCHECK OF THE WEEK

For week of February 19, 2017
Edition #925

Now in both Real Audio and MP3!

Talent:

WOLFMAN JACK
Station:

CJCH Halifax
Date:

December 5, 1976
Time:

15:34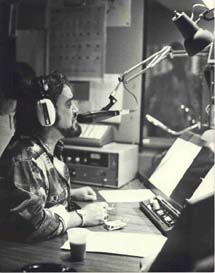 (The CHUM Archives/Doug Thompson)
For a couple of years in the mid-'70s, Wolfman Jack had an exclusive deal to appear on CHUM Group stations. He was on CHUM several times (on the Sunday Night Graffiti Show), and also appeared on CFUN Vancouver, CFRW Winnipeg, CJCH Halifax and CFRA Ottawa. It was a special treat for listeners to these CHUM Group stations to hear this iconic deejay, who rose to fame on the Mexican-licensed powerhouse XERB, where he could be heard over a large portion of North America thanks to the station's massive 250,000-watt transmitter (five times the legal limit of U.S. outlets). But he really hit the big time following his appearance in the 1973 movie American Graffiti, where he appeared as himself at a radio station transmitter site.
Long-time producer Doug Thompson tells us a little story about the Wolfman...
"I hired Wolfman to voice "The Summer of Love", a 6 hour special I wrote and produced for Telemedia Network Radio. It ran on 65 stations across Canada on July 1st in, I think, 1988. I recorded Wolf's voice track in his Hollywood Studio at Hollywood Blvd and Vine Street. For the hit song "Beach Baby" which we were going to play, I had written "Life's a beach baby.......then you die." The Wolfman was reading over the script and he turned to me and said, "Hey Doug, do you think we can change this one line? Wolf doesn't like to talk about death or dying, ya understand?" I happily changed it for him."
Enjoy Wolfman Jack on CJCH here.

Enjoy Wolfman Jack on CJCH here.




(The Bill Dulmage Collection)

More 1976 airchecks here!




Rock Radio Scrapbook pays
music licensing fees to the
Society of Composers, Authors and Music Publishers of Canada (License 22-F)


The Aircheck of the Week PREVIEW!



We're previewing the Aircheck of the Week on Facebook. Every Friday, we post the audio link to the Aircheck of the Week on Facebook with the full feature to follow on Sunday as usual.

Download your free RealPlayer
to hear the Aircheck of the Week via your PC or mobile device

Click here for technical help

---