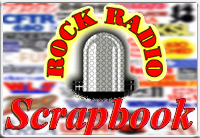 AIRCHECK OF THE WEEK
Edition #978 - Week of February 25, 2018

Talent: BOB DIAMOND
Station: WKBW Buffalo, N.Y.
Date: February 23, 1964
Time: 48:42 (unscoped)
23:14 (scoped)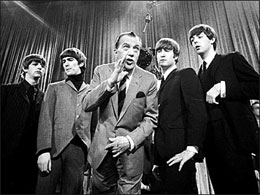 The Beatles with Ed Sullivan
Excitement was in the air - and on the air - in February, 1964, on a level not seen musically since Elvis burst on the scene in the mid-1950s. Beatlemania had exploded, and every rock 'n' roll station was jumping on the bandwagon fuelled by the arrival of the Fab Four in North America.
One of those stations was WKBW. With a killer lineup that included Stan Roberts, Fred Klestine, Dan Neaverth and Joey Reynolds, the station blasted out the Beatles and the other Top 40 stars 24 hours a day. 'KB's powerful night-time signal carried up and down the Eastern seaboard and into Ontario, Quebec and the Maritimes and was even heard in Scandinavia.
Bob Diamond hosted the all-night House Party show on WKBW for the Royal Order of the Night People during this exciting time. But as you'll find out when you hear this aircheck, the playlist wasn't all Beatles. Hardly. You'll hear Timi Yuro, Bobby Vee, the Righteous Brothers, and others, Instant News from Action Central and even an ad for an oldies compilation ($1.25 for 26 songs - same price for Americans and Canadians!). Those really were the days.

Bob Diamond, whose real name was Don Kirsch, died December 15, 2012.
Hear Bob Diamond (UNSCOPED) here.

Hear Bob Diamond (SCOPED) here.

(The Bill Dulmage Collection)




Rock Radio Scrapbook pays
music licensing fees to the
Society of Composers, Authors and Music Publishers of Canada (License 22-F)


The Aircheck of the Week PREVIEW!



We're previewing the Aircheck of the Week on Facebook. Every Friday, we post the audio link to the Aircheck of the Week on Facebook with the full feature to follow on Sunday as usual.
---
RETURN TO ROCK RADIO SCRAPBOOK