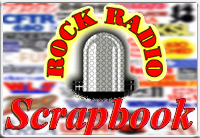 AIRCHECK OF THE WEEK

For week of January 22, 2017
Edition #921

Now in both Real Audio and MP3!

Talent

: FRANK BRODIE
Station: CKLW Windsor, Ont.
Date: January 25, 1970
Time:

51:28 (unscoped)
(Mike Marshall - a.k.a. Frank Brodie - in 2001)
Nineteen-fifty-eight was a year like none other. John Diefenbaker was re-elected prime minister in one of Canada's biggest electoral landslides. The United States put a satellite into space for the first time the successful launch of Explorer. In sports, major league baseball reached the U.S. west coast with the debut season of the Los Angeles Dodgers and the San Francisco Giants.
It was a big year in radio, too. WKBW, the 50,000-watt Buffalo, N.Y., powerhouse, went to a 24-hour Top 40 format. In Los Angeles, Chuck Blore's Colour Radio Top 40 KFWB debuted.
Also in 1958, what would turn out be a successful and versatile radio career began. Mike Marshall takes it from here...
"The story started at C-HOW in 1958 (still in high school), first really full-time job at CKKW in early 1960, then CHML late that year (age 20.

Went out west to CHED in Edmonton in December, 1963. It was in a shambles on my arrival. I basically became my own PD, playing only a small percentage of what had to be about 120 currents, what I thought were the hottest hitbounds and a little Gold for spice. Had never done rock before but guessed right. CJCA (also Top 40, ruled) but in the Spring '64 BBM, our evening slot beat the syndicated Dick Clark Show on CJCA. They seemed to take notice.

When Barry Boyd left their afternoon drive slot that summer -- (he had an asthmatic son, so they moved to California) -- I went over, asked for his job and was hired on the spot. After a year of high visibility, I went back to CHED (PM Drive) and with Bob McCord, Wes Montgomery, Don Kay and a few others, we set about dismantling what had been the market leader for quite a few years. I don't think CJCA was ever the same.

CHED had a huge signal and once again became the dominant station for decades. (Prior to my arrival in Edmonton, CHED had been very successful in the '50s but lost it all when they moved to 630 on the dial and changed formats at the same time. CJCA scooped the Top 40 audience and killed 'em.)
I worked at CHED three times, CHML four times and CFTR twice. CKLW was the best and most exciting but CHML in the '60s was also superbly run. Tom Darling was so savvy - a great teacher - and Bill Hall, later Bob Hooper, were great detail guys. When I was hired at The Big 8 and got into their philosophy, it was like, "OK, I know this. I learned this at the knee of Tommy Darling.
Looking back, I was really lucky to work for a lot of very good stations and some of the best programmers in the business. What's not to like?"

Enjoy Mike Marshall - as Frank Brodie - on CKLW here.

Enjoy Mike Marshall - as Frank Brodie - on CKLW here.

(The Tom Howard Collection)

More Big 8 airchecks here!




Rock Radio Scrapbook pays
music licensing fees to the
Society of Composers, Authors and Music Publishers of Canada (License 22-F)


The Aircheck of the Week PREVIEW!



We're previewing the Aircheck of the Week on Facebook. Every Friday, we post the audio link to the Aircheck of the Week on Facebook with the full feature to follow on Sunday as usual.

Download your free RealPlayer
to hear the Aircheck of the Week via your PC or mobile device

Click here for technical help

---