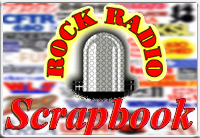 AIRCHECK OF THE WEEK
Edition #1048
Week of July 14, 2019


Talent: MIKE DINEEN
Station: WQXI Atlanta
Date: July 20, 1969
Time: 32:01 (unscoped)
12:45 (scoped)

Back to the future!
It was the morning of July 20, 1969. In a few hours, Neil Armstrong will become the first man to set foot on the moon, followed a few minutes later by Buzz Aldrin.
Nowadays you'd follow such an event on TV, radio or the Internet. There was no Internet in 1969, but a commercial at the 2:46 mark on this aircheck for the Nysark Center hints at the future. The centre invites people to visit or write for a computer search on how to find a home, an apartment, a used car or (and we're assuming here) anything that suits their fancy. Yes, a forerunner of the Internet. So as you explore the past on this aircheck, you are also going back to the future for a peek at what will be in popular usage in about three decades.
Enjoy Mike Dineen on WQXI (UNSCOPED) here.

Enjoy Mike Dineen on WQXI (SCOPED) here.

(The Don Shuttleworth Collection)




Rock Radio Scrapbook pays
music licensing fees to the
Society of Composers, Authors and Music Publishers of Canada (License 22-F)


The Aircheck of the Week PREVIEW!



We're previewing the Aircheck of the Week on Facebook. Every Friday, we post the audio link to the Aircheck of the Week on Facebook with the full feature to follow on Sunday as usual.
---
RETURN TO ROCK RADIO SCRAPBOOK