Talent: DAN INGRAM
Station: WABC New York
Date: July 22, 1967 (Part 2)
Time: 46:54 (unscoped)
30:02 (scoped)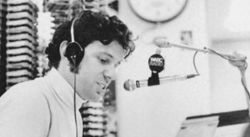 Dan Ingram used words like a musician uses notes.
For nearly a half-century, Ingram weaved double entendres, satire and wit and into a fast-paced Top 40 radio patter unmatched in the industry. When he was inducted into the Radio Hall of Fame in 2007, it was a long overdue honour for one of the giants of the industry.
Daniel Trombley Ingram was born September 7, 1934 in Oceanside, New York. Both of his parents were musicians, and he was inspired to go into radio after attending music sessions with his father. With Al "Jazzbeaux" Collins and Alan Freed as his influences, Ingram began his broadcasting career at WHCH at Hofstra College in Hempstead, New York. Early professional stops were WNRC New Rochelle, New York, and WALK Patchogue, New York. By 1958, he was on WNHC New Haven, Connecticut, under his real name and also at WICC Bridgeport, Connecticut, as Rae Taylor.
Ingram got his first major market big at KBOX Dallas in 1959, and helped that station dramatically improve its competitive position against rival KLIF. He moved to WIL St. Louis in 1960 where he increased ratings in his morning time slot from a zero to a 48 share, and also met his lifelong friend Ron Lundy. By 1961 he had left radio briefly to work at a company that created promos for radio stations. After turning down an offer to do afternoon drive at WMCA, Ingram applied at WABC and started there in the summer of 1961.
Except for a short stint in morning drive in 1979-80, Ingram held down the coveted afternoon drive spot at WABC for 21 years. It was at WABC Ingram uttered many of the patented lines, like "Hi Kemosabe", "Roll your bod", "You're in the honour group of the day", "On the Ingram Flingram" and "Zay gezunt", a Yiddish expression meaning "be well." When WABC switched to a talk format, it was Ingram who along with long-time friend and long-time WABC midday jock Ron Lundy who signed off the music era on May 10, 1982.
In 1984 and 1985, Ingram did CBS Radio's Top 40 Satellite Survey, while also holding down a regular shift at WKTU New York. From October 1991 to June 2003, Ingram joined many other legendary New York jocks at WCBS-FM, where he did early afternoon weekend shifts. He continued as one of North America's leading voice-over personalities well into the 2000s. Dan Ingram died June 24, 2018 at the age of 83.
Enjoy Dan Ingram on WABC (Part 2, UNSCOPED) here.



Enjoy Dan Ingram on WABC (Part 2, SCOPED) here.

(The Don Shuttleworth Collection)