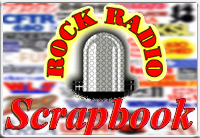 AIRCHECK OF THE WEEK
Edition #1046
Week of June 30, 2019


Talent: THE REAL BOB JAMES
Station: WGAR Cleveland
Date: July 4, 1976
Time: 1:02:49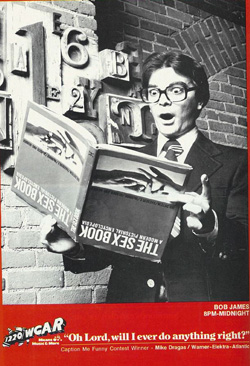 (Description by Dan Haber)
It's the U.S. Bi-Centennial, and the "Real" Bob James is on WGAR celebrating with the top 100 American and British artists of all time — picking up here at #25.
When Bob calls this the "collector's edition", he had no idea how right he was. Preserved on CD, this classic illustrates everything that was great about WGAR: extensive jingle packages, superb production, talented personalities and imaginative programming.
It's a great American weekend on a great American radio station.
Enjoy The Real Bob James on WGAR here.

(The Dan Haber Collection)




Rock Radio Scrapbook pays
music licensing fees to the
Society of Composers, Authors and Music Publishers of Canada (License 22-F)


The Aircheck of the Week PREVIEW!



We're previewing the Aircheck of the Week on Facebook. Every Friday, we post the audio link to the Aircheck of the Week on Facebook with the full feature to follow on Sunday as usual.
---
RETURN TO ROCK RADIO SCRAPBOOK