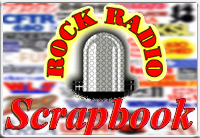 AIRCHECK OF THE WEEK

For week of March 12, 2017
Edition #928

Now in both Real Audio and MP3!


Talent: TOM KELLY
Station: CKRC Winnipeg
Date: February 15, 1971
Time: 59:30 (unscoped)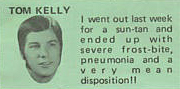 Can-Con changed Canadian radio forever.
One of the first mandates of the Canadian Radio-Television Commission (CRTC) when it was founded in 1968 was to find a way to get radio stations to play more Canadian music. Up until then, stations could play as little home-grown talent as they wanted. In most cases, it wasn't much.
Since stations were not about to voluntarily play more Canadian music, they had to be forced. So beginning January 18, 1971, at least 30 per cent of the music Canadian AM radio stations between the hours of 6 a.m. and midnight had to qualify as "Can-Con" (FM quotas came later).
Savvy programmers found ways to lighten the load. One trick was to play a lot of Can-Con in off-peak times, such as late at night or early morning on weekends (known as "Beaver Hours"). Another was to play edited or shortened versions of Canadian tunes. The CRTC eventually closed these loopholes, and in fact increased the percentage to 35 per cent in 1999. What's more, most new Canadian stations since the turn of the millennium have been licensed at 40 per cent (what better way to suck up the commission to get your license than to promise LOTS of Can-Con).
This aircheck gives us a listen to Canadian AM radio less than a month after the regulations were introduced. Fittingly, it starts with a Canadian tune.

Enjoy Tom Kelly on CKRC here.

Enjoy Tom Kelly on CKRC here.


(The Bill Dulmage Collection)

More 1971 airchecks here!




Rock Radio Scrapbook pays
music licensing fees to the
Society of Composers, Authors and Music Publishers of Canada (License 22-F)


The Aircheck of the Week PREVIEW!



We're previewing the Aircheck of the Week on Facebook. Every Friday, we post the audio link to the Aircheck of the Week on Facebook with the full feature to follow on Sunday as usual.

Download your free RealPlayer
to hear the Aircheck of the Week via your PC or mobile device

Click here for technical help

---