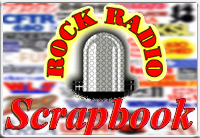 AIRCHECK OF THE WEEK
Edition #981 - Week of March 18, 2018

Talent: JACK ARMSTRONG as the THE UNKNOWN DJ
Station: WNBC New York
Date: April 30, 1978
Times: 28:52/46:10 (unscoped)
9:30/13:16 (scoped)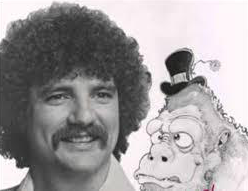 Jackson Armstrong screamed on the airwaves at some two dozen stations throughout North America in many of the major markets. Strangely, he never worked full-time in the New York market. He did make one appearance in the Big Apple, but he didn't use his normal air name! On April 30, 1978, Armstrong appeared one time only as the "Unknown DJ" on WNBC. Filling in on the 6-10 p.m. shift, Armstrong - with his ornery sidekick "The Gorilla" - showed New York audiences the talent that made him one of North America's most popular Top 40 jocks.
Armstrong tells us the story behind his one-time appearance at WNBC...
"Bob Pittman was the Program Director at the time at WNBC and he knew me from his days at WPEZ in Pittsburgh when I was at 13Q. He asked me to do this gig as a bit promotion so I agreed. I'd been out of work for awhile so I was a little nervous about the whole thing. I guess it sounded okay but I was never offered a position at WNBC and went to KTNQ (10Q) in L.A. to do mornings. Funny thing though, I turned him on to a few records while I was there and one of them was "Play That Funky Music" by Wild Cherry. He hopped on the tune and it became as it became a national hit. We had already made it a smash in Indianapolis where I had been Music Director at WIFE. Later, Bob became VP at Warner-Ammex and asked me to do the premier episodes of a "clip" show called "Pop Clips" for Nickelodeon...That was such a success that they bought a transponder and started Music Television...which became known as "MTV"....I was offered a position with the first staff on MTV but the money was light and you had to move to NYC so I passed. Funny how things work out. God had other plans.....Rock Steady, Jackson"
Jack Armstrong died March 23, 2008 at his home in High Point, North Carolina. He was 62.
Note: Buzz Brindle is Armstrong's lead-in on this aircheck.



To hear The Unknown DJ (Pt. 1 - UNSCOPED) click here.

To hear The Unknown DJ (Pt. 1 - SCOPED) click here.

To hear The Unknown DJ (Pt. 2 - UNSCOPED) click here.

To hear The Unknown DJ (Pt. 2 - SCOPED) click here.

(The Don Shuttleworth Collection)




Rock Radio Scrapbook pays
music licensing fees to the
Society of Composers, Authors and Music Publishers of Canada (License 22-F)


The Aircheck of the Week PREVIEW!



We're previewing the Aircheck of the Week on Facebook. Every Friday, we post the audio link to the Aircheck of the Week on Facebook with the full feature to follow on Sunday as usual.
---
RETURN TO ROCK RADIO SCRAPBOOK