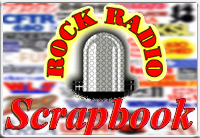 Rock Radio Heaven (A)

RON ABLE
Died: February 13, 2009
Stations: CKGM, CHOM-FM Montreal, CHNR Halifax, CKVN-CFUN Vancouver, CKY Winnipeg, CFQX Selkirk, Man., CKQA (QX104 FM) Brandon, Man.
Notes: The Montreal-born Able hosted QX104's morning show for the last 12 years of his life. Died at age 57, less than a month after being diagnosed with pancreatic cancer.
---
BERNIE ALLEN
Died: November 16, 2015, Arlington Heights, Ill.
Also known as: Birth name was Berhard Hallenberg
Stations: WIND, WJJD, WLS, WCFL WCLR-FM, WLAK-FM Chicago, WAIT-AM Crystal Lake, Ill.
Notes: Worked briefly as a child actor in Hollywood, appearing in some of the "Our Gang" short films. The Chicago native died at the age of 86.
---
BRUCE WAYNE ALLEN
Born: January 28, 1953
Died: July 27, 1998
Stations: WDLC, WTSX Port Jervis, N.Y., WALL Middletown, N.Y., WZAD Wurtsboro, N.Y., WSUL Monticello, N.Y.
Notes: One of the leading broadcasters in the Hudson Valley section of New York State.
---
GREG ALLEN
Died: July, 2002
Also known as: His real name was Greg Lambiase
Stations: WVOR, WBEE Rochester, N.Y.
Notes: Died of Alzheimer's Disease at the young age of 49.
---
HOSS ALLEN
Born: December 3, 1922, Gallatin, Tenn.
Died: February 25, 1997, Nashville, Tenn.
Also known as: His real name was William Allen; nicknamed "The Hossman"
Stations: WIHN Gallatin, Tenn., WLAC Nashville, Tenn.
Notes: One-quarter of legendary quartet that included John R., Gene Nobles and Herman Grizzard. The last of the four to pass away. Had a show at WLAC from the 1950s right through to 1993.
---
PERRY ALLEN
Died: January 31, 2007, Los Angeles
Also known as: Birth name was Perry Gerstein
Stations: KNED Scottsbluff, Neb., KTLN, KTLK, KHOW Denver, Far East Network, WKBW, WEBR Buffalo, N.Y., KRLA, KHJ, KVI, KHJ-TV, KFI Los Angeles, KDEO, KFMB, KCBQ, KDSO, KVSD. KOGO San Diego
Notes: Was the original morning man when WKBW went Top 40 in 1958. Hosted a kids show on KHJ Channel 9 called Cartoonsville. Native of Scottsbluff, Neb. Died of a heart attack at the age of 75.
---
JACK ALIX
Died: November 15, 2006, Richmond, Va.
Stations: WPGC AM-FM, WEEL-AM, WEAM, WINX, WXTR, WDCA-TV Washington, D.C., WRVQ-FM, WLEE-AM Richmond, Va., WYRE Annapolis, Md.
Also known as: JA the DJ; birth name was John Anthony Alix
Notes: Among those chosen to emcee the Beatles first U.S. concert at the Washington Coliseum in 1964. Also had syndicated show, "Rock 'N' Roll Roots", which was at one time carried on more than 140 stations when it aired in the late '70s and early '80s. Hosted weekday dance show on WDCA-TV called "Wingding", later named "The Jack Alix Show." Managed and programmed stations in Daytona Beach, Fla., Lansing, Mich., Charleston, W.Va., Kansas City and Roanoke, Va. The native of Chicago died of pneumonia at the age of 64.
---
HERB OSCAR ANDERSON
Born: September 30, 1930, South Beloiit, Ill.
Died: January 29, 2017, Bennington, Vt.
Stations: WCLO Jamesville, Wis., WROK Rockford, Ill., WDGY Minneapolis, WDBO Orlando, Fla., KTSP St. Paul, Minn., WBBM,, WCFL Chicago, WMCA, WABC, WHN, WOR New York, WOSN Vero Beach, Fla. (93.7 Ocean FM)
Notes: Known as "America's Singing Disc Jockey." Spent eight years as WABC's high-rated morning show host, beginning in 1960. At the top of the hour, he would sing his theme song, which started, "Hello again, here's my best to you. Are your skies all gray? I hope they're blue."
---
LARRY ANDERSON
Born: October 26, 1944, Junction City, Ohio
Died: November 4, 2002, Wheeling, W.Va.
Stations: WCHO Washington Court House, Ohio, WCHI Chillicothe, Ohio, WOVE Welch, W.Va., WTOF Canton, Ohio, WMPO Middleport-Pomeroy, Ohio, WTVN Columbus, Ohio, WGR Buffalo, N.Y., WDAE, WSUN Tampa, Fla., WWVA-AM/WOVK-FM Wheeling, W.Va.
Notes: WGR was named Billboard's Station of the Year during Anderson's tenure as program director and midday host. Died at age 58; he had been suffering from cancer.
---
CHRIS ANDREWS
Born: March 12, 1965, Newmarket, Ont.
Died: March 30, 2008, Newmarket, Ont.
Also known as: Used the air name Punch Andrews (however he was Chris Andrews at CFRB)
Stations: CKAN Newmarket, Ont., CFCY Charlottetown, CHOG (AM 640), CKFM (Mix 99.9), CFRB Toronto
Notes: Started his career as an on-air host at Cable 10 in Aurora, Ont. His 7-midnight show on Mix 99.9 grew to be number-one in its demographic and timeslot. Hosted Saturday Night Party MIX on Mix 99.9. Died of cancer.
---
BILL ANSON
Born: Sept. 25, 1892
Died: August, 1967
Stations: WFWB, WAIT Chicago
---
DEAN ANTHONY
Died: October 24, 2003
Also known as: Deano on your Radio; Dean Griffith (at WPGC)
Stations: WGH Norfolk, Va., WPGC Washington, D.C., WMCA, WTFM New York, WJRZ (later WWDJ) Hackensack, N.J., WHLI Hempstead, N.Y.
Notes: One of the legendary "Good Guys" on WMCA in the 1960s. Twice named program director of the year by Barnstable Broadcasting during his 20-plus years (1981-2003) as WHLI PD. Died of cancer at the age of 68.
---
JON ANTHONY
Died: December 29, 2012, Brandon. Fla.
Also known as: Jon "Rock N' Roll" Anthony
Stations: WLPH Irondale, Miss., WDAL Meridian, Miss., WSGN Birmingham, Ala., WOKY Milwaukee, WMPS Memphis, Tenn., WWKX Nashville, Tenn., WAVA Washington, D.C., WZOU Boston, WRBQ-FM, WFLZ-FM Tampa, Fla., KLOU St. Louis, WLCL (Cool 105.7) Atlanta
Notes: Was also production manager at WFLZ-FM (93-3 FLZ) and News-Talk 970 WFLA Tampa, Fla. Also owned and operated Jon Anthony Productions in Tampa. Died at age 57 after a long illness.
---
MARGE ANTHONY
Born: October 10, 1935, Mill Village, N.S.
Died: April 1, 2013, Malibu, Calif.
Also known as: After her 1984 marriage to Federal Court of Appeal Justice Allen Linden, was known as Marjorie Anthony-Linden.
Stations: CKBW Bridgewater, N.S., CKCW Moncton, N.B., CKGM, CFCF-TV Montreal, KPRC-TV Houston
Notes: Was Montreal's first female deejay, when she jocked at CKGM in 1963. She had previously worked at CKGM as a commercial writer in 1959-60. Was the first woman to appear in regular programming on CFCF-TV, as a weather lady and commentator, when it signed on in 1961. Moved to Los Angeles where she became manager of the Smothers Brothers comedy duo. Spent several years in New York where she did production on albums for Tony Orlando and Dawn, Barry Manilow, Melissa Manchester and Nana Mouskouri. Became vice-president of production for two Neil Diamond albums, his world tour and two Diamond TV specials. Returned to Canada in 1978 to become the first woman VP of Network Relations on CTV, while also serving three years on the CRTC's task force on Sexual Stereotyping in Broadcasting. Retired from CTV in 1990. Induced into the Canadian Association of Broadcasters Hall of Fame in 1997. Suffered from systemic lupus erythemetosus and other illnesses.
---
DON ARMSTRONG
Died: 1989
Stations: WGAM Hollywood, Fla., WHSY Hattiesburg, Miss., WQAM Miami, WHB Kansas City, KBTR Denver, WGUL Port Richey, Fla., WHK Cleveland, WNOX Knoxville, Tenn., WOHO Toledo, Ohio
Notes: Was program director at WOHO.
---
JACK ARMSTRONG
Born: December 4, 1945
Died: March 23, 2008, High Point, N.C.
Also known as: Big Jack, Supermouth, Your Leader, The All-American Boy. His birth name was John Charles Larsh.
Stations: WCHL Chapel Hill, N.C., WSSB Durham, N.C., WCDJ Edenton, N.C., WDJK Atlanta, WCOG, WMQX Greensboro, N.C., WAYS Charlotte, N.C., WIXY, WKYC Cleveland, WMEX Boston, CHUM Toronto, WPOP Hartford, Conn., KTLK Denver, WKBW, WWKB Buffalo, N.Y., WJAS/WKTQ (13-Q), KDKA Pittsburgh, WHYI-FM Miami, WIFE Indianapolis, WNBC New York, KTNQ/KHTZ, KKHR Los Angeles, KFRC San Francisco, KBOS-FM Fresno, Calif.
Notes: In 1971, the Guinness Book of Records recognized him as the world's fastest talking human. Had two imaginary sidekicks - the Gorilla and the Old Timer. First on-air gig was as a 14-year-old in 1960 at WCHL Chapel Hill, N.C. Died after a fall at his home.
---
TED ATKINS
Died: July 19, 2012, Pittsburgh
Also known as: Captain Showbiz
Stations: KLAK, KIMN, KDAB, KBTR Denver, KCKN Kansas City, Kan., KUDL, WHB Kansas City, Mo., KWOL Washington, CKLW Windsor, Ont., KFRC San Francisco, KHJ, KIIS Los Angeles, WTAE/WHTX, WWSW/WWSW-FM, WMXP Pittsburgh, KROY-FM Sacramento, Calif.
Notes: Legendary program director was also GM-VP at WTAE and WWSW/WWSW-FM and owner of KROY-FM. Died of pancreatic cancer at the age of 72.
---
WES ATKINSON
Died: March 2, 2008, Hamilton, Ont.
Also known as: Birth name was A. Wesley Atkinson
Stations: CING-FM (FM 108) Burlington, Ont., CHIC Brampton, Ont., CHRE St. Catharines, Ont., CKOX Woodstock, Ont., CIDC-FM Orangeville, Ont., CFGM Richmond Hill, Ont., CKLH, CKOC Hamilton, Ont., CKYC (Country 59), CHUM Toronto.
Notes: Known for his "Country Corner" segment and annual Christmas morning show (with wife Carol) on FM 108. Operator at CHUM-AM in the 1960s. Died at the age of 59. Carol died in 2011.
---
MARC AVERY
Born: Pennsylvania
Died: February 15, 2004, Evansville, Ind.
Also known as: His birth name was Carlton DeForest Avery
Stations: WJBK, WXYZ, WJR, WHFI, WOMC Detroit, CKLW Windsor
Notes: Also had a 15-year run as emcee of the WTVS-TV (Channel 56) auction. Was 74 when he died after a long illness.
---
CHUCK AZZARELLO
Died: August 22, 2009
Stations: CHLO St. Thomas, Ont., CJFM Montreal, CHUM-FM Toronto, CHEZ-FM Ottawa
Notes: General manager of CHEZ-FM from 1977 to 1999. As program director, he helped launch the station in the spring of 1977 and in 10 years it became Ottawa's number-one station. The Toronto native also hosted an afternoon show and a morning astrology program. Died of colon cancer at the age of 60.
---
RETURN TO ROCK RADIO SCRAPBOOK