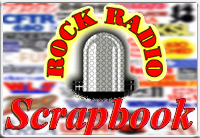 Rock Radio Heaven (D)

MARK DAILEY
Born: August 1, 1953, Youngstown, Ohio
Died: December 6, 2010, Toronto
Also known as: Nicknamed "The Voice," Full name was Mark Edward Dailey
Stations: WNIO, WYTV Youngstown, Ohio; CKLW, CILQ (Q-107), CHUM, CITY-TV Toronto
Notes: Best known for his work as anchor, reporter, and image voice of CITY-TV, Dailey got his start in radio at the age of 16 at WNIO. Was named Man of the Year in 2009, the City of Toronto public service award. Founding member of Toronto Crime Stoppers program. Dailey chronicled his own battle with prostate cancer on television and encouraged others to be pro-active on men's health issues. Announced on-air in September 2010 that he had been diagnosed with kidney cancer; it spread to his lungs and he died of lung cancer.
---
BOBBY DALE
Born: July 27, 1931, Minneapolis
Died: January 17, 2001, San Rafael, California
Also known as: Birth name was Robert Dale Bastiansen
Stations: KOIL Omaha, Nebraska, KDWB Minneapolis, KEWB, KFRC, KSFO, KSAN, KKCY, KOFY San Francisco, KFWB, KRLA, KGBS Los Angeles, KTIM San Rafael, California, KUSF University of San Francisco
Notes: Minneapolis native got his radio start at age 25 in Glendive, Montana Was 70 when he died of cancer, three days before a special celebration in his honour.
---
JOHN "JD" DALE
Died: May 26, 2006
Stations: CHIC, CFNY Brampton, Ontario, CKNX Wingham, Ontario, CHAY, CKBB Barrie, Ontario, JACK-FM Orillia, Ontario
Notes: First voice heard on CFNY in 1976. Died of cancer at the age 54.
---
JIM DANDY
Born: February 24, 1942
Died: October 20, 2010
Also known as: Birth name was Jim Everts
Stations: WDGY Minneapolis-St Paul
Notes: Did three separate stints at WDGY.
---
DAN DANIEL
Born: December 18, 1934, Buffalo, Texas
Died: June 21, 2016, Larchmont, New York
Also known as: Dandy Dan
Stations: KXYZ Houston, WDGY Minneapolis, WMCA, WYNY, WHN, WCBS-FM New York
Notes: Did afternoon drive at WMCA during its hey-day in the '60s. His son Chris Daniel is also a well-known radio personality. Died of complications after falling in his home the previous day.
---
YVONNE DANIELS
Born: 1937, Jacksonville, Florida
Died: June 21, 1991, Chicago
Also known as: The First Lady of Chicago Radio
Stations: WYNR, WSDM, WCFL, WLS, WVON, WGCI-AM-FM, WNUA Chicago
Notes: Did popular jazz shows at WYNR and WSDM before moving to Top 40 and the all-night show on WLS in 1973. Her WSDM show was called "Daniels' Den." Also did jazz show at WCFL, leaving when they went Top 40. Daughter of jazz singer Billy Daniels. Did some 2,700 radio commercials. Member of the Radio Hall of Fame. A street in Chicago - Yvonne Daniels Way - is named after her. Died of breast cancer at the age of 53.
---
JOHNNIE DARIN
Died: March 9, 2014
Also known as: Birth name was John Christian Miller
Stations: KRLA, KIIS, KROQ, KNX, KDAY, KNAC, KGOE, KGIL, KJOI, KBLA, KFWB, KCOP-TV, KHJ-TV Los Angeles, KSOL San Francisco, Armed Forces Radio
Notes: Native of Rapid City, South Dakota. Original PD of KROQ-AM. Was an anchor on KCOP-TV and a field reporter on KHJ-TV. Also produced in-flight programs, video and web sites for major airlines. Died at age 74 of pancreatic cancer.
---
MIKE DAROW
Born: January 8, 1933
Died: December 7, 1996
Also known as: Birth name was Darow Myhowich, Mike Darow, M.D., The Doctor of Music (CFRN)
Stations worked at: CHAT Medicine Hat, Alberta, CFRN Edmonton, CHUM Toronto
Notes: Worked swing and afternoons at CHUM from 1959 to 1965. Was a member of the Chumingbirds, a vocal group that also included John Spragge, Gary Ferrier and Bob McAdorey. The Chumingbirds had a #24 CHUM chart hit with Brotherhood of Man in 1964. Mike Darow and the CHUMs charted at #17 with The Battle of Queenston Heights. Left CHUM for television. Hosted the ABC-TV game show Dream House from 1968 to 1970, announcer for NBC's The Who, What or Where Game from 1969 to 1974, hosted The $128,000 Question (syndicated) from 1976 to 1977 and hosted Jackpot on USA Cable from 1985 to 1988. Hosted Canadian game shows Bluff and Going Place in the mid-to-late '70s and music show A Go Go (later known as It's Happening) in 1966. At 6' 4", was the tallest CHUM announcer until Tom Rivers arrived in 1970.
---
BUD DAVIES
Born: 1924, Windsor, Ont.
Died: October 20, 2006, Florida
Stations: CKLW Windsor, Ontario, CKLW-TV, CKEY, CFRB Toronto, WGMW-FM West Palm Beach, Florida
Notes: Spent more than two decades at CKLW, ending in 1966 as morning show host. Hosted the "Bud Davies Top 10 Dance Party" on CKLW-TV in the late '50s. His minister father once hosted a talk show on 'CK called "The Quiet Sanctuary," and he helped get his son started at the station in the mail room. Moved to Florida in 1978. Retired from radio in 1989. A passionate sports fan, he rooted for the Detroit Tigers right up to the end - they won the American League pennant six days before he died at the age of 82 after a long illness.
---
JAY DAVIS
Died: 1992
Also known as: Jay the Jock, Dave Alan; real name was Alan Davis.
Stations: WLOA Braddock, Pennsylvania, WHJB Greensburg, Pennsylvania, WPSL Monroeville, Pennsylvania, KQV, WYDD, WDVE Pittsburgh
Notes: Was also sales manager at WTAE and WHTX Pittsburgh
---
DON DAYNARD
Born: 1934

Died: April 20, 2023
Also known as: Dazzlin' Don, legal surname was Danard.

Stations: CFOS Owen Sound, Ontario, CHEX-TV Peterborough, Ontario, CKCR Kitchener, Ontario, CJET Smiths Falls, Ontario, CFGM Richmond Hill, Ontario, CKFH, CFRB, CKFM, CHFI-FM Toronto
Notes: Hosted oldies shows "Lookin' Back" on CKFM and "Saturday Night Oldies" on CHFI-FM. Played a radio announcer on 1981's "Porky's" and a newscaster on 1986's "Act of Vengeance." Also appeared in one episode each of "King of Kensington" and "The Littlest Hobo." Also did a movie-themed show for TVO. Retired in 2004. Died at the age of 88.
---
BOB DAYTON
Died: May 1995
Also known as: The Milkman, Robin Scott
Stations: KBOX, KLIF Dallas, WIL St. Louis, WABC, WPIX, WCBS-FM New York, KBLA, KRLA Los Angeles, WGBB Freeport, New York, WPAC Patchogue, New York, WGLI Long Island, New York, ABC Super Radio
Notes: Remembered for his "Hiroshima-Happy Birthday Sixteen Candles" comment on WABC (Aug. 6, 1965), which quite understandably got him fired. For many years closed his show with "I ... gotta go now! Goodbye, world." The New York native died of cancer at age 62.
---
BUDDY DEANE
Born: August 2, 1924, Saint Charles, Arkansas
Died: July 16, 2003, Pine Bluff, Arkansas
Also known as: His real name was Winston J. Deane
Stations: KLXR Little Rock, Arkansas, WITH Baltimore, KOTN Pine Bluff, Arkansas
Notes: Named Billboard deejay of the year in 1962. Hosted highly-rated teen-dance show on WJZ-TV in Baltimore from 1957 to 1964. The show formed the basis for the 1988 movie "Hairspray", and Deane had a bit part in it. Died of complications from a stroke. He was 78.
---
BOB DeBARDELABAN
Born: August 7, 1926, Buffalo, New York
Died: October 6, 2014
Also known as: Bob Kelly in his radio days, birth name was Robert A. DeBardelaban
Stations: WTIX-AM, WKIX, WRAL-FM, WRAL-TV Raleigh, North Carolina
Notes: One of the original WKIX "Men of Music." Popular weatherman on WRAL-TV, where he was known as "The Biggest Man in Weather." Spent three decades at WRAL, including hosting "Dialing For Dollars." Died at the age of 88 after a brief illness. Sign-off was, "This is Mrs. Kelly's bald-headed boy, Rapid Robert.".
---
DAVE DELOYE
Born: 1943
Died: April 24, 2014, Sudbury, Ontario
Stations: CJKL Kirlkland Lake, Ontario, CKGM Montreal, CHUM Toronto, CHNO/CJMX-FM Sudbury, Ontario
Notes: Began his radio career at age 15 as a night-time deejay at CJKL. Later became the voice of morning news in Sudbury at CHNO, where he hosted the talk show "Viewpoint." Died at age 70 after a long illness.
---
MICHEL DESROCHERS
Born: June 4, 1945
Died: September 10, 2005, Monttreal
Stations: CJMS, CKAC, CFGL, CBF, CFAV Montreal, Europe 1 (France)
Notes: One of the major stars of the 1960s heyday of CJMS, one of "Les Bons Gars" ("Good Guys") and one of three deejays to introduce the Beatles on stage at the Montreal Forum on September 8, 1964. He was the first of two Canadians (the other was Jim McKenna of CFCF) to interview the Rolling Stones for CJMS for their first visit to Canada in Montreal on April 23, 1965. Desrochers was also a Radio-Canada network quiz show host and French CBC radio morning man in Montreal for a few years. He was also a major voice talent on many French-language spots over the years. His last gig was at Radio Nostalgie 1570 in the fall of 2004.(Our thanks to Marc Denis for background information).
---
CARL DeSUZE
Born: October 14, 1915
Died: April 30, 1998
Also known as: New England's Alarm Clock
Stations: WGAN Portland, Maine, WBZ Boston
Notes: DeSuze was at WBZ from 1942 to 1980, all of it in mornings save for a brief spell in midday.
---
RANDY DEWELL
Died: June 28, 2010, Halifax
Stations: CJCH, CHNS, CIOO (C-100) Halifax, CKGM, CFOX Montreal, CFRA Ottawa, CKOC Hamilton, Ontario
Notes: After his radio career, Dewell became an alderman in Halifax (1985-88), and was a long-time civil servant in Nova Scotia. Won the Ted Rogers Sr./Velma Rogers Graham Award presented by the Canadian Association of Broadcasters for the "most outstanding contribution to the broadcast industry by an individual, through community service." Worked in radio from 1967 to 1985. Was promotions director for a time at CKGM. Died of a heart attack.
---
PETER DICKENS
Born: May 28, 1929, London, Ontario
Died: January 15, 2022, Toronto
Stations: CHLO St. Thomas, Ontario, CHUM, CHUM-FM, CFRB Toronto, CFGM Richmond Hill, Ontario
Notes: Was a "Graduate of Distinction" from the Academy of Radio Arts - founded by Lorne Greene, in 1948. Retired May 14, 1994 (at CFRB) - 46 years to the day after his first newscast. Died after being affected by COVID.
---
BOB DIAMOND
Died: December 15, 2012
Also known as: Birth name was Don Kirsch; Was Don Castle on WINE
Station: WINE, WKBW Buffalo, New York
Notes: All-night jock at WKBW in 1960s.
---
DAVE DIAMOND
Born: August 7, 1936, Howard, South Dakota,
Died: May 6, 2014, Spearfish, North Dakota
Also known as: Birth name was Sid Davison
Stations: WXXX/WFOR Hattiesburg, Mississippi, KFOR Lincoln, Nebraska, KOIL Omaha, WIRL Peoria, Illinois, WKGN Nashville, WIL St. Louis, WIBC Indianapolis, KHJ, KBLA, KFWB, KRLA, KDAY, KIIS-AM, KFI, KDOC-TV Los Angeles, WSAI Cincinnati, KRFC, KCBS-FM San Francisco, KTLK, KBTR, KBTV Denver, KBVC Buena Vista College, Storm Lake, Iowa, KMSC Morningside College, Sioux City, Iowa, KBHU-FM/BHTV Spearfish, North Dakota
Notes: One of the original Boss Jocks on KHJ in 1965. Hosted daily TV show Headshop on KDOC-TV in 1971. Was a published author. Taught communications at Black Hills State University in Spearfish, North Dakota
---
JACK DIAMOND
Died: 2002
Also known as: The All-American Boy
Stations: WYJS Jackson, Mississippi
---
BERNARD (BERNIE) DITTMAN
Born: September 3, 1927, Ohio
Died: October 25, 2006
Stations: WABB AM/FM Mobile, Ala.bama, WAPI AM/FM Birmingham, Ala.
Notes: Dittman and his father bought WABB 1480 in 1959 and turned it into Top 40; WABB-FM later. The stations (first AM, then FM) have dominated the format continuously since (48 years as of 2007). Believed to the longest-running Top 40/CHR station in existence with no ownership change. Also owned WAPI AM/FM Birmingham at one time. Died at the age of 78 after suffering a stroke.
---
HARVEY DOBBS
Died: September 7, 1984, Toronto
Also known as: Your Little CHUM
Stations: CFCF Montreal, CFRB, CHUM Toronto
Notes: One of the original jocks when CHUM went Top 40 on May 27, 1957, he did the late morning shift before moving to sales in early 1959. Started at CHUM in the pre-rock days in either 1949 or 1950. Co-hosted Canada's first Canada-wide radio quiz show Did I Say That? and hosted Herman Harmonies on CFRB for 10 years prior to coming to CHUM. Started in radio in 1929 at CFCF Montreal. Died at the age of 72.
---
JOHN DOLAN
Died: February 28, 2011, Calgary
Stations: CHED Edmonton, CKEY, CFRB, CJEZ-FM Toronto
Notes: Was one of the original "Good Guys" at CHED in the late '50s. Later was a swing announcer at CFRB for many years. Died of a brain tumour.
---
GERALD DON
Born: December 29, 1940, Pensacola, Florida
Died: November 15, 2009
Also known as: Papa Don
Stations: WATE Knoxville, Tennessee, WKDA Nashville, Tennessee, WPFA, WNVY (as Pensacola, Florida
Notes: Produced artists like Twiggy, Webb Pierce, Mighty Sam, James and Bobby Purify, Pat Boone, Dionne Warwick. One of his Christian recordings was nominated for a Grammy. Died of throat cancer.
---
TOM DONAHUE
Born: May 21, 1928, South Bend, Indiana
Died: April 28, 1975
Also known as: Birth name was Thomas Coman
Stations: WTIP Charleston, South Carolina, WINX Rockville, Maryland, WIBG Philadelphia, KYA, KMPX, KSAN San Francisco, KMET, KPPC Los Angeles
Nicknames: Big Daddy, the Father of Progressive Radio, birth name was Thomas Coman
Notes: Donahue, Alan Freed and Dick Clark are the only disc jockeys in the Rock and Roll Hall of Fame. A pioneer of progressive rock radio, he was also a concert promoter and also owned a record label, Autumn Records. His trademark opening line was, "Here to blow your mind and clean up your face." Became general manager of KSAN in 1972. Died of a heart attack. His wife, Raechel Donahue, has been one of southern California's top radio personalities.
---
DAN DONOVAN
Died: August 31, 2014
Stations: WGET Gettysburg, Pennsylvania, WSBA York, Pennsylvania, WICE Providence, Rhode Island, WMEX Boston, WCBM Baltimore, WFIL Philadelphia, KSTP (KS95), KQQL (Kool 108) Minneapolis
Also known as: Dangerous Dan; The Geezer, birth name was Blaine Harvey
Notes: Philadelphia native spent 52 years in radio, the last half of it in Minneapolis where he delighted audiences with the "Donovan Disaster." Named Twin Cities Best FM Radio Personality in 2006; three years later he was let go by Clear Channel's Kool 108 in a cost-cutting move. Member of the Minnesota Broadcasting Hall of Fame. Died of a heart attack at the age of 73.
---
JOE DONOVAN
Born: May 6, 1943, Forreston, Illinois
Died: January 19, 2014, Louisville, Ky.
Stations: KLOV Loveland, Colorado, KWRV McCook, Nebraska, KOCL Fort Collins, Colorado, KOA, KIMN Denver, WHAS, WKJK Louisville
Also known as: Joe Douglas at KOA. Birth name was Joe M. Deuth
Notes: Hosted the all-night "Rock 'N' Roll Revival" on WHAS from 1977 to 1997 on WHAS, which featured songs from Donovan's playlist of some 18,000 songs. From 3-4 a.m. he would have the "Odd and Obscure Hour", during which he played many rarely heard tunes. Not only did he play requests - answering his own phone - he would even send cassette copies of songs to listeners! He also hosted similar "Friday Night Revival" and "Saturday Night Revival" shows on WHAS. After he retired from full-time radio, Donovan produced and hosted Our Savior Lutheran Church's weekly broadcasts from 2003 to 2013. Died from colon issues.
---
TOM DOOLEY
Born: January 18, 1947, Chicago
Died: November 9, 2010, Dallas
Also known as: Full name was George Patrick Thomas O'Dooley, Jr.
Stations: KELI Tulsa, WQAM Miami, KNUZ Houston, WSAI Cincinnati, WAKY Louisville, Kentucky, WMPS, WMPS Memphis, WORD Spartanburg, South Carolina, KRIZ Phoenix, WFIL, WIFI-FM Philadelphia, WAYS Charlotte, KHJ Los Angeles, KLIF, KVTT Dallas, WGST Atlanta.
Notes: Was fired from KHJ after accusing Richard Nixon of being behind the Kennedy assassination. Played guitar, drums and piano and performed with the Mar-Keys, Bill Black's Combo and Ace Cannon. Also had his own band, Tom Dooley and the Lovelights. An active Christian, Dooley had a syndicated show called "The Journey with Tom Dooley." Also worked at stations in Rockford, Illinois, Cleveland, Knoxville, Tennessee and Dyersburg, Tennessee. Died of brain cancer.
---
DALE DORMAN
Born: September 2, 1943, near Syracuse, New York
Died: October 21, 2014, Tewkesbury, Massschusetts
Also known as: Uncle Dale
Stations: WCHN-AM-FM Norwich, New York, KYNO Fresno, California, KFRC San Francisco, WOLF Syracuse, New York, WRKO, WVBF, WXKS (KISS 108), WODS, WLVI-TV Boston
Notes: Spent 40 years in Boston radio, including 20 years at WXKS (KISS 108). Inducted into the Massachusetts Broadcasters Hall of Fame in 2010. Died after long illness.
---
BILL DRAKE
Born: January 14, 1937, Waycross, Georgia
Died: November 29, 2008, Los Angeles
Stations (as a deejay only): WMGR Bainbridge, Georgia, WAKE Atlanta
Also known as: Birth name was Philip Taylor Yarbrough
Notes: One of Top 40 radio's most influential programmers, Drake and partner Gene Chenault were responsible for the "Drake format", which streamlined hit radio programming in the 1960s. The format featured more music (a minimum of 14 songs an hour) less time devoted to commercials (13 minutes and 40 seconds an hour), short jingles, tighter playlists and strict rules on what deejays could say and how long they had to say it. In addition, news was programmed at odd times, like 20 minutes before the hour (20-20 News). Some of the major "Drake" stations included KHJ Los Angeles, KFRC San Francisco, CKLW Windsor-Detroit, WRKO Boston and WOR-FM New York. At its peak, Drake-Chenault had 350 stations on its roster and was syndicating six formats. Drake sold his interest in Drake-Chenault Enterprises in 1983 but returned to program KRTH Los Angeles in the 1990s. The three-times married and divorced Drake died of lung cancer, the same illness that claimed two of his star KHJ deejays - Robert W. Morgan and The Real Don Steele.
---
PAUL DREW
Died: May 16, 2013, Glendale, California,
Stations: WAKE, WGST, WQXI Atlanta (as deejay), WQXI, CKLW Windsor, Ontario, WIBG Philadelphia, KFRC San Francisco, KHJ Los Angeles (as PD)
Notes: After programming KHJ, was VP/Programming for RKO Radio, overseeing stations in New York, Los Angeles, Chicago, Boston, San Francisco, Washington, Memphis and Fort Lauderdale, Florida. Started at CKLW in 1967 and helped usher in the Drake era at that station. Died of natural causes at the age of 78.
---
MARK DRISCOLL
Died: August 22, 2022, West Palm Beach, Florida
Also known as: Mr. Voice
Stations: WBBF Rochester, New York, KSTP Minneapolis, WOR-FM/WPLJ New York, KISS 108 Boston, Y100 Miami, WKQI Detroit, KISS Los Angeles, WIOQ (Q-102), WEGX (Eagle 106),Philadelphia, KKLQ (Q-106) San Diego, KTFM San Antonio, WKHI Neward, Maryland
Notes: Acclaimed as a Top 40 DJ, programmer and voice-over pro. The Oklahoma native began his career in Texas.
---
CHUCK DUNAWAY
Born: December 1, 1934, Porum, Oklahoma
Died: February 18, 2022
Nicknames: The Round Mound of Sound, Chuck Wucky
Stations: KBST Big Springs, Texas, KPRC. KLVL, KNUZ, KILT Houston, KBOX, KLIF Dallas, WIXY Cleveland, WKY Oklahoma City, WABC New York, KHFI, KLBJ Austin, Texas, WIXZ Pittsburgh, WRIT Milwaukee,
Notes: One of the original "Seven Swingin' Gentleman" at WABC in 1960. Inducted into Texas Radio Hall of Fame twice - once for his DJ work (2003) and once for programming (2004). Inducted into Ohio Radio-TV Hall of Fame in 2004. Owned several stations in '70s, '80s and '90s.
---
JIM DUNBAR
Born: October 9, 1929
Died: April 22, 2019
Stations: WXYZ Detroit, WDSU New Orleans, WLS Chicago, KGO, KGO-TV San Francisco
Notes: Was part of the lineup when WLS went to a rock format on May 2, 1960. After leaving WLS in 1960, he moved to KGO where he became a pioneering an acerbic talk show host. Survived an assassination attempt in 1973 when someone shot at him but he was saved by the bullet-proof studio glass. A native of Dearborn, Michigan, Dunbar was inducted into the National Radio Hall of Fame in 1999. Retired in 2000.
---
ERNIE DURHAM
Died: December 2, 1992
Also known as: The Frantic One, Ernie D.
Stations worked at: WBBC Flint, Michigan, WJLB, WJR, WDET-FM Detroit
Notes: A journalism graduate of New York University, Durham got his start at the leading black newspaper the Pittsburgh Courier. Went to radio news and got his start as a deejay when he filled in for a jock who had phoned in sick. A successful businessman, he helped many a major Detroit musical act get its start.
---