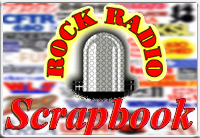 Rock Radio Heaven (N)

JAY NELSON
Born: July 12, 1936
Died: February 18, 1994, Toronto
Also known as: Jungle Jay; his birth name was Frank Coxe.
Stations: WRIT Milwaukee, WARM Scranton, Pa., WHLO Akron, Ohio, WBNY, WKBW, WKBW-TV Buffalo, N.Y., CHUM, CKFM, CHFI, CKEY, CJEZ Toronto, CKAN Newmarket, Ont.
Notes: Best known for his years as morning man at CHUM. He was there 17 years, from December 1963 to December 1980. Had TV stints before and after his CHUM years. Prior to CHUM, hosted Jungle Jay children's show on WKBW-TV. After leaving CHUM, was weatherman at CITY-TV, operations manager at CKAN and teacher at Toronto's National Institute of Broadcasting in addition to stints at CKFM, CHFI, CKEY and CJEZ.
---
KEVIN NELSON
Died: December 13, 2011
Stations: CKAR Oshawa, Ont., CKSL London, Ont., CHFM Calgary, CJMJ (Magic 100), CBOT-TV, CHRO-TV Ottawa.
Notes: Was first voice on Majic 100 when it launched August 12, 1991. Took a medical leave of absence after contracting a virus in St. Lucia in 2010. The virus, combined with an existing liver condition, led to his death at the age of 52. Also did television in Ottawa as a weather announcer at CBOT-TV and a video countdown host at CHRO-TV. Native of Pennsylvania.
---
BARRY NESBITT
Died: October 8, 2011, Victoria, B.C.
Stations: CHAB Moose Jaw, Sask., CKFH Toronto
Notes: Spent nearly 50 years in broadcasting. Started at CKFH in 1951 and hosted several "teen shows" there. By 1957 was program director and production manager at CKFH and he became assistant station manager in 1965. Wrote for the CBC's "Country Hoedown" and was a consultant for "The Tommy Hunter Show." Wrote a book about his career "What's on the Air Tonight", which was published in 2010. His recording of "A Pub With No Beer" made it to #15 on the CHUM Chart in 1958. Studied music at the Regina Conservatory of Music - University of Saskatchewan, and theatre at the Banff School of Fine Arts. Died at the age of 85.
---
JIM NETTLETON
Born: April 26, 1940, Jamaica Plain, Mass.
Died: October 4, 2009
Also known as: Diamond Jim
Stations: WRSU Rutgers University, WPAZ Pottstown, Pa., WHTG Eatontown, N.J., WATR Waterbury, Conn., WAVZ New Haven, Conn., WDRC Hartford, Conn., WFIL, WCAU-FM, WUSL, WOGL-FM, WPEN-AM Philadelphia, WABC, WHN, WPIX-FM New York, CHUM Toronto, WDAE Tampa, Fla., WARX-FM Hagerstown, Md., WILW-FM Wildwood, N.J.
Notes: Originally studied at Rutgers for a journalism degree. Was the only deejay to do air shifts at both WABC and CHUM. Died of lung cancer.
---
GIL NEWSOME
Died: November 13, 1965
Stations: KWK, KSD, St. Louis
Notes: Deejayed at KWK from 1945 to 1958, then was promoted to program director, then manager a year later, while continuing on the air. Also had regular TV show in St. Louis. Moved to KSD in 1961. Prior to KWK, was announcer on big band shows on NBC and CBS. Variety once named him the nation's most popular disc jockey. Also worked in Cincinnati, Philadelphia and Newport News, Va.
---
JOE NIAGARA
Born: July 4, 1927, South Philadelphia
Died: June 4, 2004, Philadelphia
Also known as: The Rockin' Bird, Birth name was Joseph F. Nigro, Jr.
Stations: WIBG, WDAS-AM, WFIL, WCAU AM and FM, WCAU, WIFI, WPEN-AM Philadelphia, KBIG, KPOP Los Angeles
Notes: Appears on Cruisin' 57, recreating his WIBG show of the time. Took his air name "Niagara" from Niagara Falls. Set a record for most playings of different versions of the same song, when he broadcast more than 500 covers of "Stardust" at WPEN over a two-year period. Had a bit part in Elvis Presley movie "Blue Hawaii". Has a star on the Philadelphia Music Alliance Hall of Fame. Worked as broadcaster in seven decades, starting in 1947 at WDAS and ending in 2002 at WPEN. Niagara died of a heart attack after suffering from bladder cancer.
---
NICK NICKSON
Died: January 26, 2016, Rochester, N.Y.
Also known as: The Ole Professor, birth name was Nick Nickitiades
Stations: WARC, WBBF, WBFB-FM, WHAM Rochester, N.Y.
Notes: First radio job was in 1947 at WARC. Moved to WBBF in the '50s and helped the station transition to rock and roll in 1956. Left the WBBF airwaves in 1967 to go into management at the station and its FM, WBFB-FM. In 1985 moved to WHAM as sales manager. His son, Nick Nickson, Jr., is a Hall of Fame hockey announcer with the Los Angeles Kings.
---
ROY NILLSON
Died: 1984
Also known as: The Shy Guy
Stations: WLCY Tampa Bay, Fla.
Notes: PD and afternoon drive at WLCY. Died of cancer.
---
HANK NOBLE
Born: 1930, Raleigh, N.C.
Died: 1988
Also known as: Billy Guitar (as recording artist)
Stations: CFCN Calgary, CHUM Toronto, CKRC, CKY Winnipeg, WCOS Columbia, S.C.
Notes: Original all-night jock (midnight-6 a.m.) when CHUM started as a Top 40 station on May 27, 1957. Recorded country music under the name Billy Guitar (with his group the Nighthawks) and had a #22 CHUM Chart in 1957 with "Here Comes The Night."
---
GENE NOBLES
Born: August 3, 1913, Hot Springs, Ark.
Died: September 21, 1989, Nashville, Tenn
Stations: WLAC Nashville
Notes: One of the legendary WLAC "50-Thousand Watt" quartet of deejays that included John R., Hoss Allen and Herman Grizzard. First white deejay to play music from African-American artists regularly. Had a long association with Randy Wood, president of Dot Records. Was at WLAC from 1943 to the 1970s.
---
TOM NOONAN
Died: July 14, 2010
Stations: WLGZ, WVOR, WLKX, WBBF Rochester, N.Y., WDOT Burlington, Vt., WPTR Albany, WABY Mechanicville, N.Y.
Also known as: Terry Gentry (at WPTR)
Notes: Died at the age of 63 of a heart attack after his 7 p.m.-midnight shift.
---
PETE NORDHEIMER
Died: February 28, 2015, Newmarket, Ont.
Stations: CJCS Stratford, Ont., CHUM, CHIN Toronto
Notes: Did a split shift on CHUM's original lineup on May 27, 1957, with shows in afternoon drive and late night. Nordheimer was the only original CHUM jock still on the station's lineup into the 1960s. He was doing 1-4 p.m. when he was replaced by Bob McAdorey in August 1961. Nordheimer later did audio work for the United Church and worked in programming for CHIN Toronto. Was the last of the original CHUM jocks still alive when he died at age 93.
---
DICK NOVAK
Born: June 25, 1924
Died: July 12, 2002, Portland, Ore.
Also known as: The Swingin' Fireman From Pistol Creek
Stations: KGON, KPOJ, KGW, KPOK, KYXI, KXL, KATU-TV Portland
Notes: Portland's first Top 40 deejay, was famous for his show "The Rhythm Room" on KPOJ (he disliked the "race records" tag). His show began with the song "Open The Door Richard". Died of cancer.
---