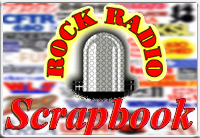 Rock Radio Heaven (O)

JIM O'BRIEN
Born: 1939, Galveston, Tex.
Died: September 25, 1983, New Hanover Township, Montgomery County, Pa.
Stations: KBBQ, KHJ Los Angeles, KCBQ San Diego, WOR-FM New York, WFIL, WPVI-TV Philadelphia, KLIF Dallas, CKLW Windsor, Ont.
Notes: Replaced Ron Jacobs as p.d. at KHJ in 1969. Was a TV weatherman and news anchor at Philadelphia's WPVI-TV in early '80s when he died in a parachuting accident near Pottsdown, Pa. He had been skydiving for just over five years and it was his 814th jump. Jim's daughter is Peri Gilpin, the "Roz" character on the TV show "Frasier."
---
JOE O'BRIEN
Born: July 16, 1915, Yonkers, N.Y.
Died: July 24, 2005, Lenox, Mass.
Stations: Armed Forces Radio, WMCA, WNBC, New York, WHUD Peekskill, N.Y.
Notes: Spent 34 years at WMCA starting in 1935. Did the morning show at WMCA during its glory years as a rock station in the 1960s, with his imaginary sidekick "Benny" at his side. Went to WNBC's morning show until 1972, when he was replaced by Don Imus. Next stop was WHUD where he did a regular show until 1986 and specials until 2000. Also made guest appearances on WCBS-FM. Died in a car accident a week after his 90th birthday. Native of Yonkers, N.Y.
---
RON O'BRIEN
Born: October 24, 1951
Died: April 27, 2008, West Chester, Pa.
Also known as: Big Ron
Stations: KBAB Indianola, Iowa, KYNA Des Moines, Iowa, KUDL Kansas City, KTLK, KZDG Denver, WQXI Atlanta, WCFL Chicago, WOR-FM, WXLO, WNBC New York, KFI, KIIS, KBBQ Los Angeles, KWK St. Louis, WCFL Chicago, WOKY Milwaukee, WFIL, WXYR-WLCE, WOGL Philadelphia
Notes: Raised in Des Moines, Iowa. Was afternoon host at WOGL at the time of his death. Hosted syndicated radio program "On the Radio" from 1985 to 1992. Nominated twice for Radio & Records Top 40 DJ of the year. Was 56 when he died of pneumonia.
---
CHARLIE O'DONNELL
Born: August 12, 1932, Philadelphia
Died: November 1, 2010, Sherman Oaks, Calif.
Also known as: The Jolly Lean Giant (at KRLA)
Stations: WCHA Chambersburg, Pa., WHAT, WIBG, WFIL Philadelphia, WOR-FM New York, KRLA, KGBS, KLAC, KBBQ Los Angeles
Notes: Long-time voice of the TV game show "Wheel of Fortune," as well as many other game shows. Hosted an all-night movie show on WFIL-TV Philadelphia. Was news anchorman for 16 years on KCOP-TV Los Angeles. Sidekick to Dick Clark on American Bandstand. Announcer for the Oscars and Emmys. He is the newscaster on the Simon & Garfunkle song "Silent Night/7 O'Clock News." Died of heart failure.
---
THOM O'HAIR
Died: January 10, 2001, Eugene, Ore.
Stations: KCSE California State University at Chico, KSAN-FM, KMEL, KOFY, KKCY San Francisco, KMET, KFI Los Angeles., KQFM Portland, Ore., WQIV New York
Notes: Program director at KSAN-FM during the station's early days as a rock station. Also concert and record promoter. Named major market program director of the year in 1975. Founded Hog Ranch Radio, which aired the twice-annual Strawberry Music Festival. Was general manager of Fat Music Radio Network, on online radio station based in Santa Cruz, Calif. The Chicago-born and raised O'Hair died of complications from a stroke at age 58.
---
HANK O'NEIL
Born: September 13, 1938, Detroit
Died: January 15, 2011, Pigeon Forge, Tenn.
Also known as: Birth name was Henry Hagamen Burdick.
Stations: WPGC Washington, D.C., CKLW Windsor, Ont., WJBK, WWWW Detroit, WHND Monroe, Mich., WCCW Traverse City, Mich., WHNR Winter Haven, Fla.
Notes: Spent three years in the Marines before beginning his radio career in 1967 at WPGC. Died of complications related to congestive heart failure.
---
JIMMY O'NEILL
Born: January 8, 1940, Enid, Okla.
Died: January 11, 2013, West Hollywood, Calif.
Stations: KQV, WCAE Pittsburgh, KRLA, KFWB, KDAY, KCOP-TV Los Angeles, KOIL Omaha, Neb.
Notes: First voice heard on KRLA when the station switched from country to rock in 1959. According to radio historian Don Barrett, he was the youngest deejay ever to be rated number-one in 1960. Opened the first teenage nightclub in Los Angeles, "Pandora's Box", in 1962. Hosted "Shindig" TV dance show on ABC-TV from September, 1964 to January, 1966. Also hosted a youth-oriented TV talk show on KCOP-TV. Suffered from diabetes and heart problems.
---
BOB OSBORNE
Stations: WIL AM and FM, KMOX AM and FM St. Louis
Also known as: The Night Mayor of St. Louis, Ozzie (to his friends)
Notes: Was PD at WIL-FM. PD at KMOX AM and FM, GM at KMOX-FM, music director at KMOX-AM. Held down evening slot at WIL-AM during its heyday as a rocker. Died in mid-1980s.
---
DON OWENS
Died: February, 1966
Also known as: Big Daddy, birth name was Donald Victor Owens
Stations: WLCY Tampa Bay
Notes: Morning man at WLCY. Died in motorcycle accident.
---
GARY OWENS
Born: May 10, 1936, Mitchell, S.D.
Died: February 12, 2015, Encino, Calif.
Also known as: Birth name was Gary Bernard Altman
Stations: KORN Mitchell, S.D., KMA Shenandoah, Iowa, KOIL Omaha, KIMN Denver, KILT Houston, KTSA San Antonio, WNOE New Orleans, KROY Sacremento, Calif., KEWB Oakland, KFWB, KPRZ, KKGO-FM, KFI, KLAC, KJQY/KOJY Los Angeles
Notes: One of America's leading voice-over artists with a list of credits that could full a phone book. Spent 20 years in afternoon drive at KMPC. Remembered for his dead-pan announcements on Rowan and Martin's Laugh-In on NBC, making famous the phrase "Beautiful Downtown Burbank." His trademark was having his hand cupped over his ear while talking in a microphone. Named to the National Radio Hall of Fame, The NAB Hall of Fame, The National Broadcasters Hall of Fame and the South Dakota Radio Hall of Fame - all in one fiscal year. He was also the first radio star to be induced into the Hollywood Hall of Fame. Married to Arleta for 57 years. Died of complications from type 1 diabetes, which he was first diagnosed as having at the age of eight.
---
MACK OWENS
Died: August 28, 2008, Hot Springs, Ark.
Also known as: Johnny Dark (WKY, KOMA), Johnny Bridges (KFRC, WOR-FM)
Stations: WKY, KOMA Oklahoma City, KFRC San Francisco, WOR-FM New York, WKNR Dearborn, Mich., WFIL Philadelphia
Notes: Died of brain cancer at the age of 68.
---