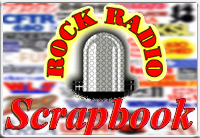 Rock Radio Heaven (P-Q)

GARY PALANT
Died: October, 2002
Stations: KTKT, KAIR, KIKX Tucson, Ariz., KPOI, KORL Honolulu, KDAY Los Angeles, WBBQ Augusta, Ga., KQOE Albuquerque, N.M., WKAZ Charleston W.Va., CKFH Toronto, WNEW-FM New York.
Notes: Former PD at 'FH and 'NEW. Died at age 61 of melanoma and is buried in Tucson, Ariz.
---
MARK PARENTEAU
Died: June 3, 2016
Also known as: Scotty Wainwright (WORC)
Stations: WORC Worchester, Mass., WKNR, WBAX Detroit, WCOZ-FM, WBCN-FM Boston, WAXQ (Q-104) New York, XM Radio
Notes: Spent 19 years at WBCN-FM beginning in 1978. Earned title "The Honorary Dean of Boston Comedy" for giving air time to dozens of comedians on his WBCN show. His career ended when he went to jail in 2004 for having sex with a 14-year-old boy. He was released in 2006.
---
DALE PARKER
Born: January 14, 1950, Burlington, Ont.
Died: November 11, 2011, Brantford, Ont.
Stations: CKPC Peterborough, Ont., CKOC, CKLH (K-LITE-FM) Hamilton, Ont., CKDO Oshawa, Ont., CKPC Brantford, Ont., CJOY Guelph, Ont.
Notes: Was program director and operations manager at CKPC and also did music programming during his 17 years at CKOC. Also involved in music programming at CKLH. Was on the air when CKOC was bombed in the early '70s. Active in Brantford, Ont., minor hockey. Said he never worked a day in his life because of his love for radio and hockey. Died of a heart attack.
---
TOM PARKER
Died: October 3, 2015
Also known as: Big Tom Parker, birth name was Richard Altree
Stations: KFRC, KYUU, KOIO (K101) San Francisco, KMGI, KXL-AM, KXL-FM, KKCW (K103), KKSN, KPAM, KKCW (K-Lite), KOIN-TVF
Notes: Was FM operations manager at KXL-FM from 1990-92. Died at the age of 64.
---
DAVE PARKS
Died: August 24, 2015
Stations: WFIL, WIBG Philadelphia, WLEE Richmond, Va., WNDE/WFBQ Indianapolis, KSDO-FM, KLCX San Diego, KKBQ-FM Houston, WRMF West Palm Beach, Fla., KWFM Tucson, Ariz.
Notes: Was program director at KSDO-FM.
---
PAT PATTERSON
Died: January 2017
Stations: WKIX, WQDR-FM, WDNC Raleigh, N.C., WCHL Chapel Hill, N.C., WGR Buffalo, N.Y., WPTR Albany, N.Y., WPRO, WICE Providence, R.I., WCOP, WHDH Boston, KULF Houston
Notes: Won four Billboard awards during his time in Raleigh for Best Morning Personality and Best A.M. Personality in a Major Market.
---
JIM PAULSON
Born: January 10, 1940, Edmonton
Died: February 13, 2007, Mississauga, Ont.
Stations: CJCA Edmonton, CKRC Winnipeg, CFUN Vancouver, CKEY, CHFI-FM Toronto, CKQT Oshawa, Ont., CING-FM Burlington, Ont., CHWO Oakville, Ont.
Notes: A highly sought after voice talent, Paulson was also a track announcer at the Toronto Molson Indy and auto racing events at Mosport International Raceway in southern Ontario. Interviewed many stars like Frank Sinatra, Tony Bennett, Sophia Loren and Lou Rawls. His late wife, Kitty Meredith, was a celebrated performer known as Diamond Lil. One of radio's true "nice guys", Paulson was 67 when he died after collapsing at an on-air event for CHWO.
---
TOM PEACOCK
Born: March 22, 1939
Died: April 15, 2006, Vancouver
Stations: CHUB Nanaimo, B.C., KDB Santa Barbara, Calif., KWIZ Santa Ana, Calif., KOL Seattle, CFUN, CKWX, CJAZ-FM, CKKS-FM Vancouver
Notes: Program director at CKWX and CJAZ. General manager at CKWX/CJAZ/CKKS. Hosted weekly "Dance Party" on BCTV. First P.A. announcer for the NHL's Vancouver Canucks. Died of a second stroke following quintuple bypass surgery.
---
DICK PEPLOW
Born: 1944
Died: July 13, 2007
Stations: CJIC, CKCY Sault Ste. Marie, Ont., CKJL Kirkland Lake, Ont., CKPR Thunder Bay, Ont., also worked at stations in St. Thomas, Ont., Sudbury, Ont., Dawson Creek, B.C., Winnipeg and Yellowknife.
Notes: Enjoyed a five-decade career in broadcast, print and online media, beginning and ending in Sault Ste. Marie but with much travelling in between. Was in Grade 12 at Sault Collegiate Institute in the early '60s when he started deejaying at CJIC. Was elected as a city alderman in Yellowknife. Started what is now known as SooToday.com in 2000 - it has become one of Canada's most popular online community news services. In 2003, Peplow launched BayToday.ca, serving North Bay, Ont. Died at the age of 63.
---
DAVE PERKINS
Born: 1954
Died: 1995
Stations: WJDX-WZZQ Jackson, Miss., WNAT, WQNZ-FM Natchez, Miss.
---
GARY PETERS
Died: January 3, 2013, Bridgeport, Conn.
Also known as: Birth name was Gary Almeida
Stations: WDRC Hartford, WICC, WEZN Bridgeport, Conn., WATR, WWCO Waterbury, Conn., WKHL (KOOL 96.7) Stamford, Conn., WQCD (CD 101.9) New York, WVKZ Schenectady, N.Y.
Notes: As operations manager, Peters created new radio format that made CD 101.9 the number-one contemporary jazz station in the U.S. The long-time programmer and disc jockey died at the age of 64 after a long battle with emphysema and while awaiting a lung transplant.
---
WILLIAM PFIEFFER
Born: 1956
Died: September 1, 1999
Notes: Pfieffer founded the Airwaves Journal and its accompanying discussion forum, Airwaves Online. Launched in 1991 when Pfieffer lived in Springfield, Mo., it was one of the first electronic bulletin boards devoted to radio. A true radio buff, Pfieffer would drive all over looking for broadcast towers and stations to aircheck. He was killed in a car accident near Stanton, Minn., aged 43.
---
DEWEY PHILLIPS
Born: May 13, 1926, Crump, Tenn.
Died: September 28, 1968
Also known as: Birth name was Dewey Mills Phillips
Stations: WHBQ Memphis, Tenn., WHHM Millington, Tenn., also worked in Little Rock, Ark.
Notes: Gained everlasting notoriety when, in July 1954, he became the first deejay to play an Elvis Presley record, "That's All Right, Mama" and for good measure also interviewed on the air. Began hosting WHBQ's "Red, Hot and Blue" R&B show in October, 1949 and it became so popular that the competing station in town didn't even schedule a deejay against him in the 9 p.m.-midnight slot. Had a TV show, Phillips Pop Shop, later renamed Night Beat.
---
GERALD PHILLIPS
Born: February 23, 1936, Memphis
Died: October 17, 1987, Mill Valley, Calif.
Also known as: Birth name was Gerald Edward Phillips, known as Ed Philips at WSIX, Mel Kent at WYDE, Johnny Holiday at KCBQ, Johnny Mitchell at KHJ, Sebastian Stone at KFRC and WOR-FM
Stations: WKSR Pulaski, Tenn., WBMC McMinnville, Tenn., WSIX Nashville, Tenn., WYDE Birmingham, Ala., KCBQ San Diego, KHJ Los Angeles, KFRC San Francisco, WOR-FM New York
Notes: Stayed awake on the air for 195 hours as a stunt at WYDE. Was program director and music director at KFRC. Served as program director at KFRC and WOR-FM. Owned and operated HMS Communications, a television syndicator in San Francisco which distributed short news and feature clips for TV, including programs featuring Dr. Dean Edell. Died of cardiac arrest.
---
MIKE PHILLIPS
Died: October 16, 2006, Portland, Ore.
Stations: KAYO, KJR Seattle, KISN, KGW Portland, KNBR, KYUU, KIOI, KFRC, KOIT San Francisco, WXLO New York, WWDJ Hackensack, N.Y., WTMX Chicago, KTRH Los Angeles
Notes: One of the legendary jocks during KJR's golden years in the '60s, Phillips also programmed the highly-successful oldies station K-EARTH Los Angeles in the 1990s. He was also VP Programming at KYUU and WMTX. Died of pancreatic cancer at the age of 64.
---
DON PIETROMONACO
Born: September 15, 1935
Died: April 18, 1997, Westwood, Calif.
Stations: KROG Sonoma, Calif., KXOK St. Louis, KAFY Bakersfield, Calif., KRIZ Phoenix
Also known as: Johnny Rabbit, the Purple People Eater
Notes: Prior to being Johnny Rabbitt, Pietromonaco worked as a child actor in 37 Hollywood productions. Known as the Purple People Eater at KRIZ. Was Johnny Rabbitt on KXOK from 1963 to 1969. inviting listeners to phone in and "blab it to the Rabbitt". One of the famous drop-in voices he used was Bruno J. Grunion, the Rabbitt's alter-ego. Raised millions for medical research through his shows. Taught film production and voiceovers in Hollywood after his radio days ended, and also worked in film, TV and stage. Inducted into St. Louis Radio Hall of Fame in 2001. Died of complications related to emphysema.
---
BARNEY PIP
Died: 1994, Indianapolis
Stations: WJET Erie, Pa., WEEP Pittsburgh, WCFL Chicago, WPIX-FM New York, WGLI Babylon, N.Y., WOKY Milwaukee, WIFE Indianapolis, WHHY Montgomery, Ala.
Notes: Listeners to his show were known as "Pip People". Died in a car crash.
---
PETER POTTER
Born: April 14, 1905, Henryetta, Okla.
Died: April 17, 1983
Also known as: Birth name was William Mann Moore.
Stations: KMPC, KFWB, KLAC, KVFM Los Angeles, KCHV Palm Springs, Calif.
Notes: Creator of the "Platter Parade" and "Juke Box Jury" radio and TV shows. Worked in Los Angeles radio for a quarter-century. One of the legendary "Big 5" deejays at KLAC along with Dick Haynes, Alex Cooper, Gene Norman and Bob McLaughlin. Married singer Beryl Davis. Won Best Entertainment Emmys in 1953 and 1955. Was living in Palm Springs, Calif., at the time of his death, of a heart attack.
---
NORM PRINGLE
Born: December 9, 1923, Calgary
Died: March 17, 2012, Calabasas, Calif.
Stations: CJCJ/CKXL Calgary, CKMO Vancouver, CKDA, CKDA-TV Victoria
Notes: Was one of three deejays who interviewed Elvis Presley at an informal news conference in conjunction with his 1957 appearance in Vancouver. Hosted House Party on CKDA-TV in 1956. Hired Lesley Nielsen at CJCJ and gave Tommy Hunter his radio debut at CKDA. Headed to Hollywood in 1958 for a career as a sound mixer and engineer, working on the sound for such movies as All the President's Men and Close Encounters of the Close Kind and for artists like Frank Sinatra, Eddie Cantor, the Beach Boys, The Tijuana Brass and Sonny & Cher. Inducted into Victoria Rock 'n' Roll Music Hall of Fame in 2008.
---
DAVID PRITCHARD
Born: October 18, 1944, London, England
Died: February 27, 2005, Toronto
Stations: CHUM-FM, CILQ (Q-107) Toronto, CFNY-FM Brampton, Ont.
Notes: CHUM-FM's all-night man from 1968 to the mid-1970s. Later was program director at CFNY-FM. Also produced several well-received rock music documentaries. Was also a musician, the first North American artist signed by Island Records which had U-2 and Bob Marley on its roster.
---
RICHARD PROULX
Died: March 24, 2015, Gatineau, Que.
Stations: CJRC Ottawa-Hull, CKCH Hull-Ottawa, CJMS Montreal, CJTR Trois-Rivieres, Que.
Notes: Long-time morning man at CJRC in the late '60s-early '70s. Regular voice of horse racing at Connaught Park in Gatineau, Que. First in-house announcer at Ottawa Senators NHL games at Kanata, Ont. Died of cancer at the age of 70.
---