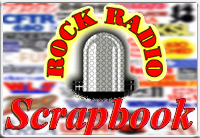 The Ace From Outer Space: Jocko Henderson
By DALE PATTERSON
"Daddy-O and Mommy-O, this is Jocko!"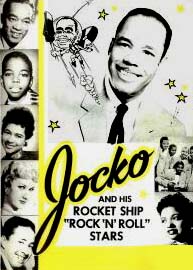 The black Dick Clark, the father of rap, the Ace From Outer Space, that was Douglas "Jocko" Henderson, one of rock 'n' roll's most overlooked pioneers.
If there was ever a man born to radio and music promotion, it was Jocko Henderson. This likeable, hard-working man practically lived in a radio studio (and on the road commuting) while doing shows on both New York and Philadelphia stations during his heyday in the '50s and '60s. When he wasn't on the air, Jocko was out promoting the music he loved, primarily through his shows at the Apollo Theatre in Harlem and at Lowe's State Theatre - Broadway's first rock 'n' roll review. His schtick was rhyming words, rap fashion, "oo-papa-doo, how do you do!". And while that wasn't completely original, he did it well and he was incredibly popular - at one time his fan club numbered 50,000.
A showman among showmen, his Rocket Ship Show at the Apollo was something of legend - he would swing onto the stage on a rocket suspended from the ceiling by wires, accompanied by rocket sounds and smoke. At times, it was difficult to tell who the audience paid to see - Jocko or the singing acts. But they got the best of both worlds with legendary musical acts like Jerry Butler & the Impressions, Smoky Robinson & the Miracles and the late Sam Cooke.
The world can thank WBAL Baltimore deejay Chuck Richards for getting Jocko into radio in the first place. In 1950, Richards, a family friend, invited Jocko to the studio one night and the young man was hooked. To him, it seemed more exciting and more financially promising than the future his father had in mind for him, that of an educator. It may have been more exciting for him, but the pay for his first radio job was less than grandioise: $1.00 an hour. Nevertheless, Jocko went into radio at that wage at 1,000-watt daytimer WSID in Baltimore.
Within seven months, Jocko was off to WHAT Philadelphia for $120 a week and just a few months after that, moved into the big time at Philly's legendary WDAS. Starting in the late fifties, he began his commuting act - doing 6-9 a.m. at WLIB New York and 4-7 p.m. at WDAS. Later, he switched to doing 4-6 p.m. on WDAS and 10 p.m.-12 midnight on WADO and later WWRL (the night-time show lasted 20 years).
Finally, tired of the commute, he decided to tape shows at home in his den. At one time, he had daily two-hour taped shows for stations in Boston, New York, St. Louis and Detroit, a three-hour program for a Miami station, in addition to his Philadelphia show. After two years of that exhaustive routine, he took a break to concentrate on a TV show, "Jocko's Rocket Ship Show", on WNTA New York. That lasted for about a year.
Jocko had a mission bigger than rock 'n' roll, however: education. In memory of his father, a teacher, Henderson used his celebrity and popularity to implore his followers to stay in school and get an education. In recent years, his efforts in that direction have included "Get Ready", a rap program distributed on tape and in booklets throughout the school systems and job-training programs.
On a personal level, Jocko was the original "nice guy." Amiable, self-effacing and with a genuine love of life (he said he never used drugs or booze because he had a "natural high"), the family-oriented Henderson was just as popular off-stage as on.
Many believe racial prejudice prevented Jocko Henderson from gaining more recognition. Jerry Butler said, "One of the tragedies of that time was that he was relegated to black programming, not because he was inarticulate, but simply because he was black. He would have been bigger than most of the jocks of the era because of his flair for showmanship."
Jocko died July 15, 2000 in Philadelphia after a long battle with cancer and diabetes. He was 82.
---
RETURN TO ROCK RADIO SCRAPBOOK