Rock Radio Scrapbook

JOHN LENNON REMEMBERED
... 30 YEARS LATER

Subject: TORONTO RADIO: THE NIGHT LENNON DIED (Part One)
Station: CFNY, CHUM-FM, CKFM Toronto
Date: December 8-9, 1980
Time: 27:16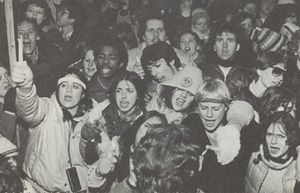 Fans gather at candlelight vigil for Lennon in Toronto the night after his death
Where were you the night John Lennon died?
In the case of many people, they were listening to the radio - back in the days when most music stations were live and local 24-7. Shortly after 11 p.m. eastern time, the news started to come in. First we learned that John Lennon had been shot and taken to hospital. Then came the awful news - the former Beatle was dead.
Toronto radio listener Alan Powell was taping that night, and captured the breaking news and the accompanying raw emotion as it appeared on CFNY, CKFM and CHUM-FM. Thankfully, he has submitted his composite to Rock Radio Scrapbook so we can better remember how Toronto radio sounded the night John Lennon died.
Part One of this Toronto radio composite can be heard here.
(The Alan Powell Collection)
---
Talent: LARRY WILSON and INGRID SCHUMACHER
Station: CHUM-FM Toronto
Date: December 9, 1980
Time: 40:55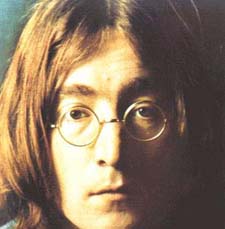 Rock radio responded quickly in the wake of John Lennon's shooting. Within minutes of media reports that he had been shot many stations began dumping their regular programming for a steady stream of John Lennon and Beatles music, and news updates. When the unthinkable was announced - that he had died - rock radio's normally joyful tone turned very somber.
Larry Wilson, CHUM-FM's 10 p.m.-2 a.m. announcer, was on-the-air when news broke of Lennon's shooting around 11 p.m. eastern time. This aircheck picks up CHUM-FM's programming in the early hours of December 9 with news of Lennon's death still fresh and emotions raw. The aircheck begins with Wilson talking to veteran Toronto announcer John Donabie and concludes with the beginning of Ingrid Schumacher's 2-6 a.m. shift.
Hear CHUM-FM on the night John Lennon was shot here.
Read some special recollections of that night here.
(The Alfred Janaway Collection)

Download your free RealPlayer SP
to hear this aircheck via your PC, iPod/iPhone or Blackberry

Click here for technical help
---
RETURN TO ROCK RADIO SCRAPBOOK