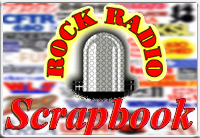 Other Ontario lineups
HAMILTON
CHAM (1971)
6-10 a.m. - GIL HARRIS
10 a.m.-2 p.m. - DON COLLINS
2-6 p.m. - STEVE SHANNON
6-10 p.m. - IKE ISAACS
10 p.m.-2 a.m. - DICK JOSEPH
2-6 a.m. - PAUL ALLEN
weekends - PAUL GODFREY, MARK LEE
---
BURLINGTON
FM 108 (1985)
(Source: Scrapbook files)
6-10 a.m. - JOHN MITTER
10 a.m.-3 p.m. - JIM PAULSON
3-6 p.m. - EARL WARREN
6-10 p.m. - PETE JAYCOCK
10 p.m.-12 midnight - ROCKIN' ROBIN
12 midnight-6 a.m. - RUSS HORTON
weekends - DON BIEFER, J.B., DAVE WHATMOUGH, RITCHIE YORKE, MARK EUSTACE, MARK PANOPOULOS.
NOTES: Canada's first all-oldies station on FM, CING gained a loyal appreciative audience and its many fans still miss it greatly ... A representative show was Friday night at the Fifties, hosted by Mark P., one of the greatest oldies shows ever heard in this market ... The station was not exactly 24 hour oldies, with Saturday morning jazz, Saturday afternoon reggae, religion and ethnic programming making it a station for everybody ... The station had an all-dance format by 1991 and enjoyed tremendous ratings. (MORE ON FM 108 HERE)
---
LONDON
CFPL (1962)
(Courtesy: Chris Mayberry)
6-10 a.m. - JOHN DICKENS "OPEN LINE"
10 a.m.-2 p.m. - DAVE WILSON
2-6 p.m. - AL MITCHELL "CAR & KITCHEN"
6-6:30 p.m. - NEWS
6:30-9:00 p.m. - DICK WILLIAMS "THE TALL ONE"
9 p.m.-on - CBC programming

CHLO (1968)
(Courtesy: Sam Ward & Chris Mayberry)
6-10 a.m. - DAN O'CONNOR
10 a.m.-2 p.m. - JERRY STEPHENS
2-6 p.m. - PAUL SKI
6-8 p.m. - NEWS & RELIGION BLOCK
8 p.m.-12 midnight - TOM LODGE
12 midnight-6 a.m. - RICK SMITH
CKSL (1976)
(Courtesy: Chris Mayberry)
6-10 a.m. - PETER GARLAND
10 a.m.-2 p.m. - ROGER A. (not Ashby)
2-7 p.m. - JIM CRAIG
7 p.m.-12 midnight - TOM KELLY

CJBK (1979)
(Courtesy: Bill Dulmage)
6-10 a.m. - JOE DUCHESNE
10 a.m.-2 p.m. - DICK WILLIAMS
2-6 p.m. - JIM CONNELL
6-9 p.m. - JOHN DONOVAN
9 p.m.-12 midnight - MARK EDWARDS
12 midnight-6 a.m. - RON ST. CLAIR

CJBK (1987)
(Courtesy: Bill Dulmage)
6-10 a.m. - JIM BUICK
10 a.m.-2 p.m. - STEVE GARRISON
2-6 p.m. - DON BEAU DEAN
6-10 p.m. - AL SMITH
10 p.m.-2 a.m. - BOB JAMES
2-6 a.m. - WENDY DANIELS/MIKE FERRARI
weekend - GARRY PARSONS

CKSL (1979)
6-10 a.m. - PETER GARLAND
10 a.m.-2 p.m. - JEFF O'NEIL
2-6 p.m. - BILL HAYES
6-10 p.m. - JAY ALEXANDER
10 p.m.-2 a.m. - TOM KELLY/IAN PURCEL
2-6 a.m. - JIM EDWARDS
---
SAULT STE. MARIE
CKCY (February 1, 1977)
(Courtesy: James Warner-Smith)
6-10 a.m. SMILIN' LOU TURCO
10 a.m.-noon - "OPEN MIKE" with HARRY WOLFE and LOUISE O'NEIL
Noon-4 p.m. - BOB MacDONALD
4-8 p.m. - "THE GENERAL" ROBERT E. LEE
8 p.m.-midnight - PHIL PARKS
Midnight-6 a.m. - PAUL RHODES

CKCY (1980)
(Courtesy: Rick Holmes)
6-10 a.m. - LOU TURCO
10 a.m.-2 p.m. - TERRY McPHEE
2-6 p.m. - JACK DENNIS
6 p.m.-midnight - RICK HOLMES
Midnight-6 a.m. - MIKE SMITH
---
RETURN TO ROCK RADIO SCRAPBOOK