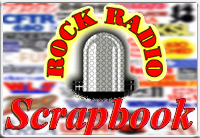 Airchecks: Pre-1955
Talent: ALAN FREED
Station: WJW Cleveland
Date: April 6, 1954
Time: 29:03 (unscoped)
14:49 (scoped)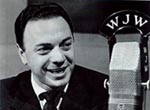 In the beginning, there was Alan Freed.
He played R&B long before it was cool to do so. While everyone else was playing Doggie in the Window by Patti Page, Freed was spinning Sixty Minute Man by The Dominoes. It was Freed who popularized the term "rock and roll" and promoted "race music" - as R&B was then called - like no white person had ever done before.
The Pennsylvania-born Freed originally wanted to be a big band leader, but an ear infection put an end to that. So he went into radio, starting in 1942 at WKST in New Castle, Pennsylvania. He was also at Ohio stations WKBN Youngstown and WAKR Akron in the '40s. At WAKR he developed a following playing hot jazz and pop, a precursor of things to come.
Freed arrived in Cleveland in 1949 at WXEL-TV where he hosted the afternoon movie. By this time, he'd met record store owner Leo Mintz, who noticed the popularity of rhythm and blues records and told Freed about it. In 1951, Freed started doing a classical music show at WJW Cleveland, but Mintz came to him and suggested he'd buy air time if Freed devoted his entire show to R&B records. Starting July 11, 1951, Freed did just that - and radio would never be the same again.
Calling himself The King of The Moondoggers, Freed ushered in a new era in radio with an upbeat, frenetic approach. Pounding on phone books, practically screaming into the mic, and sounding like every teenager's best friend (even though he was at least a decade removed from high school), Freed became a sensation with "The Moondog House."
In March, 1952 Freed hosted what's called the first rock and roll concert, The Moondog Coronation Ball, at the Cleveland Arena. More people showed up than the arena's capacity would allow, and the near-riot that ensued led to cancellation of the concert. It only increased Freed's popularity, which continued to grow after he left WJW for WINS New York in 1954. A legend had been born and the rock 'n' roll era had begun.
Enjoy Alan Freed on WJW (unscoped) here.

Enjoy Alan Freed on WJW (scoped) here.

(The Sam Ward Collection)



Rock Radio Scrapbook pays
online streaming fees to the
Society of Composers, Authors and Music Publishers of Canada (License 22-F)

---
Talent: COMMANDER HOT ROD
Station: WDAS Philadelphia
Date: April 16-17, 1954
Time: 7:01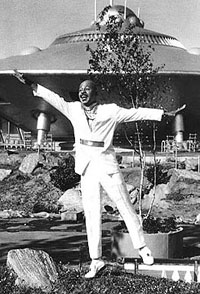 "This is without a doubt the High Priest of Space, not the flower, not the root, but the seed..."
Long before "rap" became associated with music, it was the province of disc jockeys. As in "rapping" with the audience, or laying down some "rap."
One of the pioneers of the rap style of announcing was Maurice "Hot Rod" Hulbert. The Helena, Arkansas-born entertainer was already in his early '30s when he got his first radio job, in 1949 at WDLA-AM Memphis (he kept his night job as a tap dancer just in case it didn't work out). Soon after, he joined the first black-programmed radio station in the U.S., WDIA in Memphis. It was there he developed his Hot Rod routine, with phrases like "good googa mooga (meaning ain't she nice)," and "o-ble-doo-ba-blah-doo-lay-a-way (the ad-lib of a commercial for the E-Z Layaway Credit Company)." There was also "VOSA," which meant Voice of Sound Advice.
In 1951, WITH Baltimore decided having an African-American announcer on the roster might appeal to the city's black audience. On the recommendation of WITH morning man Buddy Deane, Hulbert was hired to do his Commander Hot Rod and the Rocket Ship Show (a shtick later appropriated by Jocko Henderson). So began a long love affair between "Hot Rod" and Baltimore's radio audience.
Hulbert sharpened his act at WITH, with loads of on-air personality and a music mixture of Top 40 hits and black R&B artists who hadn't been getting airplay. It was deejays like Hulbert who helped bring black artists to the masses, leading the explosion that was rock 'n' roll in the 1950s.
Hulbert stayed at WITH until 1959 - his show was also syndicated in other eastern U.S. cities at the time. In 1959, he went to WHAT Philadelphia and also simultaneously did shows at WWRL New York and WWIN Baltimore. Hot Rod returned to WITH in 1963, but in 1964 he jumped ship for WWIN.
Hulbert retired from announcing in 1974, but continued in sales at WBGR and other Baltimore stations. He managed gospel-formatted WBGR from 1984 until his retirement from radio in 1991. A promoter who helped up-and-coming stars like Aretha Franklin, Lou Rawls and Otis Redding, Hulbert also did much to help the black community over the years through concerts and fund-raising.
Hulbert was named to the Black Radio Hall of Fame in 1991, and in 1992 he was presented with the Living Legend Award and the Musical Heritage Award. His last on-air presence was on March 30, 1996. Despite having cancer and unable to speak, he attended the WITH 55th anniversary show. Hulbert died on Christmas Eve 1996 at the age of 80.
Enjoy Hot Rod Hulbert here.

(Scrapbook archives)
---
Talent: ALAN FREED
Station: WJW Cleveland
Date: 1953
Time: 27:38 (unscoped)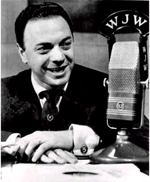 This aircheck of Alan Freed features not one, not two but three of his famous openings.
Enjoy it, and have an Erin Brew, formula 10-02 in memory of the "King of the Moondoggers".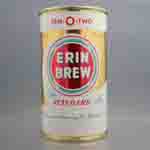 Here's Alan Freed on WJW from 1953.




Rock Radio Scrapbook pays
online streaming fees to the
Society of Composers, Authors and Music Publishers of Canada (License 22-F)

(The Don Shuttleworth Collection)
---
Talent: HUNTER HANCOCK
Station: WNJR Newark, N.Y.
Date: Early 1952
Time: 24:04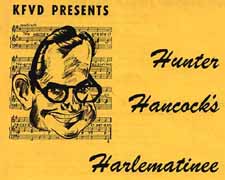 By his count Hunter Hancock had 22 different jobs, including salesman, chauffeur, bank clerk, drummer - even a singer in a vaudeville troupe. But we remember him as one of rock radio's greatest pioneering disc jockeys.
Born April 21, 1916 in Uvalde, Texas, and raised in San Antonio, Hancock got his first radio job in 1942 when he walked into KMAC San Antonio, read some commercial copy and was hired on the spot. He moved to KPAB Laredo, Texas, four months later as program director and chief announcer. In 1943, he was hired at KFVD Los Angeles where the legend of Hunter Hancock really began.
It was at KFVD Hancock started a weekly jazz show called Harlem Holiday aimed at the black community. In 1947 it was expanded to a daily half-hour show called Harlematinee. He started playing jazz on that show too, but the suggestion of a record company salesman, began playing what were then known as "race" records. In doing so, the man who became known as "Ol' H.H" became widely regarded as the first white deejay in the U.S. west known to have play rhythm and blues records.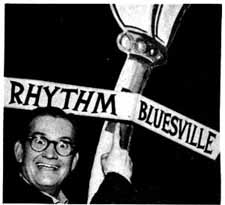 The show became hugely popular and was soon expanded to three-and-a-half hours a day, six days a week (he also continued to do Harlem Holiday on Sundays.) Many fledgling R&B artists got their first radio spins on his show in those pre-rock 'n' roll days. In the mid-'50s, he also picked up a female radio sidekick - Marjorie "Margie" Williams, later known in L.A. radio as Morgan Williams. He also started a weekly TV show in 1955, Rhythm and Bluesville on KCBS-TV, which during its 17-week run featured artists such as Fats Domino, Little Richard, The Platters and Duke Ellington.
Hancock left KFVD in 1951 for a three-year stint at KFOX in San Jose, California. He returned to KFVD in 1954. In 1957, Hancock brought his Huntin' With Hunter nightly Top-20 show to KGFJ while still doing his daytime show at KPOP, which had changed its call letters from KFVD in 1955. He also had a Sunday gospel show called Songs of Soul and Spirit on yet another station, KGER. Hunter left KPOP in 1957 but continued his show at KGFJ until 1966. Hancock also started a record label, Swingin' Records, whose first release was Jay McNeeley's smash hit There Is Something On Your Mind.
By 1968, Hancock had grown disenchanted with the radio biz and retired from the medium after a final stop at KBLA. He never returned to the airwaves again, though he did recreate his KGFJ role on the Cruisin' 1959 album released in the early '70s. He died, aged 88, of natural causes in Claremont, California, on August 4, 2004.
Hancock syndicated his Huntin' With Hunter show on several stations. On the following aircheck, he interviews singing star Johnny Otis on WNJR Newark, New Jersey, in early 1952.
Enjoy Hunter Hancock here.

(The Don Shuttleworth Collection)
---
Talent: KEN SOBLE
Station: CHML Hamilton, Ont.
Date: December 29, 1946
Time: 2:48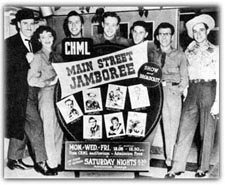 One of Ken Soble's many creations was Main Street Jamboree
American Idol is one of the biggest TV shows ever, but the concept is nothing new. Musical talent shows have been heard and seen on the airwaves for years, dating back to the early days of radio.
One of those early programs was Ken Soble's Amateur Show, which aired on CHML way before the rock era. Contributor Mark Panopoulos tells us more...
"This particular show from the last Sunday of 1946 had part 1 on one 16 inch 33-rpm disc and part 2 on another 16 inch 33-rpm disc. Both discs had other programs on the flip sides.
One show was broadcast of the St. Joseph Hospital and the other flipside of the other disc was a church choir program from the Church of Nazarene on Ottawa St. Hamilton (it still stands today, George Oliver and Gangbuster appeared there on April 29, 2007).
Ken Soble & Don Luzzi are this year's (2007) inductees to the CHML Broadcast Hall of Fame which is held every two years as part of our birthday celebrations. Other inductees include Norm Marshall, Paul Hanover, Gordie Tapp, Lloyd Devoe, Perc Allen, Tom Cherrington, Tom Darling, Bill Sturrup and Lee Dunbar. Hopefully future inductees will include Jane Grey, Jackie Washington, Victor Copps, Paul Reid, Phil Hitchcock and Bob Hooper. We are also considering putting up memorial plaques for achievements of past producers such as Mitch Miller.
It has been suggested that other members of the staff that have contributed achievements as in sales representation, promotions and creative be inducted."
Ken Soble began his radio career in 1927 in Toronto at the tender age of 16. By 1936, Soble was manager of CHML and eight years later he outbid Roy Thompson and Jack Kent Cooke to become sole owner of CHML's parent company, Maple Leaf Broadcasting. Soble created Canada's largest hillbilly and country music show, Main Street Jamboree, in 1952. In 1964, he helped launch CHML's FM station - now known as which Y108 (CJXY-FM). A true media giant, Soble also started Canada's first independent TV station, CHCH-TV.
Soble died in 1966 at the age of 55. He was inducted posthumously into the Canadian Association of Broadcasters Hall of Fame in 1985.
Enjoy Ken Soble's Amateur Show here.

(The Mark Panopoulos Collection)
---
Subject: WAR NEWS BULLETIN
Station: NBC
Date: December 8, 1941
Times: 2:54

Radio at its best delivers the drama of the moment, and never more so than during wartime.
Imagine the fear and excitement listeners to NBC's
The Breakfast Club

must have felt when their show was interrupted by war bulletins the day after the Japanese attack on Pearl Harbor. It's still chilling to hear it decades later.
On this aircheck, the warm pre-Christmas joviality of Don McNeill's
mid-morning
Breakfast Club show is interrupted by the cold reality of war news.
Hear it

here.

(The Don Shuttleworth Collection)
---
Subject: WASHINGTON-CLEVELAND BASEBALL GAME
Station: WJSV Washington, D.C.
Date: September 21, 1939
Time: 6:50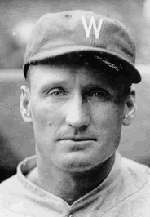 Walter Johnson was one of baseball's great pitchers, but did you know he was a baseball announcer for one season? This aircheck of Johnson calling a Washington-Cleveland game on WJSV Washington, D.C., on September 21, 1939 is a classic.
It's 6-3 Cleveland in the bottom of the ninth as we

tune in here.

(Scrapbook archives)
---
Subject: THE HINDENBURG DISASTER
Station: WLS Chicago
Date: May 6, 1937
Time: 7:18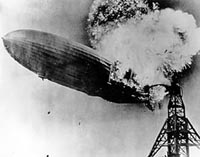 Long before its days as a rock station, WLS was one of America's leading stations for news, information and music programming. Sears opened the station in 1924 as a service to farmers. Its early call letters were WES, for World's Economy Store - they soon were changed to WLS, for World's Largest Store. Originally at 500 watts, WLS later became a 50,000-watt giant heard over much of Canada and the U.S. at 890kc.
On the evening of May 6, 1937, WLS carried one of radio's most historic broadcasts. The German zeppelin Hindenburg was making its first Atlantic run of the season and 31-year-old WLS reporter Herb Morrison was on hand to record what should have been a routine docking in Lakehurst, New Jersey. Instead, the hydrogen-filled airship went up in flames while docking right in view of Morrison, who described the tragedy in dramatic tones.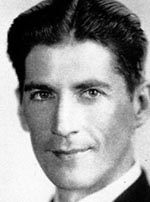 Herb Morrison
Thirty-six people died in the Hindenburg disaster; it's a miracle more were not lost. Incidentally, Morrison's broadcast was not carried live - it was recorded and broadcast later in its entirety over WLS; portions were also carried on the NBC network. It marked the first time recordings of an actual news event were ever broadcast. The Hindenburg disaster shattered public confidence in airships and spelled the end of commercial zeppelin travel.
Hear Herb Morrison here.

(Scrapbook archives)
---