FM 108 Gold 'N Great
Airchecks
Subject: THE NORMAN B. TRIBUTE
Station: CING-FM Burlington, Ontario
Date: March 2, 1997
Time: 46:26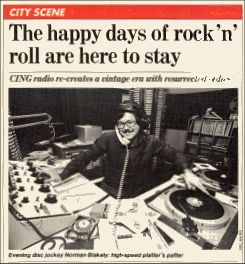 (Photo courtesy Rob Muir)

FM 108 made our dreams come true.
For the listeners, it was a chance to hear the great oldies of the '50s and '60s again - with personality deejays - at a time when nobody else in southern Ontario was doing a similar oldies format.
For the announcers, it was a chance to go on the air, be themselves AND play the music they loved and respected. Many of them consider it the highlight of their career.
And for program director Norman B., it was the opportunity of a lifetime to program an oldies station in his own image. He used the opportunity well, producing one of the finest oldies stations imaginable.
FM 108 played oldies from the fall of 1978 to September 29, 1990. For much of that time, it was the only oldies station in southern Ontario, and it still holds the distinction of being Canada's only stand-alone oldies station on FM. Many people - including yours truly - had the pleasure of doing on-air music shows there. And many of the artists themselves appeared.
FM 108 switched format in the early '90s to dance music as Dance 108. Later it became Energy 108, a legendary station in its own right.
It has since moved to 95.3 on the FM dial, with a variety of formats over the years.
Norman B. was production manager of Energy 108 when he died of a heart attack in the early hours of January 19, 1997. Two months later this tribute - co-hosted by long-time friends Bill Nagy and Mark Panopoulos - aired on the station that Norm built.
Hear the Norman B. Tribute here.

Read about Norman B. here.
Mark Panopoulos relates some funny moments at FM 108 here.
(The Mark Panopoulos Collection)
---
Talent: NORMAN B.
Station: CING-FM Burlington, Ontario
Date: May 1, 1979
Time: 32:00 (unscoped)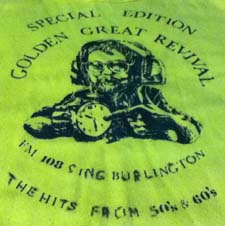 "Rock and roll. It will never die."
To a generation of radio listeners in Southern Ontario and Western New York, Norman B. was more than a voice on the radio. He was a friend - one who would answer the studio phone, talk to his listeners and actually care about what they had to say.
Born December 15, 1943 in Hamilton, Ont., Norman Blakely took Radio and Television Arts at what is now Ryerson University in Toronto. It led to him hosting his first radio show - "The Jazz Scene" - at Ryerson station CJRT-FM. Norman's first job outside of Ryerson was at CFOS Owen Sound, Ontario. in the summer of 1964, followed by stops in Weyburn, Saskatchewan, Regina, Wawa, Ontario, and Sault Ste. Marie, Ontario. He did Canada's first all-R&B show at Toronto's CKFH in 1967, then moved to CKBB Barrie, Ontario, in 1968 and CHOW Welland, Ontario, in 1970.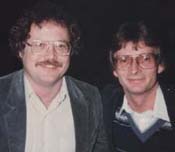 Norman B. (l) & William Nagy/Courtesy William Nagy
CHOW switched to a country format in 1975 and Norman quit radio, unhappy there was no place he could play rock 'n' roll on the air. But he returned to the airwaves in 1979 at FM 108 - Canada's first FM oldies station - where he also became program director. This aircheck, recorded by his good friend Bill Nagy, was Norman's first show at FM 108. It would be his radio home until his death of a heart attack on January 19, 1997 at the age of 53.
Hear Norman B.'s first FM 108 show here.

(The William Nagy Collection via Mark Panopoulos)



Rock Radio Scrapbook pays
online streaming fees to the
Society of Composers, Authors and Music Publishers of Canada (License 22-F)

---
Talent: NORMAN B. and STEVE MORTENSON/RICHARDS
Station: CING-FM Burlington, Ontario
Date: January, 1981
Time: 11:50
Few had the ability - or knowledge - to put together music-themed shows quite the way Norman B. did.
In this edition of Profiles, Norman "goes ape" and listeners get a musical education.
Also heard on this rare sample of early '80s FM 108 is long-time CING-FM jock Steve Mortenson/Richards. In addition, you'll hear commercials by Wes Atkinson and Rockin' Robin plus the beginning of a newscast by Sara Christensen.
Hear Norman B. and Steve Mortenson/Richards on FM 108 here.

(The Gary Heighington Collection)
---
Talent: NORMAN B. interviews NIKI SULLIVAN (Original Cricket)
Station: CING-FM (FM 108) Burlington, Ontario
Date: February, 1981
Time: 18:44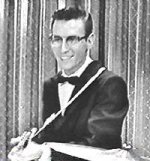 Original Cricket Niki Sullivan
Norman B. was a people person, which may explain why he was such a great interviewer. Artists opened up to him, offering details of their life and career with a depth not often seen. It helped that Norman - the long-time program director of Burlington, Ontario,-oldies station CING-FM (FM 108) - knew his interview subjects inside and out. And he loved and cherished the subject matter: rock 'n' roll.
Norman interviewed former Crickets rhythm guitarist Niki Sullivan just prior to the 22nd anniversary of Buddy Holly's death in 1959. The interview aired on FM 108 in February 1981.
Hear Norm's interview with Niki Sullivan here.

(The Gary Heighington Collection)
(NOTE: Niki M. "Nick" Sullivan died of a heart attack April 6, 2004 at his home in Sugar Creek, Misssouri,The native of Southgate, California, played on 27 of the 32 songs Buddy Holly recorded and is a member of the Rock and Roll Hall of Fame).
---
NORMAN B. REMEMBERED
Long-time FM 108 program director Norman B. passed away in the early morning hours of January 19, 1997. As the 10th anniversary approached, we asked those who worked with Norm or listened to him to offer their special recollections. They are quite touching and personal and you can read them below. Alumni recollections are first followed - lastly - by one from a listener...

J.B. (JULIUS BROWN) ... Ask anyone at FM 108 about Norm and me and no doubt, they'll relate the Double Shot story. Perhaps it's now bigger than life but here's what really happened.

I played Double Shot by the Swinging Medallions, pretty well every night I was on the air. OK, maybe even 2 or 3 times as well. Then, one night as Norm was vacating the air chair and I was getting ready to start my show, he told me not to play that song. So I put it aside. Not having anything cued up, I opened the mike and started talking, grabbing the first song I could put my hands on ... you guessed it ... Double Shot. Norm went ballistic … right in master control! Eventually Norm and I laughed about that incident but I'll always remember that you can't be too careful.

On a more positive note, I'll always remember and respect his invaluable knowledge of oldies and his countless interviews with the stars. He had 'em all, and if he didn't they weren't worth having. Norm will be missed not only by FM 108 staff and listeners but also by the many artists he held as close friends.

Save us a spot in Rock 'n' Roll Heaven, Norm!

TEDD COLBEAR ... I was Norm's ''newsguy'' at FM 108 in 1979.

Besides being a walking ''oldies'' encyclopedia, Norm had an uncanny ability to crack me up on-air...without even trying ! ! !

A couple of incidents come to mind.

Anyone who knew Norm knows that he was a bit unorganized during his show ... he always seemed like he was scrambling to find a record or music bit. I had just started reading my newscast and happened to spot Norm walking in front of my newsbooth with a t-a-l-l stack of carts, like about 2 1/2 feet tall. All of a sudden he stumbles and the carts go flying ... bouncing off the windows and walls. Needless to say, I lost it!

Another day as I was sitting in the newsbooth with about a minute to go to airtime, Norm spilled his coffee all over the turntable while the record was playing (what's a CD? ... we used real records back then!) Everything was fine ... for about 10 seconds ... and then static and a real nasty shhhhhhhhhhhhhh sound erupted. Needless to say, I'm in hysterics at this point and THAT's when Norm hits the news ID. Take it away Tedd !

I was only at FM 108 for about a year but had an absolute blast and it was all thanks to Norman B.

He was a diamond in the rough, but a diamond nevertheless!

MIKE ELLSWORTH ... "Do what you want - and dig what you do - cause that's what life is all about"... Norman B.

(And I never forgot it Norm...thanks.)

RUSS HORTON ... Russ sent us a special audio tribute to Norm. You can hear it here (Real Audio) and here (MP3).

PETER JAYCOCK ... Norman B was more than a boss of mine, he was a friend and patient educator when it came to the Gold and Great music. I could never have found such understanding of the 50's and 60's music from a book, Norm brought it to life with his passion, his enjoyment and his willingness to share the enthusiasm and excitement he felt for the performers of the early Rock and Roll era. Dating back to when they referred to him as Norman "TM" Blakely (Too Much!) he was immersed in the greatness of a music revolution he, more than others, realized was changing the world. Both in the station, and at places like Lulu's in Kitchener over a cold beer, I had a ball learning from him and hanging with him as he inspired me to be a better radio personality. Norm, you were always "ready."

TERRY O'REILLY ... I was the Copy Chief (army of one) at FM 108 in 1982-83. That's where I met Norman. A couple of things stand out in my mind:

1/ The proverbial cigarette.

2/ I loved to watch him work on air. The way he wore his headphones at the same crazy angle every shift. The energy of his show. The crazy Ed Sullivan-like plate-spinning act of watching him cue records, pull records, pull carts, go live then do it all over again, all while lighting a smoke.

3/ How much he hated me watching him work on-air. The first couple of times, I stood there transfixed. Just watching silently, while Norman did his one-man juggling act. Each time he seemed to get a little more irritated as the time passed. Then about the third shift, he just yelled out "stop watching me!!" I was mortified. But I couldn't take my eyes off him.

4/ The way he never, ever held a grudge. After that show, he came into my office, very evenly, and apologized for yelling, and said he didn't like anyone watching him on air. I said, I get it. But there's something about the way you work. A week later, he invited me in to the studio to watch him. And I did many times after that.

Another time, I had a student dub a tape with that night's "Beatle Trivia" show on it. The host, Steve Mortenson, who found all voice-over chores a pain in the ass, always gave me the same voice-level check: "F*** you, one, two, three. F*** you, one, two, three." Student spins tape to first syllable he hears, which is "F..." and dubs tape, puts it into studio. Rockin' Robin plays tape, and, well, you can guess what happened. I was sitting at home listening to the show that night. My face drained, and I sat in my easy chair the rest of the night, in the dark, rocking like a Rhesus monkey, lit only by the red glow of my cigarette. Next morning, there was a three-page memo, stapled shut, waiting ominously on my desk from Norman. It stated, in no uncertain terms, how profanity on the air was unacceptable and how it risked the station license. To say I never wanted that to happen again is, well, an understatement. When I saw him later that morning, he asked if I read the memo, then said "understand?" To which I nodded till I was dizzy, and it was never mentioned again. That was Norman's way.

When I think back, he was the best boss I ever had, because he could inspire, reprimand and still be respected and loved beyond all reason by his staff. How many bosses can you say that about?

MARK PANOPOULOS ... Now that there's a TV show called "Whistler", it reminds me of the time one of our program suppliers hooked up a deal with "Whistler Mountain" for ski reports to be aired mornings on FM 108. (Olympic ski champion) Nancy Greene called from her resort at midnight, with the time change here in Ontario it was 3 a.m. One particular night our reel to reel machines weren't working properly. I had to ask for Nancy Greene to phone back at a later time. Our program director Norman B would be filling in and maybe he could figure out something.
Nancy agreed to this arrangement and phoned back at 6 a.m. which would be 3 a.m. back in B.C. I gave Norman the heads up on the situation and he agreed that it would be difficult to get the report on air with the recorder broken down. Back then we wouldn't dream of phoning our engineer, he was one of these workers that worked a few stations at one time but of course we could only use him when it was an emergency.

When Nancy Greene phoned, Norman had just started the show. I couldn't believe my eyes as I watched Norm bring up the the pot and put Nancy on live. Norman always recorded his shows on his portable. Somehow we got through it and after the 7 a.m. news, Norman then cued up the cassette, did the intro and held his portable to the live microphone. In radio you do whatever you can to make sure that paying feature airs. Hats off to Norman, my boss and long-time friend'.

ROCKIN' ROBIN ... I remember the day Norm started at 108 and we became good friends immediately. I'm not just saying this because he's gone but we got together socially many times away from the station. When I lived in the country in Campbellville, Norm loved to visit and check out the flowers and trees because he worked as a florist for years and I had lots of wild plants at my place ... he would spend hours walking around the forest. The neat thing about Norm was although he was a little eccentric now and then and maybe not in the best of moods sometimes, he would always look at me when I arrived at the station and give me a warm smile with "How you doing man?"
On his other side in the entertainment business this guy was soooo well respected in the oldies circles. These oldies stars whenever they were performing in the Toronto-Niagara area would always get in touch with him for interviews, his name was well known in the industry for a guy who really knew his stuff and they would go out their way to meet him...They would often say to him "How in the world did you know that". I know I spent some time with him interviewing Roy Orbison, Dean Torrence and they would be amazed. Freddie Cannon couldn't get over his knowledge of rock and roll.
I have some great photo's of Norm in his relaxed mode. He loved his music and the people who made it possible. When we M.C'd shows at Lulu's he would introduce his favourite serious type acts like Jerry Lee and Chuck Berry, Ray Charles etc. and wanted me to introduce the fun acts like Jan and Dean, The British Invasion, Donnie and Marie, you know acts like that. It worked out very well for both of us.
A very special thing happened to me a couple of years ago on my way to AM 740 to do my show. There was a huge traffic jam right out front of the old 108 building and at that VERY moment I was listening to one of Norm's tapes. I looked over at the second window where our studio was and listening to Norm's show at the same time ... and it was absolutely so moving ... I really miss him a lot and think of him quite often.

BURT THOMBS ... I remember finishing my Friday night oldies show in 1978 at McMaster University's CFMU when the host of the following show said that there was someone in the waiting room wanting to see me. It was Norman B, who stuck his arm out and said "let's go get a coffee." While there, he told me that he had been listening to my show for several months and wanted to know if I would be interested in doing a show at FM 108. He then said to meet him the following day and we'd have a meeting with Bill Evanov. The rest, as they say, is history.

Norm was my mentor, having stars call me on the phone or stop by the studio for an interview. He knew how much I loved this music and made sure I got the most out of the experience. He would take me backstage at many of the performances and introduce me to the people that I had long been a fan of. Frequently, when we'd be walking backstage, the stars would stick their head out of the door and recognize Norm immediately. They all knew and loved him because they realized how knowledgeable he was about their life and their career. He didn't ask the usual questions, he'd jump right in with a personal story that most people didn't know and they'd respond accordingly. He really knew his stuff and the performers realized that they weren't just talking to a run-of-the-mill fan.

A couple of years ago I had a chance to speak with Bobby Vee again. He said he remembered meeting me with Norm and he was aware that Norm had passed away and told me how he used to look forward to performing in this area, knowing that he'd be speaking to Norm afterwards. Fats Domino would also grant frequent rare interviews with Norm. I remember answering the phone and on the other end were people like Fats, Jimmy Clanton, Don Everly, Jimmy Rogers and so many more asking for Norm. He was truly a legend. After his passing, I wrote a letter to the Rock and Roll Hall of Fame in Cleveland asking them to consider Norm for their Announcer section, telling them of Norm's relationship with the people that they feature, his popularity among listeners in all of the cities in which he has worked. They didn't respond. Of course, they also didn't respond to Nevin Grant's request to have them consider Paul Anka for their museum.

I remember in the early days of Norm's radio career, while working at CKFH in Toronto, he received a call from a listener wanting to meet him for a coffee. The fellow was telling Norm of how he influenced his interest in music and inspired him to pursue a career in the industry. The caller was Paul Shaffer, later of the David Letterman Show.

My last memory of Norm was when my wife and I met him in a store in St. Catharines, many years after I left FM 108. Norm said how much he missed the good old days and that he was planning a reunion to get the "old gang" back together again. A couple of weeks later, he died. He accomplished his last objective to get the "old gang" back together again, at his funeral.

I will carry my memories of Norm close to my heart for an eternity. He shaped the way I view life and my love for the music that seems to be disappearing. Norm also taught me how valuable each and every friend is, and is instrumental in the many friends that I still treasure from the "old gang".


VERONICA YOUNG ... Words are a poor medium to express how one feels about a man like him, but I will try. I had the pleasure of working and spending some special times with Norman. His knowledge of music was legendary to his fans, friends, family and co-workers.

He touched my life in so many ways. He made me feel like "one of the boys," in spite of being in the minority. (There weren't many women in radio in those days.) I recall playing name that tune with him on many an occasion and would be thrilled to see his smile of approval when I knew the right answer. Frankie Lymon and the Teenagers... wow you knew who Frankie Lymon is????

Well I sure did Norman... which brings me to the last time I saw Norman in the Press box at Lulu's. He was interviewing one of the Teenager's (as in Frankie Lymon) He was in his element, I never saw him so happy. In fact I took a picture of him that night for posterity and his words still ring in my ears. Now that was an interview, sure was Norman. Save a place of me wherever you are. Imagine all the great stars of radio that you have interviewed. God speed, Norman, see you in the Music section. We all miss you. "to know You Is to Love You....


And a listener recalls Norman B....
CHRIS MAYBERRY ... Never met Norman, but I thought his shows were great and extremely informative.

I remember one time driving into the city (to Kops Kollectables, believe it or not, a place Norman helped me discover via his radio spots) and I heard Norman show on recording goofs and other studio outtakes. (Like John Phillips jumping the verbal gun on "I Saw Her Again Last Night", Bobby Lewis doing the same on "Tossin' and Turnin', a frustrated Little Richard failing to lay it down properly in the studio, and an angry Chuck Berry lashing out at his piano player for playing the wrong song.) The fact that I remember this show so vividly is a tribute to Norman B.'s style and research. His shows weren't just entertainment - you LEARNED something at the same time.

We contacted every former FM 108er on our e-mail list for this tribute. If you would like to leave a comment in tribute to Norm, please e-mail us here. Thanks to everyone who contributed.
---
Talent: CLINT TRUEMAN
Station: CING-FM (FM 108) Burlington, Ontario
Date: March 27, 1982
Time: 21:54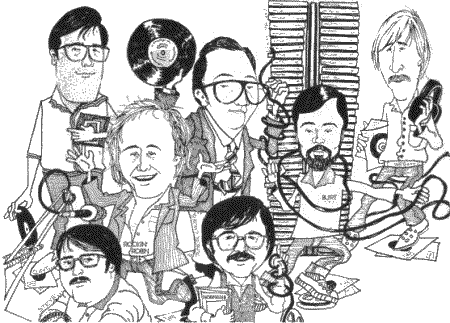 Back row (left to right): Clint Trueman, Rockin' Robin, Junior Chung, Burt Thombs, Wes Atkinson
Front row (left to right): Steve Richards, Norman B.
(Courtesy Rob Muir)
Anyone who worked at FM 108 in the 1980s would be familiar with the above cartoon. It was a caricature of the oldies jocks at the station and it was posted for years in the music library. The cartoon - by Ben Hicks - originally appeared on the FM 108 History of Rock and Roll Album and is dated April, 1981.
So what happened to the jocks portrayed above?
Clint Trueman: This long-time weekender stayed at FM 108 until the late '80s. In his day job, he has been a vice-president at Fujifilm.
Rockin' Robin: He was FM 108's evening jock for a decade before leaving in February, 1989 to go to the short-lived Canadian Radio Network. Since then, he has had stops at several southern Ontario stations, including CJRN Niagara Falls, CHML Hamilton, CHSC St. Catharines and AM 740 Toronto while continuing to operate his successful DJ service.
Junior Chung: Hosted not one but two reggae shows at FM 108 at one time and was also the station's operations manager. He left the station in 1994 to set up his own station in his native Jamaica. He died of cancer in July, 2005.
Burt Thombs: Did the Saturday afternoon slot at FM 108 throughout most of the '80s, even adding Saturday nights to his schedule for a time late in the decade. Burt helped reprise the FM 108 years by co-hosting the Gold and Great Revival Show on the Internet with Rockin' Robin in 2003-04. He was also at WJJL Niagara Falls, New York, for a time in the late '90s. In 2004, Burt retired from Dofasco after more than 30 years and returned to radio as a program host for a time at CKNS-FM in Caledonia, Ontario.
Wes Atkinson: The long-time FM 108 morning man left the station in the early '90s. After that, he jocked at CKYC (Country 59) Toronto and CIDC Orangeville, Ontario. He died March 2, 2008.
Steve Richards: Also known on-air as Steve Mortensen, he did the all-night show at FM 108 in the early '80s before moving to the Buffalo market at WJYE. By the 2000s, he was in England.
Norman B.: Continued as FM 108's program director into the '90s and remained in management when the station became Energy 108. Normie died January 19, 1997 of heart attack at the age of 53.
Hear Clint Trueman on FM 108 here.


(The Clint Trueman Collection)
---
Talent: ROCKIN' ROBIN
Station: CING-FM (FM 108) Burlington, Ontario
Date: 1982
Time: 9:41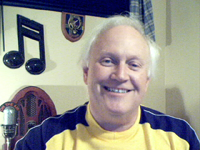 It was like turning back the hands of time.
For a few hours every night, listeners to Rockin' Robin's radio show on FM 108 not only heard the music of the '50s and '60s, but they also felt that they were back there again.
Robin did more than play great oldies - he actually sounded like a '50s and '60s deejay. And he entertained with humour, crazy on-air antics, listener call-ins, upbeat music and fast pacing. It was fun, happy radio that left the audience wanting more and made Robin one of southern Ontario's most popular oldies deejays.
Robin spent 10 years at FM 108, leaving in 1989 for a couple of years at the Canadian Radio Network. Since then, he's appeared on CJRN Niagara Falls, CHML Hamilton, CHSC St. Catharines and AM 740 (CHWO) Toronto. And when he isn't jocking on air, he's jocking at dances.
Rock Radio Scrapbook is pleased to present Rockin' Robin on FM 108 here.

(The Rockin' Robin Collection)
---
Talent: RUSS HORTON
Station: CING-FM Burlington, Ontario
Date: October 17, 1983
Time: 10:08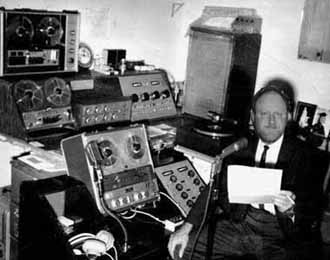 (Photo credit/Radio Samantha)

In its time, FM 108 in Burlington, Ontario, achieved legendary status in southern Ontario. Several years after its departure from the airwaves, that status has been upgraded to mythical. It was a great combination of classic oldies music and distinctive personalities that made FM 108 a station for the ages.
One of the best of these on-air talents was Russ Horton, who started as the all-night man in the early '80s, left, and then came back again as production manager and music director. But even more important than his on-air and radio management skills is his status as one of the truly nice guys of radio. Thanks Russ! And while FM 108 is long gone, you can still hear him on his Internet station, d-moos.com.
Russ talks about his time at FM 108...
"It was the most fun I've ever had in radio ... working with the oldies ... Norman B. was my mentor and everything I do today is a reflection of the things I learned at Canada's original oldies station.
First, Norman B., who introduced me to many of his close friends such as Fats Domino, Peter Tork, Bobby Vee and Ronnie Hawkins. The true veteran pros like Jim Paulson, Pat Murray and Earl Warren ... the screaming style of Rockin' Robin, a.k.a. Biondi North, Burt Thombs and Clint Trueman's Saturdays ... Wes Atkinson, Kenny Wells, Peter Jaycock ... wonderful memories ... once again FM 108 lives on!"
Enjoy Russ Horton on FM 108 from October 17, 1983 here.


(Scrapbook archives)
---
Talent: DON BIEFER
Station: CING-FM Burlington, Ont.
Date: June 23, 1984
Time: 5:46 (Upgraded 24-10-15)



He was a big talent with a big voice.
Don Biefer was a southern Ontario mainstay for two decades whose resume includes three tours of duty at Toronto's CKFH plus a stint at Toronto Top 40 powerhouse CFTR. He also jocked south of the border at WOLF Syracuse and in the Maritimes at CHSJ Saint John, New Brunswick. Interesting, Biefer spent the first half of his career entirely on AM radio, then the last half exclusively on FM at CING-FM (FM 108). He has also run his own DJ company, Pro DJ Service, which has been active since July 1968.
Enjoy "The Beef" on FM 108 here.


CAREER-AT-A-GLANCE: DON BIEFER
Jun

68-Feb 69 - CKLB Oshawa (6-11 p.m.)
Feb 69-Feb 70
-
CJSS
Cornwall (7 p.m.-Mid)
Aug 70-Nov 70 -
CHIC
Brampton (Overnights then Mornings)
Dec 70-May 71 -
CKLC
Kingston (Promotion Director/Swing Shift/Sat & Sun Mornings

M
ay 71-Feb 73
-
CKFH
Toronto (Overnights then evenings)
Feb 73-May 73 -
WOLF
Syracuse, New York (Morning show)
May 73-Sep 73 -
CKFH
Toronto (Evenings)
Sep 73-Dec 73 -
CHSJ
St. John, New Brunswick (Morning show)
Jan 74-Apr 74 -
CKFH
Toronto (Evenings)
Apr 74-May 75 -
CHAM
Hamilton (Swing and weekends)
May 75-Aug 78 -
CFTR
Toronto (All shifts)
Sep 78-Jan 88 -
CING-FM
Burlington, Ontario (Saturday mornings and part-time Swing)

(The Bill Dulmage Collection)
---
Talent: NORMAN B.
Station: CING-FM Burlington, Ontario
Date: January 26, 1985
Time: 5:29
The first time many Torontonians probably heard Norman B. was in 1967 at CKFH - then in its first year as a rock station. On a station that prided itself on being different, Norm was in his element, playing R&B tunes all night long on a show he called Where It's At. The sounds of James Brown, Otis Redding, Aretha Franklin, Muddy Waters and others filled the airwaves during Norm's 1-6 a.m. shift. Artists would routinely drop in for late-night on-air interviews with Norm after their gigs. They found out, if they didn't know it already, that Norm literally knew more about them than they knew about themselves. His knowledge was legendary.
One night, King Curtis heard Norm while driving around after a late-night gig. He was so impressed that he dropped into the CKFH studios unannounced for an interview. Curtis suggested to Norman that he change his air name from Norman Blakely to Norman B., just like legendary WLAC deejay John Richbourg had changed his on-air name to John R. Norm was so flattered (John R. was his radio hero) that from that point on he started calling himself Norman B. on the air. He used it for 30 years until his death in 1997.
In 1979, after a five-year "retirement" from radio, Norm returned to the air at all-oldies CING-FM (FM 108) in Burlington, Ontario. He started on late nights and then moved into the morning Golden Breakfast and assumed the post of program director. It was during his decade-plus as PD that the legend of FM 108 flourished.
By 1985, Norm was no longer doing a regular live show, concentrating on his PD duties and his taped interview and theme shows. But now and then he'd fill in for one of the jocks and the result was radio magic. Such was the case on January 26, 1985 when Norm subbed for Burt Thombs.
Hear Norman B. here.

(The Rockin' Robin Collection)
---
Subject: NORMAN B. interviews JOHN R.
Station: CING-FM (FM 108) Burlington, Ontario
Date: March, 1986 (rebroadcast of show originally aired 1982)
Time: 26:14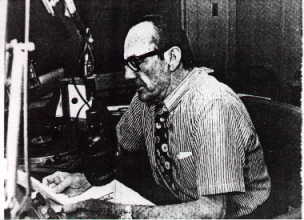 John R. at the WLAC microphone
Many deejays get their inspiration from other jocks. In the case of Norman B., that inspiration came from John R.
Also known as John Ritchbourg, John R. was one of rock radio's greatest pioneers. For 30 years, via his late-night show on WLAC Nashville, John R. played black R&B artists before anyone else did. Some, like James Brown, Aretha Franklin, Chuck Berry and Little Richard, would go on to become Hall of Famers. Read more about "Gentleman John R." here.
Norman Blakely entered broadcasting after graduating from Toronto's Ryerson Polytechnical Institute in 1965. Norman loved R&B and was a big fan of John R., and it was that influence that led him to use the name Norman B. on the air. You can read the Norman B. story here.
Norman interviewed John R. on FM 108 in 1982. After John R. died on February 15, 1986, the show was re-broadcast. Enjoy their conversation, as one legend interviews another, here.

(The Mark Panopoulos Collection)
---
Talent: BURT THOMBS
Station: CING-FM Burlington, Ontario
Date: March 19, 1988
Time: 4:20
FM 108 was an oldies station for 12 years and for much of that time Burt Thombs was a key part of its lineup. He is perhaps best remembered for his long-running Saturday afternoon show during which he played many of the so-called "true oldies" - the period from 1955 to 1963. In fact, Burt tells us he turned off his radio in 1969, unimpressed by the direction music and radio was taking at that time. But Burt set out to fix that at FM 108 with his show that featured rare tracks - followup hits, answer songs, doo-wop - the ones that are not played on oldies radio today.
By 1988, Burt was near the end of his stay at FM 108. At that time, he was on both Saturday afternoons and nights. By 1989, the station began to move in a new direction that would eventually see it become Energy 108 and much later - after a frequency change - Country 95. In 2009, it switched to a '60s, '70s and '80s format as Vinyl 95.
Hear Burt Thombs on FM 108 here.

(The Dale Patterson Collection)
---
Talent: CLINT TRUEMAN
Station: CING-FM (FM 108) Burlington, Ontario
Date: June 18, 1988
Time: 46:54 (unscoped)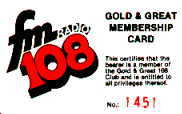 Imagine a commercial radio station that allowed jocks to program their own music.
Imagine they allowed - in fact encouraged - its air personalities to bring in their own records.
And imagine yet again, that those personalities were allowed to BE personalities, "do their own thing" on the air and not restricted to time, temperature and liner notes.
It happened at FM 108 (CING-FM) in Burlington, Ontario. In 1978, two years after signing on with an easy-listening format, FM 108 started playing oldies late at night. The oldies became so popular that the station began playing '50s and '60s music in other day parts, including morning drive. Eventually you could hear the oldies all day long. It lasted a dozen years.
But FM 108 didn't just play the oldies. Program director Norman B. encouraged the jocks to "do their own thing" on the air, and that included letting them program their own shows and even bring in their own records (yes, they played records). That led to a wide variety of personalities, and an incredible assortment of songs and musical genres. No 300-song playlist here! It was what made FM 108 special, both to the on-air talent and the listeners.
This aircheck, donated by long-time FM 108 personality Clint Trueman, contains many of the station's great voices. Bob Sheppard and Tony Campbell (news) are here, along with Earl Warren and Casey Togtema, Mike Spicer, Jim Paulson, Rockin' Robin, Russ Horton (on tag) and Burt Thombs (news intro). And Trueman spins the great hits of the '50s and '60s near the end of his 10-year stay (1979-89) at Canada's first FM oldies station.
Enjoy Clint Trueman on FM 108 here.

(The Clint Trueman Collection)



Rock Radio Scrapbook pays
online streaming fees to the
Society of Composers, Authors and Music Publishers of Canada (License 22-F)

---
Talent: CLINT TRUEMAN
Station: FM 108 Burlington, Ontario
Date: August 6, 1988
Time: 10:34
FM 108 was about much more than music - it was about personalities. One of the most memorable was Clint Trueman, the smooth-voiced announcer who provided many hours of golden memories throughout the years at 107.9. In 1988, Clint's relaxed and personable style could be enjoyed on Saturday mornings.
This aircheck is a smorgasbord of FM 108 announcers. You'll also hear Norman B. doing a Lulu's commercial, Earl Warren and Casey Togtema with a couple of their classic Ontario Jeep-Eagle spots, and Russ Horton and Jim Paulson teaming up in yet another commercial.
Hear Clint Trueman here.

(The Clint Trueman Collection)
---
Talent: JIM PAULSON
Station: CING-FM (FM 108) Burlington, Ontario
Date: July 3, 1989
Time: 20:58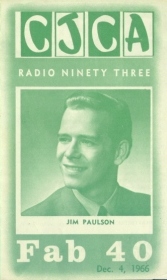 (CJCA chart courtesy Russ Horton)
Jim Paulson is well-known for his work at easy-listening stations like CKEY and CHFI Toronto, CING-FM (FM 108) in Burlington, Ontario, and CHWO (AM 740) in Oakville, Ontario. But his roots are in Top 40 radio.
Paulson rocked the airwaves in the '60s at Top 40 giants like CJCA Edmonton, CKRC Winnipeg and CFUN Vancouver. It wasn't until he arrived in Toronto in the '70s that he made his mark as a smooth-sounding host on easy-listening radio formats. Born to be behind a microphone, the Edmonton native also became a highly sought-after voice-over talent. He was also an emcee at the Toronto Molson Indy and auto racing events at the Mosport racetrack in southern Ontario.
After 1970s stints at CHFI-FM and CKEY, Paulson moved to CKQT-FM in Oshawa, Ontario, in 1982. The following year, Paulson began an eight-year stay at oldies outlet FM 108. In 1991, he moved a few kilometres down the QEW from Burlington to Oakville for a lengthy stint at AM 740. This gentle, friendly man with the quiet wit was still doing a couple of weekly shows there when he died February 13, 2007. He was 67.
Enjoy Paulson - and Roger Ward with the BN Report - at FM 108 here.

(The Dale Johnson Collection)
---
And last, but not least...
The FM 108 Jingle Collection (0:45)

(Contributor: Tracy Carman)
---
RETURN TO FM 108 GOLD AND GREAT