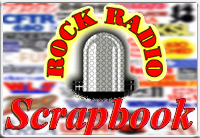 Airchecks: 1957
Talent: ALAN FREED
Station: WINS New York
Date: January 25, 1957
Time: 17:58


Much has been written and said about Alan Freed, the pioneering deejay known as The King of The Moondoggers. But here's a few interesting tidbits about Freed that you may not be aware of:

- He was originally a classical music announcer, and was quite knowledgeable about that genre of music.

- Freed was a tee-jay (we now call them vee-jays) at WXEL-TV in Cleveland for a short time in the late '40s.

- He played trombone, and once had his own band, the Sultans of Swing.
- At one time, his syndicated show was heard on Radio Luxembourg.

- Late in his career, Freed did an all-night jazz show at KNOB in Los Angeles.
- His middle name was James.
- He had three children, Lance, Al, Junior, and Alana.
- He was married three times.
- Studied engineering at Ohio State University, but didn't graduate.
- Served in the U.S. Army, in the Ski Patrol.

- He once applied for a job at CBS but they told him to "find a better profession."
In 1957, Freed was doing a "split-shift", that is working two separate airshifts in one day. It was a common practice at the time. Freed did his After School Rock from 3:30-4:25 p.m., then came back for the Rock 'N' Roll Party from 7-11 p.m. We can only assume his young listeners did their homework between 4:25 and 7:00 p.m.
To hear Alan Freed, click here.

(The Frank Quarantini Collection)
---
Talent: JOE NIAGARA
Station: WIBG Philadelphia
Date: June 2, 1957
Time: 29:10 (unscoped)
10:22 (scoped)

For seven decades, the Rockin' Bird flew on the Philadelphia airwaves.
Joe Niagara got his start in radio a couple of months before his 20th birthday in 1947 at WDAS in his hometown of Philadelphia. Born Joseph Nigro, on July 4, 1927, Niagara took his name from - you guessed it - Niagara Falls. He moved to his long-time home of WIBG in 1949 and got his handle "Rockin' Bird" in 1957 when "Wibbage" became one of America's first 24-hour Top 40 stations. The nickname came from WIBG's station manager, who borrowed it from the Peggy Lee song Listen to the Rockin' Bird.
Niagara left WIBG in 1959 in the midst of the payola scandal (even though he wasn't personally involved.) He was at Los Angeles stations KPOP in 1959 and KBIG from 1960 to 1962 before returning to WIBG where he stayed until 1970. He also did a one-hour afternoon dance show on WIBF-TV in the 1960s. Niagara came back to WDAS in 1971 - this time spinning oldies - and would later work at several other Philadelphia stations, including WFIL, WCAU AM and FM, WIFI-FM and WPEN. It was at WPEN Niagara got himself in the Guinness Book of World Records by playing Stardust 500 times, one rendition a day for two years.
Niagara retired from his weekday WPEN show in 1999 at the age of 72, but continued with a weekend shift there for three more years. An era in Philadelphia radio ended June 4, 2004 when Niagara passed away a month shy of his 77th birthday.
Joe Niagara is heard on WIBG (UNSCOPED) here.

Joe Niagara is heard on WIBG (SCOPED) here.




(The John Harrison Collection)
---
Talent: JOCKO HENDERSON
Station: WOV New York
Date: June 10, 1957
Time: 10:59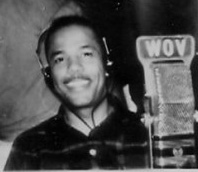 "Eee-tiddlee-dock, this is the Jock!"
"Oo-papa-doo, how do you do?"
Rhymin', jivin' and jockin' - that was Jocko Henderson, the fast-paced deejay often called the original rapper.
He was born Douglas Wendell Henderson, on March 8, 1918 in Baltimore. His father wanted him to become a teacher, but he was bitten by the radio bug in his first radio job at WBAL Baltimore in 1950. Six months later, he was off to WHAT Philadelphia, where he took the on-air name Jocko. He soon moved to Philly station WDAS and never looked back.
Henderson was more than just a jock - he was also a music promoter and a stage performer in his own right in the way he introduced the acts. He would enter the stage on a rocket ship suspended by wires, accompanied by sound effects and smoke. Now that must have been be a sight to see!
After seven years at WDAS, he started doing a live morning show at WLIB New York. At the same time, he also continued his live afternoon show at 'DAS - commuting back-and-forth from New York and Philadelphia. Later, he dropped the morning show at WLIB but added an evening gig at WOV (later WADO) while still doing afternoons at WDAS and commuting every day. Eventually, the travel got to be too much for him so he taped the New York show while adding several other cities to his network. He still did the WDAS gig live and continued there until 1974.
In the '80s and '90s, Henderson entertained a whole new generation of fans at New York oldies station WCBS-FM. He made several on-air appearances at the 'CBS deejay reunions and still sounded as fresh as ever playing the tunes he helped make famous so many years ago.
This popular and personable announcer died July 15, 2000 in Philadelphia after a long illness. He was 82.
Hear Jocko Henderson on WOV here.

(The Russ Horton Collection)
---
Talent: ALAN FREED
Station: WINS New York
Date: June 10, 1957
Time: 30:19 (unscoped)
4:48 (scoped)
More Alan Freed!
Enjoy Alan Freed on WINS (UNSCOPED) here.

Enjoy Alan Freed on WINS (SCOPED) here.

(The Tom Howard and Joe Fazio Collections)
---
Talent: JOE NIAGARA
Station: WIBG Philadelphia
Date: July 9, 1957
Time: 14:19
More of the Rockin' Bird!
Joe Niagara is heard on WIBG here.




(The Sam Ward Collection)
---
Talent: HARVEY DOBBS
Station: CHUM Toronto
Date: July 17, 1957
Time: 34:07 (unscoped)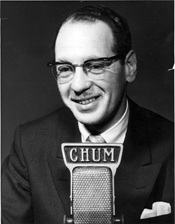 (The CHUM Archives/Doug Thompson)
Harvey Dobbs sang his way onto the airwaves.
Dobbs got his start in radio after a visit to a Montreal nightclub. The customers were expected to sing and an agent who heard Dobbs warble a tune was impressed. It led to a job as a singer at a Montreal radio station and a career was born.
Dobbs had been in radio some 25 years and was in his eighth year at CHUM when the station switched to a Top 40 format on May 27, 1957. A lover of classical music, Dobbs wasn't a big fan of rock 'n' roll but made the adjustment to become CHUM's first late-morning jock in the rock era. "Your Little CHUM" did the 9 a.m.-noon shift until February 1959 when he moved into sales. He was replaced in the late-morning shift by John Spragge.
Dobbs also co-hosted Canada's first Canada-wide radio quiz show Did I Say That? and hosted Herman Harmonies on CFRB for 10 years prior to his arrival at CHUM. He died September 7, 1984 at the age of 72.
This aircheck was recorded less than two months after CHUM went to a Top 40 format on May 27, 1957, and is the earliest full-length CHUM aircheck we've found. It was originally taped by Kal Raudoja; the music has been restored by Charlie Ritenburg who also added a jingle at the beginning that wasn't there in the original broadcast. Very little rock 'n' roll here, the music is aimed at the housewives (as they were called then) - CHUM saved the rock 'n' roll when the kids were out of school.
Enjoy Harvey Dobbs on CHUM (UNSCOPED) here.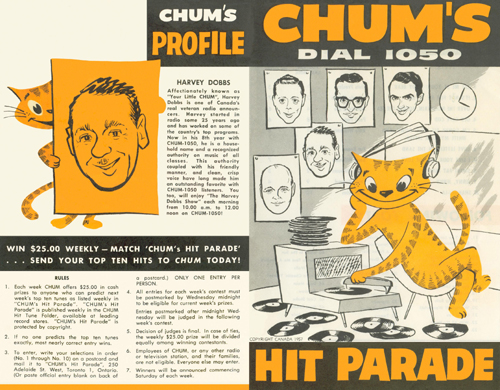 (Chart scan courtesy Ron Hall)
(The Kal Raudoja Collection via Charlie Ritenburg)
RESTORATION by Charlie Ritenburg



Rock Radio Scrapbook pays
online streaming fees to the
Society of Composers, Authors and Music Publishers of Canada (License 22-F)

---
Talent: JOSH KING
Station: CHUM Toronto
Date: 1957
Time: 1:28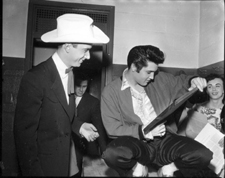 (Josh King with Elvis backstage at Maple Leaf Gardens, April 2, 1957/Courtesy Doug Thompson/The CHUM Archives)
May 27, 1957 dawned like any other day in Toronto - except that for the first time it had a full-time Top 40 station.
Phil Ladd (6-9 a.m.) was the first morning man, followed by Harvey Dobbs (9 a.m.-noon). Then it was Josh King (noon-1 p.m.), Phil Stone (1-5 p.m.), Pete Nordheimer (5-7 p.m. and again 9 p.m. to midnight). Hank Noble (midnight to 6 a.m.) rounded out the first-day schedule.
Oddly, no mention of the format change was made in that week's Toronto Star or Globe and Mail, and not a single advertisement appeared.
Josh King's noontime show was called "Country Caravan." King was a carryover from the CHUM's pre-rock era having made his first appearance on the station in 1951 with a show called "CHUM Valley." King's Country Caravan was gone from the CHUM schedule by mid-January 1958, with Al Boliska adding the noontime show to his morning show duties.
Rock Radio Scrapbook presents Josh King here.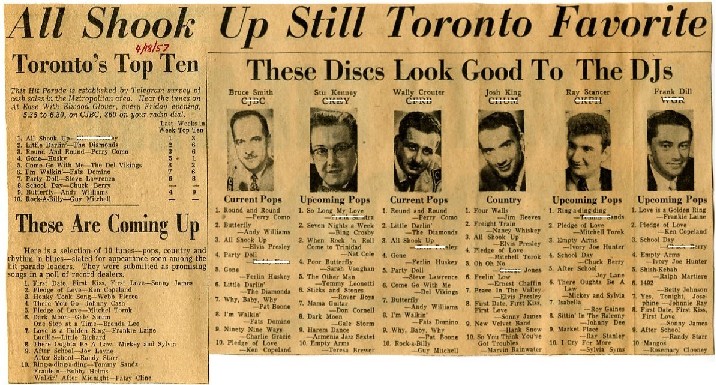 (Some deejay surveys from 1957/Credit: Jon Pearkins)
(The Mark Panopoulos Collection)
---
Talent: RED ROBINSON
Station: CKWX Vancouver
Date: September 14, 1957
Time: 46:29 (unscoped)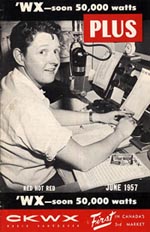 Before CFUN and CKLG, there was CKWX.
The Vancouver outlet was the first station in Canada's third-largest metropolitan area to adopt a full-time Top 40 format. CKWX's initial Sensational Sixty chart appeared in 1958, the year after Red Robinson arrived for the first of his three stints at the station. An early lineup from September, 1958 shows Robinson along with Bill Davis, Norris McLean, Cal George, Bob McGavin and Ross Crain. Robinson actually did a split shift - common for the era - appearing from 3:05 to 5 p.m. and again from 10:20 p.m. to midnight.
Many jocks came and went at CKWX before the station began phasing out Top 40 around the fall of 1961. Jim Robson, later the Voice of the Vancouver Canucks, did mornings for a time. There was Buddy Clyde with his "squeeze horn." Keith Rich and Steve Woodman did mornings before moving to WNBC New York. Other CKWX air personalities during the Top 40 era included Jim Waddell, Norm Grohman, Barrie Clark, Nick Sands, Andy Laughland, Ray Willes and Del Erickson.
By 1962, the latest vestige of CKWX's Top 40 format was Robinson's Platter Party show, heard weeknights 7 p.m.-midnight. When Robinson signed off for final time on March 16, 1962 so did CKWX's short but groundbreaking life as a Top 40 station. Robinson went to CFUN, which had morphed into a Top 40 station by the summer of 1960. CKLG joined Vancouver's Top 40 wars in August, 1964. But we should never forget CKWX, the station that started it all for Top 40 fans in Vancouver.
Enjoy Red Robinson on CKWX here.

(The Sam Ward Collection)



Rock Radio Scrapbook pays
online streaming fees to the
Society of Composers, Authors and Music Publishers of Canada (License 22-F)

---
Talent: BRIAN FORST
Station: CJOR Vancouver
Date: September 14, 1957
Time: 14:29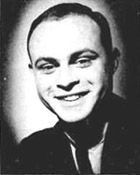 Brian Forst went from rock to talk in a career lasting nearly half a century.
After graduating from high school in 1956, Forst interned at CKWX then worked at CKPG Prince George, B.C. By 1957, he had moved to CJOR Vancouver where he was chosen as a "Teen Jock." After stops reading news at CKNW in 1958, and a gig at then-MOR-formatted CKLG in 1959, Forst returned to the Top 40 airwaves at CFUN in 1960, which switched to a rock format on March 10 of that year. It was there Forst acquired the nickname of "Frosty", and became a Good Guy along with the likes of Al Jordan, Brian Lord, Dave McCormick and Jerry Landa.
In 1964, on the advice of his father, Forst left the Top 40 wars forever for a spot at CKNW, then better known for orchestra music than rock 'n' roll. He spent the next 40 years at 'NW, the last 31 in mornings as the station became full-time news and talk. Forst did his final CKNW show May 20, 2005, ending a radio career of nearly half a century.
Hear Brian Forst on CJOR here.

(Courtesy Ted Wendland, radiowest.ca)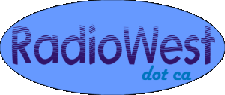 Be sure to visit radiowest.ca, a superb radio site hosted by Ted Wendland. Airchecks, jingles, photos, logos, history and forums - radiowest.ca has it all. Rock Radio Scrapbook says thanks Ted for sharing this aircheck.
---
Subject: CJOB PROMOTIONAL DISC
Station: CJOB Winnipeg
Date: 1957-58
Time: 15:54
l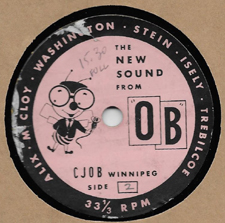 "The New Sound of 'OB"
Jack Blick, CJOB co-founder, hated rock 'n' roll.
How much did he hate it?
In the mid-to-late '50s, Blick banned rock 'n' roll programming and replaced it with easy-listening. He also held a contest awarding a prize to the contestant who could break a record into the most number of pieces. The winner was a Toronto ad agency time buyer who used a Black & Decker sander to grind a rock 'n' roll record into fine dust.
This promo details "The New Sound of 'OB" which began October 8, 1957 (the station also changed frequencies the same day, moving from 1340 to 680). The new format contained lots of polkas, easy-listening and not a drop of rock 'n' roll. It also contained some of Winnipeg's leading air personalities, collectively known as the "Five Happy Fellows". Here's how the CJOB lineup looked in 1957, as described in the CJOB promotional disc below.

6-9 a.m. "Red" Alix "Wake-Up Winnipeg"

9-11 a.m. - George McCloy "Ladies Choice Show"
11 a.m.-12 noon - "Red" Alix
12 noon-2 p.m. - Bob Washington "The Noon Show"
1-2 p.m. - Bob Washington "Western Show"
2-4 p.m. - George McCloy "Ladies Choice Show"
4-7 p.m. - Bob Washington and Doc Steen
7-8 p.m. - Doc Steen
8-10 p.m. - CJOB Drama Theatre
10:15-10:30 p.m. - When Day is Done
10:30-12 midnight - Dreamland Special
12 midnight-6 a.m. - Wee Ray "Night Owl Show."
Hear the CJOB promotional disc here.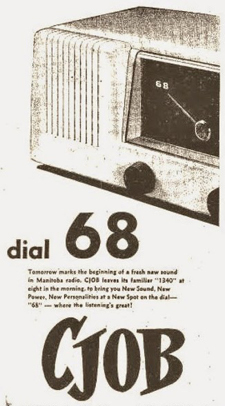 (The David Lennick Collection)
---