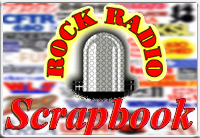 Airchecks: 1958
Talent: FRANTIC ERNIE DURHAM
Station: WBBC Flint, Michigan
Date: 1958
Time: 9:18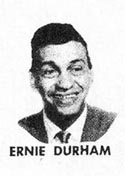 He started in newspapers, moved to radio news, but found his real niche as a deejay. His name was Ernie Durham, a.k.a. The Frantic One or Ernie D.
Son of a banker and a nurse, the New York-born Durham came to radio quite by accident. His original career path was journalism: he got his masters degree in journalism from New York University and by the mid-'20s was working for the leading black newspaper the Pittsburgh Courier. Later, he was doing radio news in New York when a deejay took ill at the last minute. Durham was asked to fill in. He liked it so much he became a full-time deejay and left the news business behind.
By the 1950s, Durham had become one of Michigan's top rhythm-and-blues deejays. He was such in demand that for a time he worked at two stations - WBBC in Flint and WJLB in Detroit. According to David Carson's book Rockin' Down the Dial: The Detroit Sound of Radio, Durham would finish his WBBC show while his closing theme was playing, then race to Detroit with his opening theme having started!
As you'll hear on this aircheck, Ernie Durham was truly "frantic," rapping and rhyming his way through every break. Behind the scenes, however, Durham was a savvy businessman who passed up the club and party scene. Back in the days where deejays picked their own tunes. Durham played a big part in introducing many a Detroit act to the Michigan audience, including a young Smokey Robinson.
Durham later went to work at WJLB's successor, WQBH, and was also at WJR in Detroit. In 1992, he returned to the airwaves to host a Saturday night r&b oldies show on another Detroit station, WDET-FM. He died December 2 of that year after suffering from chest pains.
To hear Frantic Ernie Durham, click here.

(The Rex Doane Collection)
---
Talent: MAD DADDY
Station: WJW Cleveland
Date: February 8, 1958
Time: 30:42 (Part 1, unscoped)
7:42 (Part 1, scoped)
29:49 (Part 2, unscoped)
10:16 (Part 2, scoped)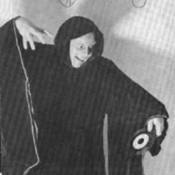 "Your ding-dong daddy."
He was one of rock 'n' roll radio's zaniest characters, a man whose time came and went far too quickly.

San Francisco-born Pete Myers introduced the wild antics of Mad Daddy to WHKK in Akron, Ohio in 1957. He had travelled cross-country from KCBQ San Diego where he was struggling to find work as an actor. A certified genius (his IQ was 175(, Mad Daddy moved his rhyming, fast-paced patter to WJW Cleveland in 1958 then zipped over to cross-town rival WHK later that year for twice the money. Myers moved to New York in 1959 but his manic antics and spooky laugh did not play well at WNEW. He lasted exactly one shift at staid old 'NEW as Mad Daddy but continued there as "lovable, laughable Pete Myers." He revived his Mad Daddy personna in WINS from 1963 until the station went to an all-news format in 1965.

Myers, an excellent middle-of-the-road announcer in his own right, returned to that style at WNEW-AM from 1965 to 1968. He shot himself to death on October 4, 1968. The New York Times reported that a note was found near his body saying Myers was despondent about his shift moving from afternoons to evenings.
Enjoy Mad Daddy on WJW (Pt 1, UNSCOPED) here.

Enjoy Mad Daddy on WJW (Pt. 1, SCOPED) here.

Enjoy Mad Daddy on WJW (Pt. 2, UNSCOPED) here.

Enjoy Mad Daddy on WJW (Pt. 2, SCOPED) here.

(The Bill Dulmage Collection)
---
Talent: HARVEY DOBBS
Station: CHUM Toronto
Date: May 15, 1958
Time: 45:09 (unscoped)
26:57 (scoped)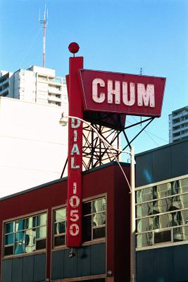 The famous CHUM sign at 1331 Yonge Street in Toronto, where the CHUM studios were from 1959 to 2009

It is incorrect to say that CHUM became a 24-hour a day, seven-day week rock 'n' roll station on May 27, 1957. For one, they still had some ethnic and religious programming on their schedule. And they didn't even play rock 'n' roll all the time. Evidence of that can be found on this aircheck from May, 1958, about a year after CHUM supposedly became a full-time rock 'n' roll station. The music is decidedly MOR and the appeal is to homemakers (they called them housewives then) not teenagers. The teens got to hear their rock 'n' roll before and after school and at night. This kind of dayparting was commonplace in radio of the time.
Technically, CHUM didn't become and remain a full-time, 24-hour rock 'n' roll station until the mid'-70s, when John Gilbert's mid-morning talk show was dropped in 1977. Gilbert's show was preceded in the 1960s and '70s by Larry Solway's Speak Your Mind talk show. In the early '60s, CHUM even ran Moose Latreck's country music show in late evening, while playing easier-listening tunes by day.
Harvey Dobbs, a carryover from CHUM's pre-rock era, did the 9 a.m.-noon shift at CHUM when the station launched its Top 40 era in 1957. He left the airwaves in February 1959 to go into sales.
Enjoy Harvey Dobbs (UNSCOPED) here.

Enjoy Harvey Dobbs (SCOPED) here.

(The Kal Raudoja Collection via Don Shuttleworth)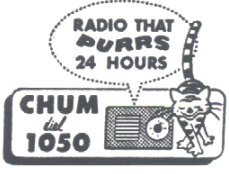 For more classic CHUM airchecks, visit The CHUM Archives
---
Talent: AL BOLISKA
Station: CHUM Toronto
Date: May 15, 1958
Time: 14:18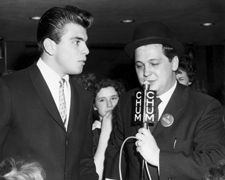 (Al Boliska with Fabian, 1959, The CHUM Archives)
Al Boliska is remembered as CHUM's zany 6-9 a.m. host from 1957 to 1963. Almost forgotten is the noon-1 p.m. lunchtime show he did during that period.
Boliska didn't like doing the noontime gig and played it pretty straight - no funny stuff (maybe he didn't want to use up his good material!) Ironically, this aircheck of Boliska not doing the comedy stuff he was famous for is the only aircheck of him that has surfaced. Still, it's always great to hear how CHUM sounded in the early days, and the commercials and musical selections make it a real period piece.
Enjoy Al Boliska on CHUM here.

(The Kal Raudoja Collection)
AUDIO ENHANCEMENT by Andy Rebscher
---
Talent: ARNIE GINSBURG
Station: WBOS Boston
Date: Spring, 1958
Time: 5:54

On this aircheck, we hear a rather subdued Arnie Ginsburg in his last year at WBOS. No bells or cowbells and only a couple of toots on the whistle here - they would soon be a major part of his act at WMEX - just Ginsburg with the Older Records Hour.
Enjoy Arnie Ginsburg on WBOS here.

(The Sam Ward Collection)
---
Talent: GEORGE "HOUND DOG" LORENZ
Station: WKBW Buffalo, New York
Date: May, 1958
Time: 3:28 (Upgraded 12-5-15)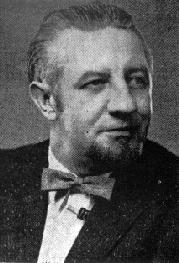 Nineteen-fifty-eight marked the beginning of one historic era at WKBW and the end of another.
On July 4, 1958 - as rock 'n' roll continued to sweep the world - WKBW went to a full-time Top 40 format. While WKBW had played rock 'n' roll before, it had not done so on a 24-hour basis. (To compare before and after lineups, click here.)
The beginning of WKBW as a Top 40 station marked the end of the legendary George "Hound Dog" Lorenz's involvement with the station. He had joined 'KB in 1955 and shook things up with a rock 'n' roll show in the evening and his Hound Dog Hit Parade on Saturday mornings. Not everyone liked his act - church bulletins railed against him - but the Hound just kept right on rockin'. His son Frank - quoted in Wes Smith's excellent book Pied Pipers of Rock 'N' Roll - says of his father "he felt very strongly about the music and black artists in particular. He fought hard to keep their music on the radio."
Lorenz did not wish to work within the confines of Top 40 radio so he left WKBW before the switch. He went on to found WBLK-FM - one of the first black music stations on FM - before passing away in 1972 at the age of 52.
Enjoy Hound Dog Lorenz on WKBW from May, 1958 here.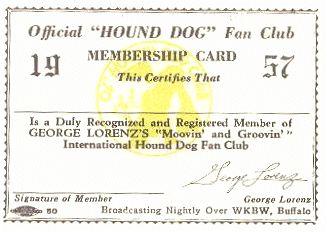 (The Dan Haber Collection)
AUDIO ENHANCEMENT by Andy Rebscher
---
Talent: IRV SMITH
Station: WINS New York
Date: October 30, 1958
Time: 5:35 (Upgraded 3-3-12)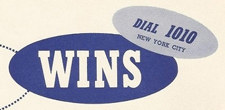 Long before Musicradio WABC and the WMCA Good Guys, there was WINS.
WINS was a pioneer in Top 40 radio, beginning with the arrival of Alan Freed at the New York station from Cleveland. Freed memorably handled the night-time shift at WINS from 1954 to 1958, before heading first to obscurity and then to the grave in the wake of the payola scandals.
According to a September 30, 1957 schedule in the excellent book The Airwaves of New York, WINS began its mornings with Wake Up To Irv with Irv Smith - A Smith Named Irv. That was followed in late mornings with Listen to Lacy with Jack Lacy. In middays, it was the High Noon to 3 Orbit Universe with Stan Z. Burns. Lacy returned from 3-7 p.m. (split shifts were common in radio then), followed by Alan Freed from 7-11 p.m. Stan Shaw handled the all-night duties.
On January 31, 1959 - about three months after this aircheck was recorded - Smith was killed in a car accident. He was 30.
Hear Irv Smith on WINS here.

(Scrapbook archives)
AUDIO ENHANCEMENT by Andy Rebscher
---
Talent: JACK LACY
Station: WINS New York
Date: October 30, 1958
Time: 6:35
"Listen To Lacy / A Guy With A Style /
Spinning The Discs With Finesse (Yes Yes)
You Just Set Your Dial To 1010 Awhile / TO W I N S /
You Should Listen, You Should Listen Every...DAY..../ When Jack Lacy Comes Your Way."

For years, Jack Lacy was a regular afternoon presence at WINS New York, one of the Big Apple's pioneering rock 'n' roll stations. WINS began playing rock 'n' roll full-time around 1956 and featured such legendary performers as Alan Freed, Murray the K, Stan Z. Burns, Paul Sherman, Mad Daddy (Pete Meyers) and Johnny Holliday.
The good times at WINS as a music station were relatively short-lived, however. In 1965, WINS became one of the first stations in the U.S. to switch to a 24-hour news format, a precursor of things to come in AM radio.
Jack Lacy died in 1996 at the age of 79.
Listen to Jack Lacy on WINS here.

(Scrapbook archives)
---
Talent: IRV SMITH & JACK LACY
Station: WINS New York
Date: October 30, 1958
Time: 30:27 (unscoped)
17:58 (scoped)
The above two airchecks combined with the music!
Hear Irv Smith and Jack Lacy on WINS here. (UNSCOPED)

Hear Irv Smith and Jack Lacy on WINS here. (SCOPED)

(Scrapbook archives)
---
Talent: MAD DADDY
Station: WHK Cleveland
Date: November 11, 1958
Time: 58:28 (unscoped)
More of the legendary Mad Daddy!

Hear Mad Daddy on WHK here.

(The Sam Ward Collection)
---
Talent: GENE WEED
Station: KFWB Los Angeles
Date: November 23, 1958
Time: 37:24 (unscoped)
17:21 (scoped)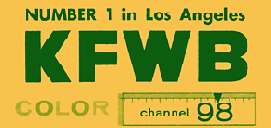 Gene Weed went the whole nine yards at KFWB, or more accurately - the entire 10 years.
The "Weedy One" lasted the entire music era at KFWB, beginning with "Color Radio" right up to the final show on March 10, 1968. He came to KFWB from the Armed Forces Radio and Television Servicein Los Angeles, after previous gigs in Dallas, Omaha and Miami. Weed did every shift at KFWB and later became assisistant program director under PD Jim Hawthorne. After KFWB went all-news in 1968, Weed wrote and produced several television series for Dick Clark Productions. Winner of countless TV awards, Weed died of lung cancer August 5, 1999.

Enjoy Gene Weed on KFWB from November 23, 1958 (UNSCOPED) here.

Enjoy Gene Weed on KFWB from November 23, 1958 (SCOPED) here.

(The Don Shuttleworth Collection)
---
Talent: RUSS CONRAD
Station: KEX Portland, Oregon
Date: December 13, 1958
Time: 46:19 (unscoped)
14:42 (scoped)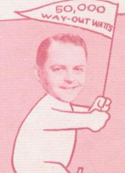 Russ Conrad was the king of the night at KEX.
While he worked virtually every shift at the Portland station either as a full-timer or fill in, Conrad was best known for his time on the all-night show, where he entertained for 14 years beginning in 1961. The Wyoming native started in broadcasting at KPFM Portland in 1946, and began his long career at KEX the following year. Conrad would spend most of the next 28 years at KEX, with stints in mornings, middays, afternoons and evenings, before moving to the all-night show. He did double-duty from 1963 to 1968 doing color on Portland Beavers games with play-by-play man Bob Blackburn. Conrad would broadcast the games in the evenings, then drive to the station to do the all-night show. "I don't know how I did it --- six nights a week and double-headers on Sunday --- except that I loved the game."
After leaving KEX in 1975, Conrad joined KYXI Portland as a news anchor and sportscaster. He passed away in 1985 about a week after winning a special "Bill Hayward Merit Award" for his years as a sports announcer. Conrad was 63, and suffered from cancer.
Enjoy Russ Conrad on KEX (UNSCOPED) here.

Enjoy Russ Conrad on KEX (SCOPED) here.

(The Dan Steeves Collection)
---