k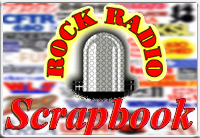 Airchecks: 1963
Talent: MURRAY "The K" KAUFMAN
Station: WINS New York
Date: 1963
Time: 3:02 (Upgraded 3-3-12)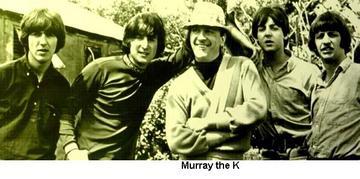 Known primarily for his work in New York and Los Angeles, Murray "The K" Kaufman has a Canadian connection.
The Manhattan-born Kaufman was part of the original progressive rock lineup of Toronto's CHUM-FM in 1968. Kaufman held down the 6-8 p.m. shift and lived in Toronto in the summer of '68 before moving on.
Kaufman was one of New York's hottest deejays from the late '50s to the mid-'60s. His Swingin' Soiree show, which originally aired in the overnight period, skyrocketed to popularity after he succeeded scandal-tainted Alan Freed in 1959 in the evening spot on 1010 WINS. Kaufman increased his profile by hosting rock 'n' roll shows four times a year at Brooklyn's Fox Theatre. His penchant for playing all kinds of music - from pop to R&B to Sinatra - boosted his listenership into the stratosphere. Kaufman's stock was further raised when the Beatles sought him out and let him be their unofficial spokesman in America during their historic first tours of America in 1964. He quickly became known as the Fifth Beatle.
After WINS switched to all-news in 1965, Kaufman moved to WOR-FM, which became North America's first progressive rock station in 1966. Already a Top 40 pioneer, Murray "The K" became a driving force in the fledgling album rock format.
In the '70s - his place in rock radio history secure - Kaufman moved on to stints at New York stations WNBC and WKTU and served as a consultant on the production of Beatlemania. He also appeared on NBC's Monitor.
Murray "The K" gained international exposure in the early '80s with his syndicated program Soundtrack of the '60s. But he had to withdraw from the show after a year because he was ill with cancer. The six-time married Kaufman died February 21, 1982, shortly after his 60th birthday.
Kaufman was inducted into the Radio Hall of Fame in 1997.
Enjoy Murray "The K" on WINS here.

(Scrapbook archives)
AUDIO ENHANCEMENT by Andy Rebscher
---
Talent: RON LUNDY
Station: WIL St. Louis
Date: January 4, 1963
Time: 35:01

"I never heard anyone as happy on the air." - Dennis Elsas
He was one of Top 40 radio's most joyful presences, and it wasn't an act. Ron Lundy loved being on the air and it showed. He began every show with a boisterous declaration of "Hello Luv!" and the good feelings just spread from there.
Like many a jock, Lundy got his start in his hometown. Born in Memphis on June 25, 1934, Fred Ronald Lundy did his first on-air shift at Memphis station WHHM when the regular deejay didn't show. Before long, Lundy had a full-time shift at WDDT in Greenville, Mississippi, and from there he went to WLCS in Baton Rouge, Louisiana.
In 1960, WIL program director and on-air personality Dan Ingram brought Lundy to the St. Louis station. The two would become life-long best friends. Ingram left WIL for WABC New York in 1961 but four years later - on Ingram's recommendation - Lundy was hired at WABC. Lundy debuted on the WABC all-night show on September 1, 1965 - where he called himself The Swingin' Nightwalker - but moved to middays in May, 1966.
Lundy was WABC's midday jock for the next 16 years, right up to the last Musicradio show which he co-hosted with Ingram on May 10, 1982. Lundy became so identified with WABC that a brief aircheck of him was used in the 1969 film Midnight Cowboy (when character Joe Buck arrives in New York City.)
In February, 1984, Lundy returned to the airwaves in the 9 a.m.-noon shift at oldies-formatted WCBS-FM. Former WCBS-FM program director Joe McCoy says the shift was created especially for Lundy, who once again followed morning man Harry Harrison on the air as he had done for many years at WABC.
Lundy did his last WCBS-FM show on September 18, 1997, and then retired to the small town of Bruce, Mississippi. On March 15, 2010, Lundy suffered a heart attack and passed away. He was 75.
Enjoy Ron Lundy on WIL here.

(The Don Shuttleworth Collection)
---
Talent: JIM SOUTHERN
Station: KTEO San Angelo, Texas
Date: February 19, 1963
Time: 6:24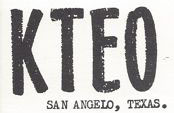 Veteran deejay and Rock Radio Scrapbook contributor Jim Southern remembers his time at KTEO...

"It was actually a great little station to work at, a great jingle package, lots of musical variety. I did remotes at drive-ins and our amusement park. I earned $1.35 an hour, I was actually in the Air Force at the time, so I had plenty of money and a car ('58 Chevy).

It was fun, just having a ball every night. Play the music, be cool, tell jokes, boy, I'd love to do it again just like that. You know, as I drove around in those days, it seems that every town in Texas had a bunch of real good DJ's, even out in the sticks. Something about Texas seemed to be good to the microphone, and the Texas accent blends well on the radio."
This all-too-brief aircheck captures all that was great about radio in the pre-satellite, pre-cookie cutter format age. It's what we celebrate!
Enjoy Jim Southern here.

(The Jim Southern Collection)
---
Talent: DAN DANIEL
Station: WMCA New York
Date: April 22, 1963
Time: 16:42 (unscoped)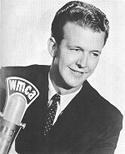 Dan Daniel called himself "the world's most adequate swinging disc jockey", but he was much more than that.
Daniel spent nearly a half-century in commercial radio, beginning with his first gig at KXYZ Houston in 1955 (he had previously worked at Armed Forces Radio with the U.S. Navy). From there he went to WDGY Minneapolis before joining the "Good Guys" at WMCA New York in 1961. After starting in overnights, "Dandy Dan" moved to afternoon drive in 1963 as part of a stellar lineup that included Joe O'Brien, Harry Harrison, Jack Spector and B. Mitchel Reed.

Daniel spent nearly nine years at WMCA, leaving in 1970 a couple of months before the station switched to a talk format. He later played country music at WHN and did two stints at WYNY, the last ending in 1996. New York oldies outlet WCBS-FM then quickly scooped him up for weekends where he spun many of the same hits he had played three decades earlier at 'MCA. Daniel replaced Ron Lundy in late mornings at WCBS-FM in 1997, holding the shift until his retirement from radio in 2002.
Daniel, who would end each show with a reference to "size nine" (his wife), died June 21, 2016. He was 82.
Enjoy Dan Daniel on WMCA here.




(Scrapbook archives)



Rock Radio Scrapbook pays
online streaming fees to the
Society of Composers, Authors and Music Publishers of Canada (License 22-F)

---
Talent: DICK CLARK with DAVE JOHNSON
Station: CHUM Toronto
Date: May 27, 1963
Times: Part 1 - 29:57 (Upgraded 1-5-12)
Part 2 - 23:10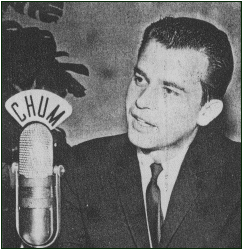 In 1963, CHUM Toronto started carrying The Dick Clark Show, a syndicated program that had been offered to other stations around North America. It was a direct response to the hiring of the popular Dave Mickie at rival CKEY.
The programs ran on CHUM from 7-9 p.m. weeknights for a few months beginning May 27. While fronted by Clark, the shows were co-hosted by Dave Johnson who followed with his own program solo from 9-10:30 p.m. Clark was on tape for all but the first show while Johnson was live. For the story behind the story, read this from CHUM's Doug Thompson...
"Here's the deal with Dick Clark. I started at 1331 Yonge Street in 1965 replacing a board op named Claude Deschamps. Claude was being promoted into production, partly because of his incredible work op-ing the Dave Johnson/Dick Clark show. Claude has told me many times how most people had no idea that Dick wasn't actually there in the studio with Dave. Dick came into Toronto a few times (I'm not sure how many) and recorded time checks for every minute of his shift - It's 8:01, CHUM time 8:02, etc; temperature checks for every conceivable temp and all kinds of other so-called live liners.
All of these individual Dick Clark elements were put on carts. It was Claude's job to marry Dick Clark's voicetracks and Dave Johnson live in-studio seamlessly. I also recall him telling me that they ran a party sound effects cart under all the Dick and Dave banter so that probably helped any differences."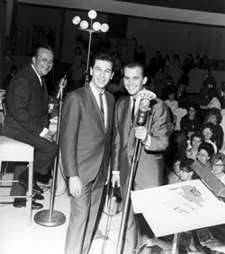 Dave Johnson, Freddie Cannon and Dick Clark at Clark's first show, May 27, 1963. (The CHUM Archives)
This first Clark show came from The Terrace, a now-demolished curling club and roller skating rink in downtown Toronto. It's interesting to hear commercials from long-ago local firms like Mann and Martel, a major Toronto realtor at the time.

Enjoy Hour One of the first Dick Clark show on CHUM here.



Enjoy Hour Two of the first Dick Clark show on CHUM here.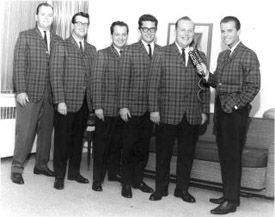 L-r: John Spragge, Brian Skinner, Al Boliska, Bob McAdorey, Dave Johnson, Dick Clark, 1963. (The CHUM Archives)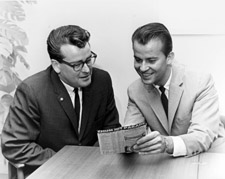 Brian Skinner with Dick Clark, May, 1957. (The CHUM Archives)
(The Aaron Mintz Collection)
AUDIO ENHANCEMENT by Andy Rebscher
---
Talent: DAVID JELL
Subject: RADIO LUXEMBOURG
Date: 1963 (re-creation)
Time: 10:51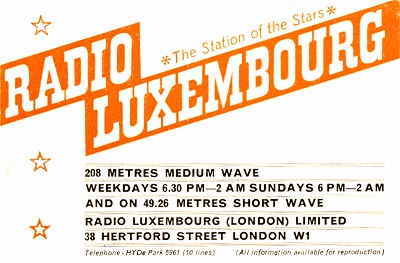 Radio Luxembourg, The Station of the Stars, first signed on in 1933 and entertained millions before leaving the airwaves on December 30, 1992. In the 1950s and '60s, Radio Luxembourg was the only radio station on the European continent to broadcast entirely in English. For a time, Alan Freed's taped WINS show appeared on Radio Luxembourg every Saturday night.
Canadian-born David Jell got his start at Calgary's CFAC right out of high school, eventually becoming that station's Paris correspondent. In 1955, he moved to Radio Luxembourg as a summer replacement deejay and eventually became a full-time jock.
Enjoy this aircheck of David Jell - which we understand is a re-creation - here.

(The Doc Phillips Collection)
---
Talent: SUZANNE BRADLEY
Station: WHER Memphis
Date: June 10, 1963
Time: 1:01:39 (unscoped)
20:43 (scoped)

Sam Phillips didn't break radio's glass ceiling - he shattered it.
Phillips - yes the same guy who discovered Elvis - co-founded North America's first all-female radio station, WHER in Memphis. Using the money he received the sale of Elvis's contract to RCA, Phillips hired models, beauty queens, actresses, even young mothers, to broadcast from the third Holiday Inn in the U.S. (Holiday Inn founder Kemmons Wilson was one of the owners). The studio - pink and purple - was called "The Doll Bin" and decorated with bras hanging from a clothesline. Its slogan was "1000 beautiful watts.".
Everyone at the station was female - from the on-air talent to management. Phillip's wife Becky was a DJ, or as they called them "a jockett." The format was light music.
The all-female staffing continued until 1972, when the station changed its call letters to WWEE and went to talk that included male announcers. The station has since moved to FM and at last word were classic hits 97.7 Guess FM.
"WHER was the embryo of the egg," said Sam Phillips told thatericalper.com. "We broke a barrier. There was nothing like it in the world."
Enjoy Suzanne Bradley on WHER
(UNSCOPED)
here.

Enjoy Suzanne Bradley on WHER (SCOPED) here.


(The Don Shuttleworth Collection)
---
Talent: BRUCE BROWN
Station: WYNR Chicago
Date: June 11, 1963
Time: 31:09 (unscoped)
17:13 (scoped)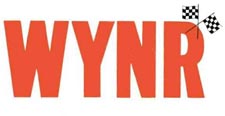 "The World's Most Independent Independent Station"
WYNR was a winner, but not for long.
The station Top 40 radio pioneer owner Gordon McLendon branded "Winner" was launched after "The Old Scotsman" boughtWGES in 1962. But despite a boatload of great talent and PAMS jingles, 5,000-watt WYNR could not compete with established Windy City rival WLS and its 50,000-watt signal. Two years after it launched WNUS became an all-news outlet as WNUS.
Among those to jock at WYNR during its short life were Dick "Wild Child" Kemp, Yvonne Daniels, Jim Randolph, John Evans ,Lucky Cordell and the subject of this aircheck, morning man Bruce Brown.
Enjoy Bruce Brown on WYNR (UNSCOPED) here.


Enjoy Bruce Brown on WYNR (SCOPED) here.

(The Doug Thompson Collection)
---
Talent: DAVE MICKIE
Station: CKEY Toronto
Date: June 17, 1963
Time: 42:06 (unscoped)
19:09 (scoped)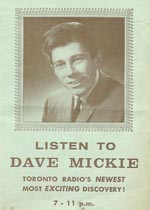 For many Canadian boomers, Dave Mickie/Marsden has been a big part of the soundtrack of their lives.
From his early days as legendary CKEY night-time jock Dave Mickie, to his metamorphosis into FM rock announcer-programmer extraordinaire David Marsden, this radio legend has entertained a generation and while blazing a trail for the next.
But even legends have to start somewhere. Rock Radio Scrapbook asked Marsden about his beginnings in the radio business and he was kind enough to respond...
"After a year and a half of banging on radio station doors and sending out scores of tapes I got my first job - CFCO Chatham. Operator for the morning show, typing out music playlists and literally sweeping the floor. Three months. Jack Beardall, the station owner and the only person seemingly willing to hire me, had sold the station to Hildebrand who brought his own team. The new Program Director was named Sandy Hoyt and he fired everyone at the station except Frank Proctor.
At that point I had a big three months experience and went looking for a new gig. After a couple of months I found it. CHLO - St. Thomas. I was hired as a newsperson. After a few months I was offered the evening shift as a DJ. At the time CHLO played what was termed as Beautiful Music. Ray Conniff, Percy Faith etc.
After a few months of playing this music I became bored. I liked Rock and Roll!! One night I brought my own 45s in and started playing them. In attempt to match the Rock music David Mickie was born (I was a fan of Biondi, therefore he was my influence).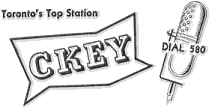 I got away with that performance for about three weeks. Then John L. Moore - the owner - tuned in and almost had a cardiac. He fired me the next day. About a week later he called me at my little apartment in St. Thomas and asked me to come to a meeting. Turns out there had been significant phone calls and letters about 'where had Mickie disappeared to' - he hired me back. But this time he promised I could do whatever I wanted. ;-)

That was the turning point for CHLO. A station who later became a major rocker in the London/St. Thomas market. During that time a goofy young kid named Paul Skirownski (sp?) answered my phones and helped around the studio. When I left to go to CKEY I suggested to John L. Moore that he keep Paul around. Something about him said - radio. Today he is known as Paul Ski.
About a year after being hired back at CHLO - Walt Grealis (then a promo man for London Records) was in London working the promo at station level. He tuned in and had a listen. He visited the station and asked if I had ever thought about being in Toronto radio.
Two weeks later I got the big call from Gene Kirby, PD for CKEY. My dream had always been to work at CKEY. At first I thought Gene's call was a hoax. After three calls I finally took the bait and called him back. It really was HIM. Walt Grealis became my manager and a few weeks later I did my first show at CKEY.
Yep - with less than two years experience I made it to Davenport Road and CKEY. Back then one counted on having to have a minimum of seven years. I got lucky! ;-) "
Hear Dave Mickie on CKEY (UNSCOPED) here.



Hear Dave Mickie on CKEY (SCOPED) here.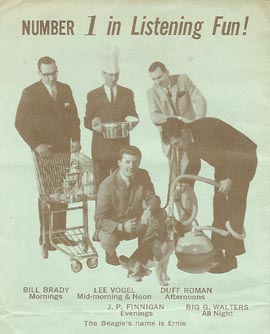 The CKEY Good Guys in 1963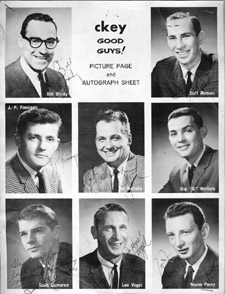 The CKEY Good Guys in 1964
(Larger view here)
(The Bill Dulmage Collection)
---
Talent: HAL RAYMOND
Station: WDGY Minneapolis
Date: July 3, 1963
Time: 22:26

Hal Raymond saw a lot of America during a career that lasted nearly half a century.
His first radio gig came in 1950 when he was a senior at Hillsboro High School in south-central Illinois. His family thought he should go into radio, so he did at WSMI in nearby Litchfield. With his quick wit and mellifluous voice, Raymond was off and running toward an amazing radio career.
For the next 48 years, Raymond jocked on the west coast, in Portland, Oregon, (KISN, KGW, KEX) and Seattle (KAYO), in the south, in Dallas (KBOX), in the mid-west, in Peoria, Illinois (WEEK) and Decatur, Illinois (WDZ), in the east, in York, Pennsylvania, (WSBA, WOYK-AM) and in the north, in Minneapolis (WDGY), where he can be heard in this aircheck at "The Station With the Happy Difference", a tenure that lasted from July 1963 to September 1964.
While Raymond moved around a lot, he did spend nearly half his career - 22 years - at WSBA, his longest time at any one station. WSBA's Operations Manager Jim Horn said of Raymond, "he was a superheavyweight." Raymond was at WSBA from 1973 to 1995. He then moved cross-town to WOYK where he stayed until his retirement in 1998. He died in 2005, aged 73, after a two-year battle with ALS (Lou Gehrig's Disease).
"Hal was Mr. Everyday - goes to work, boss yells at him, can't get a break. All the tribulations an everyday guy went through," said his co-worker and friend Jim Horn. "He was either the hero or the butt of the joke. He was an absolutely hilarious theatre of the mind - stunts jokes and pranks. Hal had a remarkable gift for writing comedy that people would belly-laugh out loud to."
Hear Hal Raymond on WDGY here.

(The Bill Dulmage Collection)
---
Talent: STAN ROBERTS
Station: WTRY Troy, N.Y.
Date: July 30, 1963
Time: 19:39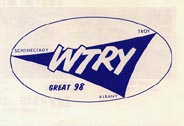 He made his mark in Buffalo radio, at stations like WKBW, WGR, WBUF and WECK. But just prior to his days in the Queen City, Stan Roberts plied his trade in Central New York, at WTRY in Troy to be exact. The easy-going style and cornball humour that made him one of Buffalo's all-time favourite morning men is quite evident on this aircheck.
Hear Stan Roberts on WTRY here.

(Scrapbook archives)
---
Talent: MAD DADDY
Station: WINS New York
Date: October 5, 1963
Time: 9:11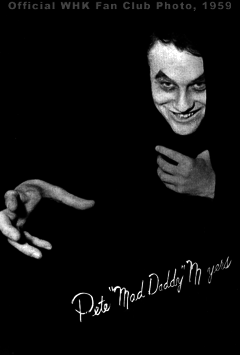 After wowing the teen crowd in Akron and Cleveland, Pete Meyers took his Mad Daddy act to New York in 1959. It didn't play well at staid old WNEW - Mad Daddy lasted only one shift but Myers continued on that station with a middle-of-the-road approach more suited to 'NEW's easy listening approach. He revived his Mad Daddy persona at WINS and continued there until that station went to an all-news format in 1965. He then returned to WNEW as Pete Meyers.

Meyers took his own life on October 4, 1968 after learning that his shift had been changed from afternoons to evenings.
Hear Mad Daddy on WINS here.

(Scrapbook archives)
---
Talent: B. MITCHEL REED & JOE O'BRIEN
Station: WMCA New York
Date: October 10, 1963
Times: 21:43 (unscoped)
9:32 (scoped)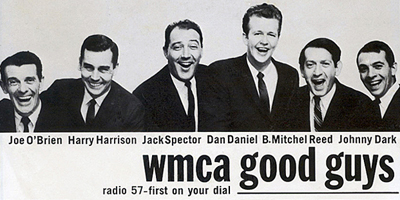 Two of WMCA's most popular jocks worked at opposite ends of the clock.
Joe O'Brien arrived at WMCA at the dawn of the Big Band era in 1935 and left during the Age of Aquarius in 1969. O'Brien went to WNBC after his depature from 'MCA and in 1972 became the first voice on WHUD-FM in Peekskill, New York. O'Brien spent 14 years as morning man there, then worked as a part-time as a part-timer until 2000. He died in a car accident in 2005, a week after his 90th birthday.
B. Mitchel Reed came to WMCA in 1963 from KFWB Los Angeles, where he was known as "The Fastest Tongue in the West." BMR spent two magnificent years at WMCA before heading back west to KFWB. The one-time fast-talking jock became a slow-talking "progressive" jock on FM in the years to come. He died in 1983 of heart problems at the age of 56.
Enjoy B. Mitchel Reed and Joe O'Brien on WMCA (UNSCOPED) here.

Enjoy B. Mitchel Reed and Joe O'Brien on WMCA (SCOPED) here.




(The John Harrison Collection)
---
Talent: DAVE MAYNARD
Station: WBZ Boston
Date: November 3, 1963
Time: 31:58 (unscoped)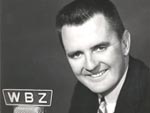 Like the Red Sox, Beacon Hill and baked beans, Dave Maynard was a Boston institution.
Maynard got his start in the Hub in 1952 at WHIL, later moving to WORL and serving as a rock 'n' roll jock at both stations. In 1958, he began a 33-year run at 50,000-watt powerhouse WBZ. He hosted music programs, mostly in middays, until 1979 when began doing talk on the all-night show. A year later, Maynard replaced Carl DeSuze as WBZ's morning man, and his Maynard in the Morning Show was number-one in the market throughout its decade-long run. He moved back to middays in 1990 and retired a year later.
An accomplished chef who wrote three cookbooks, Maynard was resident chef in the '80s on WBZ's Evening Magazine and also originated the Phantom Gourmet radio show. For 21 years beginning in 1965, Maynard hosted the amateur talent showcase Community Auditions on WBZ-TV. He also found time to teach in the Communications Department at Boston University for 17 years and dedicate himself to numerous charitable causes.
Maynard died February 9, 2012 in Citrus Hills, Florida. He was 82 and had suffered from Parkinson's Disease.
Enjoy Dave Maynard on WBZ here.

(The Don Shuttleworth Collection)



Rock Radio Scrapbook pays
online streaming fees to the
Society of Composers, Authors and Music Publishers of Canada (License 22-F)

---
Subject: WKBW SALES DEMO "INSTANT 'KB"
Station: WKBW Buffalo, N.Y.
Date: Fall 1963
Time: 8:22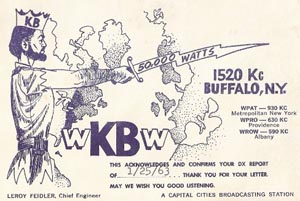 Many of the great WKBW voices of the '60s are heard on "Instant 'KB", a sales promo distributed on vinyl to national and local sponsors. Narrated by Irv Weinstein, "Instant 'KB" features the voices of deejays Stan Roberts, Fred Klestine, Jay Nelson, Dan Neaverth and Joey Reynolds. There's a brief snippet of a Henry Brach newscast and a portion of Weinstein's documentary "Buffalo and La Cosa Nostra."

The demo points out that with its 50,000-watt signal, 'KB can be heard not only by a million and a quarter people in Erie and Niagara counties, but 17 states and 50 per cent of Canada! It also promotes 'KB's weather forecasts, traffic bulletins, school closing information and ski reports. With all that, how can you NOT buy time on 'KB?
Enjoy the "Instant 'KB" sales demo here.

(The Steve Bleecker Collection)
---